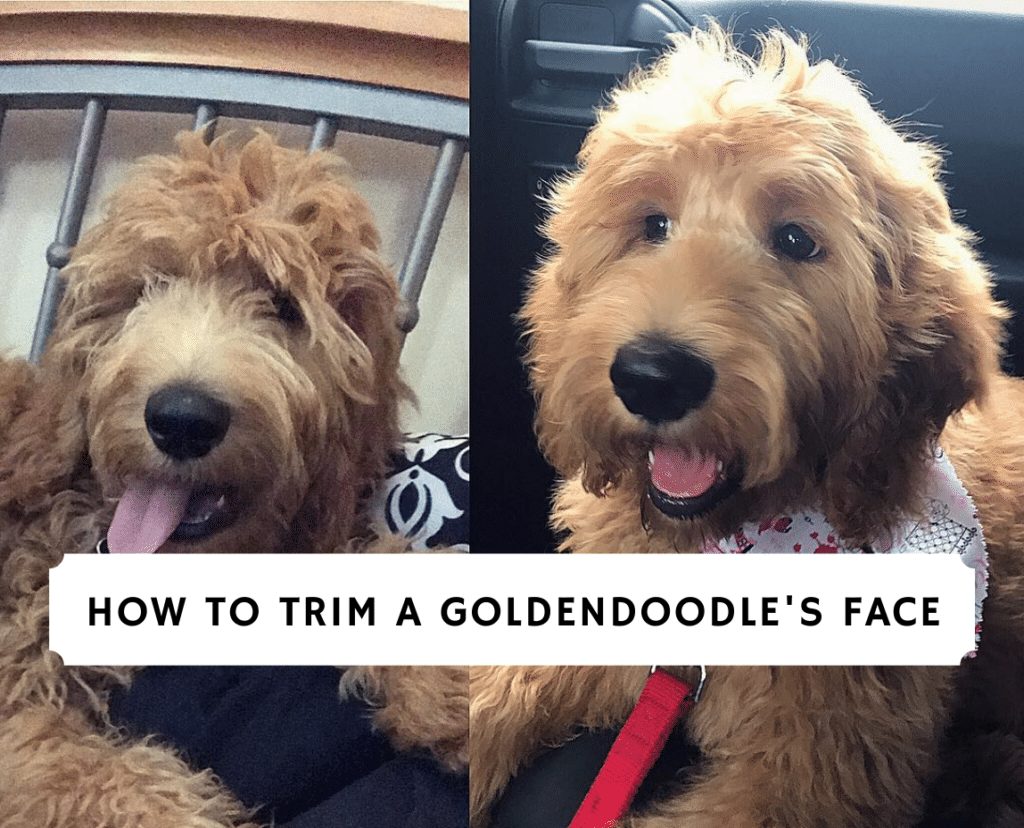 So its that time. Your Goldendoodle looks more like a walking dust bunny than a pupper, and maybe they keep running into things. It's time to trim that cute face and allow your fuzzy pal to see the world clearly again.
While it can seem a daunting task, trimming the face of a Goldendoodle is a relatively straightforward affair, and with the right tools and instructions, it is downright easy. The hardest part about trimming a Goldendoodle's face is going to get them to hold still.
That being said, grab your tools, and follow along as we set out step by step instructions on how to trim a Goldendoodles' face!
What Tools do you Need to Groom a Goldendoodle's Face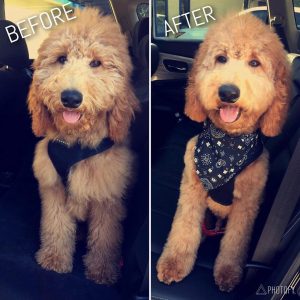 While it may seem that grooming a Goldendoodle is a big ordeal, don't worry! It is, in fact, relatively simple and straight forward. The first step is purchasing the right tools to trim your Goldendoodle's face.
Wire or Slicker Brush: A slicker brush is an essential part of the grooming process, this brush will allow you to remove loose hair and detritus from the coat. Excellent for everyday use. I prefer the Chris Christenson brush. This brush is AMAZING.
Steel Pet Comb: This tool is used for detangling fur and combing out mattes. It is also essential when trimming fur as a guide. Make sure that it is not too sharp, so it does not scratch the skin. Everyone Goldendoodle owner should have a comb.
Thinning Shears: Thinning shears are useful for blending your pup's fur after cutting with grooming scissors to give a natural, organic look. If you're trimming their face, you'll want a blunt tipped pair like the Sharf Gold Touch thinning shears.
Grooming Scissors: Make sure to use a ballpoint or blunt-ended scissors only to ensure you do not injury your pup. Invest in a quality pair as they will make grooming easier and last longer.
Pet Hair Clippers: While these are not necessary, they do make the process of grooming far easier and faster. Invest in a quality pair as they will make grooming simpler and last longer. You may need to take some time to get your pup to feel at ease at the sound, so be sure to be gentle and comforting. I have used the Wahl Animal Professional hair clippers with great results.
Why it's Important to Groom Goldendoodles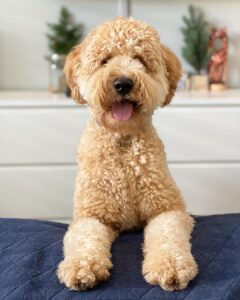 Your pupper, like most dogs, is a curious and energetic ball of fuzz. And being a ball of fuzz, they are prone to picking up bits of this and that around the house, and especially when they romp around the great outdoors. Because of their thick coats, brambles, stickers, and other bits of foliage tend to get stuck. 
Without daily grooming, these bits and pieces and dirt are prone to forming mats in their fur. Without prompt action, these mats get more extensive and more challenging to remove.
Furthermore, aside from keeping your pup clean, frequent grooming will keep your pup looking at their best. 
When it comes to the face, it is especially important to maintain the fur, as it tends to cover the eyes and can cause irritation if the hair comes in contact. Moreover, impaired sight will cause your pup to walk into objects, and while it can at times be hysterical, it can also result in injury.
When to Groom a Goldendoodle's Face
Grooming a Goldendoodle depends on their coat type. For general grooming that doesn't include a trim, curly and wavy coats need to be groomed at least once a month to prevent matting. For straight coats, you can get away with grooming them once every 1.5 months.
However,  you must take into account their environment. For instance, if your pup has been romping around the local park and getting into the underbrush. Furthermore, if they are shedding, you may want to increase their grooming regimen to prevent your house from growing fur!
When it comes to giving your pup a trim, that can depend on several things. If your pup looks like a Wookie (think Chewbacca from Star Wars), it might be time to take a bit off the top.
Depending on the time of year, a haircut can make all the difference. If you live somewhere cold and its winter, your pup is probably happy with the extra insulation. On the other hand, of its hot, they'd probably appreciate losing some fluff, and looking their best to boot!
Finally, if you notice your pup is walking into walls, furniture, or even you! It is probably a good time to trim the fur around the eyes and let them see the world clearly.
How to Trim your Goldendoodles Face
You've got your tools, you've got your pup, and you're ready to go! Set up space where you can trim your pup where they feel comfortable, and you can easily clean up the mess. Using a drop cloth is a no-fuss solution!
If this is your first time, make sure you set aside enough time to be slow and gentle. Trimming your Goldendoodle's face actually takes up to one hour. Make it a bonding experience! This will ensure your pup will cooperate and make things easier for future trims. 
If your pup is overly flighty and playful, using a leash so they can't run away and a bully stick (or any other chew toy that occupies their attention)  or treat will give them the incentive to behave their best. 
Remember, this is a potentially frightening experience for them, and they need to feel love and patience.
On that note, it's time to learn how to trim a Goldendoodle's face!
Step 1) First Things First, Give 'em a Wash!
In general, when trimming your Goldendoodles' face, you can jump right in. But it is a good idea to use the opportunity to bath them first. If you would rather not, it is essential to clean around the eyes with a cloth and warm water. Wipe away tear stains and any accumulated guck.
Dry their fur with a towel and gently clean around their eyes.
Step 2) Brush that Hair!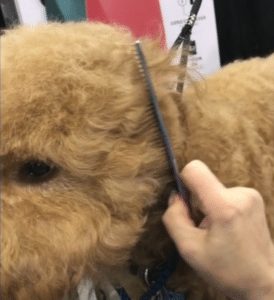 Depending on how long their fur is (even on the face it can get quite long), you will need to spend some time brushing out their fur. Start by combing out any mattes and detritus that you can find. Be thorough and use the opportunity to massage your fuzzy pal. Think of it as their spa day.
Next, use a wire brush to remove any loose hair and stuff you didn't get to with the comb. Brushing the hair around their face is a very important step. If you don't remove all the mattes and tangled fur the hair is going to be uneven when you cut it.
Step 3) Trimming Around the Eyes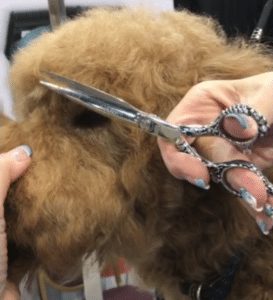 Before you start trimming around your Goldendoodles eyes, be sure to comfort and soothe your pup. Let them examine the equipment and get used to them. 
Hold your pups face in one hand to keep them from moving too much. Using the blunt-tipped scissors, carefully trim the fur way from their eyes. Cut the hair at an angle on either side of the muzzle (like an upside-down V with the point between the eyes).
When you can clearly see their eyes, follow through with the thinning shears to blend the fur and give your pup that Au Natural look.
If you choose to use the clippers, be sure to angle the blades away from your pups' eyes, and use one hand to cover them in case they unexpectedly jump or move.
Step 4) Clip those Bangs
If you prefer, you may choose to give your dog bangs. To do this, use the steel comb to gently comb out the hair above the eyes. Then using your fingers, gently hold the fur between your fingers as you slowly cut across.
 If your pup doesn't hold still, be sure to use one hand to hold their muzzle, then carefully cut the bangs with the other hand. Be mindful of your pup's eyes. Blunt tip scissors only!
Step 5) Trim the Cheeks
Now that you've given back your Goldendoodle the gift of sight, its time to trim their cheeks! Using the comb, pull the hair on the bridge upward so that it doesn't lie flat. 
Use the blunt-end scissors to cut the hair around the muzzle, angling the scissors towards the middle of the bridge (like the upside-down V when trimming around the eyes). 
Carefully snip the hair off the muzzle until you feel happy with the length. The result should somewhat resemble a triangle. 
If you're using clippers, use one hand to hold your pup's face. With the other hand, use the clippers to make slow swipes down the cheeks on both sides of the muzzle. Try and follow the contours of the muzzle.
Use the thinning scissors to blend the fur around the muzzle until it looks less designed and freer. 
Step 6) Trim the Beard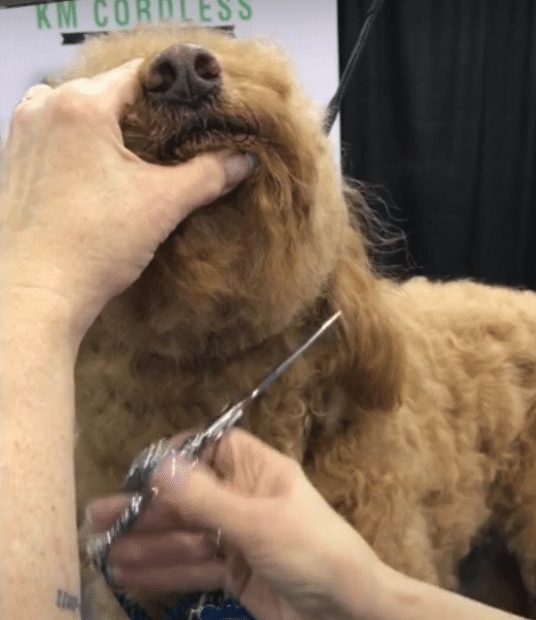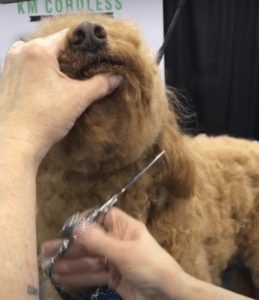 Now that you have a general shape to the muzzle, its time to tackle that beard. Use scissors to trim the hair around the mouth so that it is around a quarter of an inch long. 
Using the steel comb gently pull down the hair under the jowls (under the muzzle). Use the blunt-ended scissors or the clippers to trim the beard hair to the desired length. Try to cut the fur shorter near the mouth and top of the neck (around 1 inch), then gradually lengthening and blending into the neck.
Use the thinning scissors to try and blend the hair on the sides of the muzzle into the beard at the bottom. 
Step 7) Trim the Hair Around the Ears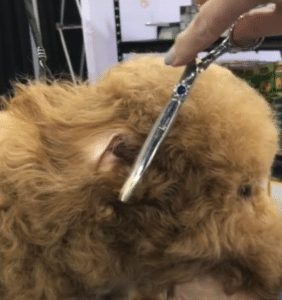 Now that you've tackled the face, its time to trim the ears. Use the sleep comb to comb out the hair on the ears. Using your blunt-end scissors, carefully cut the excess hair from the ends of the ears. Cut along the shape of the ear itself. Be sure not to cut into the ear leather itself! 
When you are happy with one ear, do the same to the other. Then gently pull both ears towards the nose to approximate the length of each ear. If they appear to be the same, use the thinning shears to blend each ear.
Step 8) Trim the Top of the Head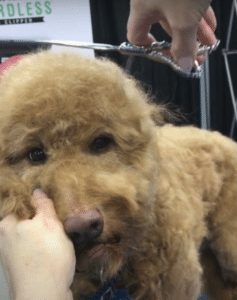 If your Goldendoodle has a lot of fuzz on the top, á la Albert Einstein, you might decide to go for a trim. The Pet hair clippers work the best and fastest for this step. Alternatively, you can use scissors.
Start by using your steel comb to fluff up the fur on top and accentuate that doggy fro! Use the blunt-end scissors or the clippers to trim the hair from the middle towards the ears on both sides. Once you are happy with the length and shape, use the thinning shears to blend the fur.
When it comes to the appearance of the top of the head, it is entirely up to you. Many doodle owners choose to give a flat cut like that of a poodle. However, you can start long and gradually find the shape that best suits you and your pup!
Step 9) Trims Done, Now What?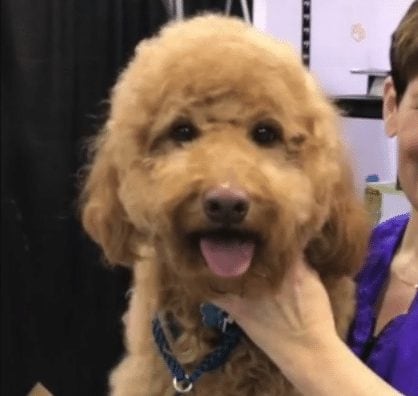 Once you've finished giving your pup a new fresher look, step back and admire your handiwork! Note any areas that need extra attention and areas that need a bit more blending. 
When you're satisfied, its time to brush your pup off and remove any loose hair and give them a last brushing as a reward. Pups love brushing!
Things to Consider
The most popular look for Goldendoodles is that distinctive "teddy bear" look. With this in mind, keep a pic hand for reference. Furthermore, when in doubt, take off less hair as you can always trim off more but can't add it back!
Remember not to cut the beard too short. Most Goldendoodles have a beard that looks like an upside-down "V." Cutting the hair too short will lose this distinctive look, not to mention the fur will get in the pup's mouth!
Your pup will most likely be a bit sensitive at first, especially if it is their first trim. So remember to give them lots of treats and positive attention. Make this a positive experience, and they will look forward to their next trim!
Maintain that Fuzzy Face!
Now that your pup is freshly trimmed, you're done, right? 
In short, no. Weekly maintenance is vital in keeping your pup healthy and clean. 
For some pups, this will be a daily ritual, depending on their environment and temperament. An inquisitive pup that gets into mischief or spends a lot of time outdoors will need more maintenance than a calm or indoor pup.
Brushing the fur of the face weekly or daily as needed is imperative to removing dirt and get rid of mattes. Use the brush to comb the fur in the direction in which it naturally lies. Through regular maintenance, grooming will be so much easier. 
Remember to check around your pup's eyes and mouth regularly to remove any dirt. You can use a wet cloth or dog safe damp wipe.
Moreover, remember to wipe away tears daily as they will result in tear stains. Excess stains are caused by allergens from the environment. 
Finally, check your pup's ears frequently. Remove any detritus, insects, or dirt that may obstruct their ear canal and cause infection.  Remember to be gentle and use a wet cloth to wipe away any dirt. Under no circumstances should you use q-tips or similar products to attempt to clean their ears. A sudden movement or accidentally pushing an object lower can result in severe injury.
Conclusion for How to Trim a Goldendoodle's Face
Now that your Goldendoodle has gone from hobo to hipster, its time to take them out on the town, so to speak. What better way to reward your pup than taking them to the park or some other favorite haunt where they can show off their new do!
With our easy to follow instructions and helpful tips, you will be able to groom and maintain your pup in the style they deserve.
Remember to bookmark this article so you can refer to it next time you need to recall how to trim a Goldendoodles' face.
Frequently Asked Questions:
What Types of Fur do Goldendoodles Have?
When it comes to mixing breeds, the result is more like mixing Skittles than paint. You won't know which characteristics the Lil pups will take from their parents; usually, this won't be apparent until the puppy grows up a bit. So you wont know if your pup will get the straight fur of the golden retriever, the curly fur of the poodle, or a wavy combo of both!
Wavy Coats
This coat type is the most common variety seen on Goldendoodles. It is relatively easy to groom, although it does still need regular grooming.
Puppers with wavy coats often tend towards low shed to sometimes no shed coats. A quick weekly brush down typically all that is needed to keep any shedding under control. 
Best of all, dogs usually love a proper brushing and will be a great bonding experience that you will both love!
Curly Coats
Another common coat type among Goldendoodles, the curly coat, comes in a variety of looks. The size and tightness of the curls vary amongst individual puppers and are directly affected by the parents. 
This type of coat is what some Goldendoodle parents use to give their pup that adorable "teddy bear" look. 
Like humans, the curls vary in size and span the range from tight poodle like curls to large ringlets. 
Regardless of the size, curly coats require more attention. Without daily brushing, the fur tends to mat and results in a decision to arduously separate the mats or give your pup a close trim.
For this reason, many people with pups with curly coats have them professionally groomed.
Straight Coats
Straight coats are typically along the lines of a golden retrievers coat. These coat types are far rarer than the other two and do not present in the typical Godlendoodle appearance.
As a plus, this coat is reasonably easy to maintain, requiring only a bit of brushing to keep their moderate shedding under control. 
Puppy Coats
As a puppy, it's tough to tell what kind of a coat your fuzzball will have as they grow. Often a puppies coat will change as they mature.
However, by looking at the face and muzzle, you can get an idea of what their coats will tend. 
Curly or wavy hair on the face will tend towards a curly or wavy coat and straight hair towards a straight coat.  
What if my Goldendoodle doesn't hold still?
Usually the hardest part about trimming a Goldendoodle's face is to get them to hold still. Definitely purchase either a grooming leash or grooming to get them to hold still. Incentivize your Goldendoodle by giving them a long-lasting chew like a bully stick to occupy them while you trim their face.
Garrett loves animals and is a huge advocate for all Doodle dog breeds. He owns his own Goldendoodle named Kona. In addition, he volunteers at the Humane Society of Silicon Valley, where he fosters dogs and helps animals. Garrett enjoys writing about Doodles and believes that dogs can teach humans more about how to live than humans can teach a dog.
Why Trust We Love Doodles?
At We Love Doodles, we're a team of writers, veterinarians, and puppy trainers that love dogs. Our team of qualified experts researches and provides reliable information on a wide range of dog topics. Our reviews are based on customer feedback, hands-on testing, and in-depth analysis. We are fully transparent and honest to our community of dog owners and future owners.