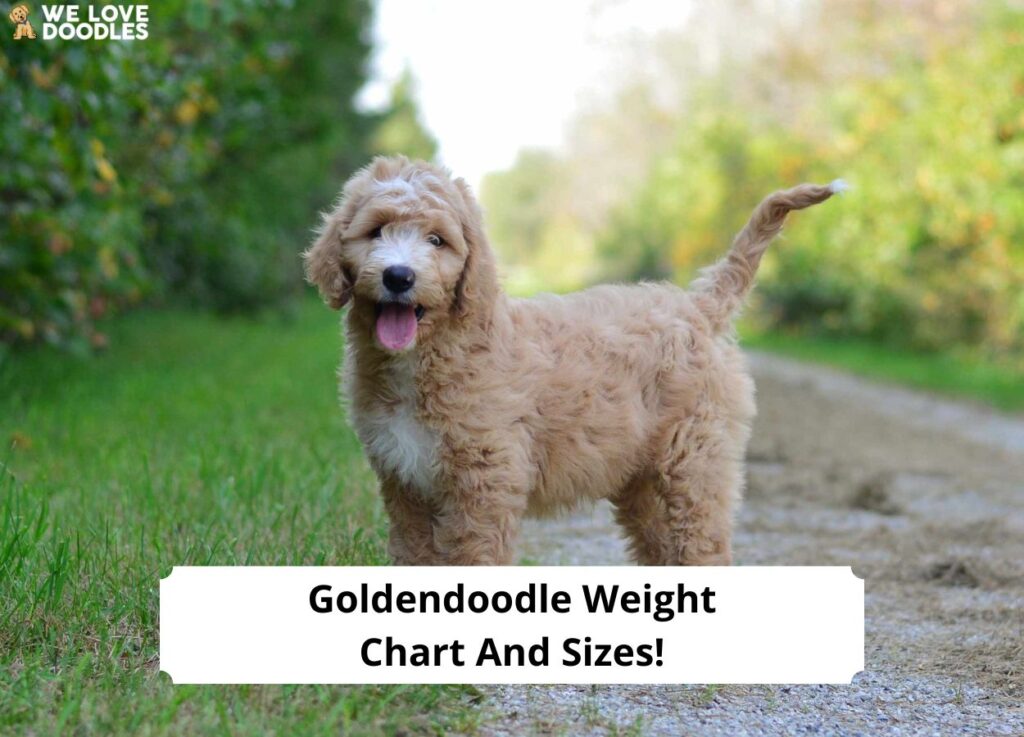 Goldendoodles combine the cuteness of a Golden Retriever and a Poodle, however, these two breeds vary quite a bit. Like their parents, Goldendoodles come in numerous sizes to match the preferences of every dog parent. We've created a weight chart guide to help you follow the different Goldendoodle sizes.
Based on weight, Goldendoodles are classified as Teacup, Toy, Miniature, Medium, or Standard.
A Miniature Goldendoodle weighs less than 30 pounds, a teacup weighs less than 13 pounds, a Toy Goldendoodle weighs between 10 and 25 pounds, a medium-sized dog weighs less than 50 pounds, and a Standard Goldendoodle weighs between 50 and 90 pounds.
It's natural to wonder about the full range of sizes within the Goldendoodle breed. Therefore, we've developed a comprehensive weight chart to guide you in your search for the perfect Goldendoodle bestie.
Before you scroll down this guide, check out: How to Train a Goldendoodle! (2023) and Best Types of Goldendoodle Haircuts! (2023).
How Are Goldendoodles Bred?
Before we break down the Goldendoodle sizes, it's important to understand why these weight variations exist within the same breed. A look at the development of Goldendoodles helps explain the situation.
It is completely rational to believe that any crossbreed can be produced by taking equal parts from both parent breeds. This is true, however, it cannot be used as a blanket statement.
F1 Goldendoodle
For instance, the F1 type of Goldendoodle is made up of equal parts of both parent breeds. The word "F1" refers to the first generation of breeding. An F1 Goldendoodle is a simple 50/50 cross between a purebred Poodle and a purebred Golden Retriever.
If you cross two F1s, you will have a litter of F2s, and so forth. This is known as intergenerational breeding. Because an F1 is a 50/50 cross, the dog's size and fur type can be unexpected. The puppy may have more or less of any parent breed.
You may be beginning to understand that the different breeding generations are the reason we have so many weights and sizes for Goldendoodles.
F1b Goldendoodle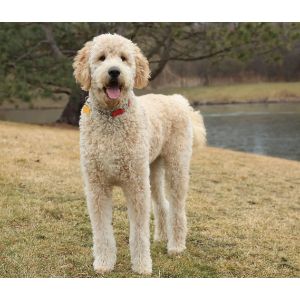 F1b refers to mating an F1 Goldendoodle (50% Poodle and 50% Golden Retriever) with a pedigree Poodle (the "b" refers to backcrossed). F1 is a 50/50 blend, so the puppy will inherit half of the F1 genes (50% Golden Retriever + 50% Poodle) and half of the Poodle genes (100% Poodle). In other words, F1b equates to a dog that is 75% Poodle and 25% Golden Retriever.
Crossing back to the Poodle breed is a common way of achieving a more desirable Doodle litter. This combination produces a litter with more consistent weights and fur types that are more similar to the Poodle side.
F1b Reverse Goldendoodle
On the contrary, F1b reverse, as the name suggests, is the opposite of F1. Since F1b results in a predominant Poodle gene, F1b in reverse leads to a predominant Golden Retriever gene.
The term "reverse" refers to backcrossing or breeding. The Goldendoodle will take half of the (50% Golden Retriever + 50% Poodle) and half of the (100% Golden Retriever) genes. This equates to a Goldendoodle with 75% Golden Retriever and 25% Poodle genes.
It is likely that the puppy will inherit more characteristics of a Golden Retriever including its size and fur type, due to its dominant genes. The reverse breeding procedure is a relatively new phenomenon aimed at a more predictable size and a reduced danger of allergic reactions.
Weights and Sizes of Goldendoodles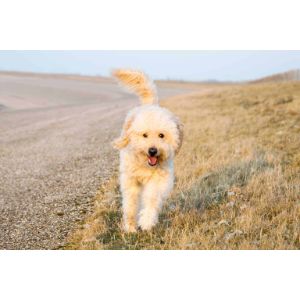 Most Goldendoodles we see today are of the F1b Goldendoodle type because pet parents want a predictable consistency in the size of their dogs. The different sizes of Goldendoodles stem from the F1b.
Miniature Goldendoodle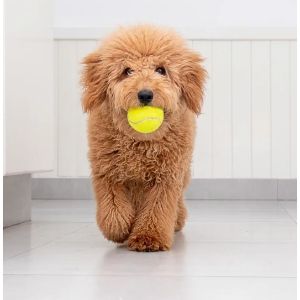 The Miniature Goldendoodle is the tiniest of the three most typical Goldendoodle sizes. A Miniature Goldendoodle is a Golden and Poodle mix that weighs less than 30 lbs. The average fully developed little Goldendoodle weighs roughly 25 lbs and stands 16 inches tall.
These beautiful furballs are ideal for people living in small spaces — for instance, a studio, flat, or trailer. In general, the smaller the dog, the less activity it will require. Don't get it mixed up, though. Goldendoodles are an incredibly productive dog breed that will want enough outdoor exercise, but their home area does not necessarily have to be as large.
There seem to be two "smaller" varieties of the Miniature Goldendoodle in the market that are fast emerging as fan favorites: the Teacup Goldendoodle and Toy Goldendoodle.
Teacup Goldendoodle
A Teacup Goldendoodle is the tiniest size available and it's classified as a Miniature Goldendoodle. A Teacup Goldendoodle is a crossbreed between a Toy Poodle and a Miniature Golden Retriever, weighing less than 13 lbs and reaching approximately 11 inches in height.
Although they are growing increasingly popular, there are several hereditary disadvantages to owning a Teacup Goldendoodle. Because this size is so small, they are predisposed to more genetic problems such as hypoglycemia, patella dehiscence, cardiovascular issues, and more.
It's worth mentioning that Teacup Goldendoodles can sell for hefty sums. They are extremely rare owing to the time and care required to gradually backcross into a smaller size over several years of diligent breeding.
Because of the major health risks associated with the Teacup size, it is unsuitable to go shorter than a Teacup Goldendoodle. While it is conceivable to regularly mate the runts of each litter together to produce smaller puppies, it is ill-advised as it could lead to genetic dispositions.
Toy Goldendoodle
Toy Goldendoodles are also in the Miniature Goldendoodle subset. These tiny darlings are bigger than Teacup Goldendoodles but remain petite compared to the usual Miniature Goldendoodle size.
Toy Goldendoodles weigh around 20 lbs and stand about 14 inches tall. Again, pet enthusiasts that cannot accommodate large dog breeds but still want to fulfill their dreams of a dog friend may find Toy Goldendoodles an impressive option.
Medium Goldendoodle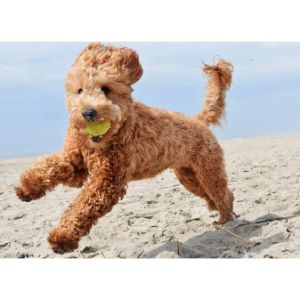 Medium Goldendoodles are the preferred size of Goldendoodles because they bring the best of both worlds. They are a good size for a little dog, but not too tiny. When fully mature, medium Goldendoodles average between 30 to 50 lbs. They also range from 16 to 20 inches.
Medium Goldendoodles are small enough to be easily controlled and make excellent workout partners. Yet, they aren't so large that people will be intimidated by your dog's appearance. As such, the medium-sized Goldendoodle might work if you live in a condominium or flat.
If you are looking for further variation in their size, you can differentiate between a male and female medium-sized Goldendoodle. A female medium-sized Goldendoodle generally weighs lesser and stands shorter when compared with its male counterpart.
The medium Goldendoodle is also among the more prevalent breeder sizes, so you won't have to empty your pockets and pay a substantial sum of money for your puppy.
Standard Goldendoodle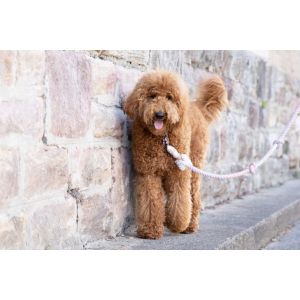 Coming in at over 40 lbs, the classic Goldendoodle size is the largest Goldendoodle size. The average Goldendoodle weighs between 50 and 90 lbs and reaches 22 inches tall when fully mature. This is the largest Goldendoodle size and will require lots of space.
Regular Goldendoodles are excellent dogs for folks who prefer the protection of a bigger breed but still like exercising. A regular Goldendoodle may be appropriate if you have a spacious property with a fence. Conversely, if you enjoy jogging and would like a buddy, a normal Goldendoodle is an excellent choice.
How Much Will My Goldendoodle Grow Up to Be?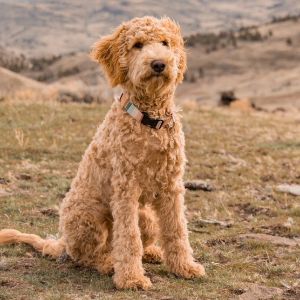 The parents' sizes will give you the clearest estimate of the size of your Goldendoodle. A Goldendoodle puppy will often end up somewhere between the weights of the parent dogs.
Toy-sized Goldendoodles, for instance, can weigh less than 10 lbs, and conventional Goldendoodles might weigh more than 70 lbs. In general, the average Goldendoodle weighs less than 40 lbs and stands about 22 inches tall.
How Long Does it Take for a Goldendoodle to Completely Grow?
Goldendoodles progress through conventional puppyhood, which includes several developmental milestones. These span the first and second years of life. Goldendoodles increase weight and height at roughly the same pace as other similar-sized dog breeds.
Your Goldendoodle will develop quickly at first but will slow down after around 10 months. It's nothing to worry about! At months 10 to 11, a Goldendoodle is usually 95% of its full size.
A small- to medium-sized dog reaches 66% to 75% of full maturity by six months, as stated by the American Kennel Club. If you have a Miniature Goldendoodle, it will most likely be close to full size at this stage. A Medium Goldendoodle may need a couple of extra months to reach his full adult size.
A Standard Goldendoodle is a big dog that takes about a year to completely mature. However, this is only an estimate. Some dogs take up to two years to mature into full-grown adults. According to the American Kennel Club, a big dog weighing 51 to 100 lbs achieves standard size at roughly 18 months of age.
Frequently Asked Questions
How much should my Goldendoodle weigh?
Your dog's weight will depend on the parents' sizes and their generation, but a Standard Goldendoodle can weigh anywhere from 50 to 90 pounds.
At what age is a Goldendoodle full-grown?
Generally speaking, a Goldendoodle will be full-grown at 12 months.
How much should a Goldendoodle eat daily?
Standard adult Goldendoodles should eat anywhere from two and a half to five cups of food per day.
Conclusion for "Goldendoodle Weight Chart and Sizes"
If you're concerned that your Doodle may outgrow your property or if you reside in a building with weight or size limits, you're definitely better off dealing with a breeder rather than adopting a puppy with an uncertain pedigree.
It's tough to anticipate how big a Goldendoodle puppy will grow, but its size at eight weeks can give you a reasonable idea of what it'll weigh as an adult.
If you find this Goldendoodle weight chart and sizes guide helpful, check out:
Learn more about Goldendoodles by watching "12 Things Only Goldendoodle Dog Owners Understand" down below:
Garrett loves animals and is a huge advocate for all Doodle dog breeds. He owns his own Goldendoodle named Kona. In addition, he volunteers at the Humane Society of Silicon Valley, where he fosters dogs and helps animals. Garrett enjoys writing about Doodles and believes that dogs can teach humans more about how to live than humans can teach a dog.
Why Trust We Love Doodles?
At We Love Doodles, we're a team of writers, veterinarians, and puppy trainers that love dogs. Our team of qualified experts researches and provides reliable information on a wide range of dog topics. Our reviews are based on customer feedback, hands-on testing, and in-depth analysis. We are fully transparent and honest to our community of dog owners and future owners.