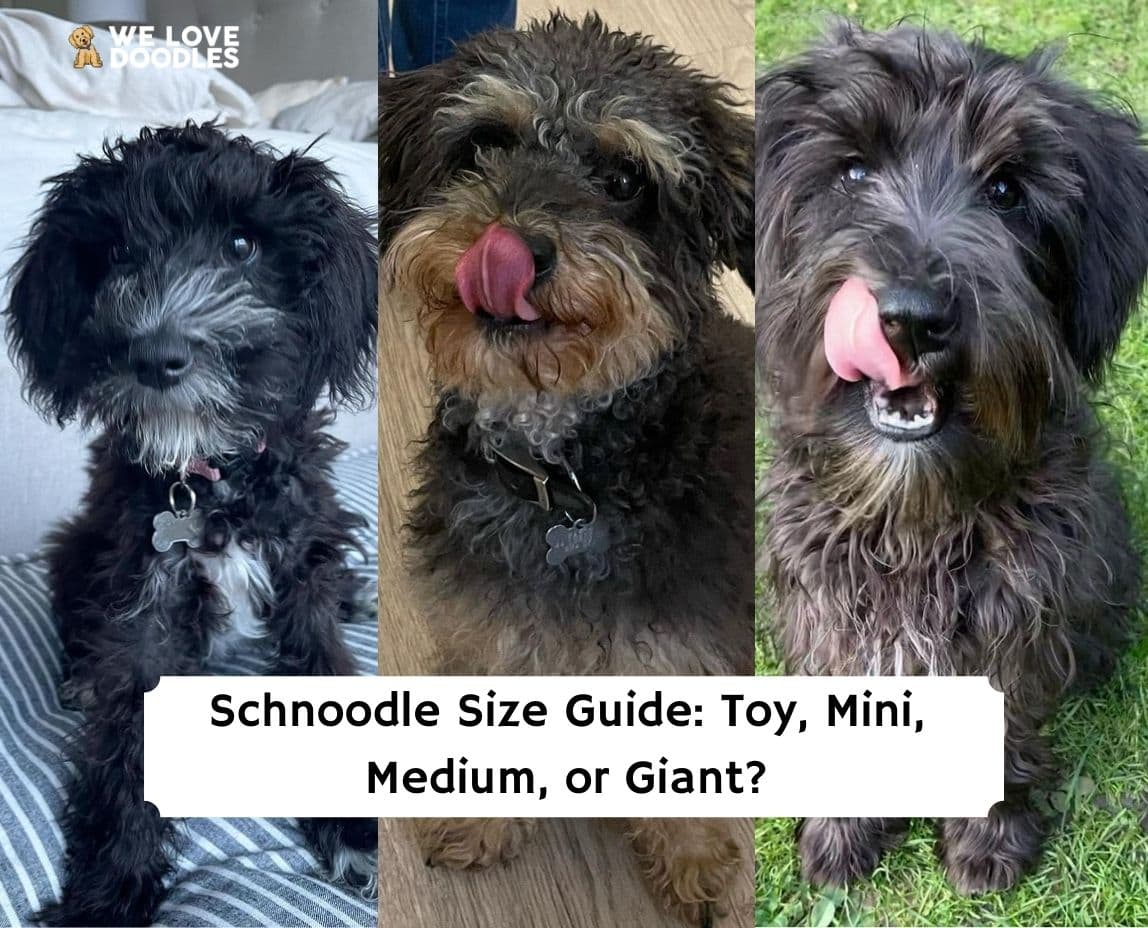 With its silly name and gorgeous looks, it's no wonder the Schnoodle has joined the ranks of other Doodle cross puppies, like the Goldendoodle and Labradoodle, in popularity amongst dog lovers.
A Schnoodle is a hybrid dog that combines the traits of a Poodle with those of a Schnauzer. This breed is a trendy cross because both individual breeds are fun, intelligent pets that only need moderate exercise and love spending time with their humans.
They come in various sizes, ranging from the tiny toy Schnoodle to the gentle giant Schnoodle.
Choosing the right size to bring home depends on many factors, such as the size of your house, whether or not you have any children, and the amount of work you're willing to put into grooming.
To help you pick your Schnoodle, we've put together an overview of different types of Schnoodle sizes, as well as a guide to making Schnoodle size predictions based on how big the puppy is.
Do you want to learn more information about the Schnoodle sizes? We created a dog breed  video below:
Check out these other articles: Schnoodle Dog Breed Guide and When is a Schnoodle Fully Grown?
Schnoodle Size Charts & Growth Patterns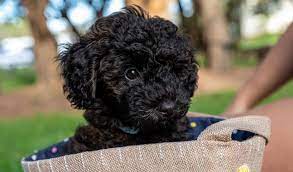 Schnoodle size charts and growth patterns can help you predict what you will be dealing with once your puppy is fully grown.
While there is some variation amongst each of the different types of Schnoodle sizes, the chart below provides some starting guidelines:
| | | |
| --- | --- | --- |
| Schnoodle Size | Height in Inches | Weight in Pounds |
| Toy Schnoodle | 10-12 | 7-15 |
| Mini Schnoodle | 12-14 | 15-30 |
| Medium Schnoodle | 19-22 | 30-50 |
| Giant Schnoodle | 20-25 | 50-80 |
Additionally, you can predict the projected size of your Schnoodle by using a formula based on the size of their parents:
For the toy Schnoodle size, take their weight at 15 weeks old and multiply it by 2.
For the mini Schnoodle size, take their weight at 18 weeks old and multiply it by 2.
For the medium or standard Schnoodle size, take their weight at 23 weeks old and multiply it by 2.
For the giant Schnoodle size, take their weight at seven months and multiply it by 2.
Check out this other Schnoodle article: How Long Do Schnoodle Live?
Toy Schnoodle Size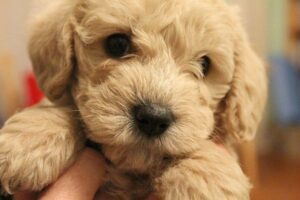 Toy Schnoodles are perfect examples of the old saying, "Big things come in small packages." They have big, silly personalities and are full of curiosity. They're also the most manageable size to train.
Keep in mind that they become very attached to their humans, so this Schnoodle size is more prone to suffer from separation anxiety.
What Is a Toy Schnoodle?
A toy Schnoodle is a cross between the most miniature varieties of each of the parents– a toy Poodle and a miniature Schnauzer. They are sometimes referred to as "teacup Schnoodles" due to their diminutive stature.
What Size Is a Toy Schnoodle?
Ranging in weight from 7-15 pounds and standing only 10-12 inches tall, toy Schnoodles are around the size of a Shih Tzu or a Miniature Pinscher.
They reach their mature size around seven months old, unlike their larger counterparts, which continue growing for several more months.
Their small size makes the toy Schnoodle size ideal for apartment dwellers or families with older children. Babies and toddlers may unintentionally hurt the little puppy by playing too rough.
What Is the Lifespan of a Toy Schnoodle?
You can expect to live a long and happy life with your toy Schnoodle, with the most extended expected lifespan of all sizes at 15-18 years.
How Much Does a Toy Schnoodle Cost?
Be prepared to pay the big bucks to take home your toy Schnoodle. The average cost at this size ranges from $2,000 to $4,000.
Other factors can increase or decrease the price. For example, a rare beige toy Schnoodle will be more costly than a much more common black-coated puppy.
Mini Schnoodle Size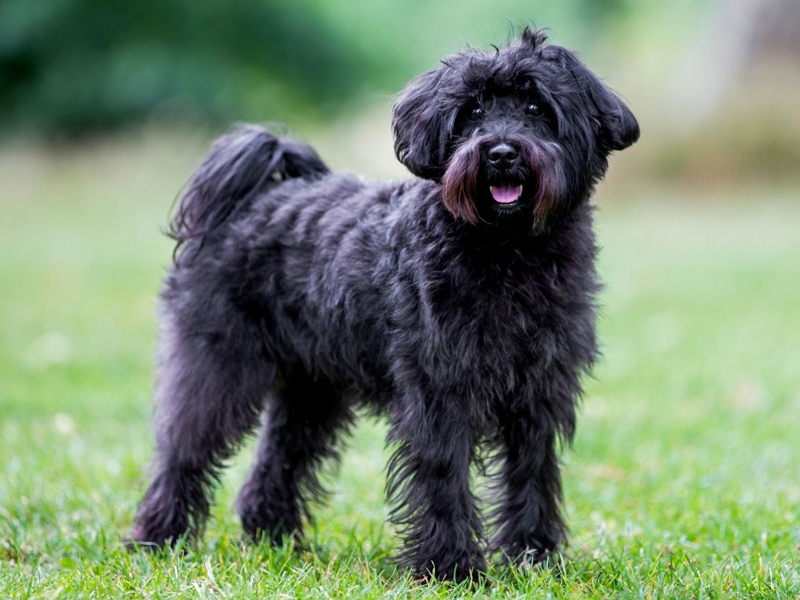 Mini Schnoodles are an excellent middle ground if you're looking for that "perpetual puppy" but want a dog that can handle a little more activity before getting tuckered out.
That being said, mini Schnoodles are typically buzzing with energy. While they'll happily sleep for a few hours while nestled in your lap, neglecting their need for exercise can result in chewed-up shoes, thoroughly explored trash bags, and a whole host of other boredom-based naughty behavior.
What Is a Mini Schnoodle?
Mini Schnoodle litters are the result of crossing miniature Poodles and miniature Schnauzers.
What Size Is a Mini Schnoodle?
Miniature Schnauzers typically reach a maximum of 20 lbs and a height of 14 inches, while miniature Poodles top out at 17 pounds and 15 inches. Mini Schnoodles, though, can get a fair amount bigger than that, hitting a maximum of 30 pounds.
They are also stockier and more muscular than their teeny toy brethren.
Mini Schnoodles are fully grown between 8-10 months old.
What Is a Mini Schnoodle's Lifespan?
As is common in most breeds, mini Schnoodles have shorter lifespans than the toy size but longer than medium or giant Schnoodles. They live anywhere from 10-18 years, depending on the health and genetics of their parents.
You can help extend your puppy's life by ensuring it has the proper nutrition and by taking it for regular vet visits to check up on its overall well-being.
How Much Does a Mini Schnoodle Cost?
Mini Schnoodles cost a little less than toy Schnoodles, and you can bring one into your home for around $900-$2000.
You should also factor in training costs before you decide on purchasing your puppy. While they are fast learners, mini Schnoodles can be a little sassy, so you'll want to ensure they understand obedience commands.
Medium Schnoodle Size
If you want all the cuteness of a toy or miniature Schnoodle on a larger scale, the medium Schnoodle is the right choice. It can handle smaller children thanks to its high-energy personality and sturdy build.
They are also quite playful and will happily spend their days jogging, romping around the yard, and engaging in epic tug-of-war battles.
What Is a Medium Schnoodle?
A cross between a standard Poodle and a standard Schnauzer, medium Schnoodles are an excellent middle ground for this designer breed. They are charming and whip-smart but require plenty of engagement from their humans to quell their boredom.
They are also perfect for agility training. Their high intelligence means they are quick learners who will stay engaged with their task, enjoying the opportunity to show off their skills, a trait inherited from their Poodle parentage.
What Size Is a Medium Schnoodle?
Medium Schnoodles can top out around 50 lbs and stand nearly 2-feet tall. They reach maturity between 12-18 months old.
This larger size is due to the increase in the size of their parents, with standard Poodles weighing up to 70 lbs and typically reaching around 22-inches tall.
Similarly, standard Schnauzers are significantly larger than miniature Schnauzers, doubling their height to 19 inches and 45 pounds.
What Is the Lifespan of a Medium Schnoodle?
The life expectancy of a medium Schnoodle isn't much lower than that of a mini. You can expect your furry friend to live anywhere from 10-16 years on average. Ensuring your canine companion gets plenty of exercise is key to spending more years together.
How Much Does a Medium Schnoodle Cost?
If you want a Schnoodle at the lowest price point, the medium size is a great choice. Depending on the breeder, you can find them for around $600-$1,000.
If you find one for a significantly lower price than that, it may be best to inquire into the parents' health. Because designer breeds can inherit health issues from the Poodle and Schnauzer genetic line, it's worth figuring out why the breeder is selling for such a low cost.
Giant Schnoodle Size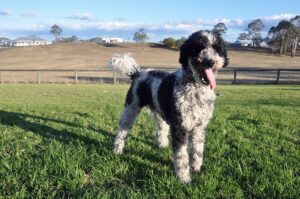 Finally, we reach the pinnacle of Schnoodle size– the giant. These massive mutts are no less adorable than the smaller options, with the added benefit of being ideal companions for hiking, running, and other endurance challenges.
Owners may find that the giant Schnoodle size has a degree of stubbornness that's not typical in the other varieties. Couple this with their physical build, and you can understand why it's critical to get them into obedience classes as early as possible.
What Is a Giant Schnoodle?
The giant Schnoodle size is the result of crossing a standard Poodle with a giant Schnauzer. That change in parentage results in an alert and loyal working dog who requires an owner with a bit of muscle, lest you enjoy being dragged down the sidewalk during early morning walks.
What Size Is a Giant Schnoodle?
Topping out the Schnoodle size charts, this impressive hound stands over 2-feet tall and weighs, on average, between 50-80 lbs. In some cases, though, a very large Schnauzer parent can lead to a triple-digit weight, tipping the scales at 110.
Giant Schnoodles take the longest to reach their full size, around 18-20 months.
What Is the Lifespan of a Giant Schnoodle?
Giant Schnoodles have the shortest lifespans, at 10-13 years. Their large size contributes to some common health concerns in bigger dogs, like canine hip dysplasia and gastric torsion.
How Much Does a Giant Schnoodle Cost?
Despite being a relatively rare Schnoodle size, you can find a giant for around the same cost as a standard– between $1,000-$2,000 on average.
Conclusion for Schnoodle Sizes
Choosing the right Schnoodle size depends on your lifestyle and the investment you're willing to make into caring for your pet.
The larger the dog, the more you can expect to spend on food, toys, grooming, and vet visits. You'll also need to dedicate more time to exercising your giant Schnoodle, so a house with a fenced-in yard and plenty of room to play is a necessity.
With the proper care and plenty of love, your Schnoodle will bring many years of playfulness and joy to your family, no matter which size you choose!
Other articles you would like:
Garrett loves animals and is a huge advocate for all Doodle dog breeds. He owns his own Goldendoodle named Kona. In addition, he volunteers at the Humane Society of Silicon Valley, where he fosters dogs and helps animals. Garrett enjoys writing about Doodles and believes that dogs can teach humans more about how to live than humans can teach a dog.
Why Trust We Love Doodles?
At We Love Doodles, we're a team of writers, veterinarians, and puppy trainers that love dogs. Our team of qualified experts researches and provides reliable information on a wide range of dog topics. Our reviews are based on customer feedback, hands-on testing, and in-depth analysis. We are fully transparent and honest to our community of dog owners and future owners.