o
Mini schnoodle breeders in the United States produce their puppies by crossing a poodle and a miniature schnauzer. The dogs are gentle, friendly family pets that are also hypoallergenic! The pups don't shed much, which makes them a great option for people who don't like dog hair in their homes.
It's important to find a responsible breeder as you begin to search for your mini schnoodle puppy. The best min schnoodle breeders in the United States take great care of their dogs in their earliest weeks, and your puppy will have been vet-checked and socialized before joining a new family.
Are you ready to adopt a mini schnoodle into your home? Check out our list of the top breeders in the United States, pick one close to you, and you'll be on your way to bringing home a puppy in no time at all!
Other articles you will like: Schnoodle Guide and How Long Do Schnoodles Live?
Top Mini Schnoodle Puppies for Sale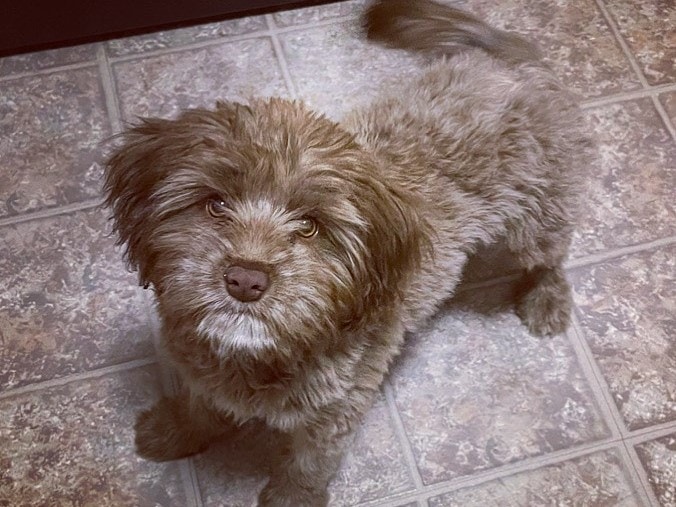 Some mini schnoodle breeders do not prioritize their litter's health or socialization, setting the puppies and future families up for failure. We want to help you avoid these irresponsible breeders and puppy mills, so we've put together a list of the top kennels in the country!
In general, we look for breeders who health check, who provide a health guarantee, and who have a history of producing quality litters. Do your own due diligence as breeding practices may change.
1. Angela's Schnoodles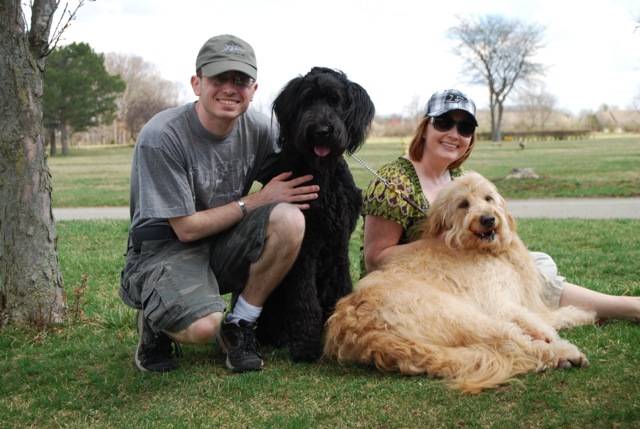 Angela's Schnoodles is a family-run mini schnoodle breeder in Bluffton, Indiana. Everyone in the large family is involved in the day-to-day operations of the business; whether taking a hands-on approach to whelping or just handling the books, there were many loving individuals behind the scenes of your puppy's care!
Angela's Schnoodles has been in operation for over two decades, and they know their stuff! They've only begun to produce mini schnoodle puppies over the past ten years, but they've used their extensive experience to determine that the mini schnoodle is the breed they'd like to specialize in! All parent pups are owned and cared for by Angela's Schnoodles and are genetically tested before they're permitted to breed.
Miniature schnoodle puppies for sale are raised inside the family home, with litters born right in the family kitchen!  To ensure the puppies get the attention needed, the team only allows one litter to be whelped and nursing at a time. For that reason, litters are only available a few times a year – it's best to place a $300 deposit to reserve your place on the waiting list. 
Puppy prices range from $1,500 to $3,500 depending on the pup's sex, colors, and other characteristics. All parent dogs are AKC-registered and your puppy will be current on vaccines, wormers, and other medications when he goes home with you.
Mini Schnoodle Breeder Details
2. Domino Mini Schnoodles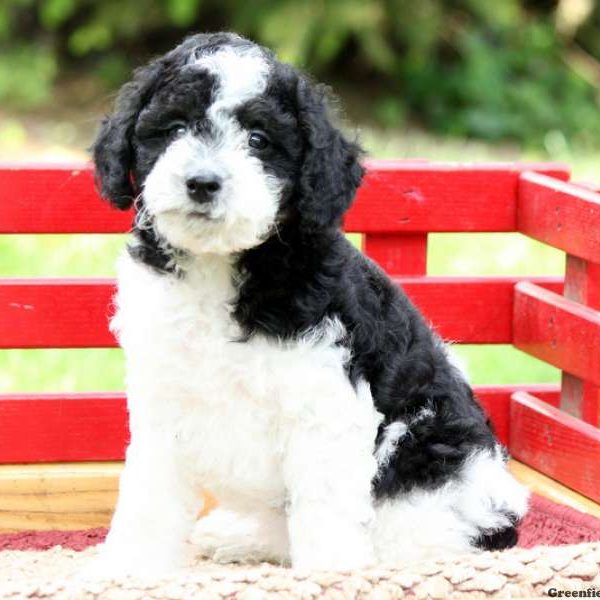 Domino Schnoodles is next on our list of the top mini schnoodle breeders in the United States. They, like Angela's, are a family-owned and operated business and they specialize in the schnoodle designer breed. Dogs are vet-checked, socialized, and very much ready to join a new family due to weeks of TLC offered while they're in Domino Schnoodles's care!
To adopt from this kennel, you'll need to place a $400 non-refundable deposit. This is deducted from the final cost of your dog, which is determined based on the dog's color, sex, size, and other characteristics. Pups can be shipped, too. The kennel is located in southern California, but your dog can be sent to anywhere in the United States provided it's large enough for travel! Contact the breeder for shipment pricing.
Domino Schnoodles is invested in ensuring that their babies go to knowledgable and loving homes. For that reason, the team has provided oodles of information on their website. Please read through all the information before you contact the team about adoption – they take this very seriously!
Mini Schnoodle Breeder Details
3. Pierce Miniature Schnoodle Puppies
Pierce Schnoodles is located in Pittsboro, North Carolina, a short drive from Raleigh and Chapel Hill. They're yet another family-owned and operated business, and they take the socialization of their pups seriously! Your dog will have made friends with other animals, adults, and children, so the transition into your home will be easy and smooth when Gotcha Day arrives!
While in the care of Pierce Schnoodles, your dog will enjoy a state-of-the-art, air conditioned facility once he reaches four weeks of age. Pups will be seen by a vet and will have received all heartworm medication and vaccinations will have been given to your dog before he's allowed to go home with you. Once he's old enough, he'll be given plenty of time to play and explore outdoors under supervision.
To adopt a mini schnoodle or a giant schnoodle from Pierce, you'll need to fill out an application. The team wants to know about your experience with dogs, your lifestyle, and your family before you're permitted to adopt. Adoption fees range from $1,400 to $1,800, and travel is available for dogs if you don't live in North Carolina. Ask the team for details on pricing and flight information.
Mini Schnoodle Breeder Details
4. Windy Hill Kennel Schnoodles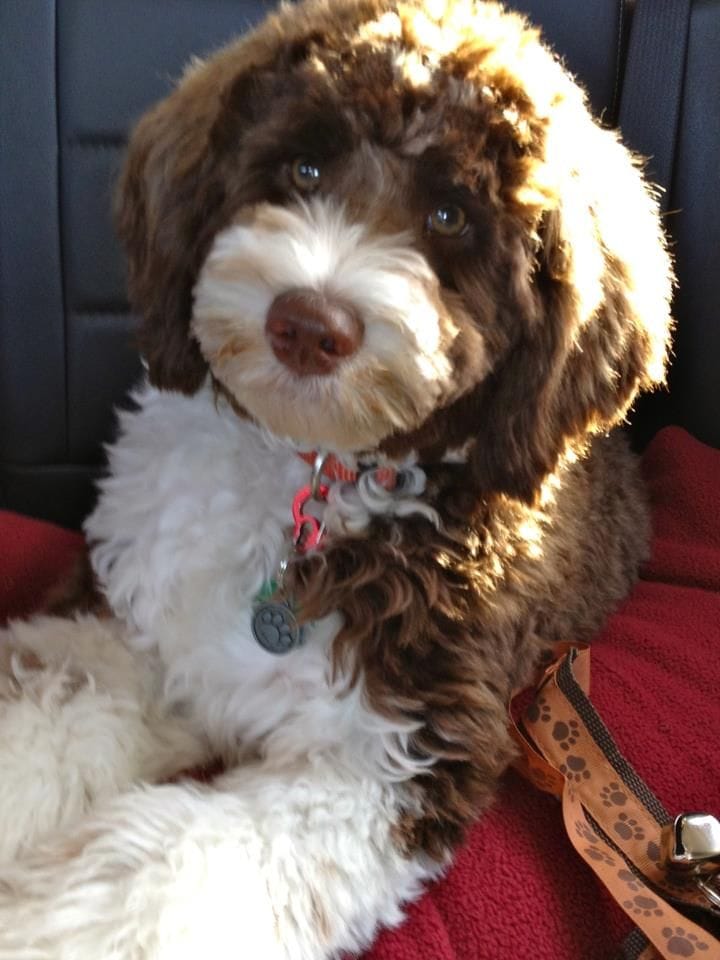 Windy Hill Kennel is a 28-acre breeder that's located 3 miles outside of Utica, Ohio. It's convenient to Columbus families, and travel for your dog may be available. Contact the kennel to make arrangements for air or ground transport for your puppy. 
Windy Hill Kennel has been in operation since 1988 and they've been breeding mini schnoodles since 2000. Over 20 years of experience has given the team the knowledge and familiarity with the breed to understand exactly how to raise quality puppies! Vet exams, vaccinations, wormers, and socialization are important parts of their puppy raising process. Your dog will be familiar with car rides, television sounds, the whirring of a vacuum, and other stimuli when he gets to your home.
Visitors are welcome at the Windy Hill Kennel, but please call ahead. You can view first-hand the love, care, and even training that goes into raising these little puppies! The price of your mini schnoodle is $1,950 regardless of sex, color, or other traits.
Please note that this kennel spays and neuters dogs at just eight weeks old. Speak with your vet about this – some vets recommend that dogs go through "puberty" before they're altered. If this is your preference, this may not be the right choice of breeder for you.
Mini Schnoodle Breeder Details
5. The Happy Tail Puppy Process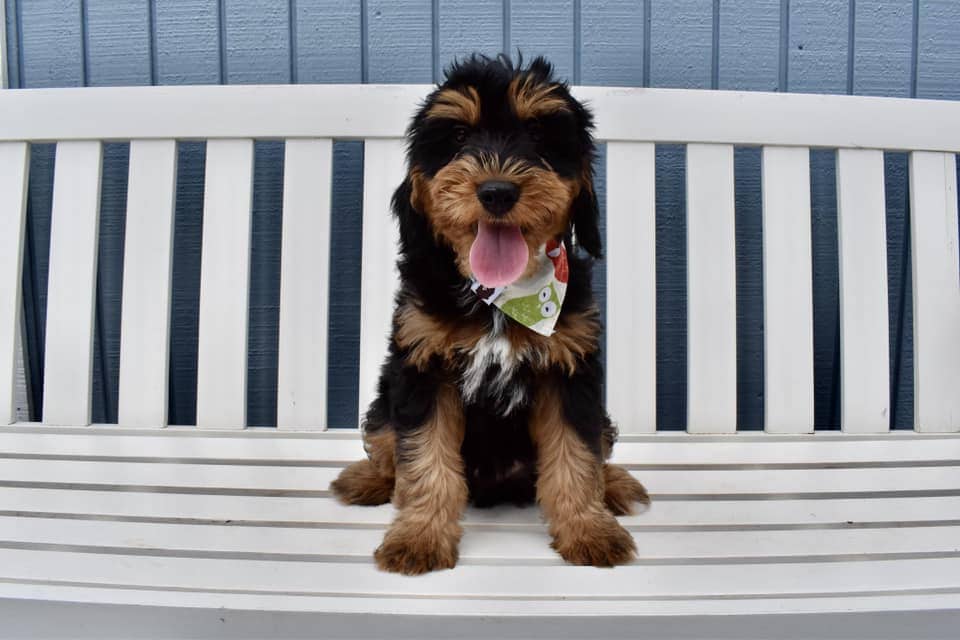 If you can't find a mini schnoodle breeder near you check out Happytail Puppies! This is a family team that has enlisted the help of guardian families who raise quality puppies. There are many breeds available; you can either search by breed or browse all the available dogs. Find a pup you like, the just pay the $200 deposit to begin the process of bringing your dog home.
Your dog will be vet-checked, vaccinated, wormed, and guaranteed healthy. Puppy prices are very affordable, and you'll usually pay les than $1,000 for your dog. Arrange a meet-and-greet before you bring your puppy home if you're close to Summerfield, North Carolina. Otherwise, you can connect with the breeder about arranging for the shipment of your dog.
Having trouble picking a puppy? No problem! You can contact a puppy specialist who will help you with your decision! Your guide will help you decide which breed is right for you based on your lifestyle, preferences, family size, and other factors that are unique to you!
Mini Schnoodle Breeder Details
6. North Carolina Schnoodles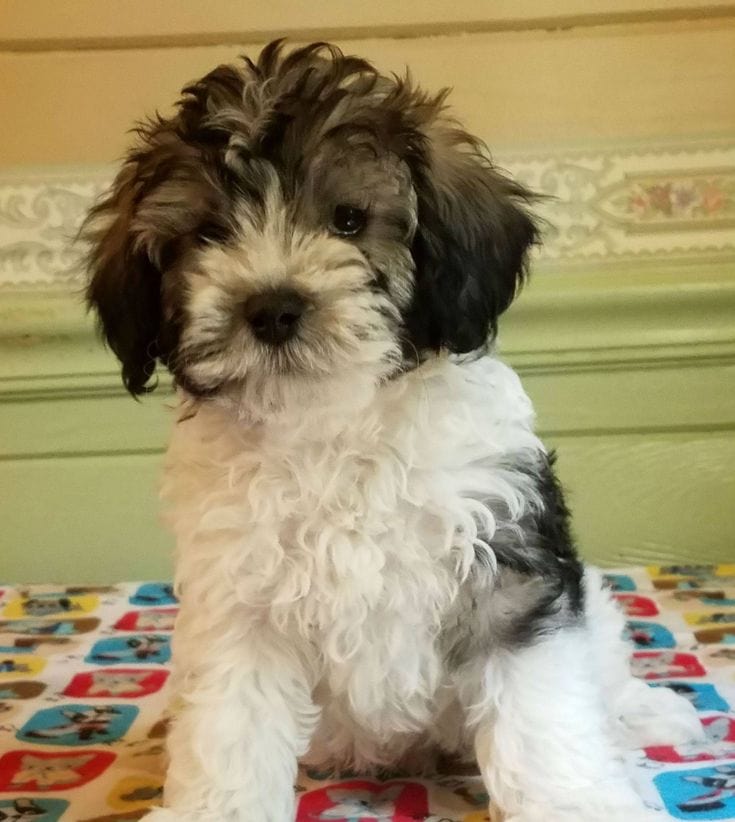 North Carolina Schnoodles is located in Mocksville, North Carolina, and sits on four acres of land that your puppy can learn and explore on! The breeder is certified by the American Animal Hospital Association (AAHA) and are very experienced in breeding healthy, quality puppies.
Mini schnoodle puppies are home-born and raised, and your dog will have received plenty of socialization before joining your family. Pups' parents are evaluated for hip, patella, and eye conditions, and are DNA-tested for PRA, a genetic condition that causes issues with a dog's eyes.
North Carolina Schnoodles ensures that the pups are kept up to date on their vaccinations as they grow. Once the schnoodles have had their first puppy vaccination at six weeks, their tails are docked and dewclaws are removed. Core vaccinations are given at six, nine, and twelve weeks after birth, and rabies shots are administered between twelve to sixteen weeks.
Adoption fees vary depending on the coat color and pattern, eye color, and the amount of training received. Information on delivery fees, discounts, and payment methods is contained on their website.
Mini Schnoodle Breeder Details
Frequently Asked Questions
How much are mini Schnoodles?
If you're interested in purchasing a mini Schnoodle and are curious about pricing, here's some information about this fabulous hybrid dog.
The mini Schnoodle is a mix between a Schnauzer and a Poodle.
They make for good family companions and are exceptional with children and other pets.
Only purchase from reputable breeders to ensure you're not buying a puppy mill puppy.
A mini Schnoodle puppy will range in price from $1,500 to $3,500, depending on your pup's coloring.
You'll usually have to pay a deposit of a few hundred dollars.
Most mini Schnoodle pups within a litter will be individually priced depending on color, gender, estimated adult size, and age.
All pups should have a health certificate and puppy warranties and have undergone genetic testing.
How big are mini Schnoodles?
Mini Schnoodles range from 12 to 15 inches in height. This hybrid dog breed is a cross between a Schnauzer and Poodle. You can find Schnoodles of all sizes from miniature, Giant, and Moyen.
They have a very laid-back personality and are protective of their home and family. Miniature Schnoodles weigh from 13-20 pounds. To get a complete picture of the Schnoodle size guide, visit the We Love Doodles Schnoodle size guide.
What is the average lifespan of a Schnoodle?
The average lifespan of Schnoodle ranges from 10 to 18 years. Nonetheless, remember that the smaller your Schnoodle is, the longer he will live.
Your Schnoodle should get between 30 to 60 minutes of exercise every day. Medium-sized and standard-sized Schnoodles have a life expectancy of 10 to 16 years, with most large Schnoodles living around 10-13 years. You should consider the following when looking at the factors affecting your Schnoodles lifespan.
Lifestyle
General Health
Genetic predispositions
Parent's size
What are Giant Schnoodle puppies?
Giant Schnoodles are the offspring of the Giant Schnauzer and the Standard Poodle. The Giant Schnoodle puppy, when fully grown, will weigh from 100 to 120 pounds. They carry a thick wavy coat that does not shed. Coats can be found in black, silver, tan, and white mixes.
What is a teddy bear Schnoodle?
This is a tremendously allergy-friendly popular hybrid that's a cross between a Schnauzer and Poodle. There are some temperament traits from the Schnauzer that are carried over.
Look for parents with good temperaments that are social and non-snippy. Parents should be eager to be around people. They should be bubbly, happy, and keen to please. Due to their intelligence and non-shedding factors, the Teddy Bear Schnoodle is very popular today due to its smaller size.
Can you breed 2 Schnoodles?
Yes, you can breed two Schnoodles either from a first-generation mix- Poodle and Schnauzer or a second, third, and so forth generation mix from two Schnoodle parents.
Vetstreet explains that the Miniature Schnauzer and a Poodle feature a double dose of Poodle Schnauzer attentiveness, making them excellent watchdogs. They are small dogs with curly coat that does well with regular clipping.
Vetstreet adds that the Schnauzer's boldness and the Poodle's friendliness, combined with intelligence from both sides, allow this hybrid dog to do well in dog sports like agility, flyball, obedience, and rally. These are all open to mixed breeds.
What is an F1 Schnoodle?
We Love Doodles explains that the F1 Schnoodle is the first generation of a Schnoodle and that your puppy will have half Schnauzer and half Poodle, so it's a matter of knowing the size of its parents to determine how large your Schnauzer might grow. Most F1's are non-shedding and feature allergy-friendly curly coats.
What is a Twoodle puppy?
A Twoodle puppy is an international hybrid pairing of an English Goldendoodle and a Schnoodle. Teddy Bear Twoodles make for good therapy dogs.
The sizes of a Twoodle will depend on the pairing of the parents, and English Teddy Bear Twoodles will be similar in size and weight to Goldendoodles. They look similar to the F1 Goldendoodles and have a loose wavy fleece coat. They are also highly allergy-friendly. Twoodles can be found in the following colors:
Black
Cream
Champagne
Chocolate and tan phantom
Chocolate
Apricot
Red
Wookie
Parti
How much do Teddy Bear Schnoodles Cost?
The Teddy Bear Schnoodle costs range from $1500 to a few thousand dollars depending on the lineage, breeder, gender, and location. You can also opt to adopt a Teddy Bear Schnoodle from a rescue though they'll probably be hard to find.
This is a family-focused dog with a very sweet and very intelligent temperament that can be a therapy or service dog, and that also can participate in fun dog sports with you. The Teddy Bear Schnoodle always wants to have fun!
Conclusion for Mini Schnoodle Breeders
Many Schnoodle breeders are in the United States, but not all of them are reputable. One of the most challenging tasks while purchasing a Schnoodle is finding a trustworthy breeder to sell you a healthy puppy free of health issues or genetic diseases. Therefore, it is advised that you also research the ever-evolving breeding practices.
In conclusion, always ensure to enquire on the health tests, genetic testing, and puppy warranties from any mini Schnoodle breeder. Trust me; you need a trustworthy breeder that will sell you a healthy puppy.
You will also like:
Garrett loves animals and is a huge advocate for all Doodle dog breeds. He owns his own Goldendoodle named Kona. In addition, he volunteers at the Humane Society of Silicon Valley, where he fosters dogs and helps animals. Garrett enjoys writing about Doodles and believes that dogs can teach humans more about how to live than humans can teach a dog.
Why Trust We Love Doodles?
At We Love Doodles, we're a team of writers, veterinarians, and puppy trainers that love dogs. Our team of qualified experts researches and provides reliable information on a wide range of dog topics. Our reviews are based on customer feedback, hands-on testing, and in-depth analysis. We are fully transparent and honest to our community of dog owners and future owners.