The mini Schnoodle is a mix between a Schnauzer and a Poodle. They are gentle and great family pets with a commanding presence. Additionally, they possess a mostly hypoallergenic and non-shedding coat inherited from their Poodle parent, making them perfect for pet owners who dislike dog hair. However, it's important to know where to get a Schnoodle puppy and how to find a reputable breeder.
Making sure you get a puppy from a reputable breeder will make all the difference, no matter the breed. That's why we curated the best mini Schnoodle breeders for you to find your next puppy.
Other articles you will like: Schnoodle Guide and How Long Do Schnoodles Live?
Top Mini Schnoodle Puppies for Sale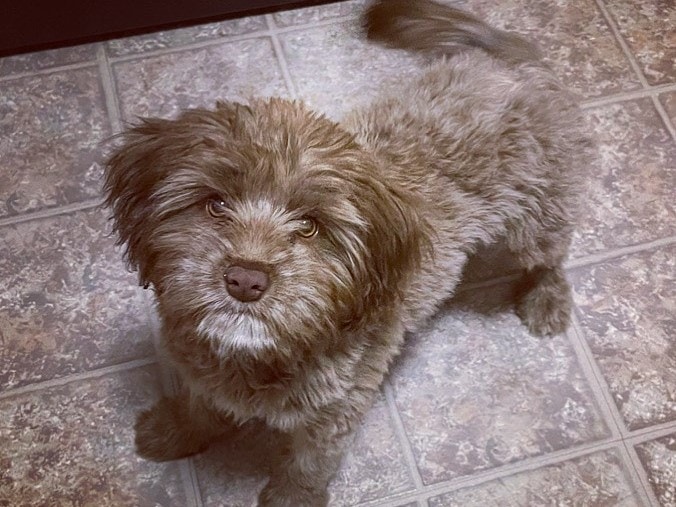 Some Schnoodle breeders do not prioritize their litter's health or socialization, setting the puppies and future families up for failure. Here is a list of top-quality breeders located in the United States. In general, we looked for breeders who health check, provide a health guarantee, and have had multiple litters. We always suggest that you do your own due diligence as breeding practices constantly change.
1. Angela's Schnoodles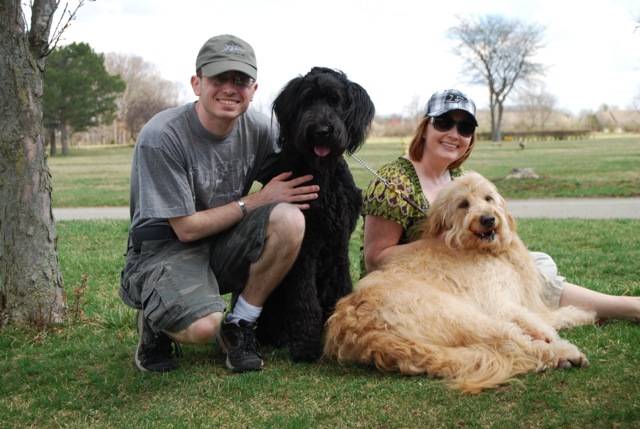 Angela's Schnoodles is a mini Schnoodle breeder that is family-run and located in Bluffton, Indiana. This is a big family where everyone is involved in the day-to-day running of the business in various capacities. Additionally, this mini Schnoodle breeder has been breeding dogs for about 24 years but only began to produce miniature Schnoodles about ten years ago. This is enough testament to how experienced they are.
All Schnoodle breeding adults are in homes. The breeding adult dogs live with the breeders as pets, while some stay with foster homes or guardian homes while they aren't breeding. While the breeder owns all the Schnoodle breeding adults, none are related in any way. This ensures a diverse bloodline is maintained and eliminates any chance of passing on any hereditary disease.
Information on the site states that the miniature Schnoodle puppies for sale are raised inside their home and the litters are born in their kitchen.  To ensure the puppies get the attention needed, they have only one litter whelped and nursing at a time. A mini Schnoodle puppy ranges from $1,500 to $3,500, depending on the puppy's coloring. 
Therefore, any interest would require a $300 deposit. Although it is non-refundable, choices in color, size, or gender can be changed. They have a long waiting list for their Schnoodle puppies for sale, and the wait is definitely worth it. This is because all of the parents are AKC registered and undergo tests for genetics issues and health conditions. Any other information needed is on their website.
Mini Schnoodle Breeder Details
2. Domino Mini Schnoodles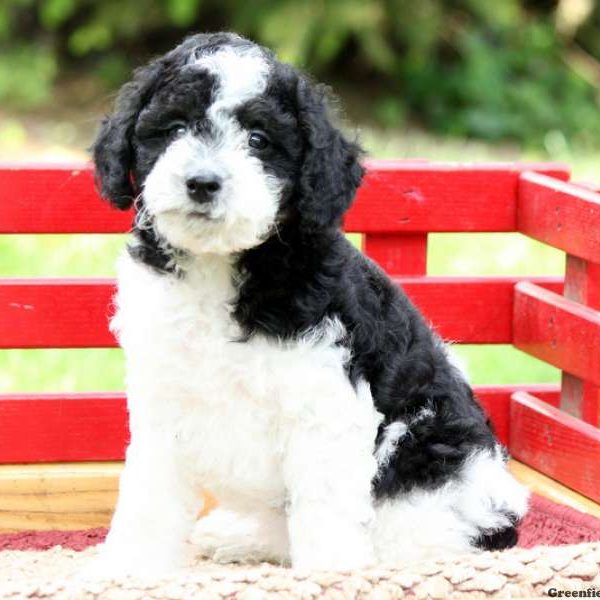 Domino Schnoodles is a small family operation owned and managed by a mother-daughter team located in Southern California. They are not open every day; therefore, visitors are advised to make appointments and appropriate arrangements to visit their breeding facilities. 
The scheduling helps to protect the puppies from any illness they might get from the visitors. They require deposits dependent on the species of Schnoodle puppy chosen. Each of their mini Schnoodle puppies for sale is individually priced. Interest in the puppies with the desire to purchase any would require following specific procedures. 
These procedures include depositing part of the payment for any new litter. Therefore, once you deposit on the puppy or the litter, you are locked in, and the deposit is final. The Domino Schnoodles website is very informative and a little hard to navigate. 
This should not discourage or dissuade you from getting their lovely and healthy puppies, especially for residents in or around California. Their website contains information on their breed of dogs and suitable lifestyles for each mini Schnoodle. 
Mini Schnoodle Breeder Details
3. Pierce Miniature Schnoodle Puppies
Pierce Schnoodles is owned and operated by a husband and wife duo and is located in Pittsboro, North Carolina. They have been in the Schnoodle breeding business for many years and still going stronger each day. Mrs. Pierce grew up in a family that ran a Schnauzer breeding operation. Therefore, she grew up in a dog-friendly home. 
They are a reputable and ethical mini Schnoodle breeder. They offer to board past clients at a relatively low cost compared to what other facilities would charge. Therefore, if you were a traveler, it would be advisable to get a mini Schnoodle from them. Their website contains all the necessary information ranging from available pups, their facilities, and their utilization.
Therefore, if you want to purchase a Pierce Schnoodle, you will need to make a decision depending on several factors. For example, the size of Schnoodle you want matters, and then you will need to fill out an application. Giant Schnoodle puppies for sale go for $1,600, but you will also pay a non-refundable deposit of $250. Mini Schnoodles for sale are between $1,000 to $1,400 depending on color and pedigree, with a deposit of $100.
Additionally, you may have your puppy shipped internationally at a cost. These expenses will increase the total fee for the dog. Any interest in prices or getting on the waiting list would require you to call or email them. They also give international calling information on their website.
Mini Schnoodle Breeder Details
4. Windy Hill Kennel Schnoodles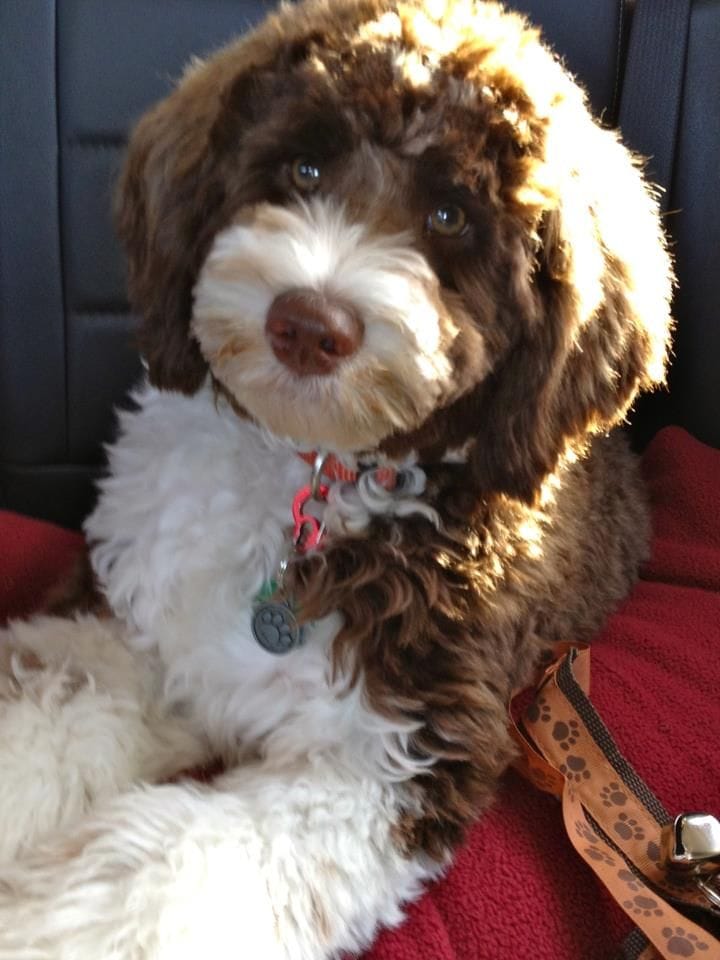 Windy Hill Kennel is a 28-acre breeder, 3 miles outside of Utica, Ohio, located 35 miles Northeast of Columbus. This is a family-run business specializing in raising Schnauzers since 1988 and added mini Schnoodles to their kennel in the spring of 2000. They believe in raising happy puppies that are socialized to many different experiences. These experiences range from traveling in a car to family get-togethers.
Windy Hill kennel takes pride in their kennel and dogs. They make sure their dogs are happy, friendly, outgoing, and healthy. They do not sell to pet shops or brokers; they sell only to individual families. Visitors are always welcome, but you have to call ahead to confirm an appointment.
Price seems fair considering their mini Schnoodle puppies are spayed and neutered at eight weeks old, microchipped, and comes with a 2-year total genetic guarantee. The puppies also go through 2 weeks of training before going home after weaning. The microchips help in recovering stolen or lost puppies found at the pound. The local vet checks all puppies. 
Windy Hill Kennel offers to ship their Schnoodle puppies to interested families living only in the United States, as long as you are willing to cover the shipping expenses, including a crate, airline ticket, and health certificate. Unfortunately, there is no refund of payment on any puppy. Therefore, you are advised to be sure of your choice. 
Mini Schnoodle Breeder Details
Address: 12182 Bruce Rd. Utica, Ohio 43080, United States

Phone: +1 740-670-3971

Website:

[email protected]
5. The Happy Tail Puppy Process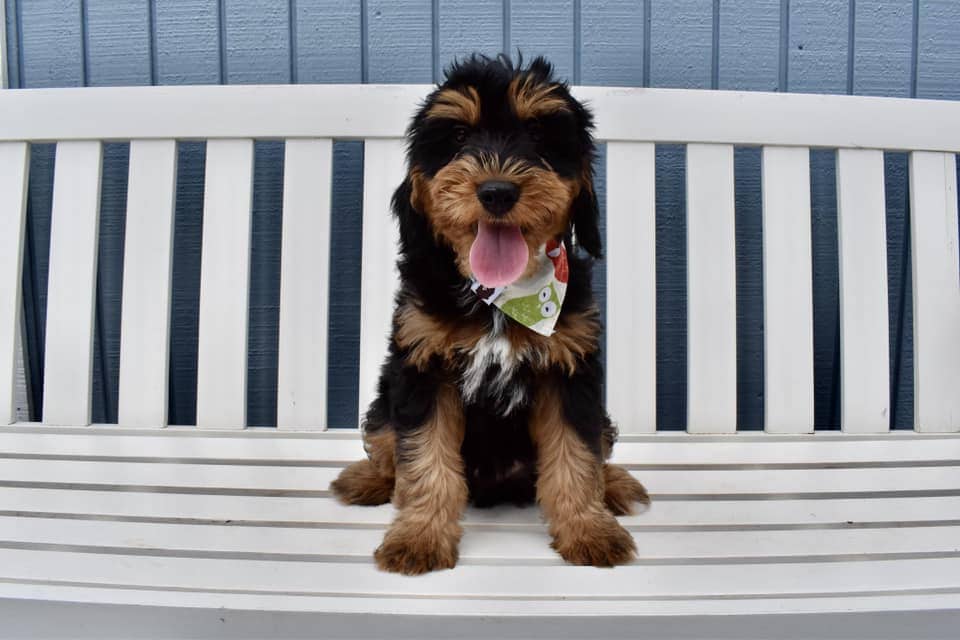 Happy Tail Puppies, formerly known as Triad Kennel, began in 2005. It is a family business and not a pet store. They are made up of families licensed in raising doggy daddies, mummies, and babies. All their mini Schnoodle puppies are born and raised indoors. This enables them to monitor the puppies and ensure they get the proper care it deserves. 
Happy Tail Puppies ensure the puppies grow up in a clean and healthy environment. These facilities are inspected and licensed, which helps in cutting down the risk of sickness and disease. The prices of their miniature Schnoodle puppies for sale are determined based on many variables. 
Some of them include the breed, the estimated adult size, the age, and the coloring. In addition, their website contains other necessary information.
Mini Schnoodle Breeder Details
6. North Carolina Schnoodles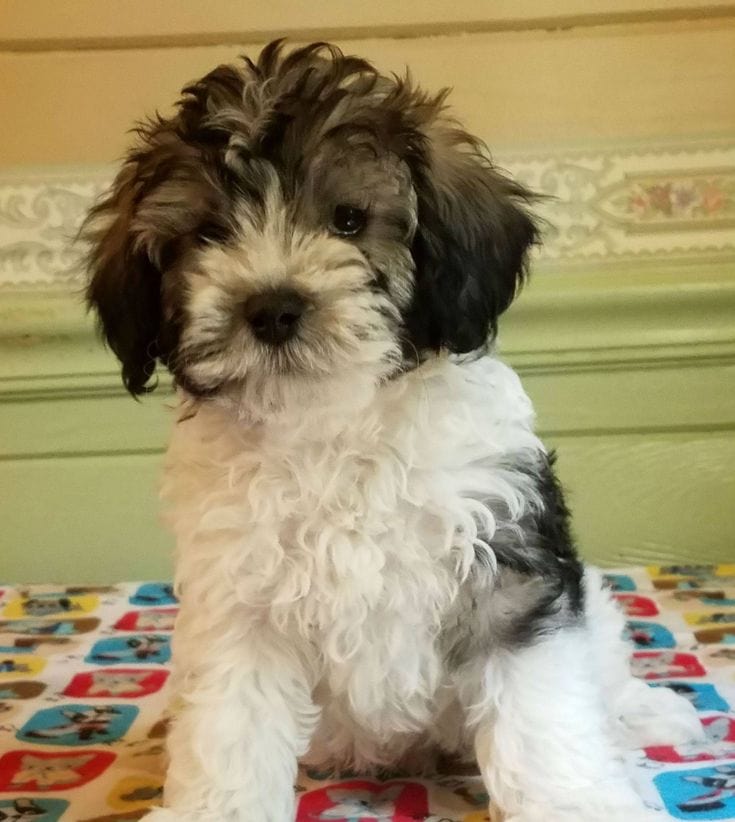 North Carolina Schnoodles is a breeding home located in Mocksville, North Carolina. Located on about 4 acres of land, they have a lot of space for exercising the dogs. With multiple certifications such as the American Animal Hospital Association (AAHA), they are well experienced in the dog breeding business.
Their Schnoodle puppies are born and raised in their homes to ensure they are well socialized. They ensure their dogs are evaluated for any defect in their hips, patella, and eyes. They are also tested for the PRA through genetic testing. The mini Schnoodles are groomed on a regular basis, fed adequately, and exercised regularly.
North Carolina Schnoodles ensure that the pups are kept up to date on their vaccinations at the appropriate time. Once the Schnoodles have had their first puppy vaccination at six weeks, their tails are docked and dewclaws removed. Core vaccinations are given at six, nine, and twelve weeks after birth, and rabies shots between twelve to sixteen weeks.
Adoption fees vary depending on the coat color and pattern, eye color, and the amount of training received. Information on the delivery fees, discounts, and payment methods is contained on their website.
Mini Schnoodle Breeder Details
Frequently Asked Questions
How much are mini Schnoodles?
If you're interested in purchasing a mini Schnoodle and are curious about pricing, here's some information about this fabulous hybrid dog.
The mini Schnoodle is a mix between a Schnauzer and a Poodle.
They make for good family companions and are exceptional with children and other pets.
Only purchase from reputable breeders to ensure you're not buying a puppy mill puppy.
A mini Schnoodle puppy will range in price from $1,500 to $3,500, depending on your pup's coloring.
You'll usually have to pay a deposit of a few hundred dollars.
Most mini Schnoodle pups within a litter will be individually priced depending on color, gender, estimated adult size, and age.
All pups should have a health certificate and puppy warranties and have undergone genetic testing.
How big are mini Schnoodles?
Mini Schnoodles range from 12 to 15 inches in height. This hybrid dog breed is a cross between a Schnauzer and Poodle. You can find Schnoodles of all sizes from miniature, Giant, and Moyen.
They have a very laid-back personality and are protective of their home and family. Miniature Schnoodles weigh from 13-20 pounds. To get a complete picture of the Schnoodle size guide, visit the We Love Doodles Schnoodle size guide.
What is the average lifespan of a Schnoodle?
The average lifespan of Schnoodle ranges from 10 to 18 years. Nonetheless, remember that the smaller your Schnoodle is, the longer he will live.
Your Schnoodle should get between 30 to 60 minutes of exercise every day. Medium-sized and standard-sized Schnoodles have a life expectancy of 10 to 16 years, with most large Schnoodles living around 10-13 years. You should consider the following when looking at the factors affecting your Schnoodles lifespan.
Lifestyle
General Health
Genetic predispositions
Parent's size
What are Giant Schnoodle puppies?
Giant Schnoodles are the offspring of the Giant Schnauzer and the Standard Poodle. The Giant Schnoodle puppy, when fully grown, will weigh from 100 to 120 pounds. They carry a thick wavy coat that does not shed. Coats can be found in black, silver, tan, and white mixes.
What is a teddy bear Schnoodle?
This is a tremendously allergy-friendly popular hybrid that's a cross between a Schnauzer and Poodle. There are some temperament traits from the Schnauzer that are carried over.
Look for parents with good temperaments that are social and non-snippy. Parents should be eager to be around people. They should be bubbly, happy, and keen to please. Due to their intelligence and non-shedding factors, the Teddy Bear Schnoodle is very popular today due to its smaller size.
Can you breed 2 Schnoodles?
Yes, you can breed two Schnoodles either from a first-generation mix- Poodle and Schnauzer or a second, third, and so forth generation mix from two Schnoodle parents.
Vetstreet explains that the Miniature Schnauzer and a Poodle feature a double dose of Poodle Schnauzer attentiveness, making them excellent watchdogs. They are small dogs with curly coat that does well with regular clipping.
Vetstreet adds that the Schnauzer's boldness and the Poodle's friendliness, combined with intelligence from both sides, allow this hybrid dog to do well in dog sports like agility, flyball, obedience, and rally. These are all open to mixed breeds.
What is an F1 Schnoodle?
We Love Doodles explains that the F1 Schnoodle is the first generation of a Schnoodle and that your puppy will have half Schnauzer and half Poodle, so it's a matter of knowing the size of its parents to determine how large your Schnauzer might grow. Most F1's are non-shedding and feature allergy-friendly curly coats.
What is a Twoodle puppy?
A Twoodle puppy is an international hybrid pairing of an English Goldendoodle and a Schnoodle. Teddy Bear Twoodles make for good therapy dogs.
The sizes of a Twoodle will depend on the pairing of the parents, and English Teddy Bear Twoodles will be similar in size and weight to Goldendoodles. They look similar to the F1 Goldendoodles and have a loose wavy fleece coat. They are also highly allergy-friendly. They can be found in the following colors:
Black
Cream
Champagne
Chocolate and tan phantom
Chocolate
Apricot
Red
Wookie
Parti
How much do Teddy Bear Schnoodles Cost?
The Teddy Bear Schnoodle costs range from $1500 to a few thousand dollars depending on the lineage, breeder, gender, and location. You can also opt to adopt a Teddy Bear Schnoodle from a rescue though they'll probably be hard to find.
This is a family-focused dog with a very sweet and very intelligent temperament that can be a therapy or service dog, and that also can participate in fun dog sports with you. The Teddy Bear Schnoodle always wants to have fun!
Conclusion for Mini Schnoodle Breeders
Many Schnoodle breeders are in the United States, but not all of them are reputable. One of the most challenging tasks while purchasing a Schnoodle is finding a trustworthy breeder to sell you a healthy puppy free of health issues or genetic diseases. Therefore, it is advised that you also research the ever-evolving breeding practices.
In conclusion, always ensure to enquire on the health tests, genetic testing, and puppy warranties from any mini Schnoodle breeder. Trust me; you need a trustworthy breeder that will sell you a healthy puppy.
You will also like: