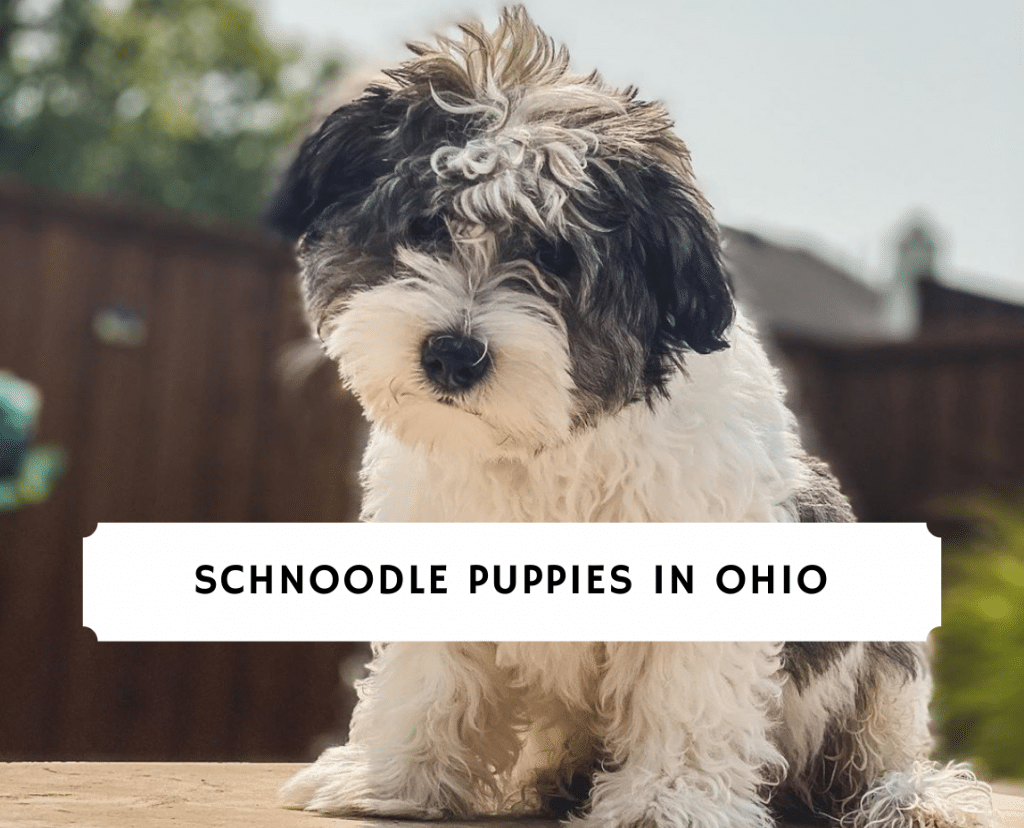 If you are in the market for a Schnoodle puppy in Ohio whether it's a miniature version or a giant version you may find yourself at a loss of where to start. That is normal for first-time dog owners because there are several breeders in Ohio. While you want a healthy Schnoodle puppy that has been well socialized, it is hard to find a reputable breeder. Maybe you even found a reputable breeder on the other side of the country but as an Ohio resident, you would like to find a closer breeder where you can view their facilities.
We have put together a list of places to find Schnoodle puppies in Ohio and the surrounding areas. This will help you with the process of finding a puppy for your family. We do have a Schnoodle breeder on our list that is not located in Ohio, but they are pretty close. As always we try not to list any breeder that looks like a puppy mill or backyard breeder. However, always make sure that you research the breeder first and ask lots of questions before putting your deposit down.
Other articles you would like: How much does a Schnoodle Cost? and Maltipoo Breeders in Ohio
1. Windy Hill Kennel Schnoodles Ohio
Windy Hill Kennel in Utica, Ohio, is by no means a small breeding operation. They sit on 28-acres of land and they openly call it a kennel facility. This breeder has many male and female dogs which result in multiple litters of puppies a year. They consider themselves an ethical Schnoodle breeder in Ohio due to the clean conditions, care of the adults and puppies, and the large amounts of outdoor time the Doodles get.
The owners say that they have nothing to hide and encourage visitors to their facility. They want to show all potential Schnoodle puppy owners all of the dogs they have and where the dogs are born, raised, and live. They actually caution against breeders than don't want you to see all of the dogs in their breeding program. However, take this with a grain of salt because many breeders use a guardian program and may not have the dogs on site.
However, Windy Hill Kennel is transparent and has numerous pictures of their facilities on their website. We can appreciate that. The facilities do look clean and well cared for and the Schnoodles puppies look happy, healthy, and well-groomed. Make sure you get a good look in-person to be sure.
To become the proud puppy parent of a Windy Hill Kennel Schnoodle it will cost anywhere between $1550 and $1950. This price includes a spay or neuter at 8 weeks old before they go home, a microchip, a two-year health guarantee, and two weeks of training. One thing it doesn't mention is whether or not the puppies will have their first set of shots and deworming. This is pretty standard so they probably just forgot to list it. However, you may want to ask them to confirm.
Schnoodle Puppy Information
Generation: F1 Schnoodle puppies
Size: Mini, Standard Schnoodle puppies
Schnoodle Breeder Details
2. Carol's Precious Pups Ohio
Carol's Precious Pups is a small hobby breeder in Ohio that sells Schnoodle puppies.  So small in fact, that we found her on Facebook and she doesn't have an actual website. This just means that all of her business comes from Facebook traffic and word of mouth. She does have quite a bit of contact information on the page though and It seems like she is very responsive to email, phone calls, and Facebook messages.
She doesn't have very many litters of Schnoodles a year, but she does have other small Poodle crosses that she breeds as well. The Schnoodles that she does breed are only the miniature size. She does not have standard or giant Schnoodles that some pet owners are looking for.
Since she is a small hobby breeder you will want to make sure you ask questions and even ask for a visit to see the dogs, the facility, or the home in which they live. If they don't want you to come or are evasive then you may want to look for another breeder. There is nothing to suggest that she is not a reputable breeder, just make sure you do your homework and ask questions.
Schnoodle Puppy Information
Generation: F1 Schnoodle puppies
Size: Mini Schnoodle puppies
Schnoodle Breeder Details
Location: Ohio
Telephone: 419-564-7901
Email: carolspreciouspups@yahoo.com
Facebook: Social Media
3. Buckeye Puppies Ohio
Buckeye Puppies Ohio is a bit different from a breeder or a broker. This is actually an advertising site. Breeders of any size can list their available Schnoodle puppies in Ohio on this website. Schnoodles are a breed that has a few listings in the standard and mini categories. There are three from the same breeder and then two other listings from different people.
This website doesn't guarantee anything and the creators don't personally know the breeders. In addition, they can't help you get a visit or tour the breeding facilities. They also don't breed or raise puppies themselves and are strictly an advertising venue.
Because they are simply the advertisers you will need to do a lot of research yourself on the breeders if you find a puppy you like. Ask questions and see if you can arrange a visit to see the parent Schnoodles and breeding operation. Part of the Buckeye Puppies policy is that the breeders have to be open to at least scheduling a visit.
The amount per Schnoodle puppy for sale in Ohio does vary simply because you are going to be seeing the advertisements from different breeders. The pricing is always different per breeder.
This isn't our favorite way for people to find Schnoodle puppies to add to their family because there are too many unknowns. However, if you can't find a Schnoodle anywhere else, this site could at least get you started looking.
Schnoodle Puppy Information
Generation: F1 Schnoodle puppies
Size: Mini, Standard Schnoodle puppies
Schnoodle Breeder Details
4. Oodles of Schnoodles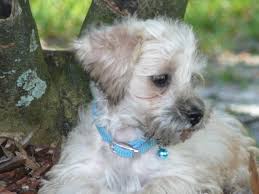 So Oodles of Schnoodles is not actually located in Ohio, however, the breeder is within driving distance or at least meeting distance to many places in Ohio. They seem like such a reputable breeder that loves their dogs that we went ahead and put them on the list. They only breed Schnoodles and the giant version seems to be their favorites, but they also breed mini Schnoodles.
One thing that we love about this breeder is that they do a phone interview with potential puppy owners before they approve them for a puppy. This is a great way to get to know people and to feel out what the home is like. That way matching the Schnoodle puppy with the correct temperament is that much easier. They want their puppies to be in the right home as this prevents unnecessary rehoming.
Because they are a small home-based operation and all of the dogs live in their home they currently have a rather large waiting list. All of the future Schnoodle puppies will be placed with families on the waiting list unless the waiting list empties out. This is unlikely because these dogs are beautiful and have a wonderful temperament.
It is free to get on the waiting list. However, when the Schnoodle puppies are born and it becomes your turn to be paired with a puppy you will need to pay a $200 deposit to reserve that puppy. This will go towards the final price which is $1000 for mini Schnoodles and $1500 for Giant Schnoodles.
They understand that the budget needs and pay schedules for everyone are different. They are happy to work with you as long as you are upfront and honest about your financial situation. If you lie and keep hiding the fact that you need to wait to make a payment then they will not be able to help.
Schnoodle Puppy Information
Generation: F1 Schnoodle puppies
Size: Mini, Standard Schnoodle puppies
Schnoodle Breeder Details
Conclusion for Schnoodle Puppies in Ohio
Schnoodle puppies in Ohio are growing and becoming popular. This is mainly due to the fact that they are typically nonshedding and hypoallergenic. This means that you won't have to vacuum as much and you don't have to worry about being allergic to pet dander. That being said, we did notice many puppy mills selling Schnoodles. We hope that this article helped you find reputable Schnoodle breeders in Ohio that you can reach out to.
Check out these other articles:
Garrett loves animals and is a huge advocate for all Doodle dog breeds. He owns his own Goldendoodle named Kona. In addition, he volunteers at the Humane Society of Silicon Valley, where he fosters dogs and helps animals. Garrett enjoys writing about Doodles and believes that dogs can teach humans more about how to live than humans can teach a dog.
Why Trust We Love Doodles?
At We Love Doodles, we're a team of writers, veterinarians, and puppy trainers that love dogs. Our team of qualified experts researches and provides reliable information on a wide range of dog topics. Our reviews are based on customer feedback, hands-on testing, and in-depth analysis. We are fully transparent and honest to our community of dog owners and future owners.