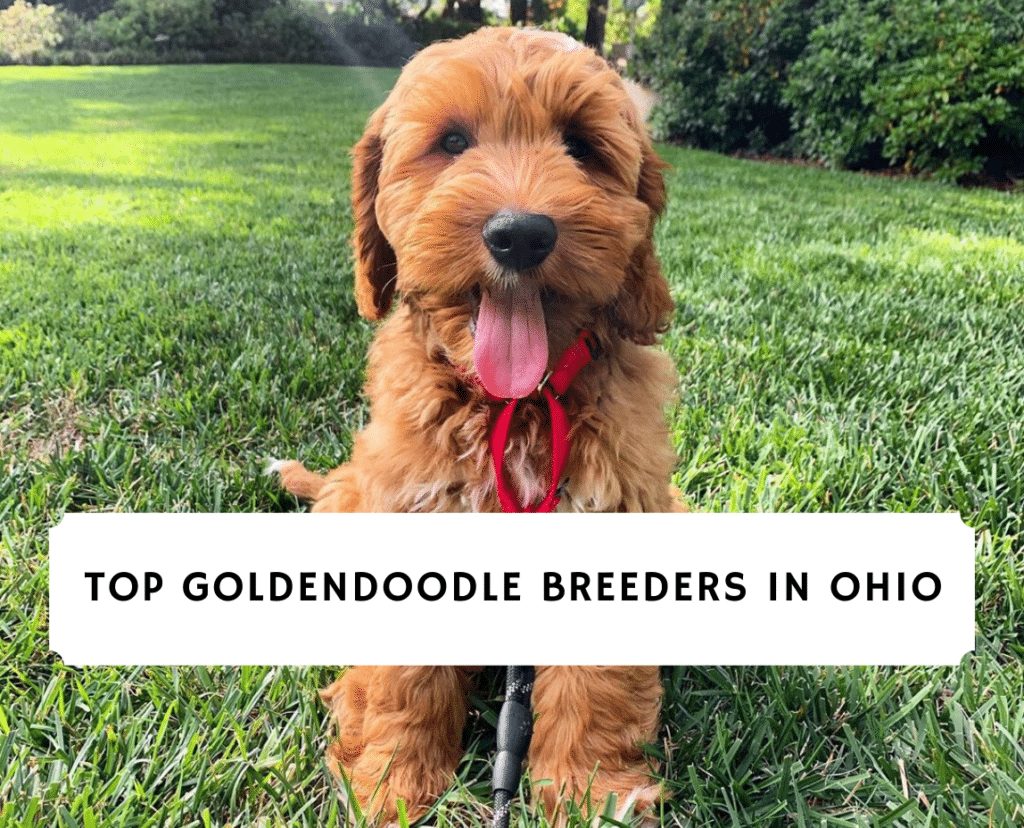 One of the hardest aspects of dog ownership is choosing the right breeder. After all, how do you know which Goldendoodle puppy breeder to pick? Which ones are going to be reputable and have healthy puppies? Well, we've done extensive research when choosing our own dogs, so we're hoping we can save you some time! Thus, we have created a list of the seven best Goldendoodle Breeders in Ohio.
In general, Goldendoodles are going to be a 10 or more year investment so you'll want to make sure that you do all your research beforehand. Before you get started finding a breeder we highly recommend that you figure out what size (mini, medium, or standard) and what Goldendoodle Generation you want (F1, F1B, F2, F2B, etc.). This helps narrow down the process of selecting a Goldendoodle breeder in Ohio. 
Premier Pups is a company that is well-known for delivering small breed Goldendoodle puppies from good-quality and socially responsible breeders to those who seek them. They also have paw-dates at their facility in Johnstown, Ohio.
Their knowledgeable staff guides you from the moment you begin your search to the point where you have successfully settled down with your mini Goldendoodle puppy. You can contact Premier Pups' support anytime and they will guide you.
All miniature Goldendoodle puppies for sale in Ohio that leave their facility go through a detailed health check. The exam is performed by a registered vet along with a puppy specialist. Your puppy's abdomen, heart, knees, and vision are examined for any issue.
Your Goldendoodle puppy will be dewormed, vaccinated, and will be given a 10-year health guarantee when it reaches you. The team at Premier Pups also makes efforts even after you have bought a puppy. They make follow-up calls and provide you with any assistance you need.
Goldendoodle Puppy Information:
Generation: All generations including F1, F2, F1B, F2B, etc.
Size: Mini, Medium, and Standard

Goldendoodles
Goldendoodle Breeder Details:
Our team at We Love Doodles highly recommends using PuppySpot as your first source to find a Goldendoodle puppy. From our experience and knowledge of the dog world, bringing home a Doodle breed compared to other dogs isn't as easy as you think. The interest in raising a Goldendoodle companion is now higher than ever, which means that contacting breeders by yourself requires facing certain obstacles. The obstacles you'll encounter are getting approved, waiting for months, waiting for Goldendoodle litters, and then hoping there are enough puppies in the litter for each applicant!
With PuppySpot's marketplace, the problems you'd typically face are drastically reduced because they vet and interview Goldendoodle breeders ahead of time. The website helps connect trustworthy breeders and people searching for a companion, making the process of getting a Goldendoodle puppy in Ohio easier. PuppySpot has a zero-tolerance policy for puppy mills. On the website, you can select a Goldendoodle puppy by the size of your living environment, the gender you want, the coat color, and the generation of Goldendoodle. Instead of filling out applications and contacting one breeder at a time, we highly recommend you to use PuppySpot before moving down this list.
Goldendoodle Puppy Information:
Generation: All generations including F1, F2, F1B, F2B, etc.
Size: Mini, Medium, and Standard

Goldendoodles
Goldendoodle Breeder Details:
3. Timberidge Goldendoodles
Timberidge Goldendoodles is our top choice for Goldendoodle breeders in Ohio because we have connected with them before, and they helped answer all our questions. They are based out of Loveland, Ohio and specialize in breeding multi-generational Goldendoodles that have two copies of the furnishing gene, making their puppies one of the most non-shedding and hypoallergenic Goldendoodles you can purchase. Their Goldendoodle puppies in Ohio are raised as family pets which means they live inside the house as opposed to a barn or a kennel and receive early training.
Timberidge Miniature Goldendoodles in Ohio only breeds dogs that are healthy, extremely trainable, and personable. They focus on coat colors that range from cream to apricot.
Goldendoodle Puppy Information:
Goldendoodle Breeder Details:
Location: Close to Cinncinati,

Ohio

. South of Columbus,

Ohio

.
Address: Loveland,

Ohio

Telephone: 513-262-2393
Website: Timberide Goldendoodles
Email: goldendoodles@timberidgefarms.com
4. Keepsake Goldendoodles of Ohio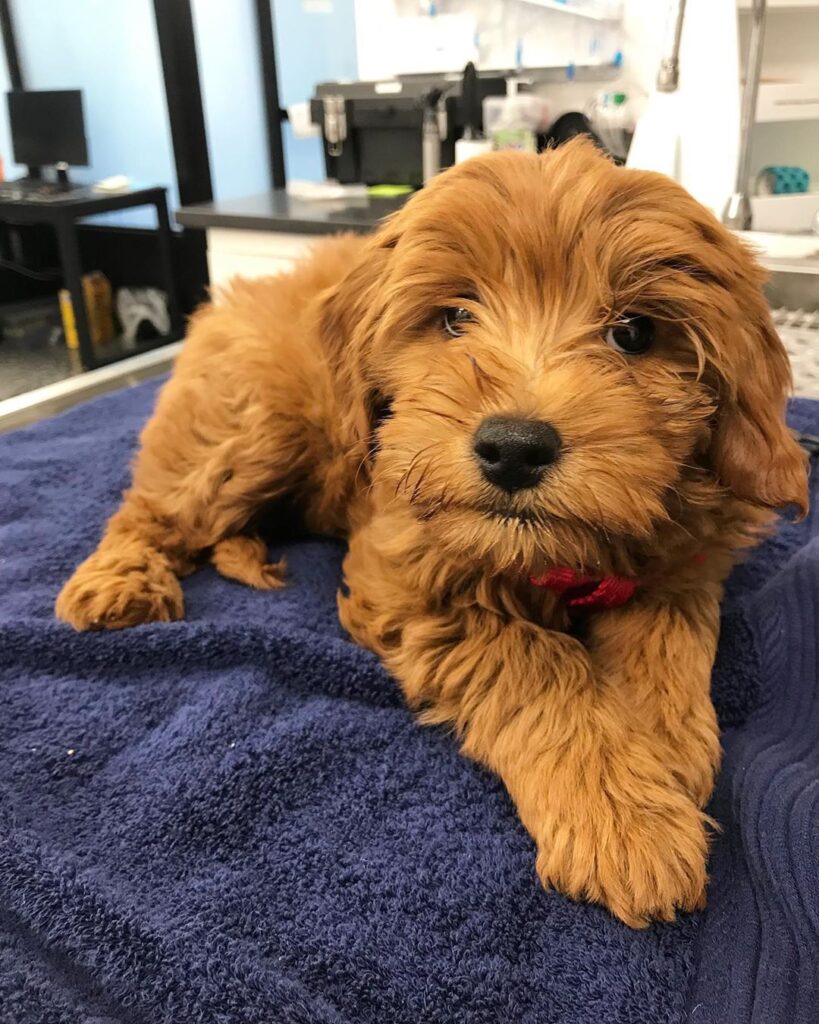 Keepsake Goldendoodles has been breeding puppies in Ohio for a very long time. They have had over 18 AKC champion dogs and are a longstanding member in the AKC Breeders of Merit and Breeders of Heart programs. These are among the highest honors that you can get as a dog breeder.
Also, Keepsake Doodles of Ohio is certified by the Goldendoodle Association of America (GANA) which mandates several different health and wellness checks on the parent dogs. This breeder chooses to breed miniature Goldendoodles and Bernedoodles in the Norton, Ohio area with a specialty in raising therapy dogs, show dogs, and healthy dogs in general. Their focus has primarily been on multi-generational petite and miniature Goldendoodle puppies, but they also have a few litters of standard-sized Goldendoodles.
Goldendoodle Puppy Information:
Generation: Multi-gen

Goldendoodles

Size: Petite, Mini, Medium

Goldendoodles
Goldendoodle Breeder Details:
Location: Near Akron,

Ohio

. Close to Cleveland,

Ohio

.
Address: Norton,

Ohio

Telephone: 330-620-8305
Website: Keepsake Doodles
Email: keepsakedoodles@gmail.com
5. Hello Beautiful Goldendoodles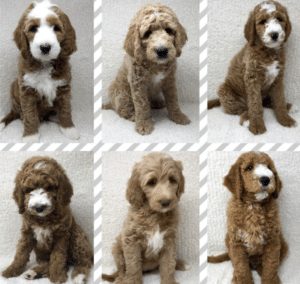 Hello Beautiful Goldendoodles is a breeder in Bettsville, Ohio that specializes in medium and standard sized Goldendoodle puppies that are typically multi-generational. They are a certified blue ribbon member with the Goldendoodle Association of North America and have passed all health requirements such as OFA for eyes, heart, elbows, and joints. These Goldendoodle breeders in Ohio focus on raising dogs with great temperaments, nonaggressive personalities, and beautiful coats.
Their multi-generational Goldendoodles are known to be nonshedding and extremely hypoallergenic. Puppies are raised in thehome as family members, and are socialized from an early age. Hello Beautiful Goldendoodles provides a 2-year, notarized health guarantee
Goldendoodle Puppy Information:
Generation: Multi-Generation

Goldendoodles

Size: Medium, Standard

Goldendoodle
Goldendoodle Breeder Details:
Location: Close by Toledo,

Ohio

. North of Findlay,

Ohio

.
Address: P.O. Box 536, Bettsville,

Ohio

, 44815
Website: Hello Beautiful Goldendoodles
Phone Number: 419-680-0615
Social Media: Facebook
6. Miniature Goldendoodles of Ohio
Miniature Goldendoodles of Ohio are breeders based out of Shade, Ohio. They have been breeding Goldendoodle puppies for 17 years and have a stellar reputation. They were even featured on the Today Show with their Goldendoodles. Miniature Goldendoodles of Ohio operates two large farms on which they raise their mini Goldendoodle puppies. Thus, there are always lots of ways to socialize each puppy, and they can even play with the family's two children.
What's also great about Miniature Goldendoodles of Ohio is that they often donate dogs to charitable organizations like the Make a Wish, diabetes organizations, and Cleveland Clinic. As a breeder, they have a large number of reviews and testimonials that you can find online.
Goldendoodle Puppy Information:
Generation: F1, F1B Goldendoodles
Size: Mini, Medium Goldendoodles
Goldendoodle Breeder Details:
Location: South of Columbus,

Ohio

.
Address: 13550 Rainbow Lake Rd, Shade, OH 45776
Telephone: (740)-590-4262
Website: Miniature Goldendoodles of Ohio
Email: julie@miniaturegoldendoodlepuppiesforsale.com
7. Yesteryear Acres Goldendoodles
Yesteryear Acres breeds Goldendoodle puppies in Heath, Ohio. In addition to Goldendoodles, they also raise Labradoodles and Double Doodles. Yesteryear Acres of Ohio also breeds their Goldendoodle puppies with three children so the puppies are well socialized. They offer a 2-year health guarantee and even can help train your Goldendoodle puppy with their puppy training services which is a great way to get your dog potty trained and know basic commands.
The doodles are generally very nonshedding and hypoallergenic in nature. Also, they have been featured on several television shows like The Early Show, CBS Early Show, and Fox Morning show. They have a great reputation and have been breeding Goldendoodles for a long time.
Goldendoodle Puppy Information:
Generation: Multi-Generational

Goldendoodles

Size: Mini, Medium

Goldendoodles
Goldendoodle Breeder Details:
Location: Near Columbus Ohio. South of Cleveland

Ohio

.
Address: 4635 Linnville Road SE, Heath, OH 43056
Website: Yesteryear Acres Ohio
Email: doodles@yesteryearacres.com
Phone Number: (740) 323-1910
How to Choose a Goldendoodle Puppy in Ohio
There are so many different Goldendoodle breeders in Ohio that you may have difficulty deciding which one to choose. However, our list of the six best Goldendoodle Breeders in Ohio can help narrow down the selection. Each of the breeders we chose is highly reputable – we have not listed puppy mills! These breeders have basic health certifications and most are  associated with the Goldendoodle Association of North America (GANA).
If you're in the process of choosing a Goldendoodle puppy in Ohio, there are some basic things you need to consider.
First, what size Goldendoodle do you want? There are three common sizes which are the mini (<30 pounds), medium (<45 pounds), and standard (45+ pounds).
Second, Goldendoodles come in many different coat colors. Some of the standard colors are cream, red, or apricot.
Lastly, you'll have to figure out which Goldendoodle generation is right for you. Some Goldendoodle generations are going to be more hypoallergenic and nonshedding than other generations. If you have mild pet allergies we recommend an F1B Goldendoodle.
Conclusion for 6 Best Goldendoodle Breeders in Ohio
We've sifted through dozens of different Goldendoodle breeders in Ohio and curated a top six list based on breeder reputation, health certifications, and reviews. You can't go wrong choosing a Goldendoodle puppy breeder from our list. We hope that we helped you narrow down on some of the breeders to choose from in Ohio.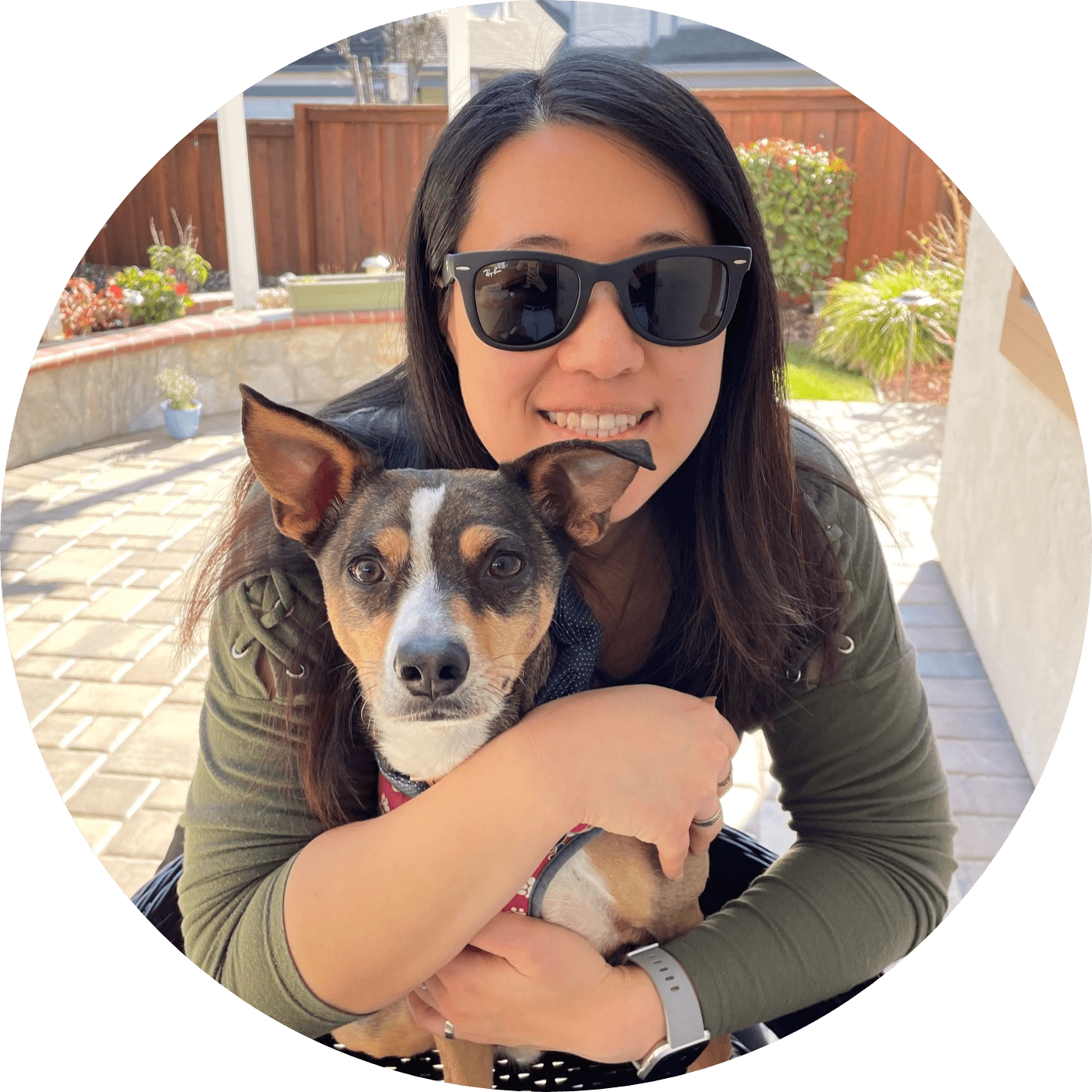 Dr. Sabrina Kong graduated from the Royal Veterinary College in England in 2016 and has been working at a small animal clinic in Northern California since then. She grew up in the Bay Area and got her bachelor's degree from Cal Poly San Luis Obispo. She also became a Certified Canine Rehabilitation Practitioner through a program at the University of Tennessee.
When she isn't in the clinic taking care of her four-legged patients, she enjoys traveling and trying new foods with her friends and her three-legged dog, Apollo. She adopted Apollo from her clinic when he was a puppy with numerous health issues. Dr. Kong truly cares about taking care of animals.