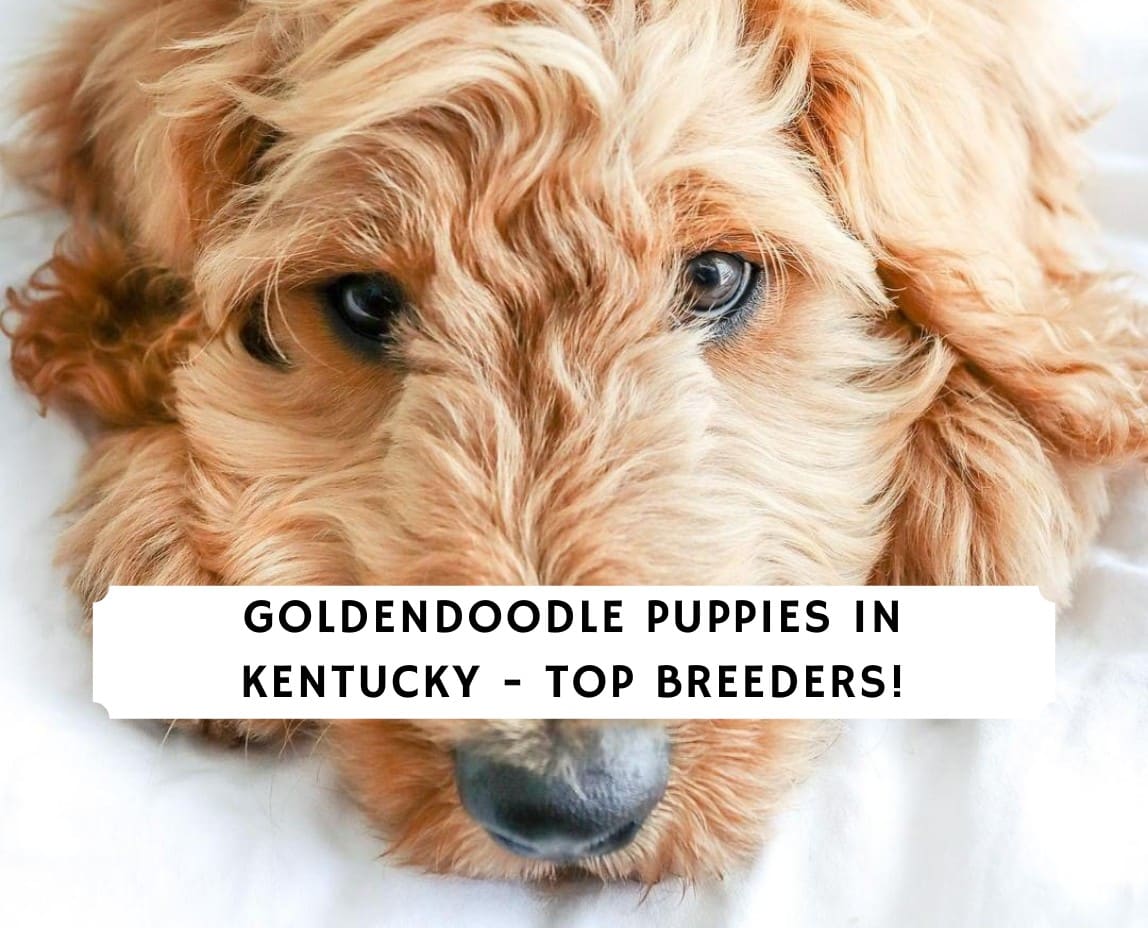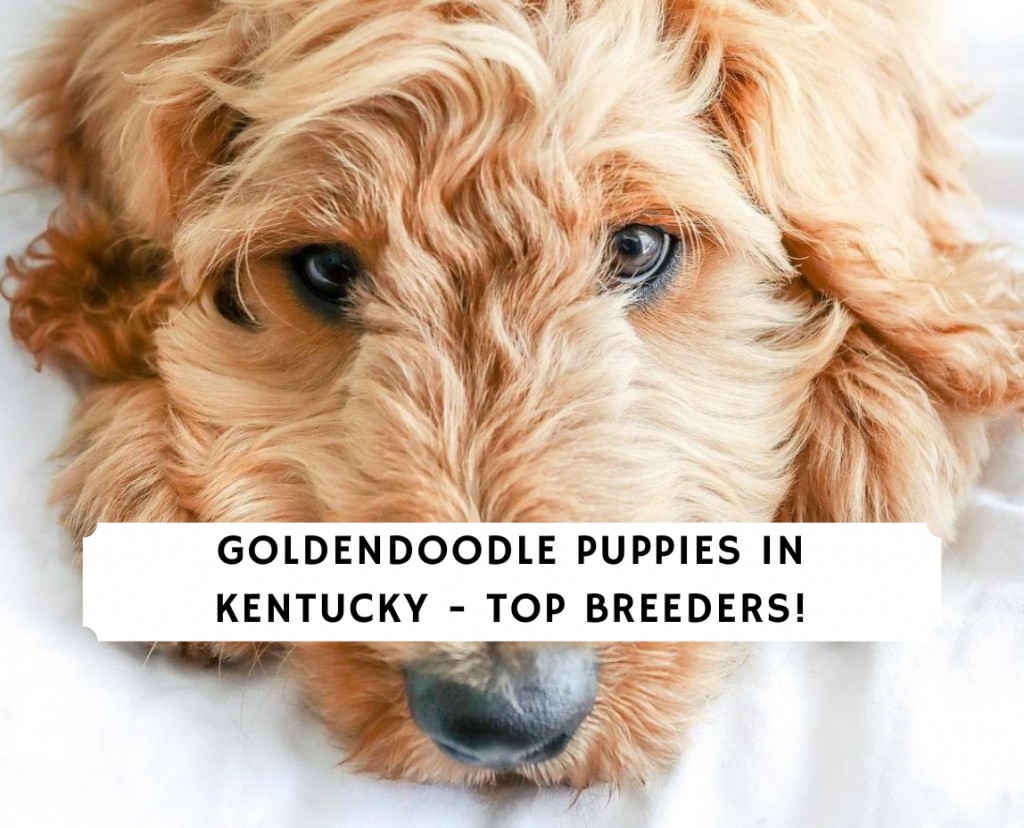 Goldendoodles have exponentially risen in popularity over the last twenty years.  Originally bred from a Golden Retriever and a Poodle, the Goldendoodle is arguably the most popular crossbred dog in the world.  If you are in the market for an active, loyal, and loveable pet that is intelligent and typically has a hypoallergenic coat, then a Goldendoodle puppy might be just the right fit. 
If you're looking for a Goldendoodle breeder in Kentucky then there may not be any need to look beyond the breeders included below.  We have conveniently sorted through many of the Goldendoodle puppies in Kentucky to find the top breeders. We sorted the breeders by Goldendoodle size, Goldendoodle generation, and breeder name to ensure that only those with good standing are included on our list.
We have done a lot of research to ensure that only the best Goldendoodle breeders in Kentucky are included and have excluded any breeders that resemble a puppy mill or have unethical breeding practices.
1. GoldenQuest Goldendoodles in Kentucky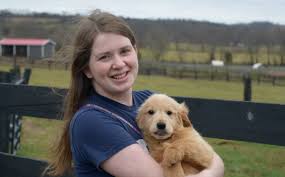 The folks at GoldenQuest are the only accredited breeders from the Goldendoodle Association of North America (GANA) on our list of Goldendoodle puppies in Kentucky.  As such, they have agreed to stick to the rigorous ethical standards that GANA requires including ensuring that all of their breeding parents are fully tested for health and genetic complications. 
In addition to breeding Goldendoodles, GoldenQuest breed and raise miniature Golden Retrievers and have trademarked the name Comfort Retrievers for their specific brand.
A well-established training program starts early on in the life of Goldendoodle puppies brought up at GoldenQuest where they practice the Puppy Culture method of positive reinforcement.  Further obedience training packages can be arranged, at an additional fee, if you would like to take your puppy home at a slightly later date. 
Most Goldendoodles from this breeder will be about 30-45 pounds by adulthood.  Puppies are currently $2500 though check if you may qualify for their guardianship program in which case a pup could be yours for $500. This is one of the most reputable Goldendoodle breeders in Kentucky because they certified by GANA.
Goldendoodle Puppy Information:
Generation: Multigen Goldendoodle puppies
Size: Miniature and Petite Goldendoodle puppies
Goldendoodle Breeder Details:
Location: Near Lexington, Kentucky.
Address: 12641 Troy Pike, Versailles, KY 40383
Telephone: +1 (859) 879-3647
Website: www.comfortretrievers.com
Email: info@comfortretrievers.com
Contact: Kathy Burgess
2. Golden Acres in Kentucky
Located on a 30-acre farm in Adair County, Kentucky lies Golden Acres which could most aptly be described as a Goldendoodle version of heaven.  Their dogs have a dedicated building that is climate controlled where their Goldendoodle puppies can freely go in and out from their 2 ½ acres of fenced-in private yard.  Puppies are given plenty of socialization with the family and their children and bred for the lovable temperament that Goldendoodles are known for. 
An initial deposit of $100 is required to be added to the waiting list for a litter.  A further $300 is required once the litter is born to save your place on that particular litter.  Standard Goldendoodle puppies are $1800 whereas Miniature Goldendoodle pups of about 15-25 pounds will cost $2800.  Initial adoption applications are available on their website to start the process. These Goldendoodle puppies in Kentucky aren't certified by GANA, but we would still consider them a good breeder.
Goldendoodle Puppy Information:
Generation: F1 and F1B Goldendoodle puppies
Size: Miniature and Standard Goldendoodle puppies
Goldendoodle Breeder Details:
3. CT's Goldendoodles in Kentucky
The husband and wife team behind CT's Goldendoodles in Kentucky enjoy their haven in the foothills of the Appalachian Mountains.  This breeder raises only F1 Goldendoodles from AKC registered championship Golden Retrievers and Standard Poodles.  A $250 deposit is initially required to secure your puppy of the overall $1500 price tag and they will happily arrange for shipping to most locations in the United States.
Goldendoodle Puppy Information:
Generation: F1 Goldendoodle puppies
Size: Standard Goldendoodle puppies
Goldendoodle Breeder Details:
Location: Northwestern Kentucky
Address: 188 Beckham-Loy Rd, Columbia, KY 42728
Telephone: +1 (270) 805-1555
Website: ctgoldendoodle.com
Email: info@ctgoldendoodle.com
4. Walters Puppy Place in KY
After teaching for 27 years, Cheryl Walters decided to give up her chalkboard and turn her hand to raising Goldendoodles full time.  Since 2006, she has been exclusively breeding F1B Miniature Goldendoodles and has recently got the next generation of her family in on the family project. 
Puppy adoption forms are available on their website where a $200 deposit is required to join the waiting list.  The full price of a Goldendoodle puppy from Walters Puppy Place is $2000 and includes a two-year genetic health guarantee. If you're looking for a nonshedding and hypoallergenic Goldendoodle puppy in Kentucky then this is a great breeder.
Goldendoodle Puppy Information:
Generation: F1B Miniature Goldendoodle puppies
Size: Miniature Goldendoodle puppies
Goldendoodle Breeder Details:
Address: 4694 Blandville Road, Wickliffe, KY 42087
Telephone: +1 (270) 217-0642
Facebook: www.facebook.com/waltersdoodles
Email: waltersdoodles@gmail.com
Contact: Cheryl Walters
5. Country View Goldendoodles Kentucky
With over 15 years of experience breeding Golden Retrievers and over 4 years specializing in Goldendoodles, you can trust Country View Goldendoodles Kentucky to whelp your next fur baby.  Many happy families have received Goldendoodle puppies that have given them a lifetime of love and affection.  All puppies come with a 1-2 year health guarantee.  Contact the breeder for current rates and availability of upcoming litters.
Goldendoodle Puppy Information:
Generation: F1 Goldendoodle puppies
Size: Standard Goldendoodle puppies
Goldendoodle Breeder Details:
How big will my Goldendoodle puppy get?
How large your Goldendoodle puppy will grow depends on the genetic lineage of the Poodle and Golden Retriever.  As we know, the Goldendoodle is a cross-breed of a Golden Retriever and a Poodle; however, the Poodle can either be a Standard, Miniature or Toy variety. In addition, Golden Retrievers also come in a variety of sizes depending on whether they are male or female.  As such, Goldendoodles also come in various sizes:
Standard Goldendoodle – about 20-24 inches tall and weigh 50+ pounds.
Medium Goldendoodle – About 20 inches tall and weight between 35 and 45 pounds.
Miniature Goldendoodle – about 17-20 inches tall and weigh about 35 pounds.
Toy, Petite or Tiny Goldendoodle – about 13-20 inches tall and weigh less than 20 pounds.
More Information About Goldendoodle Puppies
Goldendoodle puppies have a life expectancy of about 10-15 years and require a moderate amount of daily exercise. A one-hour walk per day should do just the trick, but you'll also need to mentally stimulate them playing fetch or using interactive dog toys.  In addition, Goldendoodles are known to adore water so if you live near a lake or have a pool then expect to spend your summers happily swimming with your doodle by your side.
Goldendoodles tend to make excellent family pets and love children.  They are a companion dog through and through and prefer to be with their families as much as possible otherwise they may get anxious and bored if left alone for long periods of time which can lead to destructive behaviors like chewing.  Luckily, the Goldendoodle is not known for excessive barking and is suitable for apartment living if you get out and about for daily exercise.
Conclusion for Goldendoodle Puppies In Kentucky
There are a lot of breeders that sell Goldendoodle puppies in Kentucky.  We have done extensive research to only list the best of the best breeders that adhere to ethical breeding practices and have committed to raising well-tempered puppies able to easily join their fur-ever families. 
With a designer breed such as the Goldendoodle, it is ever the more important to ensure that the breeder which you choose to purchase your puppy from is not a puppy mill and that parents are health tested for any genetic abnormalities. 
Remember that even though a health guarantee may be offered by a breeder, this will generally only cover the replacement value of your beloved pup and not the extensive veterinary bills that you may need to pay.  Always do lots of research and due diligence before you fall in love with a breeder and Goldendoodle puppy.
Garrett loves animals and is a huge advocate for all Doodle dog breeds. He owns his own Goldendoodle named Kona. In addition, he volunteers at the Humane Society of Silicon Valley, where he fosters dogs and helps animals. Garrett enjoys writing about Doodles and believes that dogs can teach humans more about how to live than humans can teach a dog.
Why Trust We Love Doodles?
At We Love Doodles, we're a team of writers, veterinarians, and puppy trainers that love dogs. Our team of qualified experts researches and provides reliable information on a wide range of dog topics. Our reviews are based on customer feedback, hands-on testing, and in-depth analysis. We are fully transparent and honest to our community of dog owners and future owners.