How much does a goldendoodle cost? Over the course of the past several decades, the goldendoodle has increased in popularity. Their cute little teddy bear looks and their friendly temperaments make them a family favorite! In addition, the dogs are hypoallergenic and they don't shed much! 
Put all these characteristics together and what do you get? A great family dog, even for those with allergies! 
Unfortunately, the increase in the breed's popularity sometimes means higher prices for goldendoodle owners like you. We've examined over 20 different breeders from the Goldendoodle Association of North America (GANA) throughout the United States to determine the actual cost to purchase a goldendoodle.
If you're thinking of getting this designer breed, we highly recommend you read our Goldendoodle Guide and Goldendoodle Generations Guide so you can pick the right type of goldendoodle (coat type, coat color, size, etc.).
What is the price of a goldendoodle?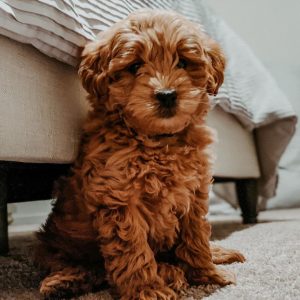 The goldendoodle is a cross between the golden retriever and the poodle, two fairly common dog breeds. Despite this, however, the pups are designer dogs and that can cause the price tag to be a bit higher than you might expect!
The cost of a Goldendoodle is going to range anywhere from $500 to $4000 depending on whether you buy or adopt.
The average price of a standard-sized goldendoodle puppy from a reputable breeder is roughly $2,100.  If you're seeking a multi-colored and toy-sized goldendoodle, you can expect to pay a lot more money ($3,000 to $5,000).
In general, the smaller-sized goldendoodles that are teacup, toy, or micro sizes (less than 15 pounds) will cost a lot more money because they are considered more difficult to breed.  However, it should be noted that teacup and toy-sized goldendoodles are known to have significant health issues due to their small sizing.
If you're thinking of buying a goldendoodle puppy, we suggest you frist check with PuppySpot and Premier Pups. Premier Pups is offering our blog readers $250 off a new puppy with coupon code WLD250. If you'd like to find a local breeder, be sure you check reviews and visit the kennel in person to ensure that you're adopting a healthy, happy little dog. 
How much does it cost to adopt a goldendoodle?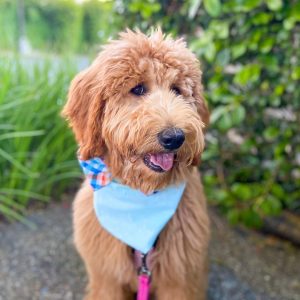 In almost all cases, it's cheaper to adopt a goldendoodle than to buy one. You can expect to pay between $300 and $500 when you adopt through a shelter, and this usually includes shots, neutering or spaying, heartworm medication, and a microchip. Check with the rescue to determine what, exactly, your dog comes with. 
Check with goldendoodle rescues to see if any dogs are available near you. In addition, you can ask the Humane Society or local shelters that aren't breed-specific. Some owners may be attempting to rehome goldendoodles they can no longer care for, and some pups have been abused or abandoned. 
Note that some shelter dogs may have health concerns, and most aren't puppies! If you're asking "how much does a goldendoodle cost," the answer may vary based on the age of your dog! Puppies usually cost much more than adult and senior dogs. 
We also made a video on How Much Does a Goldendoodle Cost? Feel free to watch it below!
Buying a goldendoodle
If you're buying a Goldendoodle, the average cost is going to be around $2,100.  We've explored each of the reputable breeders listed on the Goldendoodle Association of North America (GANA) and found that prices seem to typically range from $1,700 to $2,500+ depending on several factors.  However, the total Goldendoodle cost varies significantly.
What determines the price of a goldendoodle?
There are several factors that can influence how a goldendoodle is priced. Let's take a look at how the cost of your designer dog is set. 
Breeder Reputation
The reputation of a goldendoodle breeder is a significant cost factor for a goldendoodle price.  If you purchase a dog from a breeder from GANA, there are health testing requirements that a breeder has to go through to uphold standards set by GANA.
For instance, each breeder is going to have to health test their adult dogs to maintain healthy hips, eyes, heart, elbows, and patellas.  If you're going to invest in a dog for 10 to 15 years, you should make sure that you are buying one from a reputable breeder.  You'll definitely find cheaper breeders or puppy mills that have lower-priced Goldendoodles, but these are not recommended.
Location
The location of your goldendoodle can affect his pricing by $500 or more.  For instance, goldendoodles in California will cost significantly more than goldendoodles in the midwest.  This accounts for the cost of living adjustment from state to state.  You'll be able to get a lower-priced goldendoodle from a breeder in the midwest, but you may also have to pay for the dog to be transported, or pay to fly out to pick the dog up yourself.  In addition, it may be difficult for you to tour their dog facilities, inspect the parent dogs, or physically see the puppies when you are picking one out.
Goldendoodle Characteristics
Goldendoodle Coat Color

: Since there a several different

goldendoodle coat colors

,

the cost to buy a dog may vary based on how "rare" a coat coloring is.  For instance, a multi-colored goldendoodle like a parti goldendoodle, phantom goldendoodle, or tuxedo goldendoodle is likely going to cost significantly more than a solid-colored gold or apricot. If you want a specific multi-colored pup then you may have to pay an additional $1,000+ depending on where you buy them.

Goldendoodle Size

: There are 3 well-known

sizes of goldendoodle:

the mini, medium, and standard goldendoodle.  Within the mini goldendoodle category, there are toy, micro, and teacup sizes.  These smaller goldendoodle sizes are going to add an additional $1,500+ to the overall cost of your pet.  It's not unusual to see a multi-colored teacup goldendoodle sell for around $5,000.

Goldendoodle Coat Type: Goldendoodles can have three different types of coats: straight coat, wavy coat, or curly coat.  Coat type usually correlates to the generation of the goldendoodle.  Typically, goldendoodles with more wavy or curly coats will be slightly more expensive than

goldendoodles with straight coats

.  This is because the demand for wavy and curly coats is higher; these coat types tend to be lower-shedding and hypoallergenic.  Thus, you can expect to pay more money for F1B, F1BB, F2B, or F2BB goldendoodles because they inherit more genes from the poodle parent. 
Supply and Demand
Right now, the goldendoodle is in high demand, and that has increased the price. Think about it – if you're a reputable breeder, which would you rather do? Would you increase the number of litters you force your dogs to produce, or would you raise the price of each puppy? 
How much does a mini goldendoodle cost?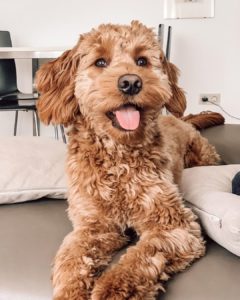 A mini goldendoodle will typically cost around $2,100 dollars assuming that it's not a toy, micro, or teacup-sized Goldendoodle.  The toy, micro, and teacup varieties are considered mini goldendoodles, but they will cost a lot more.  This is because the toy, micro, and teacup goldendoodles are harder to breed because … they are usually produced after several generations of breeding the "runt" of a litter to create these small puppies.  
What is included in the price of a Goldendoodle?
Goldendoodle costs may vary depending on what they come with. Typically, your purchase price includes vaccines, wormer, and a microchip, but many kennels throw in some "goodies." A blanket that smells like mom, a trial month of pet insurance, a health guarantee, a starter bag of food are all examples of this.
In addition, some breeders sell breeding rights. This usually tacks a fee onto the "normal" purchase price of your dog. Ask your puppy's breeder for details on what's included in your goldendoodle's cost. 
Other costs of a goldendoodle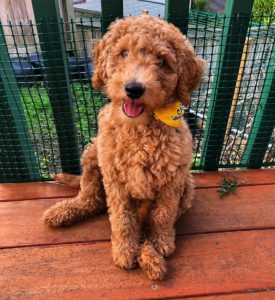 Generally speaking, the upfront cost of ownership of a goldendoodle is significantly less than the overall price you'll pay over his lifespan. There are quite a few variable costs of dog ownership; let's take a look. 
Variable Goldendoodle Costs
Food ($500 per year): Food expenses will vary based on the energy level and size of your dog.  Budget at least $500 per year in food expenses for your dog. 
Grooming ($400 per year): Since goldendoodles don't shed, you're going to have to groom them regularly.  The price to have your goldendoodle groomed will be around $100, and you'll likely do this at least four times a year.  Goldendoodle grooming comes with a hefty price tag, but does include a lot of things like haircuts, nail trimming, shampoo, and ear care.
Health Care ($700 to $2,000+ per year): The cost of a goldendoodle is quite significant when you think about health care in the form of vaccinations, surgeries, and regular check-ups.  One of the most expensive health issues that can affect a goldendoodle is hip dysplasia. Sometimes, older goldendoodles will need a surgical correction due to this degenerative change.
400;">Training / Classes / Boarding / Daycare ($700+ per year): It's likely that you'll want to train your goldendoodle by signing them up for classes.  In addition, if you're going to go on a vacation you'll have to board your dog.  The cost is usually around $100 per day to board a dog, but this expense could be significantly higher.
Fixed Goldendoodle Costs
Dog Crate ($100): Do you want to crate train your goldendoodle? Crates typically cost around $100.
Dog bed ($100): Budget for at least one dog bed. Dogs, especially young puppies, can easily tear up a bed by chewing and scratching. 
Accessories ($500): You'll want to get some balls, a collar, a dog harness, other chew toys, goldendoodle shampoo, and possibly a dog house.
Conclusion for How much does a Goldendoodle Cost?
As you can see, the total goldendoodle cost is quite expensive over the lifetime of a dog.  You'll want to take these costs into consideration before you purchase a dog, as you'll want to make sure your dog has everything he needs to live a happy and healthy life with you.
If you plan to buy a Goldendoodle you should budget at least $2,100 for a standard size just for the puppy. 
If you're concerned about the cost of goldendoodle ownership, please check with your local shelter! There may be a deserving baby just waiting for a home like yours.  
Frequently Asked Questions
Do breeders require a deposit for a goldendoodle puppy?
Yes. When you put a reservation in for a goldendoodle puppy, you will likely be paying between $250 and $500 as the deposit. When the goldendoodle puppy is born, you will be able to go pick out which dog you want based on the order the reservations were received.
Where should I buy a goldendoodle?
We recommend that you buy a goldendoodle from a reputable breeder. You can do your initial research starting with the Goldendoodle Association of North America (GANA).
Want to learn more information about "How much does a Goldendoodle Cost", then check out the video below: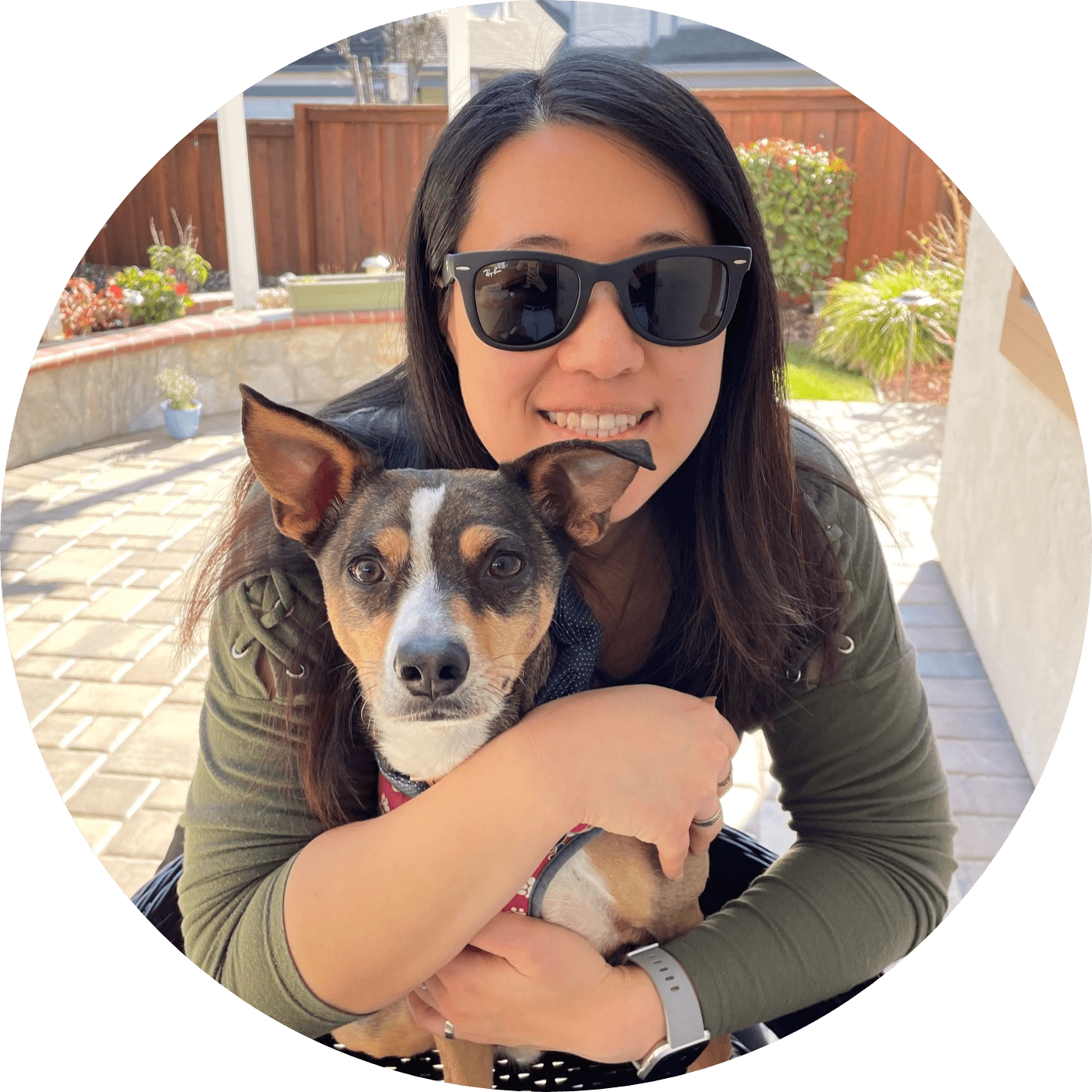 Dr. Sabrina Kong graduated from the Royal Veterinary College in England in 2016 and has been working at a small animal clinic in Northern California since then. She grew up in the Bay Area and got her bachelor's degree from Cal Poly San Luis Obispo. She also became a Certified Canine Rehabilitation Practitioner through a program at the University of Tennessee.
When she isn't in the clinic taking care of her four-legged patients, she enjoys traveling and trying new foods with her friends and her three-legged dog, Apollo. She adopted Apollo from her clinic when he was a puppy with numerous health issues. Dr. Kong truly cares about taking care of animals.