Your cute little Goldendoodle needs a healthy diet to meet all its nutritional requirements during its most important growth stage, puppyhood. Adult Goldendoodles grow to about 21 inches tall and weigh between 10 to 45+ pounds, depending on what size of Goldendoodle you purchased (mini, medium, or standard). Providing your Goldendoodle puppy with a healthy diet gets them on the right track for the rest of their lives. On the helpful list below, you can find our top 10 choices for the best food for Goldendoodle puppies. We've reviewed over 100 different puppy foods and narrowed our list to 10.
In a hurry? Here are the Top 3 Picks:
Product
Best Overall
Nulo Freestyle
Runner Up
Purina Pro Plan
Image
The Nulo Freestyle puppy food for a Goldendoodle features a low carb and high meat ratio for overall good health. More than 80% of the protein in Nulo comes from animal protein, meaning there aren't any filler additives like you'll commonly see in other dog foods. When buying puppy food for your Goldendoodle, ensure they don't have cheaper additives like corn, wheat, soy, or potatoes. Nulo only provides high-quality ingredients for a protein-rich puppy diet with probiotics and other essential vitamins and minerals.
Nulo has added BC30 probiotics which support a healthy gut and aid in digestion which is great for the inevitable experience of an upset tummy. In addition, Nulo is made in the USA with natural ingredients. One of these ingredients is DHA (omega-3 fatty acid) from real salmon. DHA promotes a shiny Goldendoodle coat, teeth and gum health, and normal stools.
The healthy ingredients in this Goldendoodle puppy food also contain phosphorous and calcium, which are responsible for the growth and structure of the skeletal system. This puppy food is available in salmon or turkey flavor and offers a choice of bag sizes. Nulo Freestyle puppy food is by far one of the best puppy foods for a Goldendoodle.
The Purina Pro Plan puppy food is one of the best, especially for a Goldendoodle puppy. You'll find this food recommended by many different veterinarians because of the high-quality ingredients. For instance, chicken is the first ingredient listed, which means that it contains the most amount of chicken without any additive fillers that you need to look out for.
In addition, the Purina Pro Plan contains DHA sourced from omega-rich fish oil that supports vision and brain development in your puppy! Chicken is the best ingredient to support a protein-rich diet and lean muscle, but the added nutrients set this Goldendoodle puppy food apart. This puppy food is great and supports healthy skin, digestive health, and weight management. It is the right amount of nutrition for your dog.
Purina Pro Plan's special formula includes ingredients that support a developing immune system, so your pet grows up strong and healthy. You can choose various flavors and sizes to suit your pup's needs. Purina's mission is to help your pet live the best life possible through the best possible ingredients. This mission is why they are considered one of the best dog foods for a Goldendoodle.
Royal Canin healthy nutrition puppy food is specially created for puppies who grow up to weigh between 23 and 55 pounds. The nutritious ingredients are formulated to meet the high-energy needs of your puppy. Royal Canin is a well-known brand that creates precisely balanced nutrition for your puppy based on its future potential weight.
By optimizing a diet based on your future Goldendoodle's weight, Royal Canin can provide the optimal joint support, weight, and dental care ingredients that your puppy needs in their food. The ingredients include a special mineral blend with vitamins and antioxidants easy for your puppy to digest. The prebiotics support good digestive health and helps maintain optimal stool quality. 
We picked the Royal Canin "Medium" puppy formula as one of the best puppy foods for a Goldendoodle. The "medium" puppy formula will meet the high energy need of your Goldendoodle puppy as well as provide all the key nutrients during their growth.
Blue Buffalo Wilderness puppy food is grain-free and packed with protein that is perfect for a Goldendoodle puppy. The main protein source comes from real chicken in this tasty recipe your puppy will love! Protein promotes muscle growth and gives your puppy food that they will love to eat.
This puppy food for your Goldendoodle also contains DHA and ARA, essential fatty acids found in a dog's mother's milk. DHA and ARA are great in this puppy food because they promote brain and eye development. I also really like that this kibble isn't too big and it isn't too small. The sizing on this kibble is the perfect fit for a Goldendoodle puppy's mouth.
Blue Buffalo's nutritious formula includes life source bits that are precisely blended with the perfect amount of minerals, vitamins, and antioxidants. This natural dog food meets life stage requirements and supports a healthy immune system. Blue Buffalo puppy food also contains no by-products like wheat, corn, soy, or other artificial preservatives.             
Hill's Science dry puppy food contains small bites for your pet's petite mouth. This chicken meal and barley recipe is tasty for small pups and contains high-quality protein for building lean muscle. Like most other puppy kibbles, this one also has DHA, the essential omega-3 oil that helps promote a healthy brain.
This kibble for Goldendoodles is made with natural ingredients and is specially formulated with a balanced set of vitamins, minerals, and protein for overall good health. These minerals help to promote strong bones as well as strong teeth. The Hill's Science veterinarian-recommended puppy food will get your cute little Goldendoodle pup off to a great start in life.  
Taste of the Wild premium high-protein puppy food is grain-free and features real smoked salmon as the #1 ingredient. The Pacific stream recipe includes easy-to-digest ingredients and added minerals, vitamins, proprietary probiotics, and nutrients. Fish is a great ingredient because it naturally provides amino acids and proteins which helps to promote brain functionality, lean muscle, and good vision.
The combined ingredients provide a balanced and complete diet that supports overall good health, especially for your Goldendoodle puppy. This puppy food does not contain common allergens like fillers, corn, grain, wheat, artificial colors, flavors, or preservatives. It's a great food if you think your Goldendoodle puppy suffers from allergies.
Nutro Wholesome essentials puppy food features a delicious lamb and rice recipe, but they also have a chicken and rice recipe. This high-protein recipe includes minerals, vitamins, and essential nutrients. The best part of this dog food for your Goldendoodle puppy is that the ingredients are all-natural with no fillers.
The combined ingredients support a healthy immune system, plus healthy overall growth and development for a Goldendoodle dog. The added vitamin E and omega-3 fatty acids combined with the other ingredients create a balanced and complete diet. Nutro is a great company that always has non-GMO ingredients with no artificial flavors, colors, or preservatives. This is why it is great puppy food for a Goldendoodle.
Wellness Complete Health natural puppy food is grain-free and contains natural ingredients that make a balanced and complete diet for your pup. The main protein sources come from chicken and whitefish. The fact that it has two different protein sources is both good and bad. Introducing multiple ingredients may cause allergic reactions in your Goldendoodle, such as itching or licking. However, these are all quality ingredients with essential vitamins and minerals.
This puppy food is good for Goldendoodles that need a balanced diet to support their high energy. This healthy food does not contain common allergens such as soy, corn, wheat, artificial flavors, colors or preservatives, or meat by-products. The ingredients in this puppy food for Goldendoodles also support hair growth, shiny skin, immunity, and digestive health.
Natural Balance Ultra puppy food for a Goldendoodle contains farm-raised USA chickens as the first ingredient. It is packed with protein and other essential vitamins and minerals for a complete and balanced diet. 
This healthy puppy food is gluten-free and grain-free to ensure your pup has less risk of experiencing allergic reactions or a sensitive tummy. The omega-3 and omega-6 fatty acids support brain health and overall good health during puppyhood. 
Canidae Pure puppy food is carefully formulated with limited ingredients for puppies with sensitive stomachs. The ingredients include up to 10 real foods and offer proteins such as chicken, bison, boar, lamb, duck, and salmon. This puppy food is also great for Goldendoodle puppies possibly suffering from food allergies. If your dog is constantly itching, scratching, or licking its paws, then your puppy may have a food allergy.
Added ingredients include omega-3 & -6 fatty acids, plus antioxidants for a healthy immune system. Fatty acids also help promote a healthy Goldendoodle curly coat that you will need to brush regularly. A wide range of flavors is available, so you can be sure you will find the one your pup loves the most! However, we recommend the chicken puppy food for a Goldendoodle.
Choosing the Best Food for Your Goldendoodle Puppy
Choosing the best dog food for a Goldendoodle puppy is easier than you think. The first thing you need is to consider their overall health. A healthy puppy needs a balanced and complete diet that meets its nutritional needs during puppyhood. All of the foods on the list meet these requirements. 
If you have a pup with health or digestive issues, it's wise to consult a veterinarian first. It's best to mention a few puppy food options on the list that support a healthy digestive system and are specially formulated for easy digestion. The guidance and advice of a veterinarian will help you choose the best food for your Goldendoodle puppy and ensure your pet enjoys a balanced and healthy diet. 
The best advice for choosing Goldendoodle puppy food is to make sure that the food doesn't contain any additives or fillers. Corn, soy, wheat, white potatoes, and tapioca are common additives in puppy food. You should also look out for any artificial preservatives or coloring. Typically, cheaper puppy foods will contain fillers and additives.
Puppies that are Picky Eaters
How can your adorable Goldendoodle puppy be a picky eater? You will be surprised by how many puppies prefer a specific flavor in their food. Many Goldendoodle puppies do just fine with chicken flavor, but some pups are picky eaters and enjoy exquisite flavors such as lamb, bison, or fish. The good news is that several options on our list offer a wide range of flavors. If you have a picky eater, try a small bag of each flavor until you find the one your little fluff ball enjoys eating the most. We recommend trying the chicken or the fish puppy foods first.
If you can't get your puppy to eat meals regularly, there can be a hidden health issue causing their lack of appetite. In this case, discuss the situation with your veterinarian.
Nutritional Requirements
Your little Goldendoodle dog is going to grow quickly during puppyhood. You will be shocked at how rapidly they will grow and change during this time. Your energetic pup needs a complete and balanced diet filled with nutrients, vitamins, protein, and more to keep them healthy throughout this very important life stage. 
All of the Goldendoodle puppy food options on the list meet the nutritional needs of a puppy and help maintain overall good health. If you have an energetic little puppy, make sure you choose a high protein option that includes carbs in the ingredients to ensure your pup has enough fuel in their body to keep up with their energy needs. 
Choosing a Flavor of Puppy Food
If you are one of the lucky pet parents who have welcomed two or more Goldendoodle puppies into your home, you may want to find a puppy food that works for all your pups. An excellent tip is to offer all of your puppies a few options. Place chicken flavor in one bowl, lamb in the next, and a tasty flavor of your choice in the third bowl. 
Place all the bowls on the floor for your puppies to eat and watch closely as each one goes from one bowl to the next. You might need to do this experiment a few times to determine all of their choices fully. If most puppies prefer a specific flavor, try to purchase a large bag, so you have enough for them without worrying about buying more too soon. 
While most puppies will enjoy the chosen flavor, keep an eye out for the pups lagging behind and not interested in being first in place at the feeding area. There's a chance you might have a picky eater, or the chosen food might be causing an upset tummy in one of the puppies. If any of the puppies refuse to eat any food, consult with a veterinarian. Hopefully, you just have a picky eater, but it's best to rule out any serious conditions. 
Goldendoodle puppies have good appetites and plenty of energy, and are sweet, caring family dogs. Always do your best to provide a healthy and balanced diet for your puppy by choosing one of the trusted brands listed above.  
Conclusion for Best Food for Goldendoodle Puppy
We've vetted over a hundred types of puppy food for a Goldendoodle and narrowed our list to the top 10 choices. Our list of the Best Food for a Goldendoodle Puppy contains foods that don't use fillers, additives, artificial colors, or preservatives that you will find in cheaper dog foods. In addition, you'll see that these foods have vitamins, minerals, and other antioxidants that are important for your Goldendoodle's growth. We hope you make a good choice for your Goldendoodle as they rapidly grow and transition from puppyhood to adulthood.
Other articles you might like:
FAQ for Best Food for Goldendoodle Puppy
Can my mini Goldendoodle puppy eat the same food as a standard Goldendoodle puppy?
In general, yes – the best food for your mini Goldendoodle puppy will be the same as the standard Goldendoodle. However, some puppy foods, such as Royal Canin, are specifically formulated for the estimated weight your puppy will grow up to. Because mini Goldendoodles puppies grow to be about 20-30 pounds in adulthood, Royal Canin Healthy Dry Puppy Food – Medium Formula is still recommended as one of the best puppy foods for a mini Goldendoodle. If you have a teacup Goldendoodle or a toy Goldendoodle, Royal Canin Healthy Dry Puppy Food – Small Formula would be more suitable for your pet.
What is the best dog food for my Goldendoodle puppy with allergies?
Your dog may have a food allergy if it is constantly itching, scratching, or licking its paws. If your puppy has allergies, the best food is one that has a limited number of ingredients. This way, there is less of a chance your puppy will have a negative reaction. Our top choices of dog food for Goldendoodles puppies with allergies are Canidae Pure Limited Ingredient Grain-Free Premium Puppy Food and Taste of the Wild Premium Puppy Food. However, if you think your dog has allergies or is reacting negatively to its food, you should consult your veterinarian. There may be additional underlying issues. 
When should I transition my Goldendoodle from puppy food to adult dog food?
Once your Goldendoodle is approximately one year old.
How often should I feed my Goldendoodle puppy?
For the first 12 weeks of life, you should feed your Goldendoodle puppy 3-4 times per day. At this age, free feeding is also okay. However, Goldendoodles have good appetites, so once your puppy is old enough, you should set up a feeding schedule. From 13 weeks to 1 year old, you should feed your puppy 3 times per day. Once it is 1 year old, you should transition to adult food, and feed it twice a day. The amount of food will depend on your dog's size, life stage, and lifestyle.
What is the best puppy food for mini Goldendoodles?
The best food for a mini Goldendoodle puppy is generally the same as for a standard Goldendoodle puppy. Use our Best Food For a Goldendoodle Puppy list above to make an informed choice. If you're having trouble deciding on a mini Goldendoodle puppy food, it's always a good idea to consult your veterinarian.
Are you still confused about how to choose a good dog food for your Goldendoodle puppy? Check out the video below: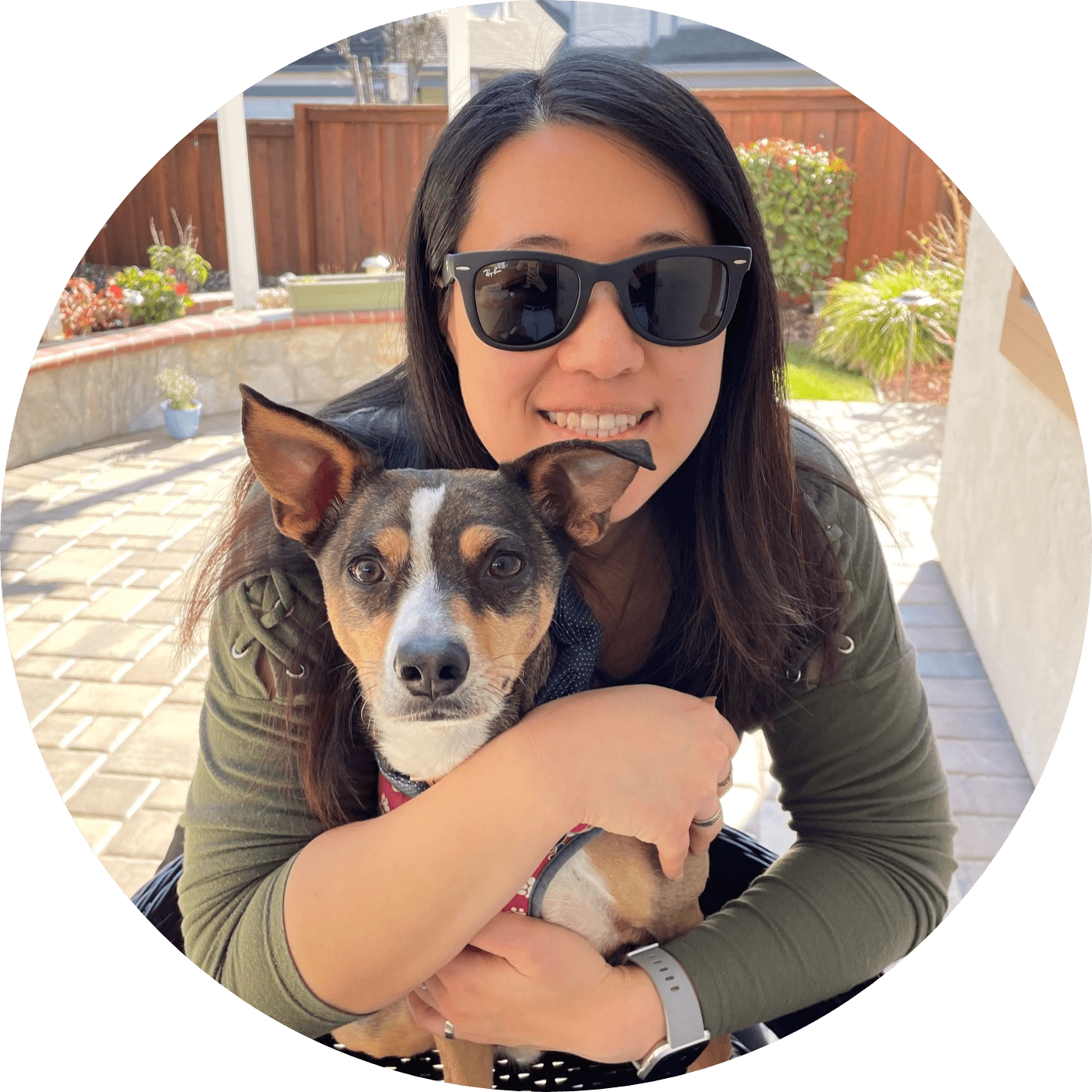 Dr. Sabrina Kong graduated from the Royal Veterinary College in England in 2016 and has been working at a small animal clinic in Northern California since then. She grew up in the Bay Area and got her bachelor's degree from Cal Poly San Luis Obispo. She also became a Certified Canine Rehabilitation Practitioner through a program at the University of Tennessee.
When she isn't in the clinic taking care of her four-legged patients, she enjoys traveling and trying new foods with her friends and her three-legged dog, Apollo. She adopted Apollo from her clinic when he was a puppy with numerous health issues. Dr. Kong truly cares about taking care of animals.