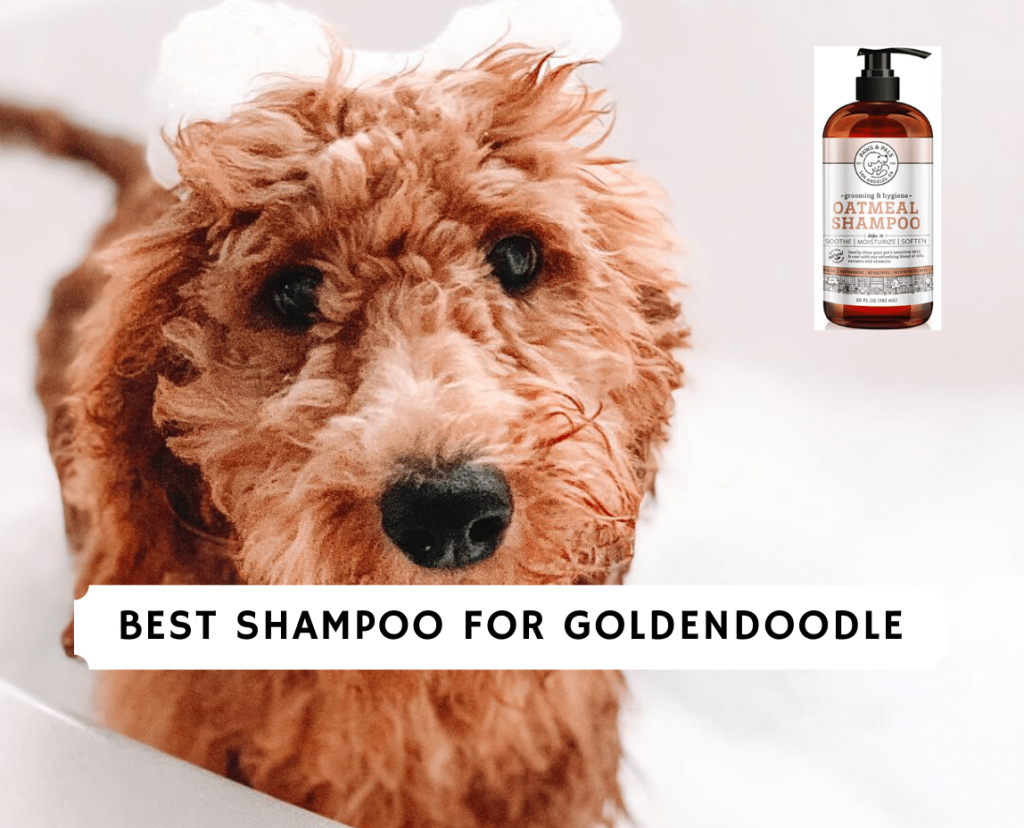 Pet hair care is nearly just as essential as our own personal hair care options. Think about it, when we shop for our own shampoo and conditioner needs, we consider our hair type as well as what we want to accomplish with the product. 
For humans, we can find shampoo designed specifically for curls, frizz, moisture, color, repair, and so much more. There are thousands of options out there. When it comes to bathing your Goldendoodle, the choice is just as important.
Goldendoodles have thick hair with a lot of tight curls due to their Poodle genetics. Their nonshedding hair requires more specific care than a dog that sheds. You should choose your shampoo wisely in order to take the best care of their hair and skin since it doesn't shed. The difference between soft Goldendoodle hair and coarse Goldendoodle hair is in the shampoo that you choose.
We know there are tons of options out there. That's why we're coming to you with our top picks for the best shampoo for Goldendoodle options on the market. In this guide, we will share complete reviews of our favorite options and let you know just why they made the list.
Product
Best Overall
We Love Doodles Dog Shampoo
Runner Up
Buddy's Best Shampoo
Best Budget Pick
PET CARE Shampoo
Image
The 8 Best Shampoos for Goldendoodles
The following reviews will contain descriptive information about the products we've chosen. We will also share the pros and cons of each product to give you a deeper insight into why these are the best shampoos for a Goldendoodle.
The We Love Doodles dog shampoo was developed specifically for Goldendoodles by veterinarians and dog groomers around the United States. It was specifically developed as a 4-in-1 dog shampoo, detangler, moisturizer, and conditioner. Up until April 2022, we have only been selling it to businesses and dog groomers. We recently decided to sell it on Amazon and make it available to everyone since we strongly believe it is one of the best shampoos on the market.
What sets our shampoo apart is that it is made with USDA-certified organic ingredients and is 98.25% derived from natural ingredients. Most other dog shampoos on the market today claim to be "all-natural" but only contain less than 1% of natural ingredients.
Additionally, our dog shampoo is designed to keep tangles from forming in your Goldendoodle's hair since it contains both conditioner and detangler. This will make future brushing and grooming sessions easier.
The We Love Doodles shampoo is also proudly made in the United States by one of the largest dog shampoo manufacturers. It has an eco-friendly formula that contains no synthetic dyes, alcohol, sulfates, formaldehyde, or parabens. It's 100% safe for your dog and used by many professionals. It also comes with a 100% satisfaction guarantee so if you or your Goldendoodle don't like, we will give you a full refund.
Buddy's Best Shampoo is another great option for your Goldendoodle dog. This shampoo comes in a ripe melon scent but you can also choose coconut vanilla bean if you prefer. You can also purchase a bundle pack that has both scents as well.
This shampoo is alcohol-free so it won't irritate or dry out your dogs skin. The active ingredients include biotin, shea butter, almond oil, aloe vera, and oat. This is awesome for Goldendoodles with sensitive hair and itchy skin. It is super gentle for your dog on both skin and eyes.
This shampoo for Goldendoodles is soothing and moisturizing. As a bonus, it's a cruelty-free and vegan product as well. The shampoo is easy to use, simply apply it on your dog and rub it in. It has a very natural and light scent. It lightly deodorizes and keeps your dog fresh and clean. This is our top pick for the best shampoo for a Goldendoodle.
This oatmeal shampoo from Healthy Breeds was designed specifically for Goldendoodles. It has a gentle, oatmeal formula that is soothing for sensitive and itchy skin. This particular option also has aloe for additional soothing purposes.
This blend is designed to be hypoallergenic and is fantastic for dogs that don't shed. The shampoo is pH balanced to give your dog's coat the best treatment. This formula is so gentle and it is considered to be soap-free. Not only will it cleanse your dog's coat but it will restore natural moisture as well.
You can combine this specialty shampoo with deodorizing shampoos if you're worried about it not washing away the "dog smell". What you will find is this shampoo is perfect for a clean, smooth, and manageable coat. It will also keep your Goldendoodles coat soft.
This dog shampoo from Pet Care Sciences is designed for puppies but it is also perfect for adult dogs who have sensitive skin and coats. Goldendoodles can certainly benefit from this formula that contains coconut oil, aloe vera, and oat as the active ingredients.
There is no palm oil, which gives this one a boost. This shampoo is made in the USA and this is a gentle formula that smells great. It is easy to use, tear-free, deodorizing, moisturizing, and great at detangling your dogs hair. It also cleans and conditions the coat.
You can rely on this formula to contain absolutely no phosphates, parabates, sulfates, MEA, or DEA. Everything is naturally derived and you really can't go wrong with this option.
Sofee & Co. presents us with another natural solution that is perfect for curly-haired dogs and dogs with sensitive skin. This formula is designed to be pure, clean, and fresh. It has a light white pear scent that is refreshing.
This is considered a luxury dog shampoo, but it is still rather affordable for most pet owners. It uses natural ingredients and does not contain any of the things we don't like to see, like parabens and sulfates, or artificial additives. You will commonly find these chemicals in cheaper shampoos.
This shampoo for Goldendoodles is gentle and soothing. It's perfect for dogs with thick coats, long hair, or curly hair that doesn't shed. This is designed to be gentle on the coat and not dry out your Goldendoodles skin. You may need to pair it with a deodorizing option or a deodorizing spray as well if you want your dog to smell fresh.
K9 Pro offers us a veterinarian formula that was designed by vets and created for dogs specifically. This is another gentle formula that is great for Goldendoodles and includes aloe and oatmeal. It has a cucumber melon scent to leave your dog clean and refreshed.
This shampoo is designed to be soothing if your dog has dry and itchy skin. It is hypoallergenic and soap-free so it won't damage your Goldendoodles hair or skin. The formula works to promote a shiny coat and make it full and smooth. This shampoo has everything to keep your Goldendoodles coat clean and soft.
This shampoo contains aloe gel as well as scents from natural sources. It has oatmeal extract for soothing purposes and is designed for dogs of all kinds. This is a veterinarian formula and has odor control properties as well. It's a great shampoo for a Goldendoodle.
Last, but certainly not least, in our selection of the best shampoos for Goldendoodles is this option from 4Legger. This is an organic formula that is a bit higher-priced considering the size of the bottle but it's a really good option for your dog
This shampoo is made with oatmeal, lavender, and aloe which will keep your Goldendoodles skin moisturized. All of these are included to be gentle and soothing on your dog's hair. The lavender also produces a fresh smell to help with light deodorizing needs. In addition, this shampoo is also moisturizing and hydrating to keep your dog's coat in perfect shape.
There are no chemicals that you have to worry about and you can count on this shampoo to clean and soothe your dog's skin. Everything in this shampoo for Goldendoodles is all-natural and the oatmeal used is not processed.
The Paws & Pals oatmeal dog shampoo is one of our favorite options out there. It's natural and gentle on dogs who often get irritated skin too easily. Goldendoodles fall into this category because they attract fleas, dirt, and other debris due to their fur type. The oatmeal solution is not only soothing but also helps to control odors and detangle curls.
This Goldendoodle shampoo is more concentrated than most options which means a little bit goes a long way. This is high-quality dog shampoo that doesn't make you compromise on other factors or the acceptable ingredients. The only downside of this shampoo is that it doesn't have a heavy deodorizer and the scent is very light. It's great for humans if you don't want your Goldendoodle to have a heavy scent after their bath.
This dog shampoo is paraben–free with 100% natural oils in it and is made in the USA. It is designed to clean, lightly deodorize, and soften every pet coat you could face. It's easy to use and totally reliable every time.
A Buyer's Guide to the Best Shampoo for Goldendoodle
You will notice that most of these shampoos don't specifically list Goldendoodles. In fact, they don't specifically list any kind of dog for the most part, so how do we know it's actually good for a Goldendoodle?
If you own a Goldendoodle, or are familiar with them at all, you know that they have thick coats with a curly layer on top and their hair is virtually nonshedding. Their coat is very similar to that of a Poodle but it typically a bit longer. This makes sense since the breed is a cross between a Golden Retriever and a Poodle.
Goldendoodle coats are very unique from most dog breeds and they are prone to sensitive skin issues because their coat collects tons of dirt, debris, and fleas. There were some very specific criteria that we used in identifying and ranking the best shampoo options. The following criteria are what you should use when choosing a shampoo for a Goldendoodle.
Thick Coat Penetration Shampoo
Goldendoodles have thick and long coats with curly hair because their hair doesn't shed as much as other dog breeds. In order to really get through their thick coat and down to the skin, you need something that is of quality formula and can get the job done. It's important that your shampoo cleans at skin level in order to moisture their skin.
What you will notice is that most strong and yet gentle shampoos don't have a lot of lather. This is fine, but you also want to be sure that the shampoo is going to clean at the skin level.
Be sure to follow the directions for use as shampoos will typically tell you the best way to really get the coat clean for your Goldendoodle.
Sensitive Skin Shampoo
Perhaps one of the biggest challenges we face in choosing the right shampoo for a Goldendoodle is finding something that is strong and gentle at the same time. You need to break through all that curly hair but you also don't want to irritate your dog's skin. Chances are that your Goldendoodle's skin is already dry because your have to give them bathes because their coat constantly gets dirty. In addition, since their hair doesn't shed as much, Goldendoodles tend to attract more bugs including fleas which can cause irritated skin.
Look for formulas that are hypoallergenic and designed specifically for sensitive skin. There are some ingredients that are made for moisturizing and are almost always used in sensitive skin formulas.
Here are some positive ingredients you can look for in a shampoo:
Oatmeal

Aloe vera

Coconut oil

Lavender
These are common in soothing formulas and they are great for that purpose. Oatmeal and aloe vera are some of the most common things you will see for gentle and soothing compounds in a shampoo. Just be sure to choose something that will be soothing and gentle. It doesn't hurt if it is also moisturizing as well.
At all costs avoid chemical ingredients in a shampoo like:
Parabens
Sulfates
Artificial additives
You will commonly find these chemicals in cheaper shampoos. 
Caring for the Fur Type with Shampoo
Because Goldendoodles are a crossbreed their skins can vary depending on the Goldendoodle Generation that you choose. Yours might have a straight coat if you  have an F1 or F2 Goldendoodles while some Goldendoodles will have long and wavy coats if they are an F1b or F2B.
The shampoo you choose might vary depending on your dog's coat. Be sure to choose something that will work for your dog and not just something that generalizes every coat to be the exact same. All the Goldendoodle shampoos on our list are suitable for all coat types and generations of Goldendoodles.
Moisturize
One of the leading causes of irritated skin with Goldendoodles is the dryness. You can do a lot to keep your dog's coat smooth while also keeping them comfortable underneath by choosing a moisturizing shampoo option.
Be sure to look for something that is not going to dry your dog's coat out. You can read the details and look specifically for indications that the shampoo you choose will be gentle and soothing but will also moisturize when used. Ingredients like oatmeal and aloe vera will naturally keep your dogs coat moisturized.
Conclusion for Best Shampoo for a Goldendoodle
There are a lot of different dog shampoos on the market. Most of them are designed to be universal, despite the fact that dogs have many different coat types. Since Goldendoodles are mostly hypoallergenic and nonshedding, they have a different coat type than many other short-haired dogs that shed. Thus, you need to pick the right shampoo for your Goldendoodle.
We've shared several great options here, all of which fit the criteria to keep your Goldendoodles coat clean and moisturized. Keep in mind that these shampoos are designed for soothing and cleaning. Many of them do not heavily deodorize and you won't find your dog smelling like flowers after a bath. You may need to consider additional options for deodorizing purposes. We hope that you enjoyed our list of the best shampoos for a Goldendoodle.
Here's to a clean and happy Goldendoodle in your home!
Other articles you might like:
Garrett loves animals and is a huge advocate for all Doodle dog breeds. He owns his own Goldendoodle named Kona. In addition, he volunteers at the Humane Society of Silicon Valley, where he fosters dogs and helps animals. Garrett enjoys writing about Doodles and believes that dogs can teach humans more about how to live than humans can teach a dog.
Why Trust We Love Doodles?
At We Love Doodles, we're a team of writers, veterinarians, and puppy trainers that love dogs. Our team of qualified experts researches and provides reliable information on a wide range of dog topics. Our reviews are based on customer feedback, hands-on testing, and in-depth analysis. We are fully transparent and honest to our community of dog owners and future owners.