You're here because you're wondering what's the difference between a Goldendoodle vs. Mini Goldendoodle. The Mini Goldendoodle is a miniature version of the gentle Golden Retriever with low shedding abilities. Poodles come in different sizes, and that variability has also affected the Goldendoodle mix. However, that variability in size brings about temperament differences in the different sizes of Goldendoodles. The difference between the Standard Goldendoodle and the Mini Goldendoodle is not only in their size. They also vary in terms of their personalities. Here's a comparison between the standard and mini Goldendoodles.
Befor scrolling down this guide "Goldendoodle vs. Mini Goldendoodle," check out our other comparisons: Poodle vs. Goldendoodle and Bernedoodle vs. Goldendoodle.
Standard Goldendoodle
The Standard Goldendoodle is an offspring of the Standard Poodle and the Golden Retriever. These dogs have an intelligent, friendly, and accepting nature. It's almost impossible not to love them. They are low-shedding dogs that are gentle with children.
Size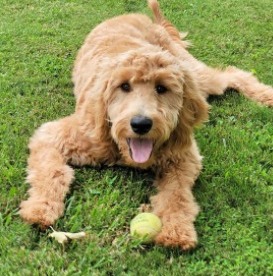 Like their parents, the Golden Retriever and the Standard Poodle, Standard Goldendoodles are laid-back and gentle dogs weighing up to 50 to 80 pounds. Their size depends on the specific parentage or litter. Despite their size and high energy, these dogs are very children friendly, which is why they make excellent family pets. You can have Standard Goldendoodles play with your kids with minimal supervision, thanks to their gentle nature.
The Standard Poodle and the Golden Retriever have a similar size to the Standard Goldendoodle. A first-generation cross between the two parent dogs is an excellent choice for families looking to hold onto the Golden Retriever lineage. However, it's not a good idea if there are allergy concerns in your family or you want to minimize shedding.
Traits and Characteristics
Standard Goldendoodles possess the stamina required for great exercise companionship. They can keep up with you in any physical activity (such as hiking and jogging). These dogs can go hard for some time, and afterward, they are content to snooze. Unlike mini Goldendoodles, they do not require constant stimulation all day long. This dog comes from two breeds that are pretty popular in competitions, obedience and the service dog industry.
That's why the Standard Goldendoodle is an excellent choice if you are looking for an extra trainable dog that can serve as a service dog or a therapy dog. Standard-sized Goldendoodles are also suitable for people looking for an element of protection in their dog. Generally, Goldendoodles possess guard dog abilities. In addition, a Standard Goldendoodle has a larger structure and a bigger bark. As a result, this dog is more intimidating to intruders than smaller-sized Goldendoodles.
A larger dog can make you feel more protected and confident. Walking with them on the other end of the leash comes with a relaxed feeling that many people love. However, the Standard Goldendoodle takes up a lot of space which makes traveling a bit difficult. They often struggle to fit in a plane or a tightly packed car. You would require an ESA letter or an extra seat to gain permission to fly with a Standard-sized Doodle.
Related: How Long Do Goldendoodles Live?
Other Things You Should Know About Standard Goldendoodles
Dog training is important because a poorly-trained Goldendoodle is challenging to keep in your home. You may face challenges managing them on a leash. They can chew furniture legs and are big enough to reach food counters in your home. But luckily, the Goldendoodle is among the most trainable breeds there is.
They can easily be destructive due to their size, but you can prevent this by setting boundaries in your home. Sometimes, Standard Goldendoodles may cause inconvenience in your house, even the well-trained ones, for example, they wag their tails a lot, and it's high enough to knock off items on your coffee table. You should also know that they may unintentionally bump into your child while playing, and it's due to their size.
Standard Goldendoodles require a lot of space to exercise. It would help if you had a spacious backyard where they can run around and play every day. On the other hand, Mini Goldendoodles also require exercise, but they can play in smaller spaces. If you live in an apartment, your Standard Goldendoodle can live a happy life provided that you give him enough playtime to meet his daily exercise needs.
Pros
They make excellent exercise partners
Require less stimulation than Miniature Goldendoodles
Standard Goldendoodles are excellent service dogs and therapy dogs
They are better guard dogs than smaller-sized Goldendoodles
Cons
They take up a lot of space
If poorly trained, they can be challenging to manage
Mini Goldendoodle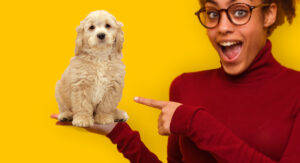 The Miniature Goldendoodle is the offspring of the Golden Retriever and the Miniature or toy Poodle. This dog offers the gentle characteristics of the Golden Retriever plus a low-shedding nature. They fare well with children thanks to their playful nature. You won't have to worry about them knocking your kids over while playing.
Related: Mini Goldendoodle Lifespan.
Size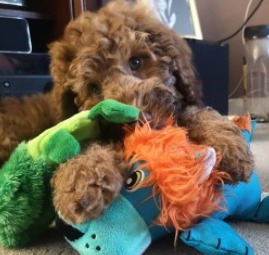 Miniature Goldendoodles often weighs less than 30 pounds. They are delightfully fun, intelligent, and spunky companions – traits they inherited from their Poodle parents. Mini Goldendoodles have humanlike qualities, especially in their wit and quirks. They are highly devoted to their humans. There is a massive difference between the Golden Retriever and the Toy Poodle when it comes to structure and size. That's why Mini Goldendoodles have a lot of variability in terms of size.
The probability of achieving a small-sized Goldendoodle is more dependent on the Miniature Poodle than the Golden Retriever. It's particularly true of tiny Minis, weighing between 7 to 10 pounds. The Mini Goldendoodle has a considerable percentage of the Poodle. It's not advisable to cross the first-generation miniature because of the considerable difference in size between the two parents. It could lead to structural abnormalities and unpredictable sizes in the puppies. If you are looking to preserve the Golden Retriever lineage, you should go for a standard-sized Goldendoodle.
Related: Mini Goldendoodle Size Guide.
Traits and Characteristics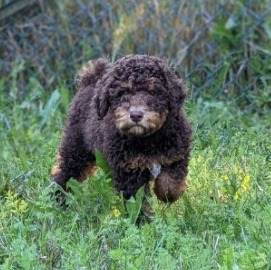 Miniature Goldendoodles are portable, and you can easily travel with them on a plane. They easily fit in the carrier under your seat. But you may face difficulties when traveling in your car, as Mini Goldendoodles tend to get more carsick than the larger ones. You can manage them without much stress, and it's thanks to their small stature. The Miniature Goldendoodle fares well with kids as they are not likely to knock them over when playing. You can control them on a leash without any hassle.
These dogs are easy to carry. You won't have any troubles picking them up during bath times or when it's time to get in and out of the car. This dog is relatively less expensive to manage than larger-sized Goldendoodles. They eat less and require smaller doses of flea prevention. You will also have a lesser charge to pay at the groomer. However, more miniature Goldendoodles tend to face difficulties keeping up with their families during walks or hikes. Although your kids can easily handle them on a leash, they get tired quickly during long walks.
Mini Goldendoodles are very fragile for children's rough play. You will need to supervise their playtime with your kids. These dogs are likely to possess the excitable qualities of the Mini Poodle. Miniature Goldendoodles are less intimidating than the larger ones. Nonetheless, these dogs can be a bit impatient with Kids due to their high-strung nature. The unpredictable movements and actions of young kids can cause them to become disjointed and snap. Mini Goldendoodles are highly energetic but lack the stamina required for prolonged exercise. They need more frequent attention every day to meet their requirements for mental stimulation.
Pros
Mini Goldendoodles are devoted to their humans.
Their portability makes them great travel companions
They are more manageable than their larger Goldendoodles
Make highly kid-friendly family dogs
They eat less and require smaller doses of flea prevention than their larger counterparts.
Cons
They tend to get carsick, which makes traveling in a car tough
They lack the required stamina for prolonged exercise despite their high energy
Related: Male vs. Female Goldendoodle.
Medium Goldendoodle Size
A full-grown Medium Goldendoodle typically weighs about 30 to 50 pounds. They possess a blend of the qualities of the Standard and Mini Goldendoodle. These dogs are bred by crossing either the standard and miniature Poodle with the Golden Retriever. As a result, most medium-sized Goldendoodles possess a blend of standard and miniature personalities. In addition, they are highly manageable because of their size.
If you are looking for a family dog that is easy to control on a leash, the medium Goldendoodles are suitable. They are easy to travel with and also possess the laidback characteristics of the standard Goldendoodle. Medium Goldendoodles fare better in-car rides than miniature Goldendoodles. They have a higher center of gravity which enables them to be comfortable during short or long rides.
Like mini Goldendoodles, you can easily pick up the medium-sized Doodle for baths or to get them in or out of your car. They are more likely to keep up with your family during long walks or hikes. Their size is advantageous because it makes carrying them quickly if they sustain an injury or need assistance for whatever reasons. It's essential to consider these things, and while at it, you should keep your stature and size in mind.
Traits and Characteristics
These dogs are highly energetic and possess the stamina required for long periods of exercise. If you need a dog that can keep up with you during jogs and long walks, a medium-sized Goldendoodle will be a great option. They are particularly ideal for people with a small stature as they may face challenges managing a standard Goldendoodle. Since this breed offers a blend of the Miniature Poodle, the Standard Poodle, and the Golden Retriever, there is often some variability in their personalities and size.
This is probably the only downside to medium-sized Goldendoodles. It isn't easy to know what to expect from your potential furry family member. However, it would be wise to ask your breeder to provide information about the puppy's parentage. This way, you will be able to predict what to expect from your puppy. Medium Goldendoodles are extremely versatile among the three different sizes of Goldendoodles.
Pros
They are easy to pick up
They make excellent companions during car rides
You can travel with them hassle-free
They are very versatile and can fit most families
Cons
There's enormous variability in their sizes and personalities.
Ready to bring home a Goldendoodle companion? Here are our recommendations: Cheap Goldendoodle Puppies For Sale in the United States and F2B Mini Goldendoodle Puppies For Sale in the United States.
Conclusion For "Goldendoodle vs. Mini Goldendoodle"
We have described three different Goldendoodle sizes by making broad generalizations based on the breed's history. However, it's crucial to know that all dogs have individual quirks and personalities. For example, some Standard-sized Goldendoodles are so energetic and might not be suitable for families with kids. Also, you may find some calm and laidback Mini Goldendoodles out there. The parentage of the puppy is a major determining factor of personality. A reputable breeder can guide you through finding the perfect puppy for your lifestyle.
For more Goldendoodle information, you can check out our other content:
To learn more about this topic, watch "Goldendoodle Sizes – How Mini is a Mini vs. Standard Goldendoodle" from Positively Michelle down below: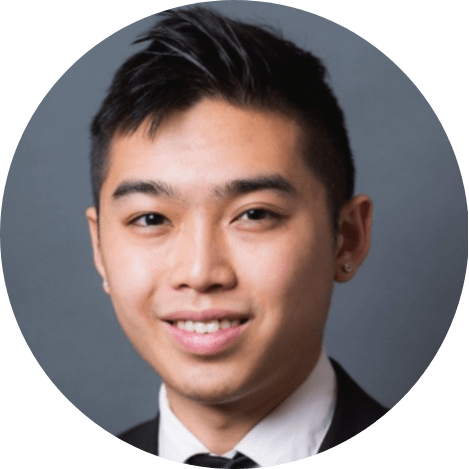 Andy is a full-time animal rescuer and owner of a toy doodle. When he's not saving dogs, Andy is one of our core writers and editors. He has been writing about dogs for over a decade. Andy joined our team because he believes that words are powerful tools that can change a dog's life for the better.
Why Trust We Love Doodles?
At We Love Doodles, we're a team of writers, veterinarians, and puppy trainers that love dogs. Our team of qualified experts researches and provides reliable information on a wide range of dog topics. Our reviews are based on customer feedback, hands-on testing, and in-depth analysis. We are fully transparent and honest to our community of dog owners and future owners.