Male vs Female Goldendoodle – which one is the best? A Goldendoodle is a crossbreed between a Poodle and a Golden Retriever. They are also popularly known as Groodle or designer dogs. Goldendoodles vary in size, depending upon the poodle breed that has been mated with a golden retriever. Hence, a Goldendoodle can be a miniature dog or a large standard dog. Generally, Goldendoodles are considered to be highly affectionate, sociable, and intelligent dogs. They can adapt to any kind of environment and have moderate energy levels.
Goldendoodles are also considered among the best pets for people with allergies due to the fact that they do not shed dander and are mostly hypoallergenic. Moreover, Goldendoodles are easy to maintain and take care of. However, how do you choose between a male Goldendoodle and a female Goldendoodle? What the main differences between the two genders?
Before scrolling down, we recommend to you: Goldendoodle Energy Level Information and Facts!
Comparing Male and Female Goldendoodles
Some pet parents are particular about the gender of the dog they bring in. While some want a boy dog, and others want some feminine energy to grace their homes. However, when it comes to a Goldendoodle, there are many differences between a Goldendoodle girl and a Goldendoodle boy. Particularly, in terms of size and behavior. Let us understand these differences better and in more detail.
Differences in Size
Since Goldendoodles are relatively medium to large dogs, you can expect variances in their size based on their gender. Similar to most dog breeds, a male Goldendoodle weighs more and is taller than a female Goldendoodle by around 10% of their total body weight. While a standard-sized male Goldendoodle weighs between 65 and 75 pounds, a female Goldendoodle has a weight ranging from 55 to 65 pounds.
As far as height is concerned, a Goldendoodle boy is between 23 and 24 inches tall while a Goldendoodle girl is between 21.5 and 22.5 inches in height. If you're looking for a larger-sized Goldendoodle, you should opt for a male. If you want a smaller-sized Goldendoodle, you should get a female.
Behavioral Differences
There is a widespread belief that the behavioral patterns and attitudes vary between the male and female sexes of a particular dog breed. There is a general assumption that a female dog is more domestic, docile, and can easily be controlled, irrespective of its breed. As a result, some people tend to assume that a Goldendoodle female would be easier to train and tame as compared to the male Goldendoodle, who is generally presumed to be aggressive. However, this is probably a notion that has been ingrained into us, just like patriarchy. Nothing could be further from the truth.
Contrary to popular assumptions, both the male Goldendoodle and the female Goldendoodle have similar temperaments. No one gender is more aggressive than the other and neither is one more tameable than the other.
The only difference is if you have a male Goldendoodle, it is important that you pay attention to its behavior during the adolescent phase. As with any other breed of dog, a Goldendoodle boy will tend to have 'mark and humping' phases during his teenage years. This indicates that your dog is reaching its sexual maturity and thus, will mark various areas in your house or mark different places more frequently when out for a walk, especially if they are not neutered. Female Goldendoodles typically won't mark and hump as often as males.
Learning Abilities
Since a Goldendoodle male and a Goldendoodle female do not have any differences in their behavioral patterns, they are also not very different when it comes to their learning abilities. However, because Goldendoodles are emotionally intelligent and food motivated, they are easy to train, be it a male or a female. Hence, expect your Goldendoodle to grasp things quickly. They can also be trained without much resistance or stubbornness.
Nevertheless, the one area where your dog may differ from other dogs is what motivates them. While some dogs get excited at the prospect of receiving a treat on following commands and doing things correctly, others may be motivated by just seeing their owners become happy when they do things properly. However, this is not something that is limited to a Goldendoodle, nor does it lead to any differences between a Goldendoodle boy and a Goldendoodle girl. A Goldendoodle can get motivated by food, praises, or just seeing their owners jump in excitement when they follow instructions, regardless of their gender.
Reproductive Health
As with any other creature or human being, differences exist between the reproductive organs and health of the Goldendoodle male and the Goldendoodle female. Although the reproductive structure of the Goldendoodle male and female are different, both of them are at an equal risk of being infected with diseases or issues related to their reproductive organs.
The male Goldendoodle is vulnerable to being infected with prostate cancer, bacterial infections in the prostate area, and tumors and cysts in their reproductive organs. Male Goldendoodles are also vulnerable to reproductive cancer if their issues are not detected and treated on time.
The Goldendoodle female, on the other hand, is vulnerable to health issues such as uterine and breast cancer. Hence, if you have a Goldendoodle girl, it is essential that you get her checked for any abnormalities or issues on a regular basis.
Since it is almost unavoidable to prevent your Goldendoodle pet from being inflicted with reproductive infections or diseases, you can get your pet either spayed or neutered, if possible.
Grooming
There is no difference between the grooming requirements of a male Goldendoodle and a female Goldendoodle. However, ensure that you brush your Goldendoodle's fur once a week or once every two weeks. You should also bathe it once a month, trim it around its eyes, nose, and between the paws. Also, do not forget to take your Goldendoodle pet to a professional groomer every 8-12 weeks. And if your Goldendoodle pet tends to play outdoors quite often, then it becomes even more important to groom its fur regularly.
Male vs Female Goldendoodle: Which One is Better?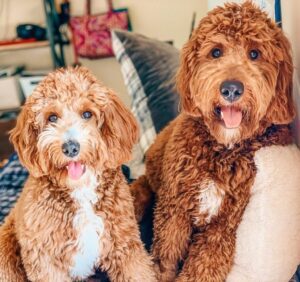 Since there are hardly any differences between a male Goldendoodle and a female Goldendoodle, one cannot say that one gender is better than the other. A Goldendoodle, irrespective of whether it is a boy or a girl, will provide you with the same amount of care and attention. They will also be equally energetic, emotionally intelligent, and sociable. Thus, your experience of adopting a male or a female Goldendoodle will be the same across both genders.
However, if you want to distinguish between the male Goldendoodle and a female Goldendoodle before deciding to adopt one, there are a few things you could keep in mind.
Gender of your existing pet, if you have one
If you already have a dog in your house, its gender could play a major role in determining whether you should adopt a male Goldendoodle or a female Goldendoodle. Typically, dogs get along in pairs. Thus, a male and a female dog will be better companions than two male dogs or two female dogs. For instance, if you have two female dogs in the house, do not be surprised if you see them become aggressive and behave violently with each other. The same scenario is also possible with two male dogs in the house. Therefore, if you already have a male dog at home, adopt a female Goldendoodle, and vice-versa.
This will be great for their health, as well as yours as you don't have to manage the aggression.
Raising Your Own Dogs
If you wish to raise your own puppies, then it is obvious that you adopt a female Goldendoodle. This way, you can breed your Goldendoodle female pet with any male dog and raise your own litter.
Other than these factors, you can also decide whether you want a male or a female Goldendoodle, based upon the size and energy levels of the dog you wish to adopt. If you want a Goldendoodle pet that is small in size but is agile and has high energy levels, then a Goldendoodle female is the best option. And if you want a dog that is more affectionate and cuddly, then a male Goldendoodle is the better choice.
Conclusion for Male vs Female Goldendoodle
If someone asks to do a comparison of a male vs female Goldendoodle, what would be your answer? Would you say that one gender is better than the other? The answer would definitely be a no. While it is certain that some minor differences do exist between a male and a female Goldendoodle, in terms of reproductive health, growing years, and size, this does not indicate that one gender is better or superior to the other. Both the male Goldendoodle and the female Goldendoodle are known to be at the same level, in terms of intelligence, social skills, and grooming requirements.
Nevertheless, if you want to increase your litter, then a female Goldendoodle is more suitable. Similarly, if you have a female dog at home, then a male Goldendoodle is more suitable, and vice-versa.
In the end, the choice is yours. However, irrespective of whether you adopt a male Goldendoodle or a female Goldendoodle, you can be assured of a lot of affection and care from your pet.
You should also check out:
Garrett loves animals and is a huge advocate for all Doodle dog breeds. He owns his own Goldendoodle named Kona. In addition, he volunteers at the Humane Society of Silicon Valley, where he fosters dogs and helps animals. Garrett enjoys writing about Doodles and believes that dogs can teach humans more about how to live than humans can teach a dog.
Why Trust We Love Doodles?
At We Love Doodles, we're a team of writers, veterinarians, and puppy trainers that love dogs. Our team of qualified experts researches and provides reliable information on a wide range of dog topics. Our reviews are based on customer feedback, hands-on testing, and in-depth analysis. We are fully transparent and honest to our community of dog owners and future owners.