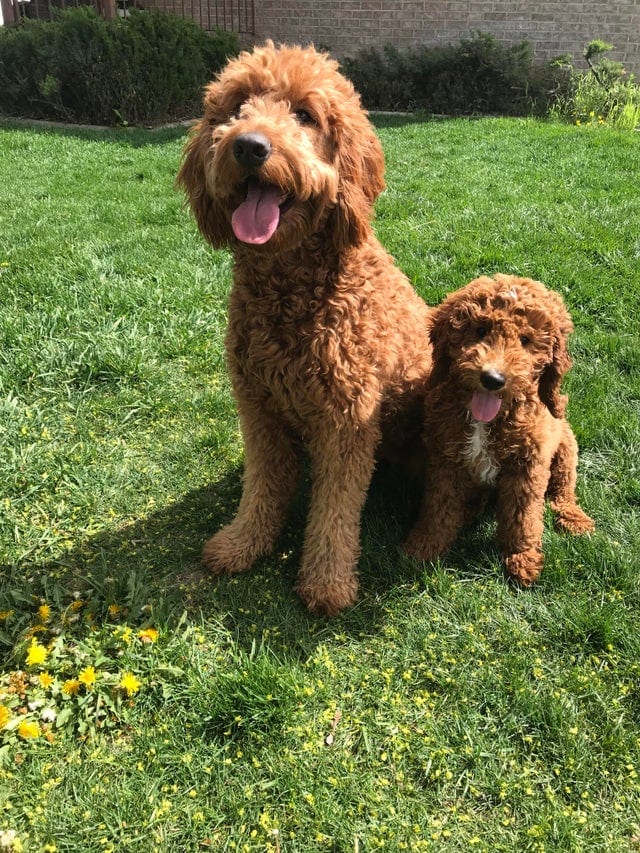 Are you in the process of getting a girl Goldendoodle dog? One of the hardest things to do is to name your Goldendoodle girl dog because they will by your baby for the next 13+ years. Girl dogs typically live longer than their male counter which is why you'll say your Goldendoodles name over 600,000 times for its entire lifespan. Thus, picking the right name for your dog is vital from the beginning when you are training your dog to listen to you. WeLoveDoodles has compiled a summary of the very best Goldendoodle girl names that derive from the tendencies, movements, temperaments, and trends of Goldendoodles.
Since Goldendoodle girl dogs are regularly white colored to dark apricot-brown colored and covered with curly hair, we have a predisposition towards names that look like cute little teddy bears. Likewise, Goldendoodle girl dogs have a relatively mild temperament and an attractive personality. We hope you enjoy our list of specially chosen Goldendoodle girl names! After you name your Goldendoodle dog, we suggest reading over our Goldendoodle Informational Guide which will tell more about your Goldendoodle generation and training tips.
Top 100 Goldendoodle Girl Names
Coco
Bella
Peanut
Pebbles
Waffles
Penny
Molly
Bailey
Callie
Chloe
Luna
Scout
Sierra
Stella
Sophie
Zoey
Mocha
Minnie
Hannah
Ella
Lola
Maggie
Roxy
Mia
Lulu
Dixie
Emma
Princess
Koda
Charlotte
Grace
Acorn
Brown Bear
Mudd
Hickory
Moose
Bambi
Teddy
Peanut Butter
Cinnamon
Cashew
Caramel
Cookie
Fawn
Ginger
Sandy
Savannah
Summer
Copper
Rusty
Cheyenne
Sienna
Merlot
Terra
Apricot
Blondie
Clover
Willow
Dusty
Goldie
Bacon
Curry
Clay
Fudge
Maui
Nutmeg
Java
Pudding
Pippy
Meridian
Russet
Mango
Kava
Jenga
Prune
Reeses
Hershey
Harley
Hops
Winter
Scone
Woody
Skylar
Teddy
Toro
Whiskey
Toast
Bagel
Auburn
Beans
Cedar
Brownie
Coffee
KitKat
Nestle
Pepsi
Soy
Boba
Twix
Yogi
How to Choose your Goldendoodle Girl Name
You will likely spend several days thinking about your future canine's name. Below are some tips to keep in mind while you brainstorm names for your Goldendoodle girl:
An incredibly basic dog name is better. Preferably, you will be picking a Goldendoodle name that is under 3 syllables. If you choose a longer dog name, you're going to regret repeating your dogs name over and over again while you train her. If you do want to choose a longer name for your Goldendoodle, try coming up with a shorter nickname to call them regularly.
Try not to choose a name that has the same syllables as popular dog training directions. The best tip is to try not to name your dog something to the dog command "No." You will be telling your dog "No" a lot as you train them. Any names like Po, Joe, Go, or Mo are not advised. Your Goldendoodle dog may get their named confused with a command that they aren't supposed to do.
Make you can say and articulate your Goldendoodle dog's name. Pronunciation is important so your dog can recognize the correct sound. I once ran into a dog at the dog park named Bezelle. The owner was having difficult training his dog since everyone would call him a different name.
Think of a short nickname for your girl dog. I don't know about you, but after calling my Goldendoodle for the 100,000 time, I get tired of saying the same name. I mix it up by calling my dog Kona, Coco, Buddy, and Bud. He's learned to respond to almost all of his nicknames!
Don't pick a name that sounds like a common human name. There was once a dog named "Carl" at the dog park. There were also a couple dog owners with the name "Carl". It became confusing after a while whom you're referring too, the dog or the human. In general, avoid common human names.
Deciding on your Dog Name
Chances are you're going to have a few names in mind when you pick up your dog. So how do you decide on your Goldendoodle girl dog name?
Dog Features. Carefully examine your dogs features. What color is the fur? How do the eyes look? Are there any distinctive features that help you decide on a name for your dog?
Brainstorm a top 5 dog name list. Keep a list of names and pronounce them out loud. Does any name stand out to you? Show your list to some family members and get their opinion.
Pick a name from a bucket. Write down all your favorite names and put them in a container. Shake the container really well as to mix up all the names. Choose one piece of paper with a name on it and that will be the name of your dog. Let fate decide the name of your dog if you're an indecisive person.
Flip a Coin. For us, we were stuck between the name Kona and Boba. We couldn't decide our dog name, so we flipped a coin with heads it was Kona and tails it was Boba. The coin landed on heads, and we decided to name our dog Kona. We have zero regrets for the name of our dog!
Conclusion for Girl Goldendoodle Names
Naming your girl Goldendoodle dog is extremely hard and one of the biggest decisions that you'll make prior to puppy pick up day.  Keep it simple, short, and pronounceable and you'll be fine!  We hope you enjoyed our list of Goldendoodle girl names.
Other interesting articles:
Garrett loves animals and is a huge advocate for all Doodle dog breeds. He owns his own Goldendoodle named Kona. In addition, he volunteers at the Humane Society of Silicon Valley, where he fosters dogs and helps animals. Garrett enjoys writing about Doodles and believes that dogs can teach humans more about how to live than humans can teach a dog.
Why Trust We Love Doodles?
At We Love Doodles, we're a team of writers, veterinarians, and puppy trainers that love dogs. Our team of qualified experts researches and provides reliable information on a wide range of dog topics. Our reviews are based on customer feedback, hands-on testing, and in-depth analysis. We are fully transparent and honest to our community of dog owners and future owners.