Whether you're a long-time goldendoodle fan or a first-time owner, there's a good chance you've seen dog breeders talking about F1 goldendoodles vs. F1b goldendoodles, and other letter combinations. Are you wondering what those letters and numbers mean? We're here to help!
Knowing the difference between F1 and F1b goldendoodles can significantly impact your purchase decision! See, the type of dog you choose can affect how much your dog sheds, how hypoallergenic he is, and even how much energy your dog has! In this article, we'll take a look at the main differences between F1 vs. F1b goldendoodle puppies. 
For more in-depth information on all the different goldendoodle generations (F2, F2B, F2BB, F3, and multi-gen goldendoodles), please visit our Best Goldendoodle Generations Guide.
Are you ready to purchase your new puppy? Great! PuppySpot is offering We Love Doodles readers an exclusive $100 off discount – just use promotion code "WLD100" at checkout.
We created a video for you on the main differences between an F1 vs. F1B Goldendoodle. Watch it below!
What Does F1 Mean?
Let's first break down the meaning of "F1" in the word F1 goldendoodle. The letter "F" stands for the word filial, which simply means that the dog is a crossbred dog and not a purebred dog. All goldendoodles are a crossbred dog between a golden retriever and a poodle, so they will have the letter "F" in their generational name. Second, the number "1" simply means that this will be the first generation offspring between a golden and a poodle.
What is an F1 Goldendoodle?
An F1 goldendoodle is 50% poodle and 50% golden retriever by genetics. The F1 goldendoodle is a cross between a purebred poodle and a purebred golden. This yields a first-generation F1 goldendoodle that's 50% poodle and 50% golden retriever. See the image below for a better understanding of the F1 goldendoodle.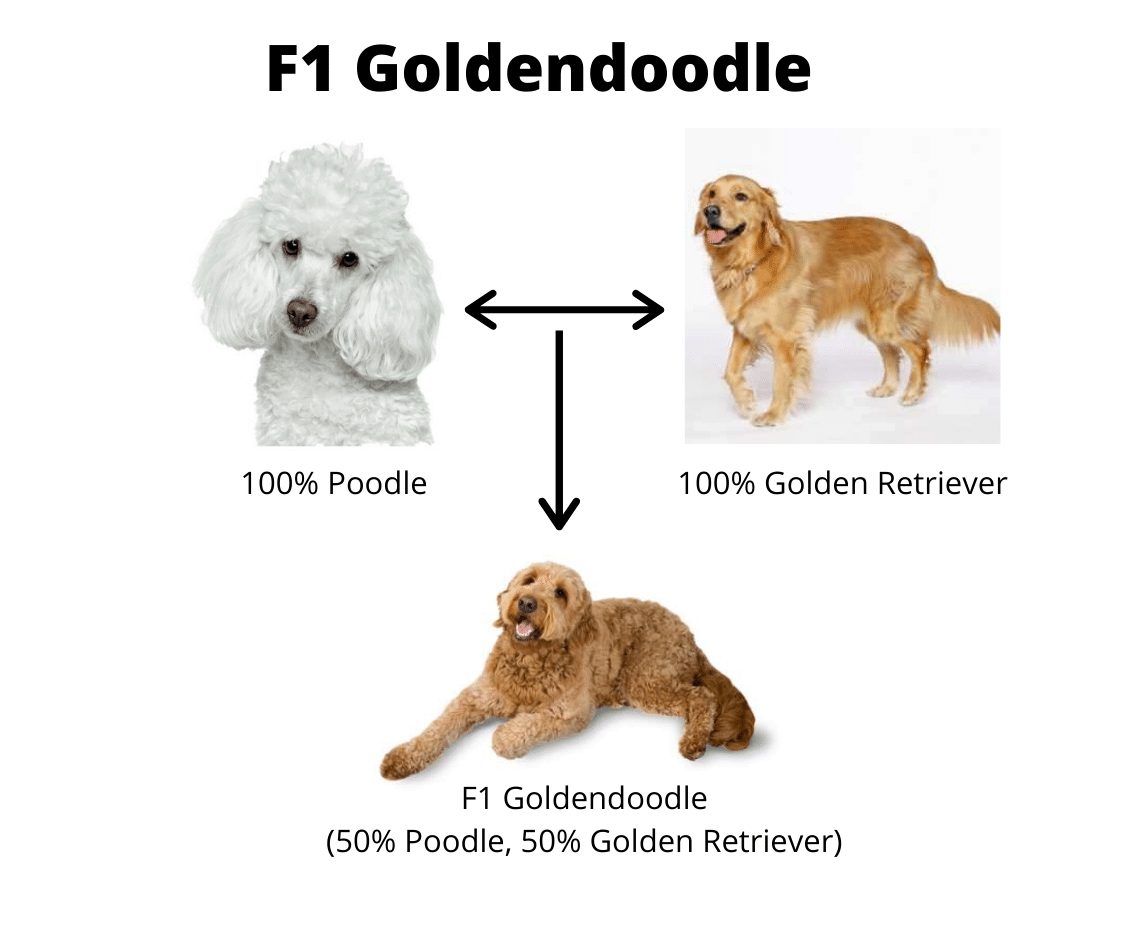 The F1 goldendoodle is one of the most popular generations of goldendoodles, partly because of the popularity of the parent breeds. Both are smart and highly trainable, and the poodle is known to be largely hypoallergenic, too! However, that doesn't necessarily make them the best generation. Your goldendoodle's physical traits and personality will vary depending on genetics and upbringing. For instance, a F1 goldendoodle may or may not shed, depending on the hair he inherited. 
In general, poodle genes will create a wavy or curly coat while the golden's is straight and sheds. Personality-wise, the poodle is intensely intelligent, while the golden retriever is more loving and loyal. Your puppy will be a mix of the two, but it will be a surprise as to which traits your dog inherits!
The best aspect of the F1 goldendoodle is that they gain a health benefit called Hybrid Vigor. Hybrid Vigor means that a crossbred dog will be healthier than their purebred parent dogs. This is because purebred inbreeding causes the same genetic defects to continually be passed down to their offspring. Since the F1 goldendoodle is a crossbred dog, it will only inherit medical genetic problems that are common to the poodle and golden retriever. 
Summary of the F1 Goldendoodle:
Coat Type:

 Unknown. It could be straight, wavy, or curly.

Hypoallergenic:

 Not Guaranteed.

Non-shedding:

 Not Guaranteed.

Hybrid Vigor

: Yes, it has the highest qualities.
What Does F1b Mean?
The meaning of F1b is the same as F1, except the letter "B" stands for Backcross. Backcross means that an F1 dog is a backcross bred with a purebred parent breed.
The"F" still stands for the word filial, which means it's a crossbred dog and the number "1" still means it's the first generation offspring between a poodle and a golden retriever.
What is a F1B Goldendoodle?
The F1b Goldendoodle is 75% poodle and 25% golden retriever. In order to get an F1b goldendoodle, you need to breed an F1 goldendoodle and backcross it with either a 100purebred poodle or a purebred golden retriever. Almost always, a goldendoodle breeder will choose to breed an F1 goldendoodle with a 100% poodle because of the non-shedding and hypoallergenic qualities of the poodle breed. Breeding an F1 goldendoodle (50% poodle and 50% golden retriever) with a 100% poodle yields an F1b goldendoodle (75% Poodle and 25% Golden Retriever). See the image below for a visual explanation of an F1b Goldendoodle.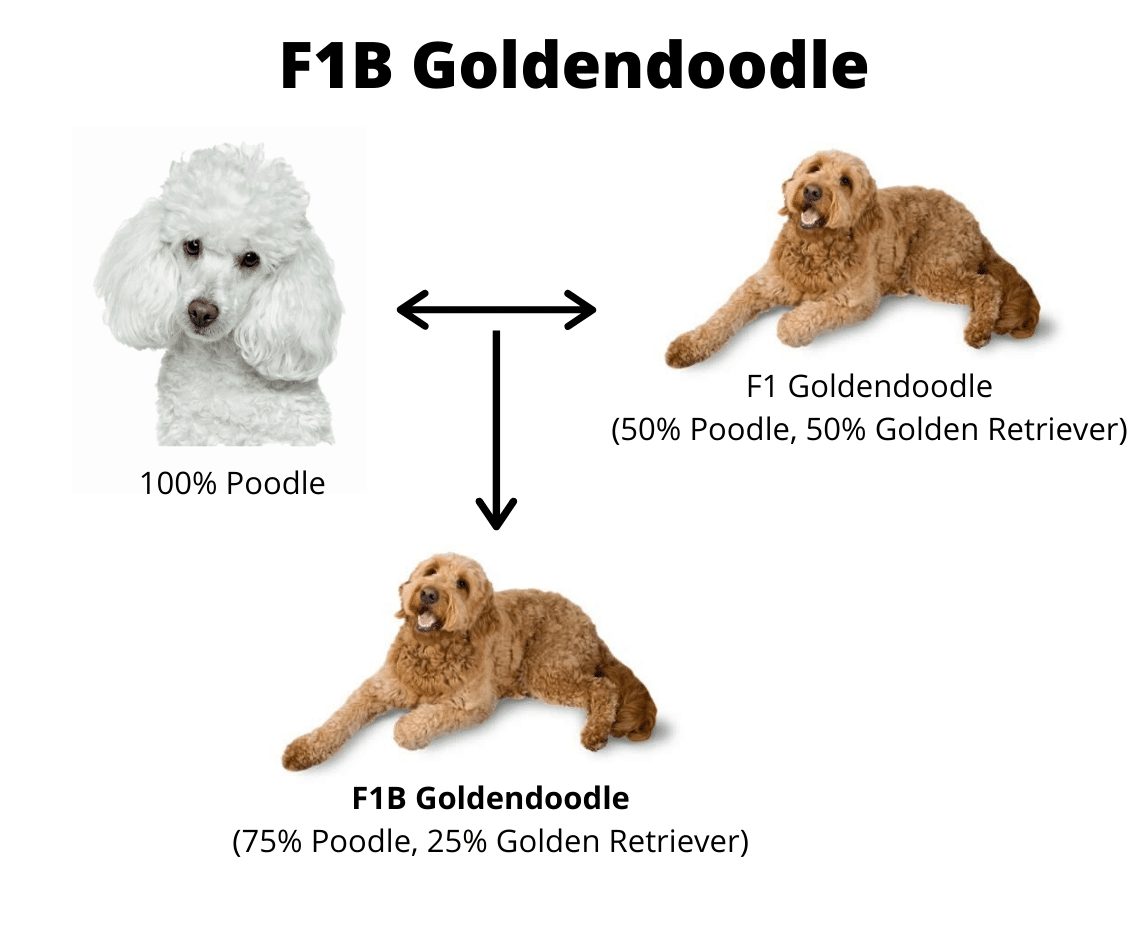 The F1b goldendoodle is the most popular goldendoodle among breeders because it is more non-shedding and hypoallergenic than an F1 goldendoodle. Since the F1b goldendoodle is 75% poodle, there's a significantly higher chance that the dog will have a wavy or curly, hypoallergenic coat. For most dog owners, these are more desirable features than you'd get from a golden, making F1b goldendoodles preferable to F1 goldendoodles. 
The downside of the F1b Goldendoodle is that they get less of the Hybrid Vigor trait than the F1 Goldendoodle. Since an F1b is technically a "2nd generation" crossbred, dogs will inherit less of this Hybrid Vigor trait. 
Summary of the F1B Goldendoodle:
Coat Type:

 Wavy or curly.

Hypoallergenic:

 Yes.

Non-shedding:

 Yes.

Hybrid Vigor

: Yes, but less so than an F1 Goldendoodle.
Differences between F1 vs. F1b Goldendoodle
There are significant differences between an F1 vs. F1b goldendoodle because an F1 goldendoodle is 50% poodle vs. an F1b goldendoodle that is 75% poodle. Most dog owners prefer to get a breed that has more Poodle genes because the Poodle coat is non-shedding and hypoallergenic. In general, an F1 goldendoodle will shed more, be less hypoallergenic, but have better health because of its Hybrid Vigor. On the other hand, an F1b goldendoodle will have a wavy or curly coat that sheds less and is more hypoallergenic.
In general, many dog owners will choose the F1b goldendoodle vs. F1 goldendoodle because they want a coat that sheds less and doesn't give them allergies. However, the downside of an F1b goldendoodle is that the more non-shedding the coat is, the more you will have to groom your goldendoodle to prevent tangling and matting. This includes regularly cutting your goldendoodle's hair every 8 to 12 weeks.
The upside to getting an F1 goldendoodle is that the dogs will inherit the most Hybrid Vigor qualities between two purebred dogs. An F1b goldendoodle inherits some Hybrid Vigor qualities, but less than the F1 goldendoodle.
Frequently Asked Questions
Are F1 goldendoodles hyper?
Yes, F1 goldendoodles can be hyper! Both the poodle and golden retriever are hyper, energetic, and playful dogs. Mixing them results in a breed that is just as playful and energetic!
Their energy levels and hyperactivity will vary depending on the age of the dog, but the breed is still prone to some zoomies at any age! The best way to let your dog work out his wiggles is by providing plenty of exercise and playtime. Again, how much exercise will vary depending on the age of your goldendoodle, but a daily walk and playtime is recommended.
Stimulating toys like Kongs can be useful to curb those energy levels and keep your dog busy, as can an old-fashioned game of fetch in a field. Playtime and a walk where your dog can be off the lead and running free should help burn off the energy and keep your goldendoodle as happy as possible.
Provided you enjoy a walk and have some time every day to play with them (roughly 30 minutes), the dog's hyperactivity shouldn't be much of an issue for you. Especially if you have some children to play with the dog, your F1 goldendoodle will never be bored!
How much do F1 goldendoodles shed?
F1 goldendoodles are a low-frequency shedding dog, meaning they don't shed too much! You can expect some shedding, of course, but far less than other breeds. Many people consider F1 goldendoodles to be zero shedders, but this is a myth. The low-shedding might seem like they don't shed, but your Goldendoodle will shed, and you must be ready for it.
Their shorter coats mean less hair when they shed, and it generally doesn't irritate people with milder pet allergies. You can brush your goldendoodle weekly, too, to help prevent excess hair shedding and keep their fur loss to a minimum.
F1 goldendoodles will shed their fur seasonally. As they are double-coated dogs, you will notice more shedding in the summer and winter as their coats adjust to the new temperatures. They still shed far less than other double-coated breeds, but be prepared to have the vacuum at the ready!
Providing that you regularly brush your dog, have the correct shampoo, and feed them a balanced and nutritious diet, you should not notice too much shedding from your F1 goldendoodle.
Are F1b goldendoodles hypoallergenic?
While there is some debate about this, most owners and breeders consider F1b goldendoodles to be hypoallergenic dogs. Their shedding is minimal, and many owners cite that these dogs have not triggered any reactions to those with allergies to fur.
However, you should still proceed with caution. An F1b goldendoodle is part golden retriever, a breed with a much higher likelihood of shedding. These dogs aren't usually recommended for allergy sufferers, so you should proceed with caution.
Many parents and owners have noted that there were little or no allergic reactions with F1b goldendoodles, but that doesn't mean the risk isn't there. You should strongly consider this before purchasing an F1b goldendoodle if you or anyone you live with has allergies.
Are F1 goldendoodles good dogs?
Yes, F1 goldendoodles are good dogs! Generally speaking, these dogs are intelligent and loving dogs that make excellent pets. F1 goldendoodles can be trained easily and love being everyone's best friends. They should settle in and want to be near your family, with a strong desire to please you.
These are dogs that enjoy lots of praise and playtime! They also enjoy walks, hunting, and water, making them fantastic dogs for an active couple or family. You will need to be mindful that these dogs can be wary around strangers. They are always the first to notice a stranger and are very alert about this, but it shouldn't be too much of an issue.
Here, we think all dogs are very good dogs, and the F1 goldendoodle is no exception! Provided you can offer them an active lifestyle with plenty of playtime and affection, the F1 Goldendoodle will be a good dog to introduce to your home.
Goldendoodles are ideal for homes with children too, and as they are the first generation, they tend to have fewer health risks or complications in later life. These factors and their low shedding make F1 goldendoodles a good dog to introduce to your home.
Which is better: F1 or F1B Goldendoodle?
When deciding which is better, the F1 or F1b goldendoodle, you need to consider what is most important. Narrowing down the attributes you want from your dog can help you decide which generation of goldendoodle best suits your home.
For example, if you want a hypoallergenic dog, you would be better suited to the F1b goldendoodle. They tend to shed far less and are considered the more hypoallergenic option. Those with allergies reported far less or no reactions when living with F1b goldendoodles than F1 goldendoodles.
This allergy-free dog comes at a price, though, literally. F1b goldendoodles tend to be more expensive than F1 goldendoodles, and you should factor this added cost into your budget when deciding which Goldendoodle is best for you.
You should also consider the grooming needs of the dog. Generally, an F1b has curlier hair than an F1 goldendoodle and needs far more grooming. It will be more effort to groom your dog, and you should consider this carefully when making your decision.
While we think both F1 and F1b goldendoodles are fantastic dogs, but if you are after a hypoallergenic dog, the F1b should be your choice, although it will cost you more. Similarly, if you want a lower-maintenance dog to groom, the F1 goldendoodle is the better choice. Consider what you want and need carefully before making your final decision.
Are F1B Goldendoodles healthy?
F1B goldendoodles are healthy, yes! These dogs are known as Hybrid Vigor dogs, meaning they are healthier than the purebred parents! It means you won't need to worry as much about health complications and long-term issues in the same way you would with a purebred poodle or golden retriever.
However, as F1B Goldendoodles are second-generation or F1 goldendoodle offspring, they lose some Hybrid Vigor characteristics. It shouldn't impact their health too much, but you will need regular vet checkups to ensure your dog remains as healthy as possible.
Providing that your F1b goldendoodle is fed a healthy and balanced diet and has regular exercise, then they should remain healthy for most of their life. You will still need to be aware of health conditions that these dogs can develop, though.
Goldendoodles are prone to eye diseases, skin conditions, heart conditions, and hip dysplasia throughout their lives. Regular vet check-ups and ensuring you purchase your dog from a reputable breeder helps to minimize the risk of these illnesses. Overall, F1b goldendoodles are healthy dogs, but you need to be aware of any health issues that could develop over time.
Conclusion for F1 vs. F1B Goldendoodle
The F1 vs. F1b goldendoodle has significant differences in terms of both physical and personality characteristics. The F1 goldendoodle is half poodle and half golden retriever, which makes genes vary widely; it is one of the most unpredictable goldendoodle generations. On the other hand, the F1b goldendoodle is 75% poodle and 25% golden retriever which means that this generation is likely not going to shed fur and be hypoallergenic.
If you're a potential dog owner that has sensitive pet allergies and doesn't like to vacuum or clean fur off their clothes, then it's probably best to opt for an F1b goldendoodle over a F1 goldendoodle. The F1b goldendoodle has significantly more predictable genes.
Other Goldendoodle articles to read:
Want to learn more information about the "F1 vs F1B Goldendoodles", then check out the video below: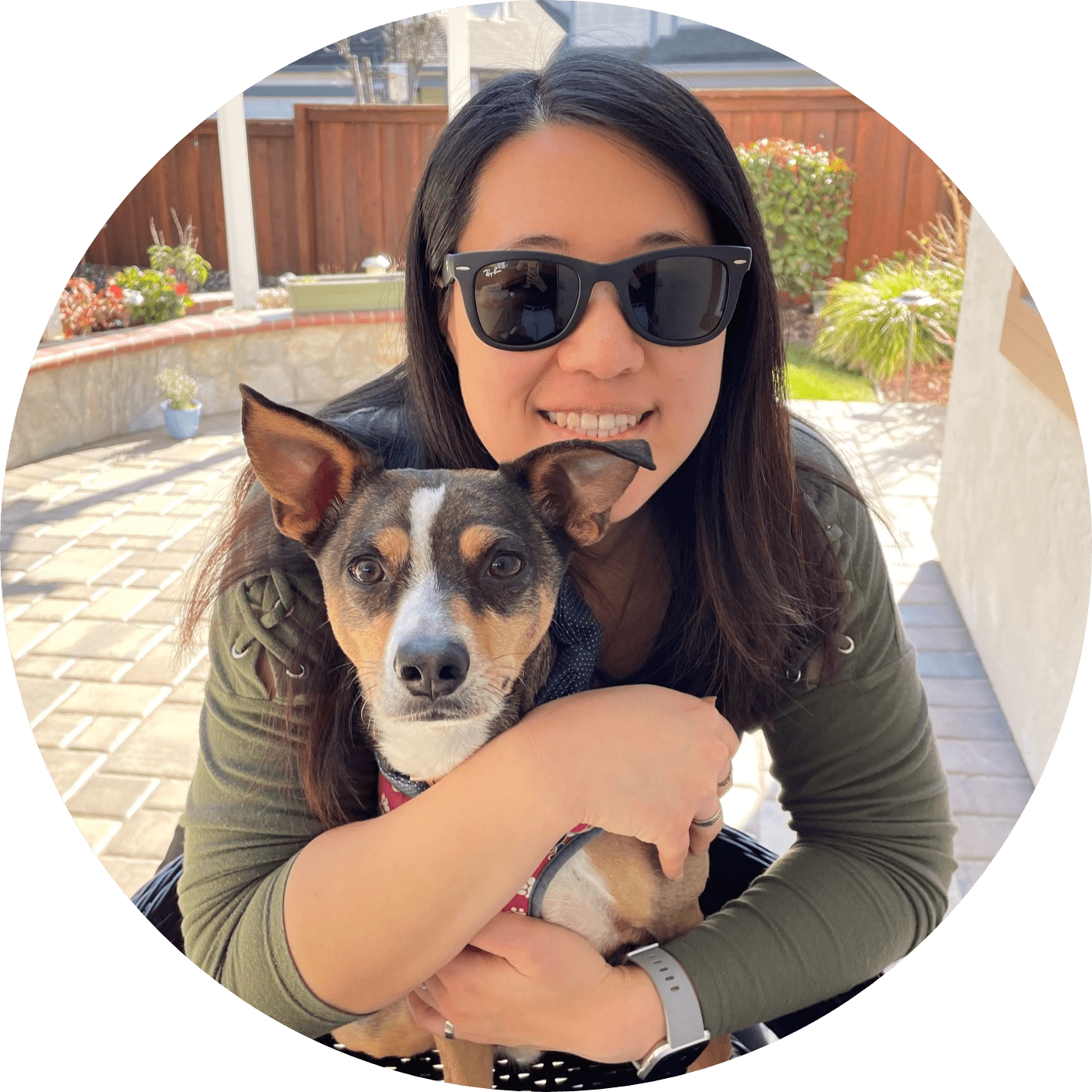 Dr. Sabrina Kong graduated from the Royal Veterinary College in England in 2016 and has been working at a small animal clinic in Northern California since then. She grew up in the Bay Area and got her bachelor's degree from Cal Poly San Luis Obispo. She also became a Certified Canine Rehabilitation Practitioner through a program at the University of Tennessee.
When she isn't in the clinic taking care of her four-legged patients, she enjoys traveling and trying new foods with her friends and her three-legged dog, Apollo. She adopted Apollo from her clinic when he was a puppy with numerous health issues. Dr. Kong truly cares about taking care of animals.