Our team at WeLoveDoodles compiled this list of the best hypoallergenic dog mixes for you to check out. You're probably anxious and been wanting to bring home a companion for the longest time. However, you dislike the amount of shedding in dogs, or someone in your household has allergies. Fortunately, you've stumbled upon the topic of hypoallergenic dogs, which is something you've been looking for. Dogs that are mixed are popular for inheriting the best features from their parents.
You could breed a shedding and a non-shedding dog, which will result in a hypoallergenic breed that doesn't trigger allergies or cause a mess. Not only do hypoallergenic dogs shed very minimally, but their coats produce minimum allergen-causing dander, making them the perfect four-legged companions to introduce to your home. If you're ready to get started, scroll down this list of hypoallergenic dog mixes to find a breed most suitable for you.
More dog recommendations we think you might like: Top Low Energy Hypoallergenic Dogs That Don't Shed and Small Non-Shedding Dog Breeds.
1. Labradoodle
Crossed between a Labrador Retriever and a Poodle, the Labradoodle can grow between 21 to 24 inches tall, weighing a good 50 to 60 pounds by the time it's fully grown. The Labradoodle has an average lifespan of 12 to 14 years. Labradoodles are social and friendly with everyone but are particularly affectionate with their owners and loved ones. This Doodle breed gets along well with children and other household pets.
The Labradoodle's coat could be either curly or wavy, which means that it won't shed much. With an energy that adapts well to apartment life or many living environments, they're good at balancing playtime and nap time. Labradoodles are eager to please their owners, which makes training them a simple task. For people with allergies or first-time dog owners, the Labradoodle would be an exceptional match.
Labradoodle Recommendations: Best Labradoodle Rescue and Mini Labradoodle Breeders in the United States.
2. Schnoodle
This attention-loving cutie is the result of crossbreeding between a Poodle and a Schnauzer. Schnoodles can weigh anywhere between 20 to 70 pounds and grow between 10 to 25 inches tall. They thrive in a loving environment that'll get along with families and children because of their playful behavior. A Schnoodle is easy to train and very active, which doesn't require as much exercise as many other breeds. While the Schnoodle was bred for its low-shedding capacity, they make great hypoallergenic dogs for people with allergies. They're calm, affectionate, and intelligent.
Related Articles: How Much Does a Schnoodle Cost and How Long Do Schnoodles Live?
3. Yorkipoo
Crossbreeding a Yorkshire Terrier with a Miniature Poodle will give you a Yorkipoo. These tiny dogs are 3 to 14 pounds in weight and grow 3 to 15 inches tall. Their life span is 10 to 14 years. Yorkipoos are peaceful, gentle, and affectionate dogs. They are known to be excellent companion dogs for the elderly. Their compact size and calm temperament also make them a good choice for apartment dwellers. Not only that, they learn new tricks very quickly and are easy to train. Their exercise requirements are also minimal. Overall, the Yorkipoo is a low-maintenance dog whose non-shedding, the hypoallergenic coat will help keep your allergies away.
Related Articles: Yorkipoo Rescues For Adoption
4. Maltipoo
The Maltipoo is a cheerful hybrid resulting from a crossbreed between a Maltese and a Poodle. The Maltipoo is known for its cuteness. This mixed breed weighs 4 to 20 pounds and can grow 7 to 14 inches in height. They're energetic, stubborn, and active dogs. Although Maltipoos get along with children and house pets, they do need supervision as they can be difficult for children to handle. Training a Maltipoo is not a task for a first-time dog owner. Their high energy levels need to be matched with a high amount of exercise for them to stay healthy. These dogs have a high-maintenance coat that doesn't shed and is hypoallergenic.
Related Articles: Maltipoo Lifespan and Best Types of Maltipoo Haircuts with Pictures.
5. Cockapoo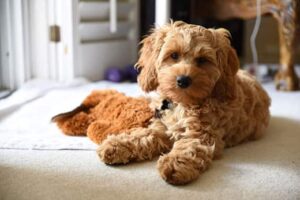 Cockapoos result from a Poodle and the Cocker Spaniel as their parents were initially cross-bred to make a companion dog. Cockapoos grow 10 to 15 inches tall and weigh 6 to 19 pounds. The life span of a Cockapoo is 12 to 15 years. This is an intelligent, easy-going, and affectionate dog that gets along well with a family, children, pets, and even strangers. Their balanced temperament also makes them good therapy dogs. Their non-shedding coat produces little dander. Cockapoos require a minimum of 15 minutes of exercise per day and are easy to train.
Related Articles: How Much Does a Cockapoo Cost
6. Berdoodle
The Saint Berdoodle is a cross between a Poodle and a Saint Bernard, is a large, goofy, and affectionate family dog. With an average life span of 8 to 12 years, they can grow 15 to 30 inches tall and weigh anywhere between 40 and 180 pounds. St. Berdoodles love being in a busy house where they are constantly entertained. Although the St. Berdoodle is easy-going, their large size can be a problem. Therefore, it's advised that they are supervised. They have a low-maintenance coat that doesn't shed heavily. These dogs love being outdoors and need plenty of exercise in the fresh air. If you have a big house and a spacious backyard, then the St. Berdoodle can be an excellent dog to bring home.
Related Articles: Best St. Berdoodle Breeders in the United States
7. Pomsky
A cross between a Siberian Husky and a Pomeranian will give you this adorable mix that's called the Pomsky. They can grow 10 to 15 inches tall and weigh anywhere between 7 to 38 pounds. The average lifespan of a Pomsky is 12 to 15 years. They are loving yet stubborn, and thus better handled by experienced dog owners. Pomsky is also known to favor one family member over the other.
In families with children or other household pets, they may become jealous and demand attention from the owner. Pomsky adapts very well to apartment life and only needs a moderate amount of regular exercise. Their coat is usually thick and soft, but the shedding may depend on which parent the dog takes after. These mixed dogs are popular for being a smaller version of a Husky, making them compact enough for apartment dwelling.
8. Mastipoo
The Mastipoo is a cross between a Mastiff and a Poodle. With a life span of 10 to 12 years, the Mastipoo can grow 22 to 26 inches in height and weighs anywhere between 35 to 80 pounds. Even though they appear intimidating, Mastipoos have a gentle and easy-going temperament. This also makes them a good choice for those who want a watchdog. Shedding issues of Mastiffs are balanced out very well by the cross-breeding, making them good hypoallergenic dogs. They only require a moderate amount of exercise once a day. The description "laid back" perfectly describes this Doodle breed. A similarly laid-back family with many children and pets will be perfect for a Mastipoo.
9. Cavachons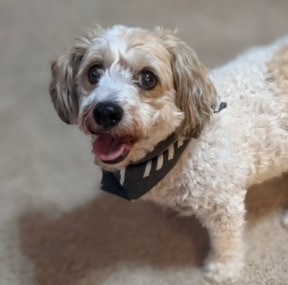 A cross between a Cavalier King Charles Spaniel and a Bichon Frise will give you a Cavachon. They grow roughly 13 inches tall, weigh 15 to 35 pounds, and have an average life expectancy of 10 to 15 years. These easy-going and sweet dogs love to cuddle. They love getting attention from their owners. Cavachons are easy to train and require equal amounts of exercise and rest. The Cavachon can adapt to both country and urban life. They get along well with children and other pets but need to be supervised. A Cavachon tends to have a medium-length coat that doesn't shed much and is the best choice for allergy-prone individuals. However, Cavachons cases are having long coats, which you would need to watch out for.
Mentioned in: Cavapoo Rescues For Adoption
10. Bullmatian
A Dalmatian and a Bulldog, when crossbred, will give you a Bullmatian. They keep their spotted coats from their Dalmatian parent but the color of their spots may change. They are 11 to 24 inches tall and weigh 41 to 65 pounds. The average lifespan of a Bullmatian is 8 to 12 years. Bred as companion dogs, Bullmations get along fine with everyone. They are loving, energetic, and stubborn. Their high energy needs to be put to good use with regularly scheduled training. The Bullmatian is also known to be independent, and therefore, is best suited for seasoned dog owners. The short and straight coat is low maintenance and hypoallergenic.
Conclusion For The "Best Hypoallergenic Dog Mixes"
Mixed breeding is known to be unpredictable and can bring vastly different results each time. When breeders do not take proper care, it can be harmful to the dogs as well as the owners. When getting a mixed dog, always make sure that you check the proper certificates. This will ensure that you get a hypoallergenic dog you can provide a forever home for. You should always do your due diligence before making any further decisions to avoid potential puppy mills with hypoallergenic dog mixes.
More articles related to "Best Hypoallergenic Dog Mixes" from our team at WeLoveDoodles:
To learn more about this topic, watch "Hypoallergenic Family Dogs That Don't Shed" from All Things Dogs down below: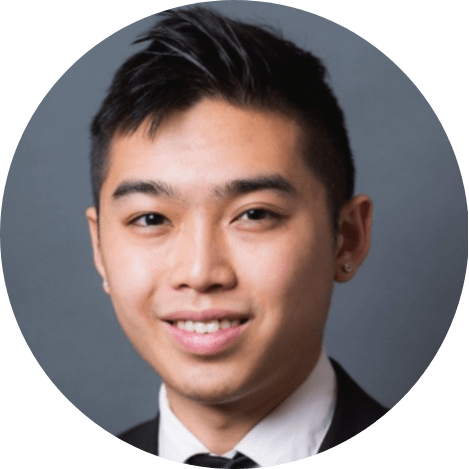 Andy is a full-time animal rescuer and owner of a toy doodle. When he's not saving dogs, Andy is one of our core writers and editors. He has been writing about dogs for over a decade. Andy joined our team because he believes that words are powerful tools that can change a dog's life for the better.
Why Trust We Love Doodles?
At We Love Doodles, we're a team of writers, veterinarians, and puppy trainers that love dogs. Our team of qualified experts researches and provides reliable information on a wide range of dog topics. Our reviews are based on customer feedback, hands-on testing, and in-depth analysis. We are fully transparent and honest to our community of dog owners and future owners.