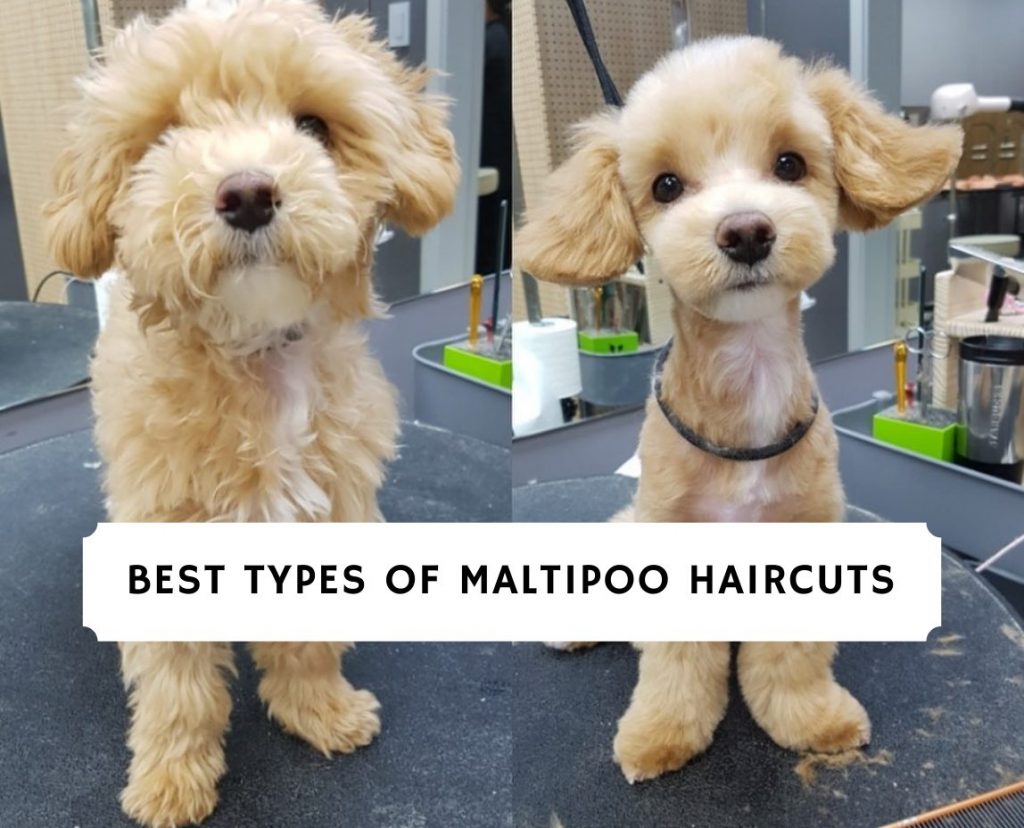 Maltipoos have been growing in popularity for years and there are no signs of slowing down. This is an adorable designer dog breed that is crossed between a toy Poodle and a Maltese. Both of these dogs are extremely small but have a large amount of hair. Since both dog breeds shed very little hair, this makes grooming necessary and you'll have to give your Maltipoo regular haircuts.
Maltipoo grooming styles don't have to be boring and there are so many types of Maltipoo hairstyles that your dog can have. You can virtually do a new haircut on your Maltipoo every time if you know what you're looking for.
We have put together a list of the best and most popular types of Maltipoo haircuts. These are adorable cuts and help keep daily grooming under control. In addition, cutting your Maltipoo's hair helps to prevent mats and tangles from pulling at your dog's coat. We are also going to give you a few tips on how to choose the right haircut for your Maltipoo.
1. Maltipoo Miami Cut
The Maltipoo Miami cut is traditionally seen on Poodles. So this is a tribute to one side of the Malitpoo's parentage. However, it does look good on Maltipoos and helps keep the tangles out of their hair. The Miami haircut is also sometimes referred to as a bikini cut so if your groomer hasn't heard the term "Miami cut" ask them about a bikini cut.
If your groomer still does not understand what you are asking for, don't worry, we are going to give you the features of a Miami cut. This will help you explain what you want. We also recommend you show them a picture so they don't accidentally shave your dog.
The name "Bikini cut" comes from how the haircut looks when it is finished. When it is done correctly it looks kind of like your dog is wearing a bikini. It has become known as the Miami cut because you wear a bikini in Miami.
Miami Cut Features
Long hair on the head
Long hair on the back end and tail
Short on the rest of the body
Feet cut short as well
2. Maltipoo Town and Country Cut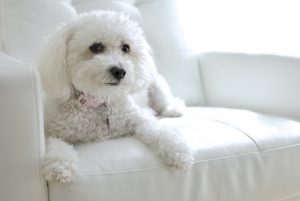 This is a pretty traditional Maltipoo haircut and it is seen often on the Maltese. This cut offers the owner and the groomer some leeway when it comes to the hair length of the body. There is no set length for this haircut to be considered the town and country.
The only thing that really matters is the length of the face, feet, and tail as those are the parts of the dog that are getting trimmed. The body could be trimmed short or kept long. It depends on what you like and what season it is as generally body hair is cut shorter in the summer and left longer in the winter.
This cut is very versatile and can be worn in all seasons. Generally speaking, the shorter that you cut your Maltipoo's hair, the easier it will be to brush and remove tangles. However, most people like to keep their Maltipoo's hair longer because the dog tends to look cuter.
Town and Country Features
Face Short
Feet Short
Tail Short
The rest of the body is the desired length
3. Maltipoo Lamb Cut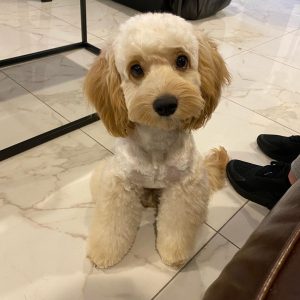 We aren't sure if there is a Maltipoo that looks bad in the lamb haircut. The Maltipoo lamb haircut is a universally adorable cut and common amongst most doodle breeds. This cut literally makes the dog look like a tiny lamb and there is nothing cuter. This is especially true if you have a white Maltipoo that has that fluffy and curly Poodle hair.
This is such a common Maltipoo haircut that it is actually permitted in the show ring on Poodles. But your Maltipoo doesn't need to go into the show ring to be a winner with this haircut. It is especially good for winter because the hair is kept slightly long.
In general, the Maltipoo lamb haircut leaves the leg hair longer and the body hair shorter. The Maltipoo ears are generally brushed out and left long and fluffy. You'll also notice that the face is trimmed rounded and the tail hair is left longer.
Lamb Cut Features
Ears trimmed but kept long and fluffy
Feet trimming and rounded
Face trimmed and rounded to look like a lamb
Tail hair has a pom
Body hair is trimmed shorter
4. Maltipoo Continental Cut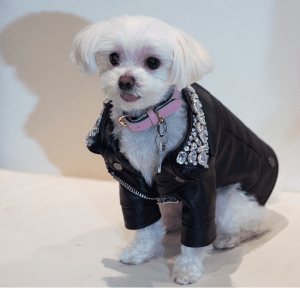 When you hear Continental cuts do you think of show Poodles? You should. This haircut is exciting to do on your Maltipoo. This is a cut that you can try in the summer because the back part of your dog is mostly shaved. There are also poms on the tail and ankles of your Maltipoo.
If you want your Maltipoo to look like an adorable tiny lion then this is the cut you have been looking for. The best part is that a groomer can't be confused about what you want. This is a very recognizable Maltipoo haircut and leaves little room for interpretation.
Basically, the legs of your Maltipoo will be shaved beside the paw pads. In addition, half of the tail will be shaved and there will be hair left at the end of your Maltipoo's tail. The facial area is also shaved, but the rest of the body hair is left fluffy.
Continental Cut Features
Poms on tail and ankles
Shaved legs beside the paw pads
Shaved back half of body
Long and fluffy head and upper body
Sheared face
5. Maltipoo Maltese Cut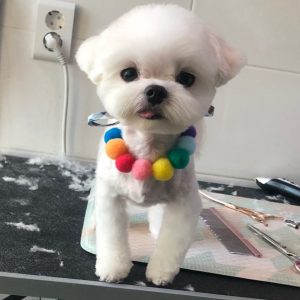 The Maltipoo Maltese cut is a traditional haircut for a Maltese. We are talking about the everyday wear cut and not the show cut. The show cut keeps the fur very long and flowing which could be a mess for mats and tangles. This is a beautiful haircut, but not practical for everyday use.
That is why we are going to be focusing on the everyday Maltipoo Maltese haircut. The body hair will be shorter with the ears and head hair stays a little bit longer. The legs and tail hair will be slightly longer as well.
Maltese Cut Features
Body hair (sides and torso) is cut to ¼ inch
Chest, stomach, front of the neck, and bottom are shorter at 1/16 inch
Legs are 1 ¼ inch long and are usually feathered
Ears are bobbed and brushed out
Head hair is clipped rounded
The tail is left to 2 inches
6. Maltipoo Shih Tzu Cut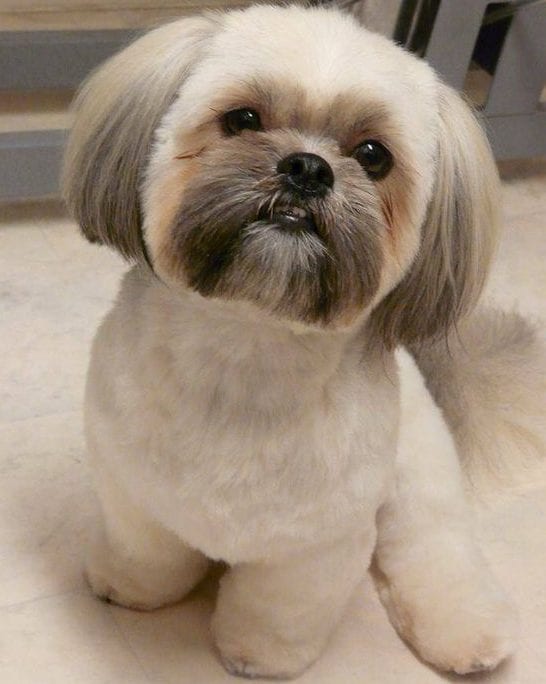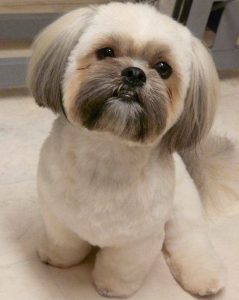 Okay so the Shih Tzu is not in the genetic family for a Maltipoo, but their hairstyles are too cute to leave out and they work well for a Maltipoos hair. Shih Tzu's also have distinct hairstyles that will make your Maltipoo stand out.
In addition, most grooming parlors will know what the Maltipoo Shih Tzu cut is and it'll be difficult for them to mess this style up. This cut is similar to the Maltese haircut with a few differences. The way the head is styled is probably the most similar feature that you will see on the cut.
The Shih Tzu hairstyle is going to have a pretty short cut all over with longer hair on the head and ears. The face will also be trimmed down. Your Maltipoo will pull this look off so well that people might think you have a Shih Tzu.
Shih Tzu Cut Features
Bobbed ear hair
Rounded head hair
Closely trimmed face hair
Even body hair, leg hair, and tail hair (your decision how long)
Other Maltipoo Grooming Tips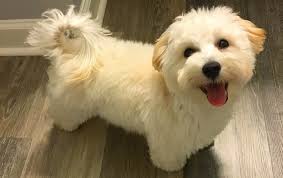 No matter what cut you get for your Maltipoo you will still have to do some at-home grooming between groomer visits. This is part of having a dog with so much hair that doesn't shed. To keep things under control we have a few grooming tips to help you out.
Bath your Maltipoo once or twice a month. This may seem like it wouldn't be necessary because they go to the groomer. However, keeping your dog clean will make the groomer's job easier and keep your dog's hair in better shape between cuts. Baths tend to loosen tangles and mats in a Maltipoo's coat by removing dead hair and skin.
hair Maltipoo

go ahead and give them a quick

brush

once a day. This is a great bonding experience with your
dog and will keep them familiar with grooming
tools. It will also keep the
hair
from tangling and matting between grooming visits.
These tips will go a long way to keep your Maltipoo's hair healthy. Because the Maltese has fine hair and the Poodle has curly hair expect a lot of frequent grooming.
Conclusion for Types of Maltipoo Haircuts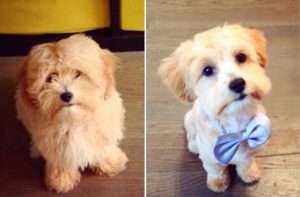 When it comes to choosing a haircut for your Maltipoo the choices can be overwhelming. You may not know where to begin or even how to choose the right haircut for your dog. This is understandable and there are a few things that you can ask yourself to help narrow down your options.
What Season is it? The season has a lot to do with how you choose to groom your dog. The climate in your area also matters. By asking this basic question you will narrow down your choices. Generally, you'll want to have longer hair in the winter and shorter hair in the summer.
Do I have time to brush my dog daily? If you don't have time to brush your Maltipoo daily then you will not want to have a long haircut on your dog. So this narrows it down to shorter haircuts.
Does my dog like to be outside? Even though Maltipoos are small they are active and like to be outside. If they do then you will want to have a cut that is good for an active dog that won't attract a ton of dirt or debris. You don't want their hair to be in the way of having a great time outside.
Once you have answered the questions you will be ready to choose a Maltipoo haircut. If you still aren't sure what you want or what your dog needs you can ask your groomer.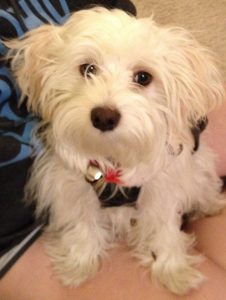 Groomers are usually very happy to make suggestions based on the needs of the client. Whatever you choose you can be sure your Maltipoo will be adorable and have people stopping on the street to take a look.
Other articles you might like:
Garrett loves animals and is a huge advocate for all Doodle dog breeds. He owns his own Goldendoodle named Kona. In addition, he volunteers at the Humane Society of Silicon Valley, where he fosters dogs and helps animals. Garrett enjoys writing about Doodles and believes that dogs can teach humans more about how to live than humans can teach a dog.
Why Trust We Love Doodles?
At We Love Doodles, we're a team of writers, veterinarians, and puppy trainers that love dogs. Our team of qualified experts researches and provides reliable information on a wide range of dog topics. Our reviews are based on customer feedback, hands-on testing, and in-depth analysis. We are fully transparent and honest to our community of dog owners and future owners.