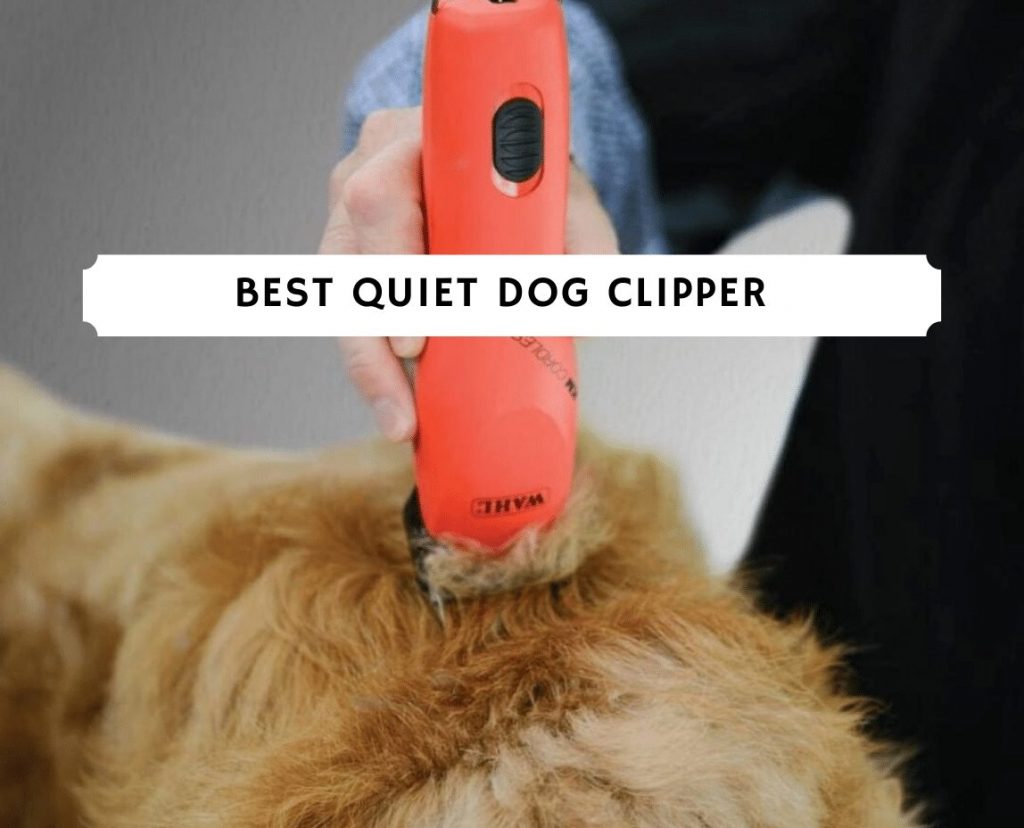 Grooming your dog at home is a great bonding experience. It also saves you tons of money that would be otherwise spent at a professional groomer. However, you need to have the right equipment that your dog can tolerate to be successful. The pet industry has manufactured a wide range of dog clippers to suit the needs of at-home groomers.
A common problem many pet parents experience when grooming their dog is their dog feels afraid of the clippers because of the loud noise and vibrations that are emitted. If your dog shakes during their grooming sessions or runs around the house to get away from the loud clippers, you can still get the job done with quiet dog clippers.
These specially designed grooming clippers have a low noise level and vibration level that helps keep dogs calm and happy. Silent dog clippers have been trending in the dog industry because technology has allowed previous loud buzzing sounds to become ultra-quiet. The following list is the best quiet dog clippers available in the market today!
In a rush? Check out our top 3 picks below.
The 10 Best Quiet Dog Clippers Reviewed
If you do any research on quiet dog clippers, you will notice that there are hundreds of options to choose from and each clipper claims to be quiet. Don't worry, we have dug through all the products and sorted through the research so you won't have too.
Our list was created based on the noise level, vibration level, reliability, and durability. We hope that our list helps you narrow down the options and choose the best quiet dog clipper.
If you know anything about dog grooming, it's that Andis is the de-facto standard for dog clippers. They barely even market their products, but most professional dog groomers around the world can attest that the Andis Pro Clip 2 is one of the dog clippers to use. One of the main factors that they are so widely used is because their clippers are extremely quiet when compared to the others on the market. One of the reasons these are quiet dog clippers is that they use a brushless motor in their dog clippers. Most other dog clippers will be using a brushed motor that doesn't achieve the same efficiency of a brushless motor. This means that's a brushed motor will be significantly louder than the brushless motor.
In addition, the other reason that Andis Proclip 2 is so widely used is that these quiet dog clippers can cut through all coat types including thick and matted hair. As a groomer, this saves you tons of time. Most of the time, you'll have to go over the hair multiple times to get an extremely smooth cut, but with the Andis Proclip 2 the blades are sharp enough to cut through the hair. Also, there's a lot of other differentiating factors that make this the best quiet dog clippers on our list. Some of these are the ceramic blades that are cooler than steel, up to five-speed motors (this particular one is only two speed), and easy clip on and off blades. If you're looking for the best quiet dog clippers, the Andis Pro Clip 2 is the top choice.
The Hansprou professional dog grooming clippers feature a low noise level while still delivering 12V high-speed strong power. For reference, the noise level on these dog clippers is 50 dB which is equivalent to the lowest limit of urban ambient sound. You can think of it as a slight buzzing sound that is unlikely to bring anxiety or stress to your dog.
The 12V motor on this dog clipper is extremely strong and will cut through hair even if it is thick or matted. In addition, the titanium alloy blade on this dog clipper is easy to use, detach, and clean. The difference between a dog clipper and a human clipper is that there is usually a special cutter bit that is sharper and more durable than a human clipper. The Hansprou has 35 teeth and the pet cutter bit so you can guarantee that this blade will cut through your dog's hair. It is quiet and powerful which is why it's our second best quiet dog clipper. It's also at a slightly lower price point than the Andis Proclip 2 which makes sense for those seeking a more budget-friendly option.
Also, the Hansprou silent dog grooming clippers has four guard combs and a five-level shift. This means that there are two modes that are easy to adjust to suit the different lengths of dog hair perfectly. In addition, the five-level shift allows you to cut your dog's hair between various lengths of 3 to 12mm. This dog clipper keeps your pet calm while you safely and quickly cut through the hair while producing professional grooming results. There's also a two-year warranty, so if for any reason you don't like their quiet dog clippers you can return them.
The Wahl Lithium Ion Pro Series clippers are low noise and the #1 brand of grooming tools in the United States. They are suitable for all types of dog coats especially double-coated and medium coats. In addition, they work well for all sized dogs ranging from small to large. This quiet dog clipper is best used for touch-ups between professional grooming sessions when you need to shave around your dogs feet or facial regions. It's not as strong or powerful as the Andis or Hansprou dog clippers, but it's a great wireless option that can be used anywhere. 
The Wahl wireless dog clippers have a two hour run time when fully charged. In addition, the battery charges real quick for easy grooming at your house. Also, the handle is easy to grasp and keeps your hand and wrist comfortable. The blades are also self-sharpening and won't snag on your dog's hair. There's a five-year limited warranty on these quiet dog clippers so you can't ensure that they will be lasting a long time.
This grooming kit comes with everything you need to produce professional results. It comes with 4 attachment combs, stainless steel scissors, a carrying case, and a cleaning brush. It's not just your average dog grooming kit which is why this is the best wireless quiet dog clippers on our list.
The Ceenwes dog clippers have a low noise level that helps keep your pet calm during their grooming sessions. It features a high precision motor with low vibration and and low noise that only produces about 60 dB of sound when on. For the price, this is a great silent dog clipper because it comes with 10 tools including a brush, comb, attachments, scissors, and nail clippers. It's meant to be a one-stop-shop for all your at-home professional grooming services. Generally speaking, if I was new to grooming my dog I would definitely start with a grooming kit. It's great value and lets you decide if you really enjoy grooming your dog.
The lightweight cordless design makes it easy to use and grasp for long periods of time. A fully charged battery produces 70 minutes of continuous grooming time. A wireless dog clipper design is useful if you only have one dog that you can groom quickly. You can conveniently use a wireless dog clipper anywhere and don't need a bulky extension cord or outlet for power.
The Petic dog grooming clippers are super quiet and produce professional-style results. The cordless design is easy to maneuver and gets to hard to reach places like your dog's armpits or belly. In addition, the lithium-ion battery is rechargeable and gives you 60 to 70 minutes of runtime. It does take approximately 3-4 hours to recharge so if you have more than one dog I would opt for a wired dog clipper. However, this is a great quiet dog clipper that comes as a grooming kit so you get a lot of extra perks like thinning scissors, a nail file, cleaning brush, and blade attachments.
The noise level is under 58 dB which will keep your dog calm during grooming sessions. These are quiet dog clippers that are also powerful. The sharp ceramic blades get the job done safely and quickly. This is one of the best quiet dog clippers if you're looking for a budget-friendly option.
The Maxshop quiet dog clippers feature a precision motor that produces a low noise level that only reaches about 50 dB. All things considered, 50 dB is virtually as quiet as it's going to get for a dog clipper. It also has a low vibration level that helps keep your dog calm during grooming sessions. They won't be getting stressed or anxious when you're clipping the hair close to their ears.
The high-quality sharp blade provides excellent and safe cutting performance. The blades are easy to detach, use, and clean. The lightweight design allows you to easily maneuver around your dog and get to the hard to reach places easily. This one is also a wireless option, so it's going to give you roughly 70 minutes of hair cutting time before you're going to have recharge the battery around 3 hours.
It's worth noting that a lot of the silent dog clippers that come in kits are white-labeled from China, which means that they are all from the same manufacturer with different names. This isn't necessarily a bad thing, but it's worth noting that many of the quiet dog clippers are the same with a different brand name. You'll also be getting a lot of the same accessories like scissors, a brush, blade attachments, and a comb.
The Petting Pal dog grooming clippers is quiet and features two blades in one set which help reach hair around the ears, face, bum, and paws. One blade is going to be wide which works great for around the body and legs of your dog. The other blade is thin which reaches into the hard to get places like your dog's armpits. The cordless design makes it easy to groom your dog and reach all areas quickly and efficiently. If you have one dog, you should fully be able to groom them on one battery charge. These wireless quiet dog clippers are unique because it contains a LED display that shows the amount of battery left which allows you to plan how much you still have to groom.
The moveable ceramic blade moves effortlessly through all coat types but is also especially beneficial for super thick coats. This high-performance dog clipper features a lithium-ion battery that is rechargeable and long-lasting. It also comes in a kit so you get all the accessories to have a quiet dog grooming session.
The Aibors low noise dog grooming clippers feature a 12V high power motor that very quiet. This heavy-duty dog clipper is designed to cut through thick coats effortlessly. The sharp titanium-ceramic blade features 26 teeth and uses high-tech Nanotechnology to get the job done safely and efficiently. The blade doesn't pull or snag during use.
The Aibors dog grooming clippers is very quiet for its price range. It makes around 60dB of motor noise which is slightly louder than office building noise. It's not the quietest dog clipper on our list, but given its low price, this is a great entry-level dog clipper. The 4 level shifts and 4 guard combs on this grooming machine also make it convenient for new users. 
This grooming kit isn't wireless, which is great because you can take your time and not have to worry about the battery dying. If you're using this quiet pet clipper for thick hair, a wired option is the better choice because a battery dies quicker with thicker hair and is generally weaker. This is a great cost-effective quiet dog grooming kit if you're looking to get an at-home setup.
The Sminiker cordless dog clippers are heavy-duty and specially designed to prevent cutting your dog's skin. These five-speed professional clippers produce professional results. The Sminiker dog clippers come with 3 mm, 6 mm, 9 mm, and 12 mm guide combs which are pretty much all you will need to trim your dog's hair shorter. If you've never clipped your dog's hair before, you can simply put a guide comb on and perfectly trim your dog's hair. With 50 dB noise on these quiet dog clippers, you won't have to worry about your dog getting scared of the loud noise and vibration levels. 
The ceramic-titanium blade is sharp and cuts through hair efficiently and safely. These clippers are new user friendly and come with guide combs to get the job done safely. The Sminiker cordless dog clippers also come with a 24-month warranty so you can't return the item if you don't like it.
The Acapetty cordless dog clippers are specially designed to produce a 50 dB low noise level. These dog clippers are super quiet and suitable for dogs that scare easily due to loud noise volumes The detachable stainless steel fixed blade is sharp and safe to use on your dog's skin. 
The wireless design and comfortable handle make it easy to use and reach small areas on your dog. The built-in lithium-ion battery is rechargeable. The sharp and safe adjustable blade glides smoothly through hair and produces professional results. The lithium-ion battery is rechargeable by USB and takes 4 hours to charge. The clipper runs for more than 300 minutes when fully charged, which is one of the longest on our list for quiet dog grooming clippers. This high-quality dog clipper features an intelligent LED display so it will also let you know when your battery is about to die and how much power you have left. Overall, it's a great silent dog grooming clipper for the price.
How to Choose the Right Quiet Dog Clipper
All of the clippers on this list have low noise volumes to help keep your pet calm during grooming sessions. Most of them also have low vibration levels so your dog doesn't jump or get scared when they feel the clipper on their skin during use. 
The best way to choose the right dog clipper for your pet is to consider their coat. If your dog's coat is thick, dense, or curly choose the heavy-duty designs mentioned on the list above. Most of the options above are specially designed to effectively and easily cut through thick coats. 
Always choose the clipper design and features that will suit your dog the best. You will achieve professional quality results and never need to pay a groomer again. Your dog can look their very best when you use any of the dog grooming clippers mentioned on the list above. Get started today!
What to Consider before Purchasing Quiet Dog Clippers
Wired vs. Wireless. Wired is a great option if you have multiple dogs and you have an easy place for power. However, you will have to drag the extension cord around while you groom your dog which can get annoying. In a wireless design, you can groom your dog anywhere. However, the downside of wireless designs is that you only get a maximum of two hours of run time. If you have more than one dog it's hard to justify getting a wireless dog clipper. 
Stand-alone Dog Clipper vs. Dog Clipper kit. Many of the stand-alone dog clippers like the Andis Proclip 2 will be significantly higher quality dog clippers than the ones coming in a kit. However, the quiet dog clippers that come in a kit are useful because you get all the accessories. This is great if you're new to grooming your dog at your house. It's very convenient to have all the tools to successful groom your dog. They just won't be of the highest quality.
Accessories. There are many different things that you need to consider before you start grooming your dog. Purchasing quiet dog clippers is just one step of this process. You'll also need to make sure you have all the accessories like blade coolant, dog shampoo, dog grooming shears, a pet table or pet leash, and dog treats. A silence dog clipper will only help you cut your dog, but you need all the other accessories to be successful.
The Basics to Grooming your Dog
Dog grooming is easy once you have the right tools and you get a little bit of practice in. Make sure you allocate at least two hours to fully groom your dog. The process takes a long time, but as you get better at trimming your dog it goes faster!
Bathe your dog. Clean your dog so there isn't any dirt or debris on their hair. Removing the dirt and debris before your cutting your dog with clippers will ensure that you smoothly cut their hair.
Comb and brush your dog. In order to get a clean and even cut with your dog clippers, you need to remove all the mats and tangles. Thus, you need to thoroughly comb and brush your dog before you trim them with your new quiet dog clippers.
Trimming your dog. Cutting your dog with your new quiet dog clippers is going to be easy. Simply attach the blade with the length of your desire and start grooming them. Use scissors or shears in the blades that are hard to reach with a clipper like under the arms, legs, and belly region.
We highly recommend getting one of the best quiet dog clippers because it will make trimming your dog so much easier. They won't be running around or squirming from the dog clippers as much. This makes your grooming sessions much quicker and easier.
Conclusion for Best Quiet Dog Clippers
"Silence is Golden" is a famous quote that also pertains to dog clippers. The more quiet your dog clippers are the less anxious, stressed, and easier it will be to groom your dog. All of the grooming tools on our best quiet dog clippers list have a noise level of less than 60dB. Some of the dog clippers on our list even go to 40dB which is considered very quiet. We hope that we helped with you find the perfect grooming tools! 
Garrett loves animals and is a huge advocate for all Doodle dog breeds. He owns his own Goldendoodle named Kona. In addition, he volunteers at the Humane Society of Silicon Valley, where he fosters dogs and helps animals. Garrett enjoys writing about Doodles and believes that dogs can teach humans more about how to live than humans can teach a dog.
Why Trust We Love Doodles?
At We Love Doodles, we're a team of writers, veterinarians, and puppy trainers that love dogs. Our team of qualified experts researches and provides reliable information on a wide range of dog topics. Our reviews are based on customer feedback, hands-on testing, and in-depth analysis. We are fully transparent and honest to our community of dog owners and future owners.