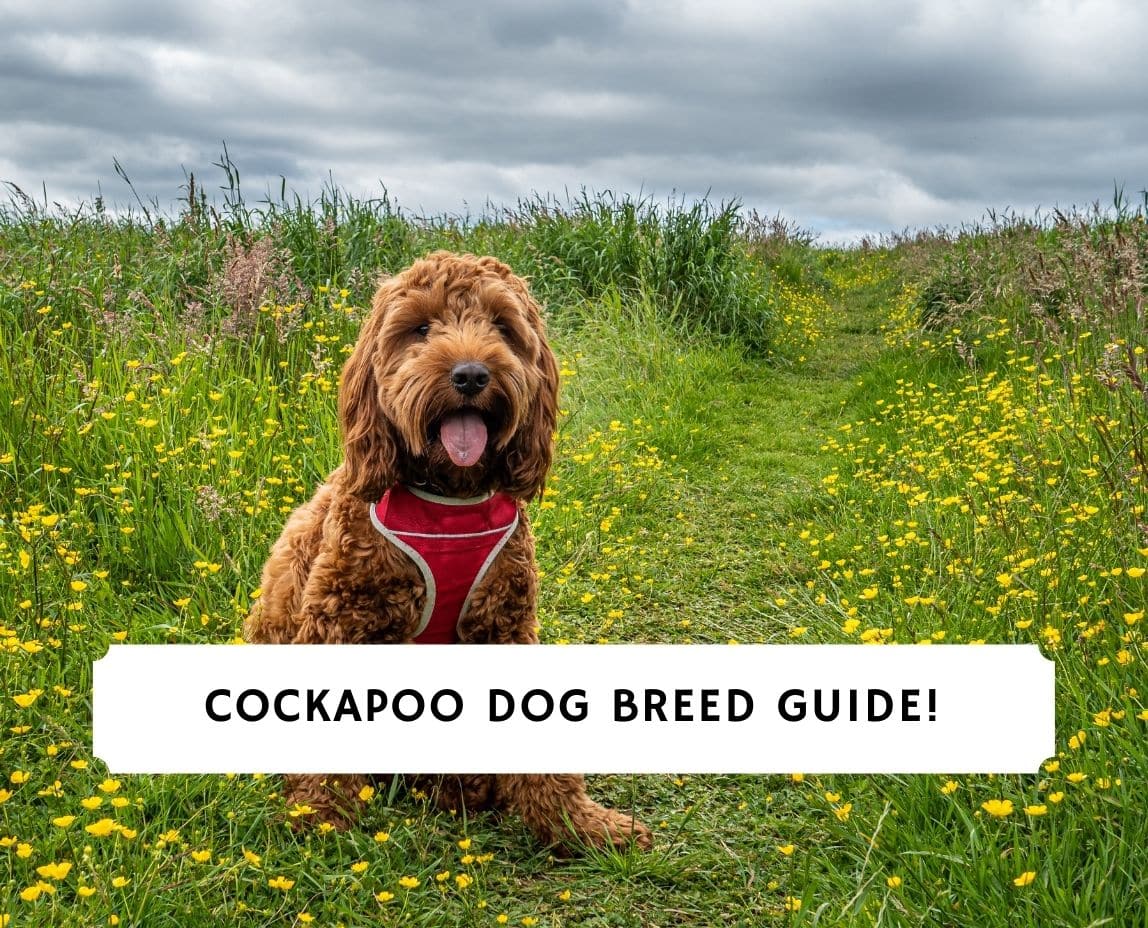 Mixed between a Cocker Spaniel and a Miniature Poodle, the Cockapoo was initially bred as a designer dog in the United States. When they were created in the 1960s, breeders were pushing for a companion dog with little to no genetic or health problems. Many dog enthusiasts around the world love Cockapoos!
With the intelligence of a Poodle and the color/appearance of a Cocker Spaniel, they easily fit in with families. From living with the elderly to children, Cockapoos are constantly in need of love and attention. Even when you have guests over at your place, your Cockapoo should quickly become friends with them due to its social traits. Don't miss the fact that they'll sometimes act like a clown (in a good way, of course!).
Over the years, people notice how smart and trainable these dog breeds are. Due to this, the interest in owning a Cockapoo increased within the last several decades. With its curly hypoallergenic coat, the Cockapoo makes the perfect addition to families that are allergy-sensitive. In this Cockapoo Dog Breed Guide, there will be enough information for you to determine if this is the right dog for you.
Characteristics of a Cockapoo
Breed: Mixed between a Cocker Spaniel and the Miniature Poodle
Temperament: Intelligent, easy-to-please, outgoing, energetic, etc.
Typical Standard Height (Approx.): 9.8 to 15 in | 24 to 38 cm
Typical Standard Weight (Approx.): 12 to 24 lbs
Life Expectancy: 14 to 18 years
Other Names: Cockerpoo, Spoodle, Cockerdoodle
Cockapoos are known to be intelligent and easy-to-please. Since one of its parent mixes is a Poodle, Cockapoos are quite smart and easy to train. In case you didn't know, Poodles are known to be one of the smartest dog breeds in the world.
Depending on whether they are male or female, Cockapoos can grow between 9.8 to 15 inches in height or 24 to 38 centimeters. Don't let the height fool you, Cockapoos can grow as heavy as 24 lbs. Another advantage of raising a Cockapoo is its lifespan. Their lifespan ranges between 14 to 18 years, which is higher than the average lifespan of many dogs.
Origins
To better understand the origin of the Cockapoo, we'll have to revisit the origin of its parents (Cocker Spaniel and Poodle). With the traits of a Poodle and the Cocker Spaniel, you'll see why people love the Cockapoo. It's a combination of strength, intelligence, loyalty, and non-shedding coats. 
In the early days, Cocker Spaniels were initially bred for the sole purpose of hunting and helping farmers. They were bred in the United Kingdom, which was eventually brought to the United States. When they were introduced in America, there were physical changes in the Cocker Spaniel throughout time as people began to breed other dogs with them. The history of the Cocker Spaniel goes further back than you think. Evidence showed that they were first mentioned in the 14th century, which was more than five centuries ago.
The origin of the Poodle is a fascinating one. Since they're one of the oldest dog breeds, people are still debating on their origin. To this day, the Poodle is ranked as the second most intelligent dog breed. Many people believe that Poodles originally came from Germany and became popular in France. There are historic documents of Poodles from East Asia and even Australia. What's even more remarkable about Poodles is the number of benefits they have. Today, there are several mixed Poodle breeds such as Goldendoodles, Labradoodles, and even Shihpoo. There are many breeds mixed with the Poodle today because of its hypoallergenic coat and intelligence that are passed down to its children.
By the 1960s, the Cockapoo was introduced and interests in owning this breed increased over time.
Generation Information
If you're currently searching for a Cockapoo breeder or rescue, note that not all of them are the same. Your future or current Cockapoo has a generation type, which is worth learning if you're planning to buy one of these dogs from a breeder. Generation types make a siginificant difference in a Cockapoo puppy since the genetic makeup of Cocker Spaniel and Poodle varies. For example, when you're discussing generation type with your local breeder, you'll come across F1, F1B, F1BB, F2, F2B, or F3 Cockapoo Generation.
To determine what this means, we'll go over each letter and digit. The "F" stands for Filial, which means Hybrid Dog. It's an "F" generation because the Cockapoo is a mixed between the Cocker Spaniel and Miniature Poodle. As for the number, it represents the generation of the Cockapoo. For example, F2 is a second-generation Cockapoo. The letter "B" stands for Backcross. The meaning of Backcross is breeding back to a purebred dog. The list below should help you understand specific Cockapoo generations.
F1 Cockapoo Generation: 50% Cocker Spaniel and 50% Poodle, 1st Generation
F1B Cockapoo Generation: 25% Cocker Spaniel and 75% Poodle, 1st Generation
F1BB Cockapoo Generation: 12.5% Cocker Spaniel and 87.5% Poodle, 1st Generation
F2 Cockapoo Generation: 50% Cocker Spaniel and 50% Poodle, 2nd Generation
F2B Cockapoo Generation: 37.5% Cocker Spaniel and 62.5% Poodle, 2nd Generation
F3 Cockapoo or Multi-generation Cockapoo: Several generations breeding, which is normally backcrossed with the Poodle.
Size Information
The difference between many other dog breeds and a Cockapoo is that it can come in 4 different sizes. The most popular one out of the four is the Miniature Cockapoo. Standard and Miniature Cockapoos are amongst the popular selection. As for the Teacup Cockapoo, they're online popular in certain parts of the United States. Below, you'll have a list of Cockapoos and their sizes.
Standard Cockapoo: 15 to 18 inches to the shoulder weighing up to 19 lbs
Miniature Cockapoo: 11 to 14 inches to the shoulder weighing between 13 to 18 lbs
Toy Cockapoo: 9 to 10 inches to the shoulder weighing up to 12 lbs
Teacup Cockapoo: less than 10 inches to the shoulder and weighing less than 6 lbs
Today, Standard and Miniature Cockapoos are amongst the popular selection. As for the Teacup Cockapoo, they're online popular in certain parts of the United States.
Temperament & Personality
Since Cockapoos is part Poodle, they're known to be quite intelligent. These are great as companion dogs because of how easy it is to please them. Generally, Cockapoos are joyful dogs. If you're living alone and have guests over, they will likely try to socialize with people they've never met. At times, Cockapoos will try to cuddle up with their owners wanting attention.
Whether you're living with a family or have other pets at home, their active energy and being able to adapt will simply light up everyone's day. When you bring home a Cockapoo as a puppy, you should let them socialize early.
By doing this, your companion will have more experience as it becomes older. Keep in mind that Cockapoos may deal with separation anxiety because they're social dogs. If you're constantly working or never home, then it's best to understand the responsibilities of owning a social dog.
Nutrition
It's recommended that you feed your Cockapoo between 1/4 to 3/4 cup of dry food per day. With this number, try to divide it into separate meals (preferably 2 meals per day). Depending on the size and age of your Cockapoo, this number could be different.
For starters, you could feed them kibble. There are other options such as human food, canned food, and raw food. Different types of food will have their pros and cons. For instance, kibble is affordable for many dog owners but it could lead to dental problems long-term.
As for human food, you'll have to be careful about what you feed your Cockapoo. Feeding them the wrong recipes could result in other problems. Canned food is also great but purchasing them could be costly for many owners. As recommended, you should balance out your Cockapoos daily meals.
Grooming
Throughout the dog community, Cockapoos are described as non-shedding. Since they're described as non-shedding, this doesn't mean that they 100% won't shed – it's just less when compared to normal straight hair dogs.
When you groom your Cockapoo, make sure to always check its ears and clean it. Potentially, it could suffer from an ear infection if not checked or cleaned regularly. You should also brush your Cockapoo's teeth at least two to three times per week to prevent any tartar buildup. This also helps remove bacteria and plaque. It might seem difficult now but start doing these things the moment you bring them home. You'll teach your Cockapoo discipline and good habits, which should be easier for you once they've matured.
As for your Cockapoo's nails, try to clip them at least once or twice per month. By doing this, it'll prevent problems making it easier for your Cockapoo to walk or run around. In the process of grooming, try to inspect and pay attention to any potential problems like sores or infections. While this could be tons of responsibilities for a new dog owner, you could always bring your Cockapoo to a professional dog groomer. The cost to have your companion groomed by a professional is generally less than $100.
Exercise
Since Cockapoos are known to be energetic, you should still have them exercise at least 15 minutes every day. You can diversify its activities by taking your companion walking, running, playing at the park, or letting it play in your backyard. By having them exercise daily, your Cockapoo will live a long and happy life. Another reason why you should exercise your Cockapoo is that it'll help them create trust and confidence in you and the environment around them.
Training
When you're training your Cockapoos, there are types of training methods you can apply. You can house train and leash train your Cockapoo. We've mentioned this before and we'll mention it again. Don't punish your dog for bad behaviors, but instead – reward them for good behaviors. Study shows that rewarding them for good behavior has proven to be more effective in dogs.
The first thing you should teach your Cockapoo is potty training. To do this, you'll have to find a spot for your Cockapoo to establish its territory. Whether it's in your backyard or on a dog pad, make sure it's that one spot and only. You don't want to confuse your Cockapoo by constantly switching back and forth.
With leash training, you could teach your Cockapoo how to walk properly and follow you. If you call your Cockapoo by its name and it comes running to you, you can reward it with a dog treat. When you feel your Cockapoo is ready to walk by your side without a leash, you won't have to worry too much about it running away. If it runs away, you'll know it'll come running back to you for a treat after calling its name.
Health
Like all dog breeds, the journey of life will eventually lead to health problems along the way. If a Cockapoo owner is making promises that there won't be any health problems, then consider it a red flag. It's recommended that you bring home a Cockapoo from a reputable breeder. Below, you'll find a list of health problems that Cockapoos may encounter along the way. Keep in mind that not every single Cockapoo will deal with these health problems.
Cataracts can occur in a Cockapoo, which will cause their eyes to become blurry. From their perspective, everything appears cloudy to them. This could happen when your Cockapoo is at an old age. Your Cockapoo's poor vision can be improved after surgery.

Since Miniature Cockapoos are popular, Patellar Luxation is a health problem you should keep in mind. It usually happens to smaller dog breeds. With this health problem, your Cockapoo is likely dealing with a dislocation in its kneecap.

Your Cockapoo will likely inherit a condition called Hip Dysplasia. This health problem occurs when your dog's thighbone doesn't fit properly into the hip joint. While some Cockapoos will show signs of discomfort, some don't show any pain/irritation. If you suspect your Cockapoo to be dealing with this, try to schedule an appointment with a doctor for x-ray screening.

One common health issue for Cockapoos is dealing with allergies. They could potentially deal with food allergies, inhalant allergies, and contact allergies. You can treat your Cockapoo's food allergy by removing food from your dog's food. For inhalant allergies, your Cockapoo might be dealing with terrible air. Depending on what's circulating (dust, pollen, etc.) around the air, you'll have different solutions. As for contact allergies, your dog could be sensitive to things such as shampoos, powders, chemicals, etc.

Liver Disease is another health problem a Cockapoo might suffer from. For Cockapoos, this could be either genetic or non-genetic. If you're bringing home a Cockapoo from a breeder/rescue, try to request information on its parents' liver history.

Since Cockapoos have floppy ears, you should check to see if your companion could have ear infections. Their ears could trap dirt and other unknown materials that could cause problems for them. When you're washing your dog, try to clean his/her ear. For any suspicions of ear infection, you can visit your local veterinarian and request information for ear products.
Appearance
Miniature Cockapoos have three different types of coats. They can have a curly coat, a medium curl, or a flat coat. As mentioned above, the most popular type of Cockapoo ranges between 10 to 15 inches and 12 to 24 lbs. There are a variety of Cockapoo colors for future dog owners to select from. Popular Cockapoo colors are black, black/tan, brown, red, silver, and white. Depending on the person's preference, there are four types of Cockapoo sizes: Standard Cockapoo, Miniature Cockapoo, Toy Cockapoo, and Teacup Cockapoo.
Related: Types of Cockapoo Colors
Price
The price of a Cockapoo puppy can range between $900 to $2,500. If you noticed, the price from a reputable Cockapoo breeder is higher most of the time. While it may seem like it's a lot, trustworthy breeders are spending more on prioritizing its care.
If you come across a Cockapoo breeder that's charging you at a low price and it seems too good to be true, then most likely – it is too good to be true. When purchasing a Cockapoo puppy, try to stay as cautious as possible. You'll want to do your due diligence before making any purchasing decisions. Try to look out for any red flags and determine whether you're purchasing from a loving breeder or puppy mills.
Related: How Much Does a Cockapoo Cost?
Conclusion for Cockapoo Dog Breed Guide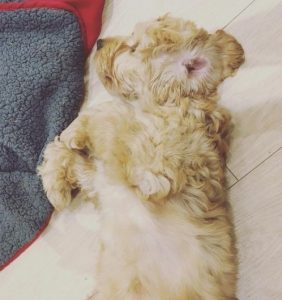 Are you ready to take on the responsibilities of raising a Cockapoo puppy? After all, these are caring, energetic, and loyal dogs. Whether you have families at home or other pets, they can easily adapt to these environments. As a young Cockapoo puppy, you'll have to train them and provide them with any experiences possible.
By teaching them at a young age, they'll fit into new surroundings and situations once older. Before making any purchasing decisions, please do your due diligence on each breeder. You want to avoid puppy mills because they're known for breeding Cockapoo puppies mainly for money.
By choosing a reputable breeder, you'll have the satisfaction of knowing that they're properly cared for and treated how every dog should be treated. It might seem like a daunting task at first because of the responsibilities, but memories and experiences will last a lifetime. That's something you can't put a price tag on.
Garrett loves animals and is a huge advocate for all Doodle dog breeds. He owns his own Goldendoodle named Kona. In addition, he volunteers at the Humane Society of Silicon Valley, where he fosters dogs and helps animals. Garrett enjoys writing about Doodles and believes that dogs can teach humans more about how to live than humans can teach a dog.
Why Trust We Love Doodles?
At We Love Doodles, we're a team of writers, veterinarians, and puppy trainers that love dogs. Our team of qualified experts researches and provides reliable information on a wide range of dog topics. Our reviews are based on customer feedback, hands-on testing, and in-depth analysis. We are fully transparent and honest to our community of dog owners and future owners.