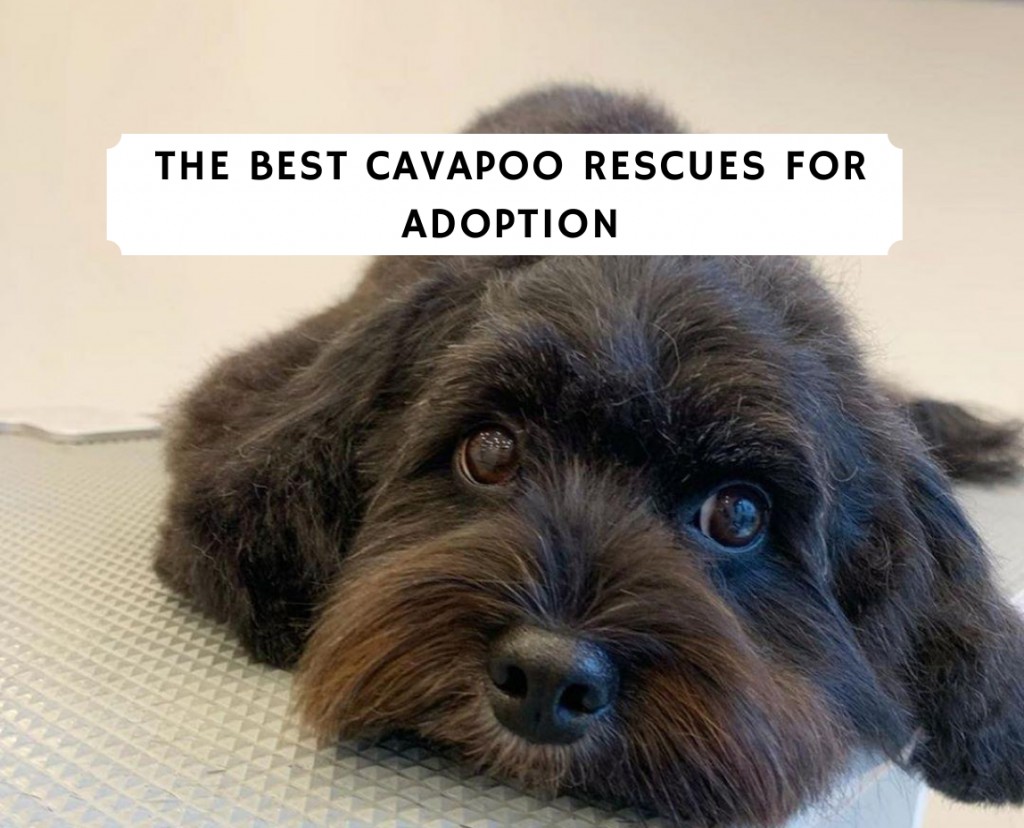 Impossibly adorable with a sweet, loyal temperament to boot, it's easy to understand why the Cavapoo – a mixed breed between the Poodle and the Cavalier King Charles Spaniel – is in short supply across our nation's shelters. However, while there may not be a rescue organization dedicated specifically to Cavapoo rescue, dozens of organizations across the United States specialize in saving, rehabilitating, and rehoming Poodle mixes.
Many animal rescue organizations focus on freeing dogs from high-kill shelters and healing those who have sustained life-threatening injuries and would otherwise be victims of euthanasia. Simply put, they are heroes who have devoted their free time to giving these dogs a second chance on life. 
Here are the top options coast-to-coast if you believe in the "adopt-don't-shop" mantra for adding a new furry member to your family. This is a list of the Best Cavapoo Rescues for Adoption. Most of the rescues on this list generally rescue Poodle mixes (Doodles). Because Cavapoos are included in this group, they are a good starting point if you're interested in adopting a Cavapoo.
Prefer to watch a video? We created a video on the best Cavapoo rescue organizations below:
Best Cavapoo Rescue Organizations in the United States:
1. Doodle Dandy Rescue (Texas)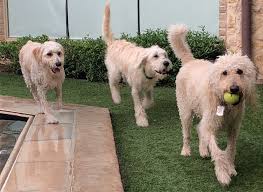 A group of people with a love for Doodles founded Doodle Dandy Rescue (DDR) in 2018. DDR not only takes in dogs, but also provides training, rehabilitation, and veterinary care. Once they've undone any potential damage and taught the Doodles to trust again, they find them loving forever homes where the healing can continue. 
If there aren't any Cavapoos on their website, keep checking back! In the meantime, peruse the other
Doodles at DDR who are searching for the right person to adopt them. DDR even makes videos of each dog, so you can get to know them before you meet them. While they can't know for certain what breed of dog each rescue is, they make an educated guess based on the input of their veterinarians and foster families. 
One thing to know about DDR is they only serve clients within a five-mile radius of the Dallas-Fort Worth area. DDR enforces this radius because you must come to meet your Cavapoo rescue (or other future furever friend) in person. They do not transport dogs. If you don't live in or near east Texas, check out the other rescue organizations on our list. 
2. Doodle Rock Rescue (Texas)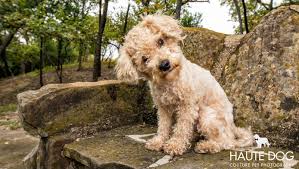 Sadly, South Texas has one of the highest euthanasia rates in the country. Doodle Rock Rescue (DRR) wants to help as many abused, neglected, and abandoned Doodles and other poodle mixes as possible. Many of the dogs they save are found on the streets in critical condition or from high-kill shelters. Since its founding in 2017, DRR has rescued, rehabilitated, and rehomed over 1,200 dogs!
DDR is a 501(c)(3) nonprofit run solely by volunteers. Simply put, these volunteers are heroes who enjoy nothing more than watching the Doodles they have nursed back to health find their loving, forever homes. All of their Doodles are placed in foster homes. Here, the foster parents can give them medical care and the love and attention they need to modify negative learned behaviors.
While in foster homes, DDR lists the rescued Doodles on their website's "Upcoming Dogs" page. DDR moves the dogs to the "Available Dogs" page only once the dogs reach the goals and criteria for adoption. You know they truly care about placing their Cavapoo rescues in homes that will benefit the dog and your family in the long term.
An important thing to know about DDR is that they only serve a 350-miles radius of the Dallas/Fort Worth area. This is because they require a home visit as part of their application process, and because they want the dogs close by should an emergency arise. DDR sometimes get Cavapoo rescues for adoption – check their website to find the latest list of Doodle rescues. 
3. Doodle Rescue Collective (East Coast)
Doodle Rescue Collective, Inc. (DRC) is a Doodle rescue group that started in 2008. DRC doesn't operate out of a single facility. Instead, it's more of a group of members nationwide that help work and collaborate to find Goldendoodles a new home. DRC works within a global network of responsible rescues, shelters, foster homes, and veterinarians, to achieve their goal of enabling happy lives for as many doodles as possible. They have over 800 volunteers across the United States and Canada who rescue and adopt out Doodles, such as rescue Cavapoos. To date, they have helped over 4,000 Doodle dogs.
One great thing about DRC is their message boards. You can sign up for an account through their website and access useful articles and discussions. Some discussion topics include Doodle health, how to adopt a Doodle in your state, and updates on Doodle rescue operations.
DRC sometimes have rescue Cavapoos. It's rare, but they will sometimes have Cavapoo puppies for adoption. You should know a few important things before adopting a Cavapoo from DRC. First, they will not ship your Cavapoo rescue. Second, they will not adopt rescue Doodles to families with children under 10 years old. Also, they do not adopt dogs to first-time dog owners. Be sure to review DRC's adoption policies, procedures, and requirements before applying to adopt a Cavapoo.
The DRC works on a national scale, and they aren't just rescuing Cavapoo puppies but all sorts of Doodle dogs. Check their website to be part of their rescue network.
4. Poodle Rescue Connecticut (and the surrounding New England States)
Poodle Rescue Connecticut (PRC) is a 501(c)(3) non-profit with an excellent track record of giving poodles and poodle mixes a new lease on life. Their stats speak for themselves. Between 2012 and 2021, they've saved an average of over 100 dogs per year, including some Cavapoo rescues! Their adopters come from all over Connecticut and the neighboring New England states.
PRC has tons of experience caring for Poodles and poodle mixes. As part of your application process, they will ask for references from your veterinarian and your groomer! Anyone who has owned a Doodle or has done their research knows how important regular grooming is for your Doodle.
Adopting from PRC will cost about $350-600 to help offset the rescue costs. Once they adopt out a dog, they will check in with the adoptee at regular intervals to make sure the adoption is successful. If you come from this area and would like to be next, contact them at the details listed above. 
5. Florida Poodle Rescue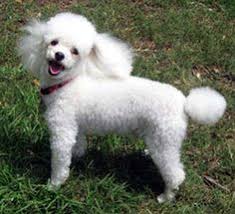 Patricia "Tricia" Bonati and Martha Harrington founded Florida Poodle Rescue in 1994. They have since saved the lives of over 10,000 Poodles, Poodle mixes, and "Poodle wannabes." Tricia and Martha can attest that there is no greater feeling than rescuing a poodle and being part of this magical transformation process. Since the Cavapoo is a Poodle mix, you'll often find Cavapoos at Poodle rescues.
This dedicated rescue group wants to educate the public about the unique benefits of adopting a Poodle or Poodle mix.  They are looking for forever homes where these sweet-tempered, loyal companions, once abused or mercilessly tossed away, will be treated like the cherished family members they were always intended to be. Florida Poodle Rescue even provides funding for expensive medical procedures to save otherwise dire causes. They also want to make you aware of the overall benefits of pet adoption – including the singular form of love given by an animal who has never known love before.  
6. Mid-Atlantic Poodle Rescue (MAPR)
Mid-Atlantic Poodle Rescue (MAPR) is a volunteer-network rescue that finds homes for unwanted or abandoned Poodles of all varieties and mixes. The volunteer network stretches to Maryland, Pennsylvania, and Virginia. MAPR does not own any facility or shelter. They place all their rescue Cavapoos in foster homes across their volunteer network, mostly in Baltimore.
The Poodle mixes that come through their system have experienced hardships no dog should ever have to endure, and it takes a special adopter to restore them to their natural trusting nature. MAPR adopts out their dogs, including Cavapoos, with the best interests of both the adoptee and adopter at heart. To start the Cavapoo adoption process, you must first request an application through their website. Once you complete the application, MAPR will use your information to match you to the perfect Cavapoo rescue for you. Not all their rescue dogs are listed on their website, and they will keep your application on file until they find the Cavapoo rescue that will be the best fit.
There are a few things you should know before adopting from MAPR. You must live within a two-hour drive from Maryland. MAPR requires a fenced yard if you rescue a Cavapoo for adoption. They don't usually adopt dogs to homes with electric fences but will consider them on a case-by-case basis. All their dogs have up-to-date vaccinations and are tested for heartworms and Lyme disease. If you live on the East Coast and are interested in Cavapoo adoption, contact MAPR.
7. Poodles and Pals (Southern California)
Poodles and Pals serve southern California, specifically Northern San Diego and Western Riverside counties. They cater to Poodles of all sizes and Poodle mixes. Their organization may be as small in size as some of their Cavapoos, but the hearts of the volunteers are big, focusing on abandoned dogs or those most at risk of euthanasia at local shelters.
Poodles and Pals consider themselves to be savvy matchmakers. They research the potential adoptees and really get to know their Cavapoos for adoption so they can make the best match. Poodles and Pals also make sure all medical needs, such as spaying or neutering and vaccinations, are taken care of. They ensure that any home they place a dog in has the financial means to care for these vet visits in the future.  And as with anyone hoping to adopt or rescue a Cavapoo, you can expect a thorough home visit before bringing your new fur-baby home. 
8. NorCal Poodle Rescue Adoption (Northern California)
NorCal Poodle Rescue (NCPR) is a group of volunteers who rehabilitate and rescue Poodle mixes like the Cavapoo. They currently serve the northern California area and respond to shelters, humane societies, and pet owners who surrender Poodle mixes. They were founded in 1985 by a former Poodle breeder, Patty Moulthrop, who couldn't justify breeding Poodles when so many were in shelters. Since then, NCPR has become the third-largest Poodle rescue in the United States. Although Patty passed away in February of 2022, NCPR's team of two dozen volunteers continues their Poodle rescue mission. Since its foundation almost 40 years ago, NCPR has helped over 3,000 Poodle and Poodle mixes.
You can volunteer, foster, or adopt Cavapoos through NCPR. What's great about the NCPR is they also rehabilitate each dog. This rehabilitation can include extensive surgery or basic spay and neutering. Adoption fees range from $100 to $1100, with various refundable deposits. NCPR has a special "Senior for Senior" discount if the dog is 10 years of age or older and the human is 65 or older.
Adopting a Cavapoo Rescue
If you're looking for a super cute small dog with a winning temperament, consider rescuing or adopting Cavapoo. Besides being ridiculously cute, Cavapoos are one of the most sought-after dogs in the world due to their sweet and social temperament. Cross-bread between the Poodle and the King Charles Cavalier Spaniel, their size can vary, but a Cavapoo will grow to about 10-15 inches tall and weigh between 6-19 pounds.
This is good news in the pet-food finance department as the Cavapoo won't consume nearly as much as their close relatives: the standard Poodle weighs 40-75 pounds, and the Goldendoodle weighs in at an average of 40-50 pounds. 
Cavapoos are also known to be some of the most intelligent dogs, and with Poodle genes running through their veins, it can be a lot of fun to teach them tricks. This is a small dog with a goofy, outgoing personality who will want to be included in all of your family's plans.
As a cherished new family member, you'll be happy to know that your Cavapoo will be a part of your life for up to fifteen human years. The average lifespan for this breed is between 10-15 years (smaller dogs trend toward the upper range), and the oldest known Cavapoo dog lived into their twenties! 
Is a Cavapoo Rescue the Best Fit for Your Family?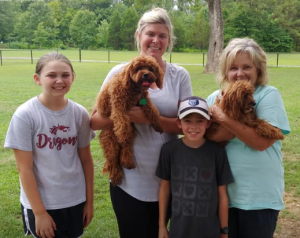 Your adopted or rescued Cavapoo puppy or dog will immediately become another fully-active member of your family – and deserves to be treated as such. 
If you're looking for a loving, affectionate family dog who will be a loyal companion for yourself or your child, the Cavapoo breed is definitely one to consider.  They're also very dependable running and frisbee partners. 
Their affectionate, people-pleasing personality can translate into separation anxiety. If you're a professional who travels a lot for work, a rescue Cavapoo may not be the best mutual fit – especially if you don't have the funds to invest in doggy daycare.
Conclusion for the Best Cavapoo Rescues for Adoption
Rescuing and adopting a Cavapoo is extremely hard because this breed is high in demand. They are considered hypoallergenic and nonshedding dogs, which is why they have become popular throughout the United States. We put together a list of the Best Cavapoo Rescues for Adoption to help you find an adult Cavapoo rescue or Cavapoo puppies for adoption. Please note that many rescues don't specifically rescue Cavapoos but instead rescue all Poodle mixes. You'll have to check in regularly with these rescues to find Cavapoo.
Other articles you might like:
FAQs about Cavapoo Rescue
I'm having trouble finding a Cavapoo rescue near me – why is that?
The Cavapoo is an extremely desirable pet. Therefore, not many people surrender them. Thus it does not make sense to invest the time or money into operating Cavapoo-specific rescue organization. Because Cavapoos are part Poodle, Poodle-mix rescue organizations are a good starting point if you're interested in adopting a Cavapoo. You'll need to check many rescue organizations, shelters, and humane societies to find a Cavapoo rescue. It won't be easy.
Where can I find Cavapoo puppies for adoption?
It is nearly impossible to find Cavapoo puppies for adoption. Finding Doodle puppy rescues of any type are hard because these dogs are so popular. Cavapoos are usually only surrendered to rescues once someone has spent time with the dog and realizes they are not equipped to own it or if the Cavapoo's owner has died. By this point, the Cavapoo is usually an adult dog. However, this isn't to say it's completely impossible to adopt a Cavapoo puppy – it will just take a lot of research and digging, and you will likely have to travel to adopt it.
Want to learn more information about the "Best Cavapoo Rescues for Adoption", then check out the video below:
Garrett loves animals and is a huge advocate for all Doodle dog breeds. He owns his own Goldendoodle named Kona. In addition, he volunteers at the Humane Society of Silicon Valley, where he fosters dogs and helps animals. Garrett enjoys writing about Doodles and believes that dogs can teach humans more about how to live than humans can teach a dog.
Why Trust We Love Doodles?
At We Love Doodles, we're a team of writers, veterinarians, and puppy trainers that love dogs. Our team of qualified experts researches and provides reliable information on a wide range of dog topics. Our reviews are based on customer feedback, hands-on testing, and in-depth analysis. We are fully transparent and honest to our community of dog owners and future owners.