Cavapoo breeders in Wisconsin know that pet parents are drawn to the Cavapoo's teddy bear looks and hypoallergenic fur. They're small dogs with a big personality, and we guarantee you'll fall in love at first sight!
Owning a Cavapoo, you'll learn that these pups know no strangers – everyone is a friend! Your dog will love being in on the action whether you're playing in the yard, hiking in the forest, or chilling on the couch! Whether you live alone or with a large family with kids, you can't go wrong with this designer breed. 
If you're on the search for your next forever puppy (or your first!), check out our top four Cavapoo breeders in Wisconsin. As with any other major life choice, we recommend you to conduct in-depth research before purchasing a Cavapoo puppy from any breeder on our list to avoid heartbreak down the road. Breeding practices change all the time, but we do our best not to include any puppy mills or backyard breeders.
Other articles you will like: Goldendoodle Breeders in Wisconsin and Labradoodle Breeders in Wisconsin.
1. Spring Green Cavapoo Puppies Wisconsin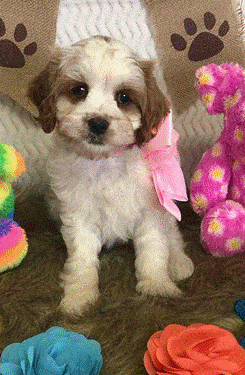 Spring Green Puppies is one of Wisconsin's premiere Cavapoo sellers. Founded by locals Brenda and Dusty Thompson, the breeder is in the business of spreading Cavapoo joy all around Wisconsin and the United States.
The owner has had a passion for raising and training Cavapoos for quite some time. Before breeding dogs, Brenda specialized in training dogs and passing on expert advice to current dog owners. Dusty served as a Deputy Sheriff of Green Lake County and clocked 32 years in the county's sheriff's department. They then decided to pursue breeding Cavapoo puppies in Wisconsin.
Aside from Cavapoos, the couple specializes in other designer hybrids such as Cavachons, Mini Goldendoodles, Wheaton Terriers, Labradoodles, Sheepadoodles, Whoodles, and Yorkies.
The couple prides themselves on being conscious dog brokers who only deal with experienced, reputable, family-oriented, and caring breeders. The duo is very particular about how they conduct business and try to be as detailed and thorough as possible. They are very open about their operation and welcome any questions about their Cavapoo puppies.
Their Cavapoo puppies in Wisconsin are current on all age-appropriate vaccinations and undergo veterinarian checks. Prior to selling a Cavapoo puppy, they take time to take you through the process and answer your questions. They also offer a lot of training advice (before purchase), a one-year health guarantee, and lifetime support after purchase.
You can view their current Cavapoos for sale in Wisconsin on their website. Cavapoos typically cost $3,000 or more. The price might increase or remain constant based on the coat texture, pick of the litter, and color.
Cavapoo Puppy Information:
Generation: F1, F2, F2b, F3, Multigenerational Cavapoo puppies
Size: Medium and miniature Cavapoo puppies
Cavapoo Breeder Information:
Address: 10405A Little Bear Rd., Spring Green WI 53588
Telephone: 608-574-7931 (Brenda), 920-210-7441 (Dusty)
Email: springgreenpups@gmail.com
2. Puppy Willow Cavapoos Wisconsin
Puppy Willow is another of the best Cavapoo breeders in Wisconsin. They're a family-run breeder that calls Saint Croix Valley home. Just 30 minutes East of Minneapolis and Saint Paul, Puppy Willow breeds some of the finest Cavapoo puppies in the state.
The breeder understands that as demand is rising for the Cavapoo, unethical breeders and puppy mills are on the rise too in Wisconsin. That is why the breeder works against that unethical behavior to raise happy, loved, and healthy parents and puppies.
Prior to breeding, this Cavapoo breeder ensures the parent dogs undergo screening and are cleared of any health and genetic defects. This provides a solid foundation for Puppy Willow to breed healthy, beautiful, and exceptional Cavapoo puppies that will live long and healthy lives. You can check out Puppy Willow's parent dogs on their website and ask for their health records to verify.
Aside from breeding Cavapoos, Puppy Willow also breeds F1b Cockapoos. If you're exploring other alternatives aside from a Cavapoo, a Cockapoo is an excellent choice if you're looking for excitement and love.
Puppy Willow follows a unique adoption process. They have adoption events where you get to meet the dogs in person and select a puppy in the breeder's home. If there's a match with a dog, Puppy Willowwill begin the adoption process and they will require you to put down $500 as a deposit.
If you're not local to Wisconsin, the Cavapoo breeder is happy to do an online meet and greet. The breeder, however, encourages interested Cavapoo adopters to come in person and check out all their dogs.
A Cavapoo from Puppy Willow comes with a two-year health guarantee, veterinarian records, food, toys, and a blanket with mom's scent to help your Cavapoo puppy transition to your home with less anxiety and stress. Various shipping options are available from ground transportation within 50 miles of Hudson to hand-delivery across the US.
Cavapoo Puppy Information:
Cavapoo Breeder Information:
3. Darling Doodles Wisconsin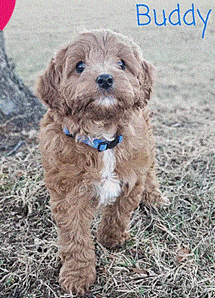 Darling Doodles is run by the Garrett family who loves matching people like you with forever Cavapoos. Headed by Jeff and Jessica, Darling Doodles specializes in breeding Cavapoos and Cockapoos. The couple is very particular about their line of work and takes great measures to ensure their dogs are of the highest standards in Wisconsin.
The Cavapoo breeder's parent dogs live in the breeder's home in Clear Lake, Wisconsin. They love to play with the breeder's three children and with other pets as part of the early socialization process. When it's time for whelping, the parent dogs do so in the breeder's home.
These Cavapoo puppies in Wisconsin are raised with love, attention, and care. As the puppies grow older, the breeder exposes them to different environments, people, and pets to socialize them.
At eight weeks, the breeder holds a meet and greet session where you get to interact with each puppy and choose your pick. This Cavapoo breeder will guide you on the puppy's temperament and help you choose the best match for your family. If you want your Cavapoo puppy to start crate and potty training, they will do so for an additional fee.
Cavapoo puppies from Darling Doodles come with a two-year health guarantee and lifetime breeder support. Whether you're new to buying a Cavapoo puppy or have more experience, Darling Doodles will help you every step of the way.
You can view their current Cavapoo puppies on their website. Please note that Darling Doodles tend to have few litters every year so it might take a while to get your forever puppy. A waitlist is very common for reputable Cavapoo breeders in Wisconsin.
Cavapoo Puppy Information:
Generation: F1b Cavapoo puppies
Size: Medium and Standard Cavapoo puppies
Cavapoo Breeder Information:
4. Catch a Cavapoo Wisconsin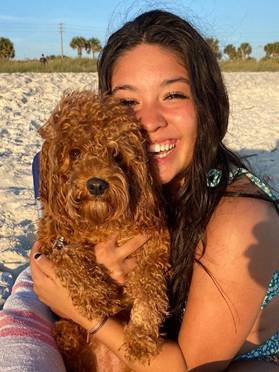 Finding a reputable Cavapoo breeder in central Wisconsin can be a headache, but it doesn't need to be with Catch a Cavapoo. Catch a Cavapoo is a small breeder whose goal is to breed high-quality healthy and happy Cavapoos for folks like you.
The breeder credits the Cavapoo's charming personality as the reason they fell in love with the breed. They wanted other families to experience the joy of a Cavapoo and begun studying how to breed them. After many years of studying, they ventured into Cavapoo breeding.
The breeder limits the number of Cavapoo litters they have yearly. This means you might have to wait 8 to 12 months to get your Cavapoo puppy in Wisconsin. When it's time to bring your Cavapoo home, the breeder will ensure that it is up to date on vaccinations and its deworming schedule. All their Cavapoo puppies in Wisconsin come with a one-year health guarantee, puppy food, and mom's blanket with a scent. Your Cavapoo puppy will also have their dew claws removed and a full health check from nose to tail done.
Cavapoo Puppy Information:
Generation: F1b, F2 Cavapoo
Size: Medium Cavapoos
Cavapoo Breeder Information:
FAQ: Cavapoo Puppies in Wisconsin
Whether you're a first-time Cavapoo owner or an experienced dog owner, we'e sure you have several questions about Cavapoos. Below are some of the most common questions about Cavapoo puppies in Wisconsin.
1. What health issues do Cavapoos suffer from?
There are few hereditary health issues that Cavapoos can suffer from. If you buy your Cavapoo from a reputable breeder in Wisconsin, it can reduce the chances of your puppy inheriting genetic diseases such as entropion, luxating patella, type one diabetes, mitral valve disease among others. In general, small dogs like the Cavapoo will live 12 or more years.
2. Do Cavapoos get along with children?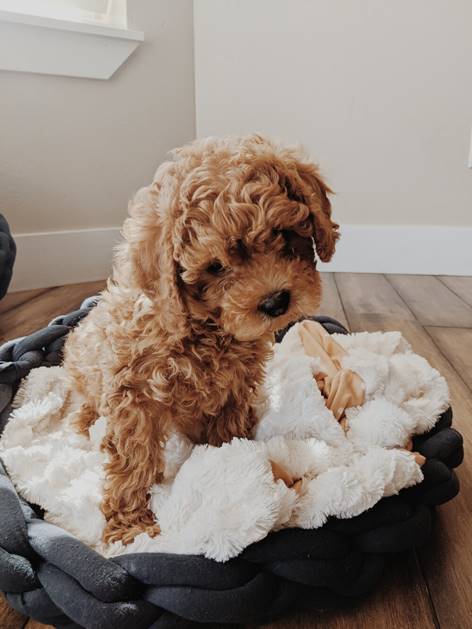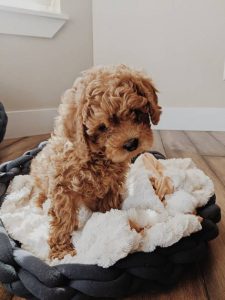 Cavapoos are wonderful with humans and other pets. Older children and Cavapoos get along better than younger children. Younger children can be noisy and too aggressive for a small dog like a Cavapoo to cope with. Older children tend to be calmer and will handle small dogs like Cavapoos better. Small children can easily injure a Cavapoo by stepping on them or dropping them.
3. How trainable are Cavapoos?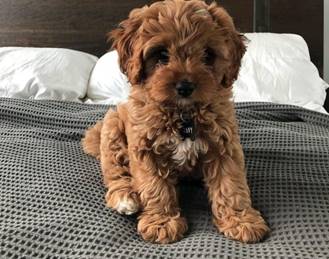 The Cavapoo is a crossbreed of two unique, intelligent, and charming dog breeds. They are easily trainable and learn things quickly. We recommend you train your Cavapoo as soon as it gets home and settled in. Younger puppies are typically easier to train than older puppies unless they've had a head start at the kennel. 
Conclusion for Cavapoo Breeders in Wisconsin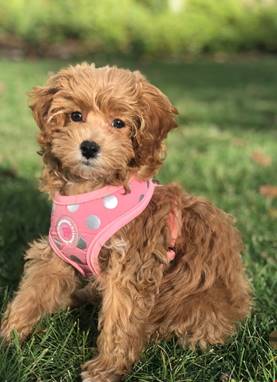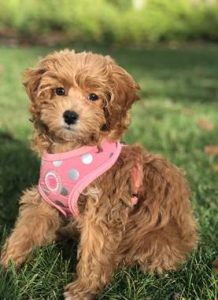 Whether it's your first time owning a dog or your 30th, a Cavapoo is an excellent choice. This little dog is very social, intelligent, and adaptable by nature. If you're looking for a smaller dog than a Goldendoodle or Labradoodle then a Cavapoo will make a wonderful companion for you. They typically have very similar temperaments and personalities and don't shed fur. 
Begin with our list of the top Cavapoo breeders in Wisconsin. Ask questions of the breeder and get to know how the puppies are raised. Once you're satisfied that the breeder has cared for puppies appropriately, congratulations! You're well on your way to bringing home your new teddy bear Cavapoo!
Check out these other articles:
Garrett loves animals and is a huge advocate for all Doodle dog breeds. He owns his own Goldendoodle named Kona. In addition, he volunteers at the Humane Society of Silicon Valley, where he fosters dogs and helps animals. Garrett enjoys writing about Doodles and believes that dogs can teach humans more about how to live than humans can teach a dog.
Why Trust We Love Doodles?
At We Love Doodles, we're a team of writers, veterinarians, and puppy trainers that love dogs. Our team of qualified experts researches and provides reliable information on a wide range of dog topics. Our reviews are based on customer feedback, hands-on testing, and in-depth analysis. We are fully transparent and honest to our community of dog owners and future owners.