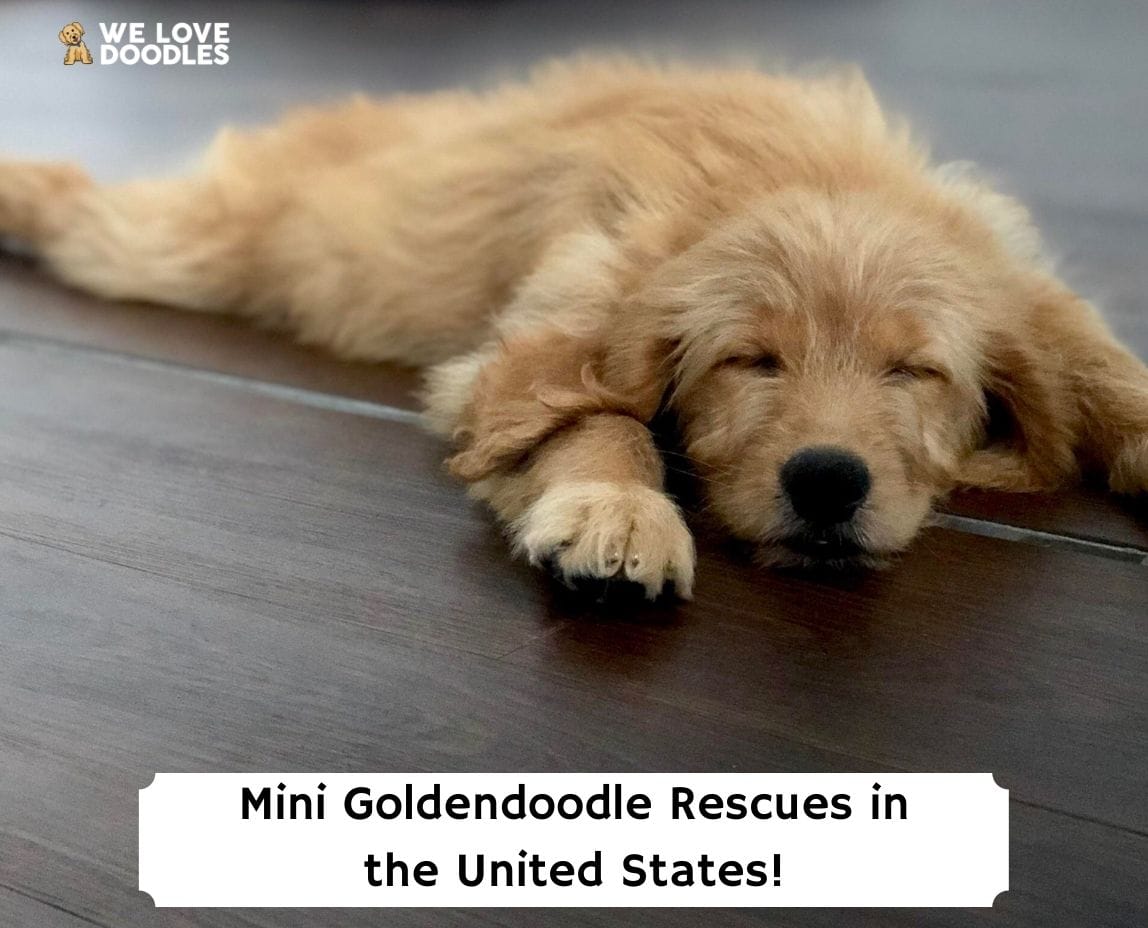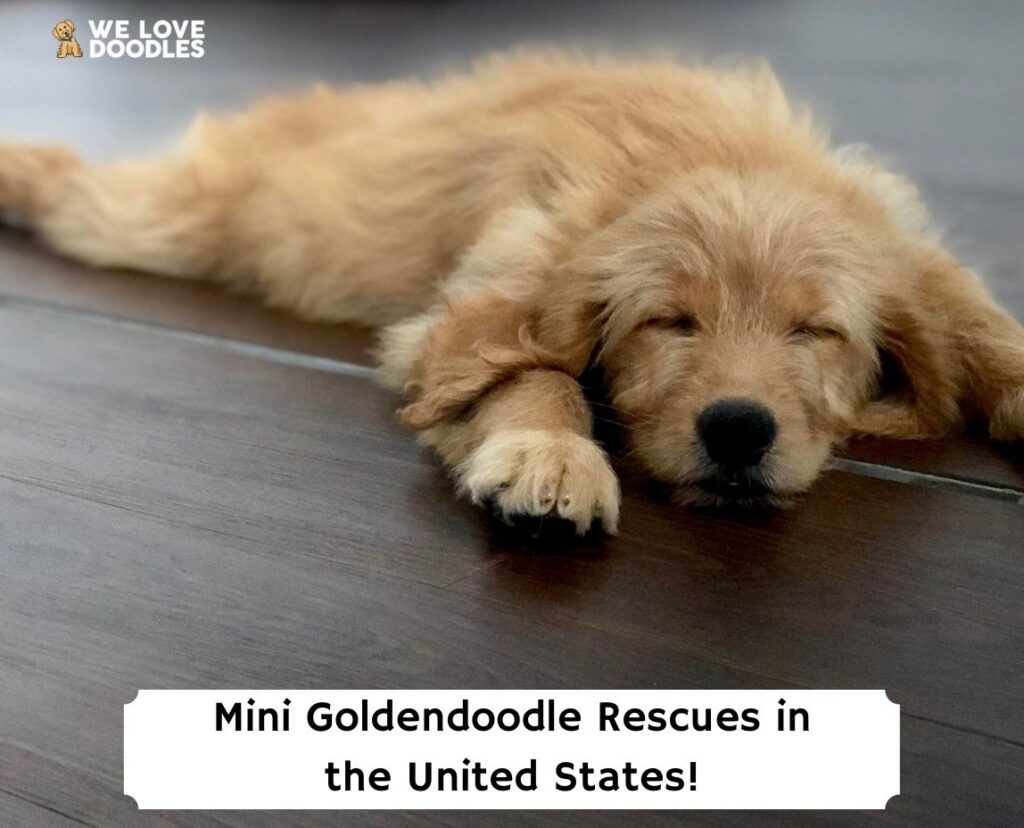 Mini Goldendoodle rescues are home to some of the best dogs around! Similar to standard Goldendoodles, Mini Goldendoodles are a designer cross between Golden Retrievers and Poodles, but Mini Goldendoodles are crossed with a Miniature or Toy Poodle rather than a Standard Poodle.
Compared to full-sized Goldendoodles, minis are relatively new to the scene, but they have quickly become wildly popular.
Mini Goldendoodles puppies have all of the great qualities of Golden Retrievers and Poodles condensed into a small and adorable puppy, so it's no surprise that they are so popular. Additionally, they are the dream dogs for a lot of people, but did you know that you can rescue these precious puppies in addition to buying them from breeders? This surprises many people because the common belief is that the only way to own a purebred dog is to spend thousands of dollars from an elite breeder.
Breed-specific rescues can be found all over the world, and they are a great resource for many people who are looking to own a particular breed. If you've heard of breed-specific rescues before you might have also heard the common misconception that these animal sanctuaries are full of rejected dogs that breeders couldn't sell, but this couldn't be farther from the truth.
Instead, these rescues either work to seize certain breeds from being abused and bred in puppy mills or they pull certain breeds from animal shelters to prevent them from being adopted and sold by someone only looking to make a profit.
Let's face it— there are some breeds that are so popular that they can cost nearly $5,000 per puppy, and there are people who will take advantage of this. Breed-specific rescues, like the ones on this list, work really hard to protect these dogs from abusive, unloving, or turbulent situations and help them find their forever homes.
If you're crazy about Mini Goldendoodle rescues and are looking for adoption alternatives to purchasing from a breeder, then this list is for you. We took the time to research all of the best Mini Goldendoodle rescues in the United States to help you find your dream dog.
If you can't find a miniature Goldendoodle to rescue or adopt and you want to purchase from a breeder. We highly recommend that you check out Premier Pups and PuppySpot. Premier Pups is one of the most affordable options to get a mini Goldendoodle. They also gave our blog readers $250 off when you use code WLD250.
Other articles you would like: 10 Best Labradoodle Rescues and 7 Best Bernedoodle Rescues.
More About Mini Goldendoodles for Adoption
There are a lot of traits that helped the Mini Goldendoodle quickly rise in popularity, including the famous low-shedding coat of doodle mixes, the sweet and outgoing nature of a Golden Retriever, and the intelligence of a Poodle.
They can vary in appearance greatly— even within a single litter! On average, a Mini Goldendoodle will be between 15-30 lbs and between 13-20 inches tall. Some of these sweet puppies will have a coat that's more reddish in color, while others will be close to a lighter cream color.
Some even have adorable patches of white on their chests or faces. Given that Golden Retrievers have long, luxurious coats and Poodles have curly or wavy coats, Mini Goldendoodle puppies can have coats anywhere in between that spectrum, but most of them look like little teddy bears!
1. Delaware Valley Golden Retriever Rescue

First on the list of Goldendoodles rescues in Delaware Valley. This great rescue first opened in 1993 and since then has saved over 5,000 dogs from the shelter system. When it first started, DVGRR was dedicated exclusively to rescuing and rehoming Golden Retrievers, but they have since expanded to accept Golden Retriever mixes and other Retriever dogs (like Labradors), as well.
They routinely have Goldendoodles listed among their adoptable dogs, so if you're on the east coast keep your eye on this rescue! We've seen several mini Goldendoodles come through their adoption page.
This rescue is committed to providing the best possible homes to the dogs in their care, and they, therefore, have a strict set of rules about the living situation of those wishing to adopt. To see if you qualify and to check out their adoptable dogs, head to their website today.
Mini Goldendoodle Rescue Information:
2. Norcal Poodle Rescue Adoption

This awesome mini Goldendoodle rescue located in Northern California is the third-largest poodle rescue in the United States. They first opened in 1985 and have worked tirelessly to save the lives of countless poodles and doodles since then. All available dogs are up to date on vaccinations, groomed, spayed or neutered, and microchipped to ensure that they're totally ready for their new forever homes.
This rescue primarily focuses on poodles but they get their fair share of doodle mixes in all the time, so it's a good idea to keep your eye on their list of adoptable dogs.
Mini Goldendoodle Rescue Information:
3. IDOG Rescue

IDOG Rescue is a certified non-profit, foster-based rescue for Goldendoodles and Labradoodles. They first started their work in 2006 and have been rescuing doodles since then, and even have a network of foster families located across the country. This rescue works with shelters to pull doodle mixes as soon as possible, and they also accept owner surrendered doodles.
This doodle rescue relies heavily on volunteers, foster families, and donations to do the great work they do, so be sure to consider helping out if you are in a comfortable place to do so.
Mini Goldendoodle Rescue Information:
Check out for more: Goldendoodles for Sale in Houston! and Best Goldendoodle Breeders in the Bay Area!
4. Doodle Rescue Collective

DRC was founded in 2008 and operates as "a volunteer foster-based rescue comprised of a 'collective' of over 800 registered volunteers nationwide." This rescue is committed to helping doodle mixes stay out of the shelter system and find the loving homes they deserve.
In addition to their rescue and rehoming efforts, DRC also provides educational resources and support services to current and aspiring doodle owners around the country.
DRC prides itself on being able to offer safe haven, vet care, rehabilitation, and quality homes to the doodles they rescue, and they have managed to re-home over 4,000 doodles since they began operations. They are an approved partner of the Humane Society of the United States, the Best Friends Animal Society, and hundreds of other reputable animal foundations.
Mini Goldendoodle Rescue Information:
5. Doodle Rock Rescue

Doodle Rock Rescue is one of the newer rescues on this list and was founded in 2017. Despite their new status, however, they've managed to re-home over 1,200 dogs in need and are proud to help dogs all over the United States. They chose to settle their home base in South Texas specifically because the area has one of the highest euthanasia rates in the country.
This rescue focuses on rescuing, rehabilitating, and rehoming neglected, abused, or abandoned poodle mixes across the nation. While many of these puppies are pulled from high-kill shelters, they also accept surrenders and dogs found on the streets. All dogs that come through Doodle Rock receive the medical and behavioral care they need before they are placed in their forever homes.
Mini Goldendoodle Rescue Information:
6. Doodle Dandy Rescue

Doodle Dandy Rescue is last on our list of the best mini Goldendoodle rescues in the US; the team works tirelessly to rescue and re-home doodles from all over Texas. Texas is famous for their high euthanasia rates and high-kill shelters, and Doodle Dandy is dedicated to pulling as many doodle breeds from these shelters and helping them find loving homes.
They operate with the help of dedicated foster families and all adoptable dogs have spent a minimum of three weeks socializing and relaxing with a loving foster family in the network. Doodle Dandy believes that this type of exposure is important for helping their doodles acclimate to family life.
Mini Goldendoodle Rescue Information:
Adopt A Mini Goldendoodle and Don't Shop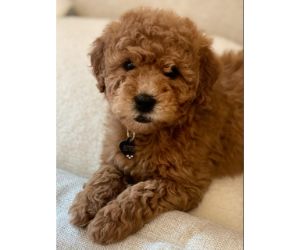 Rescuing a mini Goldendoodle is a great act of kindness and a wonderful way to find the dog of your dreams without spending thousands of dollars.
Even if money isn't a motivating factor, these statistics may be! In the U.S. alone about 3,300,000 dogs will end up in shelters every year, and of those about 20% (670,000) will be euthanized simply because there isn't enough space to care for all of them. Adopting a dog, therefore, is literally akin to saving its life.
There are always dogs (of every breed you can think of) waiting patiently in a shelter somewhere for their forever family to come take them home, and breed-specific rescues are a great way to save a life and add a specific breed to your family.
If you're looking into other rescues that aren't on this list we suggest looking at rescues dedicated specifically to doodle breeds, specifically to golden retrieves, and specifically to poodles, as they will likely have some Goldendoodles among their adoptable dogs.
In addition to looking at official shelters you can search through social media groups on websites like Facebook for networks of people working together to save and re-home specific breeds.
These online communities are made up of Goldendoodle (in this case) lovers and they will frequently post information about dogs that need adopting or fostering as well as information on where to look to adopt a Goldendoodle.
Are You Ready For A Mini Goldendoodle Puppy?
Before you decide to bring a mini Goldendoodle puppy home you should carefully reflect and make sure that you're prepared to take on that type of responsibility. Dogs are a lot of work (even though they're also a lot of fun) and many first-time dog owners are surprised at how challenging, time-consuming, and expensive it is to raise a dog.
One of the reasons that mini Goldendoodle rescues are so full of dogs is because optimistic pet owners will adopt a dog, realize it's too much work, and then return them to the shelter or even abandon them on the side of the road. This is traumatizing for the dog and the best way to avoid this is to truthfully examine your situation to discern whether or not it's the right time to get a dog.
Also, keep in mind that dogs add a considerable monthly expense to your finances, and you'll need to regularly purchase food and treats, and medications like heartworm and flea medicines. Your dog will also need regular vet checkups (just like humans), and you should be prepared for at least one pricey medical emergency every few years.
If you are in a great place to own a dog— that's awesome! Dogs are so rewarding and Mini Goldendoodles are some of the best breeds you can own. Before you bring your new puppy home with you, however, make sure that you get your home fully ready and puppy-proofed.
This means locking up any toxic or hazardous chemicals like cleaning supplies or medications, keeping all food out of reach— especially toxic foods like chocolate or avocado— and concealing any exposed power cords that your puppy might be tempted to chew.
Dogs are curious and they love to explore the world with reckless abandon, tasting and smelling everything they encounter as a way to learn more about it. Naturally, this can get them into some trouble if they eat something poisonous, so it's your job to limit the number of toxic things they have access to.
Once your home is puppy-proofed you'll also need to make sure you have all of the supplies you need for your new dog. Be sure to stock up on plenty of toys, treats, and food for them, and you may also want to invest in a cozy dog bed where they can relax.
Getting a large crate where you can crate train and sequester them is a great idea too, as this type of stability and structure will ease your dog's transition into your new home.
Conclusion For Mini Goldendoodle Rescues in the United States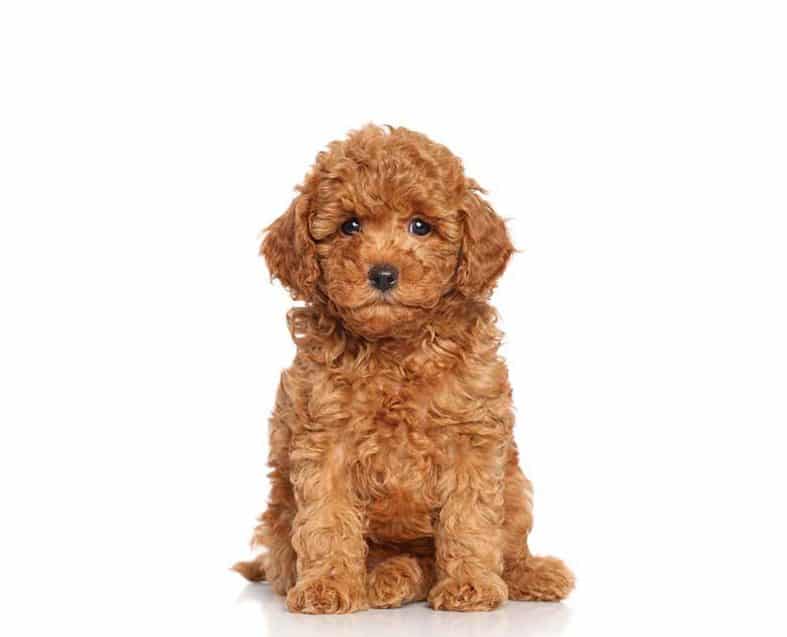 Mini Goldendoodles are some of the cutest dogs and they make great companions for the entire family. These popular puppies are so wonderful that there are a ton of dog rescues devoted exclusively to finding good homes for those that end up in the shelter system. If you're looking to adopt a Mini Goldendoodle in the U.S. then the mini Goldendoodle rescues on this list are a great place to start looking.
You will also like:
Still not convinced? We put together a video you watch on Goldendoodle rescues: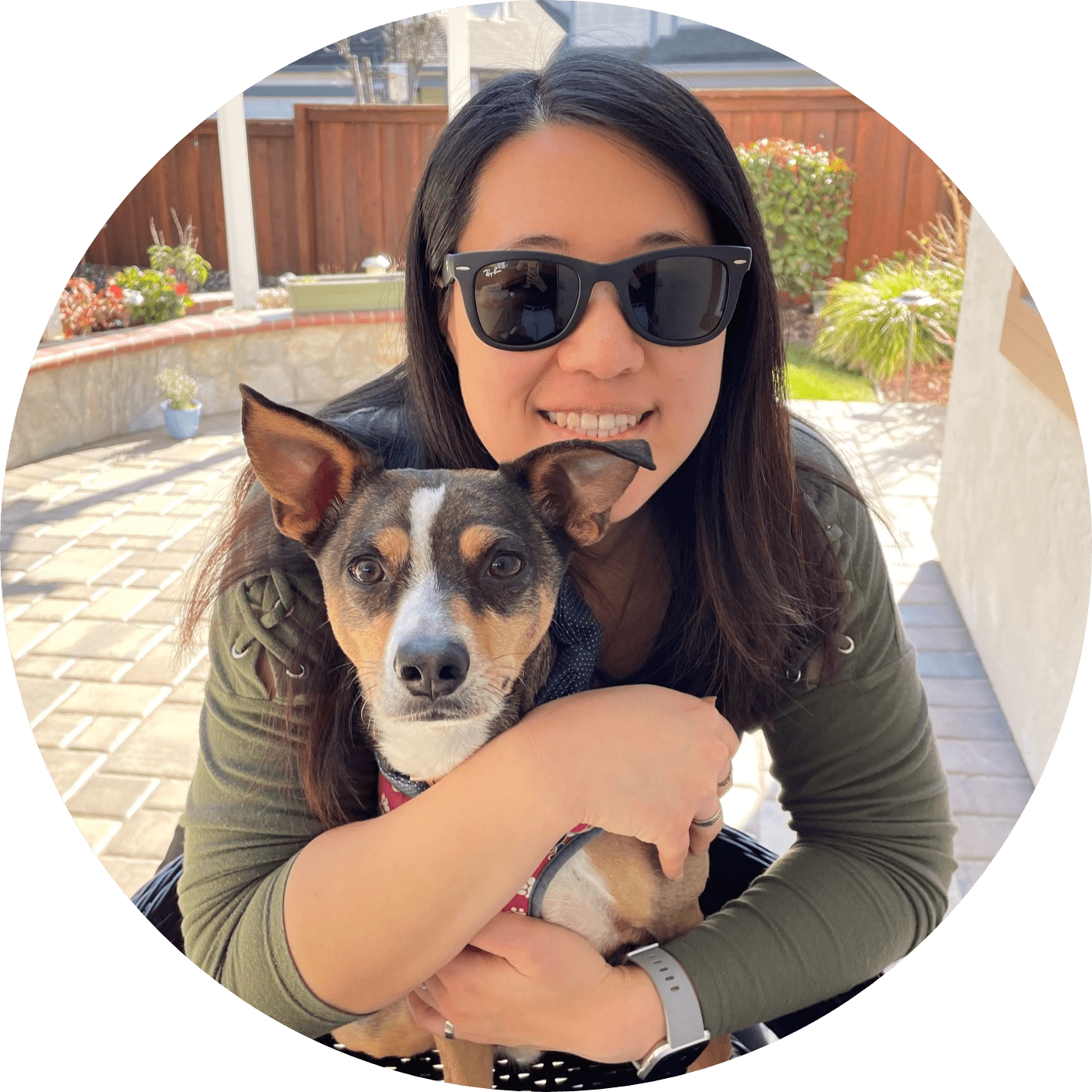 Dr. Sabrina Kong graduated from the Royal Veterinary College in England in 2016 and has been working at a small animal clinic in Northern California since then. She grew up in the Bay Area and got her bachelor's degree from Cal Poly San Luis Obispo. She also became a Certified Canine Rehabilitation Practitioner through a program at the University of Tennessee.
When she isn't in the clinic taking care of her four-legged patients, she enjoys traveling and trying new foods with her friends and her three-legged dog, Apollo. She adopted Apollo from her clinic when he was a puppy with numerous health issues. Dr. Kong truly cares about taking care of animals.