Adopting a rescue dog, or any dog for that matter is a big decision for your family and one not to enter into lightly. The average dog will live 10+ years and it's your responsibility to care for them.  Before making your resolution, consider your home situation:
Do you have the time to take care of a pet?
Do you have the finances to take care of a pet?
Do you have a fenced yard?
Do you have the time and ability to exercise your pet daily?
We recommend that you take the time to consider what temperament, energy level and size of dog would best fit into your lifestyle and home.  These are all questions and considerations that any reputable animal shelter will likely ask when you initially contact them about their adoption process.
By adopting a dog from an animal shelter, you are providing a new lease on life and an opportunity for that pet to have a loving home.  While many shelter dogs might come from an abusive or neglected background, many others have come from loving homes that, due to unforeseen circumstances, can no longer care for their beloved canines.  A reputable dog rescue in Wisconsin will have a wide variety of dogs available from puppies to senior dogs, designer breeds and purebreds to 'anybody's guess' mixes, as well as some dogs that need a little bit of extra love and attention to get over a mental or physical disability.
All of the dog rescue centers on our list of the Best Dog Rescue in Wisconsin are 501 (c3) non-profit organizations dedicated to rescuing and rehoming dogs.  The funds gathered from adopting their dogs goes back into the programs to provide for community outreach, educational programs, spaying and neutering campaigns, as well as the upkeep and medical needs of their resident animals.  These valuable charities fulfill a real need within the community and your support will ensure their on-going survival.
1. Wisconsin Humane Society Dog Rescue
The Wisconsin Human Society has campuses located throughout the state of Wisconsin.  Photos of dogs available for adoption are listed on their website which and are updated regularly.  If you are interested in adopting a dog from The Wisconsin Human Society, first please call the shelter nearest to you, or the one that is sheltering your preferred dog and schedule an appointment.  Once your appointment is scheduled, then you can fill out their adopter profile online which will be valid for two months.
Remember that you will need to bring a valid photo ID and proof of residence to take home your adopted pet.  A collar and lead are also needed; however, these may be purchased from the on-site shop where the proceeds are funneled back into the upkeep of the animal shelter.  Adoption fees range from $25-499 plus applicable taxes.  This fee includes spaying and neutering, up to date vaccinations, microchipping, a one-time free vet check voucher, and a starter pack of dog food. The Wisconsin Humane Society is a highly reputable dog rescue in Wisconsin.
Wisconsin Humane Society – Milwaukee Campus
Address: 4500 West Wisconsin Avenue, Milwaukee, WI, 53208
Website:  www.wihumane.org/
Facebook:www.facebook.com/WiscHumane
Telephone: (414) 264-6257
Wisconsin Humane Society – Ozaukee Campus
Address: 630 West Dekora Street, Saukville, WI 53080
Website: www.wihumane.org
Facebook: www.facebook.com/WiscHumane
Telephone: (262) 377-7580
Wisconsin Humane Society – Racine Campus
Address: 8900 16th Street, Mount Pleasant, WI 53177
Website:www.wihumane.org
Facebook: www.facebook.com/WiscHumane
Telephone: (262) 554-6699
Wisconsin Humane Society – Door Country Campus
Address: 3475 Park Drive, Sturgeon Bay, WI 54235
Website: www.wihumane.org
Facebook: www.facebook.com/WiscHumane
Telephone: (920) 746-1111
Wisconsin Humane Society – Green Bay Campus
Address: 1830 Radisson Street, Green Bay, WI 54302
Website: www.wihumane.org
Facebook: www.facebook.com/WiscHumane
Telephone: (920) 469-3110
2. Lucky 7 Dog Rescue in Wisconsin
Lucky 7 Dog Rescue is an entirely volunteer-run and foster-based charity program.  Their motto is to rescue, rehome, repeat and they certainly mean it!  Operational since 2005, their main mission is to facilitate foster and permanent adoption homes for needy dogs.  Most of their canines come from overcrowded shelters throughout the country, but they are also a port of call for families in need of rehoming a pet for whatever reason.
There are no distance requirements for adopting from Lucky 7 Dog Rescue in Wisconsin but they do insist on a 'meet and greet'.  In addition, all dogs over 7 years of age may be adopted on a donation-only basis, however, younger dogs have a $350 adoption fee which includes spaying/neutering and microchipping.  Speak to them about volunteer opportunities, or about becoming a doggie foster family.
Lucky 7 Dog Rescue Details:
3. Diamond Dogs Rescue in Wisconsin
Diamond Dogs really cares about dogs and understands that sometimes circumstances in life might mean that a dog can't stay in a loving home for a variety of reasons.  They are here to help ensure that your beloved pet can be placed in a temporary foster home, or is permanently adopted into a loving household.  If you are interested in volunteering or becoming a foster home, please speak to them.

Before adoption, your dog will be seen by a vet, be up to date on all vaccinations, and be on flea/tick and heartworm medication.  In addition, your furry friend will be spayed or neutered and microchipped.  Adoption fees range from $200 for a senior dog to $400 for puppies.  You can put a special dog temporarily 'on hold' for $100 while their experienced team finds you the right canine for your lifestyle and home environment.
Diamond Dogs Rescue Details:
3. Underdog Pet Rescue of Wisconsin
Underdog Pet Rescue of Wisconsin was founded in 2012 by the Executive Director Lauren Wojtasiak.  Stemming from her decade of experience in the animal rescue centers and humane organizations, Lauren aimed to provide a combined rescue and veterinary center for the neediest of animals while simultaneously providing a great service to qualified adopters.  Under their canine foster care program, they have rehomed literally thousands of dogs and cats.  Their community services and outreach aim to strengthen the relationship between animals and people.

Based in Dane Country Wisconsin, the reviews for Underdog Pet Rescue reinforce the claims to their dedication and love for animals.  Except to follow the process of an initial online application through their website.  You should then hear from them within a week, at which point they will set up a meet and greet with the foster household.  If all goes well, you will have your new furry companion in no time.  Senior dogs (over 8 years) are $250; adult dogs (5 months – 8 years) are $250 and puppies under 5 months are $350.All adoptions included spaying or neutering, age-appropriate vaccinations, deworming, flea/tick/heartworm preventative, and any necessary medical treatment.  Senior dogs will receive a complimentary senior blood panel
Underdog Pet Rescue of Wisconsin Details:
4. Saving Paws Dog Rescue in Wisconsin
Saving Paws was founded in 2006 by the passionate animal-loving team of Michelle McRae and Betsy Moder.  By that time, they already had over 13 years of experience under their belt of taking care and rehoming neglected and stray dogs and cats.  Today, all of their dogs are fostered in volunteer homes until the time that they are permanently adopted to their forever home.  They specialize in homeless, abandoned, and special needs dogs.  In addition, this team and their volunteers train and home service dogs for veterans, children, and adults with disabilities thus providing for greater physical and emotional independence.  Saving paws is often out in the community educating the public about service dogs and animal responsibility.

Doggie adoptions are $350 for a puppy up to one year of age and decrease to $150 for senior dogs of 7 years or older.  All adoptions include spaying/neutering, vaccinations, microchipping, and topical flea/tick/heartworm treatment.  Cats and dogs are offered a lifelong sanctuary in their facility or their foster homes until the time of adoption.
Saving Paws Dog Rescue Details:
5. Lucky Mutts Dog Adoption in Wisconsin
Lucky Mutts Rescue's sole mandate is about rescuing, fostering, and finding the right forever homes for their cherished pooches.  This volunteer program ensures that all dogs stay in loving foster homes for stability and socialization before being adopted out.  They specialize in working with public shelters in the Southern states due to the high risk of animal euthanasia from overpopulation.  In addition, dogs are sheltered from the dangers of abuse or neglect or maybe taken in if owners are facing difficult times and are no longer able to take care of their canine companion.
All dogs are spayed or neutered before adoption, as well as having all necessary vaccinations and medical treatment.  Please note that viewing dogs is strictly by appointment only and drop-ins are not allowed.  If you would like to adopt a dog from their website, please fill in the online application form.  After this, there will be a home visit before the final adoption process.  Speak to them about seeing if becoming a temporary doggie foster parent is right for you and your family.
Lucky Mutts Dog Rescue Wisconsin:
Conclusion Dog Rescue in Wisconsin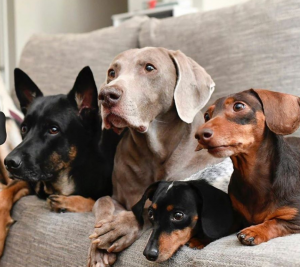 Dog rescue centers are almost exclusively run by large networks of dedicated volunteers that are passionate about animal welfare and strive to ensure a better life for their rescued furry friends.  We would like to commend their selflessness and loyalty and for providing a much-needed service for the community.  We trust that they will do all in their power to find you the right canine companion that is just waiting to be pampered with the endless love and devotion that they so rightly deserve. We hope that you enjoyed our article on the best dog rescue in Wisconsin. Good luck finding your next furry friend!
Other articles you might like:
Garrett loves animals and is a huge advocate for all Doodle dog breeds. He owns his own Goldendoodle named Kona. In addition, he volunteers at the Humane Society of Silicon Valley, where he fosters dogs and helps animals. Garrett enjoys writing about Doodles and believes that dogs can teach humans more about how to live than humans can teach a dog.
Why Trust We Love Doodles?
At We Love Doodles, we're a team of writers, veterinarians, and puppy trainers that love dogs. Our team of qualified experts researches and provides reliable information on a wide range of dog topics. Our reviews are based on customer feedback, hands-on testing, and in-depth analysis. We are fully transparent and honest to our community of dog owners and future owners.