Are you thinking of adding a dog or puppy to your family? Well, you can choose to buy one from a breeder or adopt from a dog rescue, shelter, or humane society. As much as you would like to purchase a purebred dog from a top breeder, adopting a dog is much better because you will be saving a lovable dog from being euthanized. There are so many dogs and puppies out there that deserve a second chance. So, why don't you save yourself some money by adopting or rescuing one?
If you're located in sunny southern California, below is our list of the Best Dog Rescue in San Diego that gives you 7 great options to rescue a dog. You should reach out to one of these dog rescues if you are looking to adopt a new pet:
1. The Rescued Dog San Diego
The Rescued Dog (TRD) in San Diego is one of the organizations that is geared towards rescuing dogs from high-kill shelters and placing them in loving homes. The Rescued Dog works together with local shelters, the community, and other rescue groups to end animal cruelty and pet overpopulation.
TRD is currently a foster-based rescue that places at-risk dogs in foster homes before they find their forever homes. Their number of rescues is still way low, but they are planning on starting a kennel and training facility that can accommodate more rescues. They are a fast-growing dog rescue in San Diego.
All their rescued dogs are examined by a vet, vaccinated, spayed or neutered, and microchipped. In addition, their dogs are placed in foster homes, where they are given basic training and taught house manners. If you are interested in any of their dogs, you will be required to fill out an adoption application and wait for their approval. Keep in mind that you will have to pay an adoption fee of $275 for adult dogs and $375 for puppies below six months.
The Rescued Dog Rescue Details:
2. The Barking Lot
The Barking Lot is a small organization that is run by Stacy Parmer and a couple of volunteers that love to rescue dogs in San Diego. This organization has helped settle over 3000 dogs in their permanent homes. The Barking Lot team has been working with rescue dogs for a long time now, and they can match you with a great puppy in San Diego.
They always display all the dogs that are available for adoption on their "Temporary Barking" page. Moreover, they provide all the information you need to know about each dog. This allows you to have an idea of what you are getting yourself into.
Their adoption process is pretty simple. You just have to fill an adoption application form, and one of the attendants will get back to you in 24 hours. During this time, the attendant will schedule a play date and home check as well. The organization should provide you with all the information and medical history during the play-date. Honestly, this is one of the easiest dog rescues in San Diego to work with.
Keep in mind that you will pay around $250 to $500 as adoption fees. The fee should take care of all the costs incurred during the time your to-be dog was in the rescue home.
The Barking Lot Dog Rescue Details:
3. Labs And More Rescue
Labs and More Rescue is yet another popular dog rescue in San Diego. It has been in operation since 2011, and they've rescued over 10,000 dogs. There is no doubt you are going to find the perfect dog from one of the most active and fastest-growing dog rescues in Southern California.
Unlike some of the dog rescue organizations, Labs and More rescue have given all kinds of abandoned dogs a chance at a new life. They help puppy litters, homeless dogs, pregnant mothers, and dogs from high kill shelters.
Labs and More Rescue are quite serious about their adoption process. You will be required to fill in an adoption application, send in your photos, and have an adoption coach interview to be approved. Once you are approved, you will be allowed to meet the pack at a set date. You will get to choose the right dog for you when you meet the entire pack. Finally, you will be required to complete an adoption agreement before the dog becomes yours officially.
Labs and More Rescue details:
4. Second Chance Dog Rescue of San Diego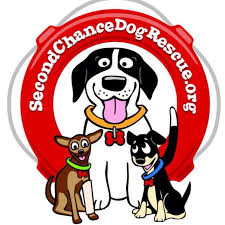 Second Chance Dog Rescue is one of the non-profit 501(c)3 organizations that are dedicated to rescuing, rehabilitating, and re-homing dogs in San Diego. The organization was founded in 2008  after Maria Blake, D. Simpson, and Jason Cordoba recognized there was an urgent need to rescue dogs in their community.
This organization rescues dogs from local shelters and those that are surrendered by their owners. In most cases, the dogs are sourced from Baja, California, Mexico, and surrounding areas. All their dogs have to receive medical care and any other necessary rehabilitation needed.
Those who are interested in adopting a dog have to go through an application process. Once your application is approved, the dog and the adopter will enter a two week transition period. During this time, you will assess whether the dog is the right for your family. The representatives of the organization will then do a home visit to finalize the adoption.
Second Chance Dog Rescue details
Address: 4284 Cass Street, San Diego, Ca 92109
Website: Second Chance rescue
Telephone: 619-721-3647
5. It's The Pits Dog Rescue in San Diego
If you are looking for a San Diego Dog Rescue that specializes in American Pit Bull Terriers, Staffordshire Bull Terriers, or American Staffordshire Terriers, then you are in the right place.  It's The Pits is a canine rescue non-profit organization that rescues dogs from shelters, rehabilitates them, and makes sure they get good homes.
This organization works together with fosters to provide their dogs a temporary home before they find a perfect match. It's The Pits Dog Rescue is run by Beth Gruff, Jennifer Kaiser, and Andrea MalleySowieja.
As is the case with most dog rescue organizations, It's The Pits requires you to fill out an application form to kick start the adoption process. Once you get approved, the organization will set up a phone interview, a meet and greet as well as a home check. You will be required to pay a non-refundable processing fee of $150 to $325, depending on the age of your preferred dog. They are a great dog rescue in San Diego if you are looking for a terrier dog.
It's The Pits Dog Rescue Details:
6. Labradors And Friends Dog Rescue in San Diego
Labradors and Friends is a 501(c)3dog rescue group that was founded in 2007. As its name suggests, the organization specializes in rescuing homeless Labradors and Labrador-mixes. Most of the dogs they rescue and rehabilitate are from high-kill shelters in California.
This group has two special funds that are meant to help senior dogs that require rescuing and medical care. Labradors and Friends make use of these funds to help and change the fate of Labrador Retrievers, Labradors, and Labrador-mixes. Amazingly, this rescue group has given over 4,500 dogs a second chance at a better life in loving homes across Southern California. So if you're looking for a Labradoodle dog this is one the best dog rescues in San Diego.
In case you are interested in adopting one of their dogs, head over to their website, and fill an application form.  Their adoption fees range from $200 to $450, depending on the age.
Labradors and Friends Dog Rescue details:
7. Pug Rescue San Diego County (PRSDC)
Our final pick in this write-up happens to be the Pug Rescue San Diego County. This particular organization is dedicated to the rescue, rehabilitation, and placement of abandoned pug dogs. PRSDC runs with the help of donors, fosters, and people like you who are looking to adopt a Pug. All their rescued pugs are given the necessary care, including: medical treatment, spay & neuter, vaccinations, and necessities such as microchips, leashes, collars, and crates.
Since all their pugs are in foster homes, you will have to fill in adoption application to start the entire process. Besides, you will have to part with an adoption fee of $50 to $800 depending on the health status and age of the pug.
Reasons People Put Their Dogs in a Rescue
Here are some reasons of the most common reason that people put their dogs for adoption in San Diego.
Cost of maintenance. Dogs require a lot of necessities that might cost a lot for some owners. Medical attention, food, and the time required to keep a dog happy can cost up to $2000 a year. Some people will prefer to give up the dog for adoption if they are unable to meet these costs.
No-pet policy. Some landlords do not allow pets in their properties, and in this case, the owner has no choice other than to give up the dog to adopt
The owner has passed away. Although this one rarely happens, some dogs are placed in rescue homes because the owners have passed away, and nobody else is in a position to look after the dog.
Conclusion for Dog Rescue San Diego
If you're in Southern California and live in San Diego, adopting your new dog should be easy as long as you use one of the dog rescues we've reviewed. We hope you will find your dream dog in one of the best dog rescues in San Diego. Best of Luck!
Other Articles You Might Like:
Garrett loves animals and is a huge advocate for all Doodle dog breeds. He owns his own Goldendoodle named Kona. In addition, he volunteers at the Humane Society of Silicon Valley, where he fosters dogs and helps animals. Garrett enjoys writing about Doodles and believes that dogs can teach humans more about how to live than humans can teach a dog.
Why Trust We Love Doodles?
At We Love Doodles, we're a team of writers, veterinarians, and puppy trainers that love dogs. Our team of qualified experts researches and provides reliable information on a wide range of dog topics. Our reviews are based on customer feedback, hands-on testing, and in-depth analysis. We are fully transparent and honest to our community of dog owners and future owners.