We have all heard the saying 'adopt don't shop' but do you really know why you should consider adopting from a local shelter?

By adopting a dog from a pet shelter or rescue center, you are providing a loving home for your new dog, which is life-changing for that animal.  However, you are also opening up availability for another dog to take its place in that same shelter and allowing more adorable canines the opportunity to get one step closer to finding their own forever home. Moreover, your adoption fee is directly spent on food, medical services, and upkeep of future rescued animals as all of our dog rescues are a non-profit company.
Everyone deserves a second chance – and so do our furry companions!  Many shelter dogs have come from a difficult life of homelessness, abuse, or neglect but still, many more have come from loving households that can now no longer care for them.  It is not uncommon for rescue centers to be called when a family member has passed away, and a well-cared-for dog is tragically left behind.
Remember that puppies are adorable, but they grow up quickly.  Adopting an older pet not only gives them a new lease on life but also means that you can skip the messy housetraining and destructive chewing stage which your slippers will be thanking you for if they could talk! If you're located in Connecticut, we put together the most comprehensive list of dog rescues in Connecticut so you can easily find a rescue dog.
1. Connecticut Human Society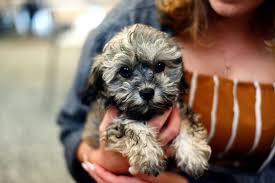 The Connecticut Human Society has four locations throughout the state which all provide a resource for adopting animals, medical treatment, educating the public on animal care, and ensuring the prevention of cruelty to animals.  They are committed to being the leading resource in the state and by their recent statistics, they are doing an amazing job!  In 2019 alone, they found loving homes for 2,836 pets while also being able to assist 6,320 families with advice and education on pet wellness. They are by far one of the most active dog rescues in Connecticut.
If you are interested in adopting a dog from The Connecticut Human Society, ensure that you are over 18 years of age or have a parent or guardian to sign all forms.  You will need to complete an online adoption application and have an interview with one of their counselors.  Don't forget your photo ID and proof of current address!  If you rent, then you will need to provide landlord approval in advance.  Adoption fees range from $100 for a senior dog over 8 years old to $445 for puppies under 6 months. 
Your adoption fee will include:
Connecticut Humane Society – Newington Offices
Address: 701 Russell Road Newington, CT 06111
Connecticut Human Society – Fox Memorial Clinic
Address:701B Russell Road Newington, CT 06111
Connecticut Human Society – Waterford
Address:169 Old Colchester Road Quaker Hill, CT 06375
Connecticut Human Society – Westport
Address:455 Post Road East Westport, CT 06880
All of the above rescues may be contacted through:
2. Pack Leaders Rescue of CT
Pack Leaders Rescue of CT aims to keep in touch and be an ongoing service and port of call for their adoptive families.  They have a dedicated training program that includes initial evaluation and ongoing training to prepare dogs for their future forever homes.  In the words of one of their founders – 'Pack Leaders Rescue will not only be judged by the number of adoptions but how well we support the families before and after.  They mean what they say, as this rescue center provides excellent further training programs at a discounted price.
Pack Leaders Rescue of CT was originally founded by Victoria and Americo to save dogs in the Connecticut area, as well as from many of the Southern states where abuse, neglect, and abandonment can be a larger issue than their local shelters can accommodate. They have significantly grown to be one of the larger dog rescues in Connecticut.

Due to their ongoing fundraising, Pack Leaders Rescue of CT now have their own dedicated in-house transport service for their animals and make trips out of state a few times per month to rescue animals in their dedicated RV.
As with most shelters, you will need to fill out an online adoption application through their website.  After acceptance, a visit with your adoptive animal will be arranged.  If all goes well, then you will have your new bundle of fluffy hugs and kisses.  All adoptive dogs are microchipped, spayed or neutered, have appropriate vaccinations, and have been examined by a veterinarian and animal behaviorist.  Adoption fees are $450 and senior dogs are $250; the adoption fee is fully tax-deductible.
Pack Leaders Rescue of CT details:

3. Our Companions Animal Rescue
Our Companions Animal Rescue looks like a dog's version of heaven on Earth.  47 acres of rural land encompasses gorgeous walking trails, rolling hills, and idyllic trees for sniffing and going about one's business.  Run by a dedicated team of staff and volunteers that specialize in animals with behavioral challenges or medical concerns, this lush oasis gives these pets a chance to rest, socialize, and be trained before adoption.
This dog rescue in Connecticut offers behavior and training programs based on a positive reward system and has a unique 'Buddy Project' which assists at-risk youth with volunteer opportunities that bolster confidence and responsibility.
Doggie adoption fees are $150 and include appropriate vaccinations, spaying or neutering, treating for internal and external parasites, microchipping, and testing for Lyme and heartworm. Our Companions Animal Rescue is very happy to assist with transition advice and follow-up care and offer Positive Reinforcement Dog Training Classes at discounted prices along with every adoption. Start the process of adoption by filling out an online application before being assigned a personal caseworker that will work with you to find your perfect furry companion.
Our Companions Animal Rescue details:
4. PAWS – Pet Animal Welfare Society
PAWS – Pet Animal Welfare Society is one of the longest-serving dog rescue centers in the state of Connecticut.  It was opened in Westport in 1962 in Westport by Betty Long to accommodate homeless and neglected dogs.  The success of the program meant that services were expanded to accommodate cats in the 1980s before a custom-built shelter was opened in 2001.
Animals rescued are either strays from local animal control facilities or from owners that can no longer provide the care that these animals so need and deserve.  PAWS is managed and run by a combination of paid employees and volunteers who not only tirelessly look after the animals, but also educate the public about the importance of spaying and neutering their pets. In 2018 and 2019 they adopted out a total of 372 puppies and dogs!
If you would like to adopt a dog from PAWS, you will need to be over 21 years of age and have permission from your landlord before filling out an online application form.  All adoptive dogs come will be spayed or neutered, have age-appropriate vaccinations and be microchipped and tested for heartworm.  Puppy adoption fees are $425 whereas adult dogs are $250.  We love the 'Seniors for Seniors Program' which matches senior humans (over 75 years of age) with a senior dog on a donation-only basis.
If you would like to help, have a look through their website which explains how to become a volunteer or to make a donation that can be allocated to the program of your choice or to sponsor a specific dog.  A wish list of pet food and supplies is also just a click away. This is a great dog rescue in Connecticut that has been around for a very long time.
PAWS – Pet Animal Welfare Society Details:

5. Wallingford Animal Control and Rescue
Countless reviews attest to the passion, care, and commitment of the well-informed staff at Wallingford Animal Control.  Other reviewers note that their team seems to know each and every shelter animal and is wonderful at matching animals with the people that will provide their loving forever homes.
Unlike other shelters on our list, Wallingford Animal Control is able to personally enforce laws pertaining to animals and conduct surveys looking for unlicensed dogs, as well as respond to complaints and tips about neglected or abused animals and issue fines.  The employees are truly dedicated to protecting animals.  They will happily arrange tours of the facility and lectures on animal care for interested groups.

Keep Wallingford Animal Control and Rescue in your thoughts when cleaning out your house as they will happily accept clean towels, blankets or sheets, cat litter, or dog and cat food.  If you would like another excuse to get out in the sunshine then volunteer dog walkers are always needed.  Just remember that you must be over 18 years of age or accompanied by an adult.
This is one of the only dog rescues in Connecticut that allow you to visit their animals before filling out an application form.  They recommend bringing the whole family, and any furry friends, to find the next addition for your family.  After this, they will help you fill out the application form before bringing your pet home. Adoption fees are minimal.
Wallingford Animal Control Details:
6. Protectors of Animals Rescue in Connecticut
Protectors of Animals are just as their name implies.  This exclusively volunteer-run organization has been operational since 1975 and is now one of the longest-running dog rescues in Connecticut, having found loving homes for over 7000 dogs.  They are dedicated to the rescue of stray, abandoned, and abused cats and dogs. In addition, they are a nonprofit organization exclusively funded by donations.  A fun fact – Ellen Degeneres and Halo, Purely for Pets, donated five thousand doggie dinners to Protectors of Animals back in 2010!
Protectors of Animals, or POA to those that know them, also provide public lectures on animal care to various social, educational, and business groups in and around Hartford.  Online adoption applications are always accepted through their website.  An adult dog has a $325 adoption fee and puppies under 11 months are $275.  Best doggie friends have an adoption fee of $500 for a bonded pair.  All adoptions come with neutering or spaying, appropriate vaccinations, parasite prevention, and flea and tick treatment. Adoption fees for special needs and senior dogs may be reduced on a case-by-case basis.
Protectors of Animals Rescue in Connecticut Details:
Conclusion for Best Dog Rescues in Connecticut
Adopting a dog is a big decision and comes with a great deal of responsibility and commitment.  The unconditional love from your new furry companion will make this a decision well made. If you're still on the fence and live in Connecticut, you can reach out to any of these dog rescues and see if you can temporarily foster a dog. Fostering a dog is a great alternative to rescuing and adopting a dog as you get to see if you like the dog and you open up space in the dog shelters. We hope that you enjoyed our list of the best dog rescues in Connecticut.
Other articles you might like:
Garrett loves animals and is a huge advocate for all Doodle dog breeds. He owns his own Goldendoodle named Kona. In addition, he volunteers at the Humane Society of Silicon Valley, where he fosters dogs and helps animals. Garrett enjoys writing about Doodles and believes that dogs can teach humans more about how to live than humans can teach a dog.
Why Trust We Love Doodles?
At We Love Doodles, we're a team of writers, veterinarians, and puppy trainers that love dogs. Our team of qualified experts researches and provides reliable information on a wide range of dog topics. Our reviews are based on customer feedback, hands-on testing, and in-depth analysis. We are fully transparent and honest to our community of dog owners and future owners.