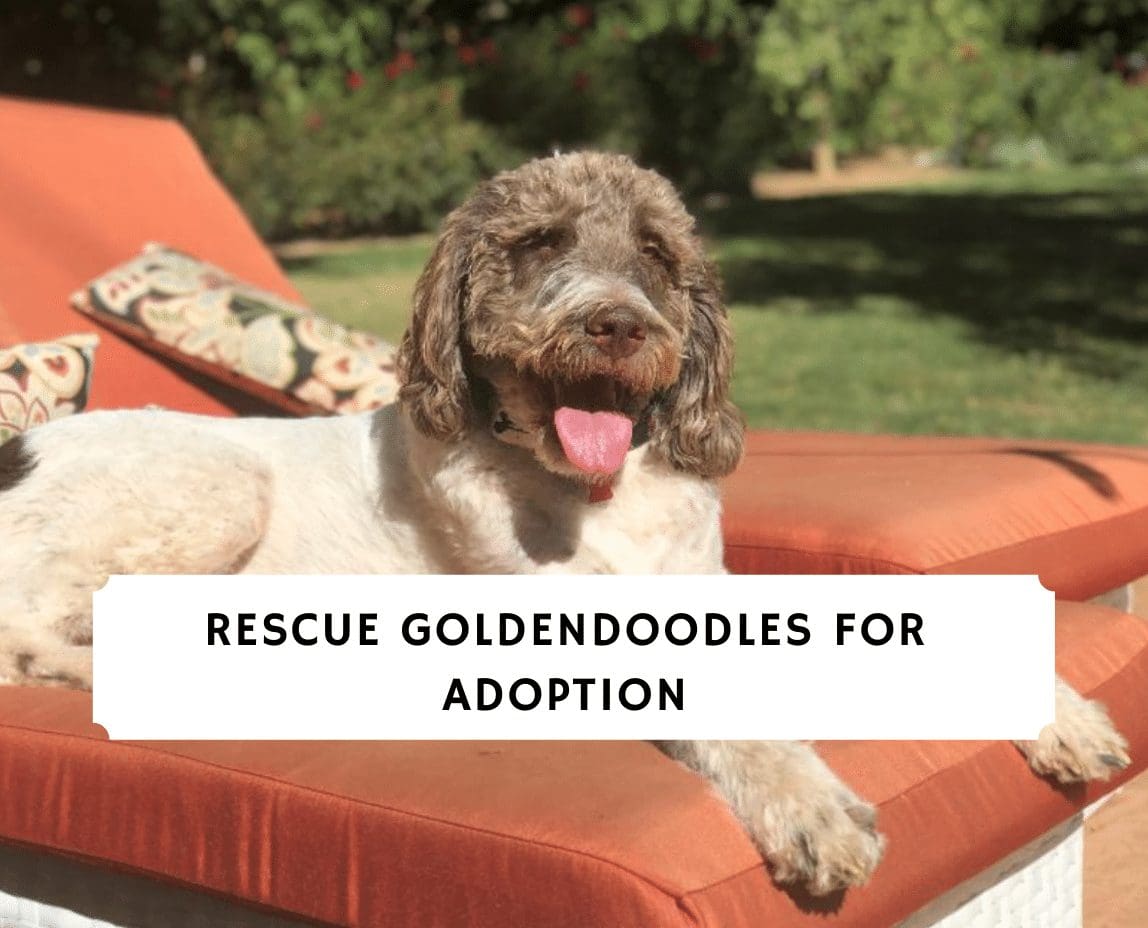 It seems as if there aren't many rescue Goldendoodles available for adoption as this is a very popular dog breed. However, that's not to say there are never any rescue Goldendoodles waiting for a new home. In fact, there are many Goldendoodle rescues across the United States;  pet owners put their puppy, adult, or retired Goldendoodles up for adoption for various reasons.
We've compiled a list of the best places to rescue a Goldendoodle, or to adopt a retired Goldendoodle. No matter where you live in the United States, you can find a rescue dog near you! Let's get started!
We also created the video below on Goldendoodle Rescues to help you:
1. Delaware Valley Golden Retriever Rescue
Delaware Valley Golden Retriever Rescue (DVGRR), an incorporated 501(c)(3) nonprofit organization, launched in 1994 as a rescue for Golden Retrievers. In 2012, the rescue decided to add Goldendoodles to their list of breeds, as the designer dogs are, of course, at least part Golden Retriever! The decision was made when 24 retired Goldendoodles needed to be adopted after a nearby breeding operation was shut down. DVGRR made note of this need, and added the breed to their rescue mission. 
You can be confident adopting your Goldendoodle from DVGRR. They have a dedicated rescue facility with an on-site veterinary center. You can tour their facilities and meet your potential Goldendoodle rescue at one of their monthly open houses. The shelter also has a dedicated program for senior dogs and puppy mill survivors. In this program, DVGRR  trains and socializes the rescued dogs in preparation of adoption. Additionally, DVGRR screens potential adopters on a dog-by-dog basis to ensure that your future Goldendoodle rescue will be the best fit. 
You can use the DVGRR website to see what Goldendoodles (and other doodles, such as Labradoodles) are currently available for adoption. If you decide that DVGRR is a good fit for you, simply fill out the application on their website and mention that you are interested in a rescue Goldendoodle for adoption. Note that the DVGRR has non-negotiable guidelines for rescuing you should be aware of. You must have a yard with a physical fence; invisible fences do not qualify. Also, you can't leave the dog unattended outside. To date, the DVGRR has rescued and adopted out over 6,000 dogs – yours could be the next!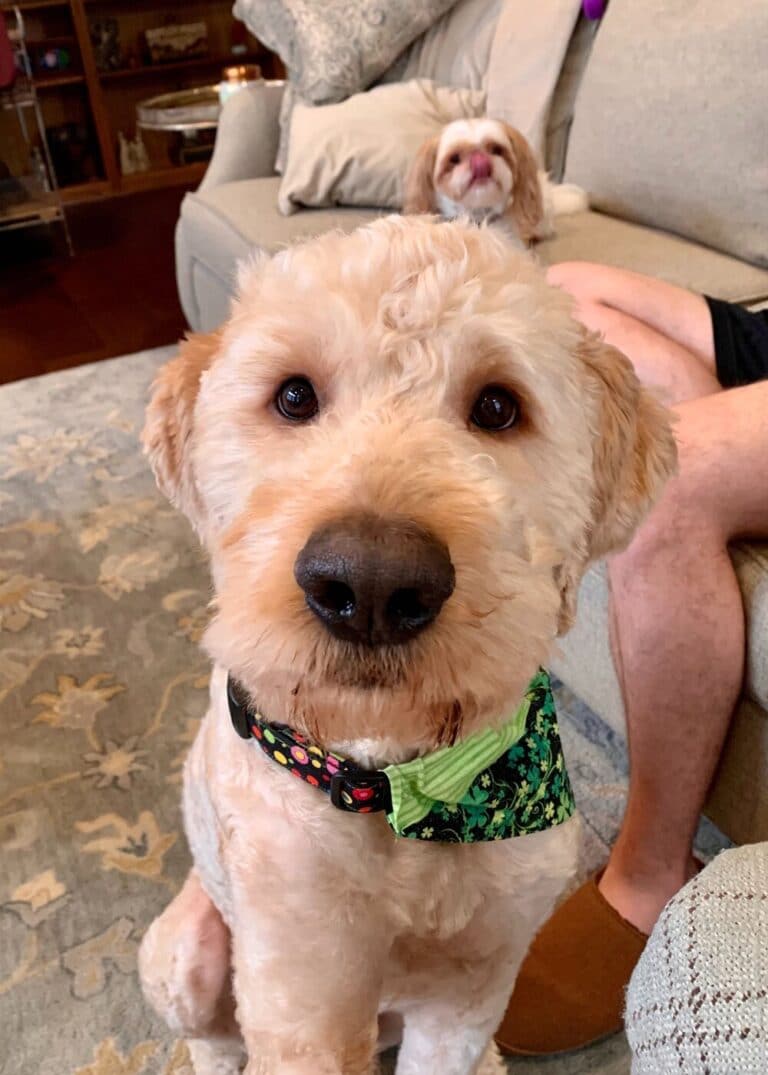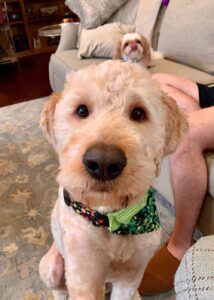 2. IDOG Rescue
IDOG Rescue is a nonprofit founded in 2006 to rescue and adopt doodles, specifically Goldendoodles, Labradoodles, Standard Poodles, and Poodle mixes. They are based in Houston, Texas, but they help and adopt out Goldendoodles all over the country. They also assist in rehoming animals if the original owner cannot take care of their doodle. To date, IDOG Rescue has rescued or helped over 2,600 doodles.
The adoption fee ranges from $100 to $750. IDOG Rescue doesn't get many Goldendoodle puppies for adoption, and most of their Goldendoodles are retired adults. Sometimes, they get mini Goldendoodles puppies for adoption, but it is not common. They don't accept general applications for generic "Goldendoodles." You must apply for a specific dog. All of their adoptable dogs are listed on their IDOG Petfinder page.
Although IDOG has rescued Goldendoodles for adoption throughout the United States, they will not transport your doodle, as it is too stressful for the dog and their volunteers. IDOG Rescue also requires an interview and a home visit before you can adopt your rescue doodle.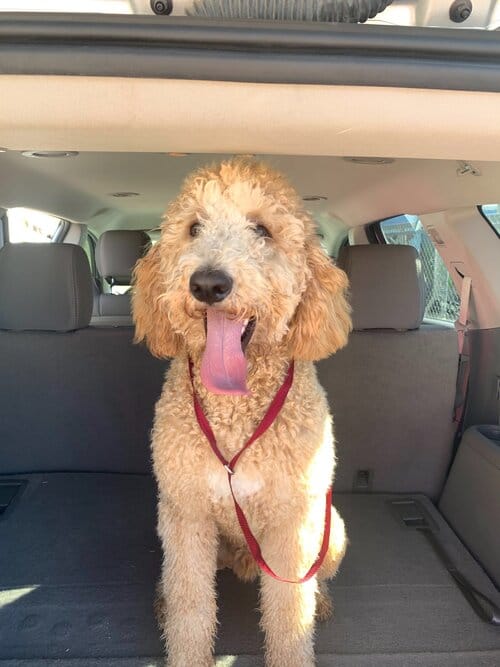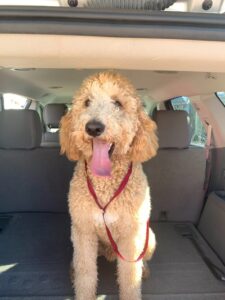 3. Doodle Dandy Rescue
Doodle Dandy Rescue (DDR) only serves a 5-hour radius of the Dallas- Fort Worth (DFW) region. So if you're not local to Texas, southern Oklahoma, western Arkansas, or western Louisiana, you won't be able to get your hands on one of these rescued Goldendoodles. DDR implements this radius so their volunteers can help out as quickly and smoothly as possible if you have a problem with your adoption. You know you'll be in safe hands if you adopt a Goldendoodle rescue from DDR! 
One great service that DDR provides is video biographies of their doodles for adoption. DDR gets quite a large number of Goldendoodles available for foster or adoption. However, only a small number of Goldendoodles puppies are available for adoption, and most are retired adults. They also sometimes get miniature Goldendoodles for adoption, but that is quite rare. To date, DDR has helped over 300 doodles. 
DDR is also a good choice if you're interested in fostering a doodle, as they have a foster-to-adopt program. Fostering is good for you and the recused Goldendoodle because if your foster dog is a good fit for your family and home, you may be able to adopt them. DDR does have quite a strict application process, and it can take 1-3 weeks for your application to get approved. They do not have a waitlist, and you must apply for a specific dog once DDR lists it for adoption.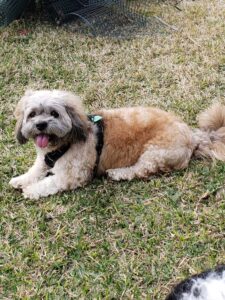 4. Norcal Poodle Rescue Adoption
NorCal Poodle Rescue (NCPR) is a group of volunteers who rehabilitate and rescue poodle mixes like the Goldendoodle. They currently serve the northern California area and respond to shelters, humane societies, and pet owners who surrender poodle mixes. They were founded in 1985 by a former poodle breeder, Patty Moulthrop, who couldn't justify breeding poodles when so many were in shelters. Since then, NCPR has become the third-largest poodle rescue in the United States. Although Patty passed away in February of 2022, NCPR's team of two dozen volunteers continues their poodle rescue mission. Since its foundation almost 40 years ago, NCPR has helped over 3,000 poodle and poodle mixes.
You can volunteer, foster, or adopt Goldendoodles through NCPR. What's great about the NCPR is they also rehabilitate each dog. This rehabilitation can range from extensive surgery to basic spay and neutering. Adoption fees range from $100 to $1100, and you may be asked to pay a refundable deposit for your dog. If you're a senior looking for a cheap Goldendoodle rescue option, NCPR has a special "Senior for Senior" discount if the dog is 10 years of age or older and the human is 65 or older.
This shelter is a registered 501(c) nonprofit, and 97% of the donations go towards their adopted and rescued dogs. Only 3% of the donations are used for administrative or staff purposes. If you live in Northern California, consider attending one of their four annual fundraising events. You can meet the volunteers and get a feel for this doodle rescue operation. Even if you can't adopt right away, your support for this doodle rescue's mission is appreciated!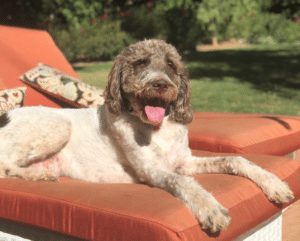 5. Doodle Rescue Collective
Doodle Rescue Collective, Inc. (DRC) is a Labradoodle and Goldendoodle rescue group that started in 2008. DRC doesn't operate out of a single facility. Instead, the rescue consists a group of members throughout North America who help work and collaborate to find their Goldendoodles a new home. There are over 800 volunteers across the United States and Canada who rescue and adopt out Goldendoodles. To date, the organization has helped over 4,000 doodle dogs. 
One service we love that's offered by the Collective is their message boards! You can sign up for a free account through their website, then access useful articles and discussions. Some discussion topics include doodle health, how to adopt a doodle in your state, and updates on doodle rescue operations.
DRC sometimes has Goldendoodle puppies for adoption. It's rare, but they will also sometimes have miniature Goldendoodles for adoption. You should know a few important things before adopting a Goldendoodle from DRC. First, they will not ship your adopted Goldendoodle. Second, they will not adopt rescue doodles to families with children under 10 years old. Finally, they do not adopt dogs to first-time dog owners. Be sure to review all of DRC's adoption policies, procedures, and requirements before applying to adopt a doodle.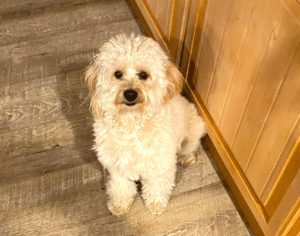 6. Petfinder
Petfinder operates one of the largest dog adoption websites in the United States. While you will find all dog breeds listed on their website, you search specifically for Goldendoodles, Labradoodles, Bernedoodles, and other types of doodle breeds. Enter your ZIP code and Petfinder will list all the dogs available for rescue through their portal. You can sort by breed, age, size, gender, coat length, and several other criteria.
Petfinder started in 1996 and has rescued more than 22 million pets in North America. They have over 315,000 adoptable pets (most of them are dogs) and they partner with over 14,000 rescue groups. Petfinder is updated daily with adoptable pets. We recommend you check out if you're looking to rescue a Goldendoodle.
7. GRIN Rescue
GRIN stands for Golden Retrievers in Need Rescue Service. They started as a shelter and rescue for Golden Retrievers but have branched out to include Goldendoodles and other Golden Retriever mixes. GRIN is a 501(c) nonprofit organization that was launched in 1992, and they've grown to involve over 500 active volunteer members today. The shelter serves Ohio, Pennsylvania, New York, and many other close-by areas. They receive Goldendoodles from nearby pounds, shelters, and through owner surrenders.
GRIN largely rescues older Goldens (6-10 years old), but they sometimes rescue younger dogs and puppies. Unlike other Goldendoodle rescue organizations on this list, GRIN allows you to apply to be on a waitlist if you are interested in a younger dog. This way, you can get through their 2-6 week approval process before your young Goldendoodle rescue is listed for adoption.
GRIN spays and neuters all incoming dogs. Additionally, GRIN works with local veterinarians who ensure the dog is healthy enough to be adopted into a loving family. On average, they spend $1,200 for each dog they receive to rehabilitate them back into good health. They have placed over 3,600 Golden Retriever and mixes (like Goldendoodles). We highly suggest you check them out if you're looking to rescue a Goldendoodle.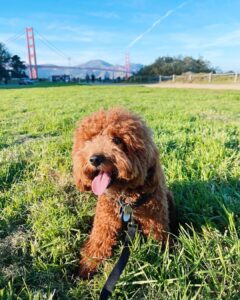 8. Somerset Cottage Poodle Rescue
Since Goldendoodles aren't purebred dogs, there aren't many Goldendoodle-specific rescues. However, Somerset Cottage Poodle Rescue (SCPR) is primarily dedicated to Poodle and Poodle mixes like the Goldendoodle. If you visit their website periodically, you'll notice that they have many doodles you can adopt, such as Goldendoodles and other Poodle mixes like Cavapoos or Cockapoos. SCPR rescues, rehabilitates, and rehomes Poodles, Poodle mixes, Bichons, Maltese, Shih Tzus, and other non-shedding hypoallergenic companion dogs. 
If you are within a 35-mile radius of Purcellville, Virginia, consider fostering through SCPR before adopting. SCPR pays all medical expenses for your foster rescue doodle. This is a good option if you want to test owning a Goldendoodle rescue for cheap or free. If you want a dose of cuteness, check out their Foster Fail Club. A foster fail is a human who fostered a dog, but fell in love and decided to adopt permanently! 
Like many of the other Goldendoodle rescues on our list, Somerset Cottage Poodle Rescue is a 501(c) nonprofit that looks to rescue companion dogs from euthanasia. They get their Poodle mixes from overcrowded shelters, nearby rescues, and surrenders. The founder, Lesley Clark, started SCPR in 2013 and has rescued over 800 dogs. She has owned Poodles for over 40 years and decided to start a rescue because she just loved them so much. 
Why do people put Goldendoodles up for adoption or in a rescue?
Below are some of the most common reasons why you will see a rescue Goldendoodle up for adoption:
Goldendoodles are highly energetic.

Many people underestimate the amount of exercise they need. Goldendoodles become destructive around the house if you don't properly exercise them. Many new pet owners can't handle this and put their Goldendoodle up for adoption or let them go.

The Goldendoodle was used for breeding purposes and can no longer breed.

 Unfortunately, since the Goldendoodle has become so popular, there are a lot of 

puppy mills

and others with terrible breeding practices. One of these unethical practices is to breed a Goldendoodle and then retire the dog and put them up for adoption. You can often adopt one of these retired Goldendoodles.

Goldendoodles bark. Like most dogs, the Goldendoodle barks, whether it's from separation anxiety, nervousness, or if they want to play. Many living situations like apartments can't accommodate a dog that barks because the noise is disruptive. Often, people get too many noise complaints and have to put the adult Goldendoodle up for adoption.

The owners pass away.

 Another common reason Goldendoodles end up at shelters or rescues for adoption is that the owner passes away and no one else can care for the dog. It's an unfortunate situation, but you will commonly see this at many rescues or humane societies.

Goldendoodles are expensive.

 You'll be spending at least $100 every 6 weeks to 

groom your Goldendoodle.

 You also have to pay for food, shelter, bedding, toys, and veterinarian visits. The 

cost of a Goldendoodle

adds up quickly. Caring for your Goldendoodle isn't cheap!
Conclusion for Rescue Goldendoodles for Adoption
We've reviewed several reputable Goldendoodle rescues and adoption facilities around the United States. We hope this information helps you search for a Goldendoodle puppy for adoption or a rescue Goldendoodle for adoption. Best of luck!
Frequently Asked Questions
Where can I adopt a Goldendoodle rescue for free?
Unfortunately, there is nowhere you can adopt a Goldendoodle for free unless a shelter is temporarily waiving adoption fees. Doodle rescue, as with any dog rescue, involves many expenses. These expenses include food, transportation, and veterinary care while the rescued Goldendoodle is housed in a facility or a foster home. If you're ever wondering, "why do rescue Goldendoodles cost so much?" remember all the love and care that went into ensuring your Goldendoodle is healthy and housed in a good home. While many of the Goldendoodle rescue organizations on our list are run by volunteers, there are still expenses associated with caring for a Goldendoodle. It isn't cheap!
How much does a rescue Goldendoodle cost?
You can expect to pay anywhere from $100 to $800 for rescue Goldendoodles. The cost varies based on many factors such as the organization, age and size of the rescued doodle, and the amount of veterinary care provided. Some doodle rescues offer price rebates if you provide certain veterinary services yourself.
Are there any Goldendoodle-specific rescues?
Since Goldendoodles aren't a specific dog breed but rather a mix of two dog breeds, there aren't many Goldendoodle-specific dog rescues. However, some rescues specialize in Poodles and Poodle mixes, also known as "doodles." On our Rescue Goldendoodles for Adoption list, you will find many organizations that focus on doodle rescue, including Goldendoodles.
Other articles you would like:
Want to learn more information about the "Top Goldendoodle Rescues", then check out the video below:
Garrett loves animals and is a huge advocate for all Doodle dog breeds. He owns his own Goldendoodle named Kona. In addition, he volunteers at the Humane Society of Silicon Valley, where he fosters dogs and helps animals. Garrett enjoys writing about Doodles and believes that dogs can teach humans more about how to live than humans can teach a dog.
Why Trust We Love Doodles?
At We Love Doodles, we're a team of writers, veterinarians, and puppy trainers that love dogs. Our team of qualified experts researches and provides reliable information on a wide range of dog topics. Our reviews are based on customer feedback, hands-on testing, and in-depth analysis. We are fully transparent and honest to our community of dog owners and future owners.