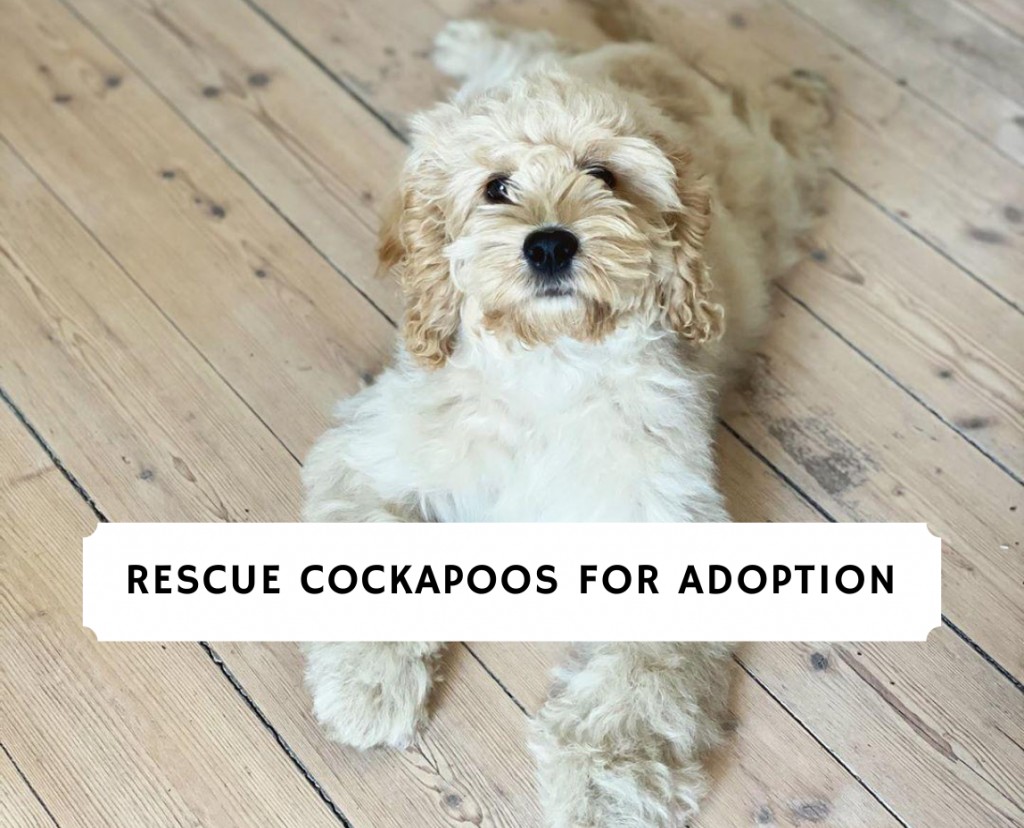 The Cockapoo is one of the oldest designer dogs in the United States. The crossbreed between the American Cocker Spaniel and the miniature Poodle was first bred in the 1960s. They can be best described as small dogs with big personalities. There are 3 popular sizes of Cockapoos: Toy, Mini, and Standard. Cockapoos are best known for their hypoallergenic coat, nonshedding coat, and sweet temperament. Some people choose to buy their Cockapoo from a breeder, while others look into Cockapoo rescues.
A Cockapoo rescue can be a great addition to your family. Although every Cockapoo is unique and can inherit different genetic traits, Cockapoos are generally friendly, intelligent, people-oriented, and easy to train. Cockapoos have moderate to high energy levels, so they do best with active individuals or families. 
With all these perks, why would anyone need to give up their Cockapoo for adoption? Unfortunately, there are many reasons why there are rescue Cockapoos for adoption. Their owners may have relocated, divorced, diseased, or simply cannot be able to take care of the Cockapoo anymore. Life's curveballs are unpredictable. Conversely, Cockapoo rescue organizations may take in puppies from puppy mills or high-kill shelters.
When considering Cockapoo adoption, keep in mind:
Cockapoo

-only

rescue

organizations are rare. There are few

rescue

organizations purely dedicated to rescuing only Cockapoos.

Cockapoo

-only rescues are rare because most rescues try to save as many dogs as possible, not just Cockapoos. In the United States, 8 million dogs and cats face euthanization due to a lack of space in shelters and rescues. Most rescues and adoption organizations will take all dog types, including Cockapoos.

Poodle-mix rescues are a good resource.

 Most of the rescues on this list generally

rescue

Poodle mixes or small dogs. Because Cockapoos are included in this group, they are a good starting point if you're interested in adopting a

Cockapoo

.

It'll take some digging.

 Cockapoos are difficult to

rescue

and adopt because they are an extremely popular dog breed. You'll need to check many shelters, humane societies, or rescues to find a

Cockapoo

. It won't be easy.
The following list will help you find your perfect Cockapoo rescue!
1. Poodle Patch Rescue
Poodle Patch Rescue is a Poodle and Poodle mix rescue organization in Texarkana, Texas. The poodle rescue is run by a small group of volunteers who rescue and rehome Poodles of various sizes and mixes. All their rescues are house-trained and live in handpicked foster homes where they receive all the love, care, and attention they need.
Generally, they respond within 7 to 10 days (remember, they're volunteers!). If you're interested in a standard Cockapoo, you might need to wait longer as they have a long waiting list for standards. All their rescue Cockapoos are spayed/neutered, heartworm negative, and vaccinated. Poodle Patch Rescue caters to everything if they need dental cleanings or other extras.
Poodle Patch Rescue doesn't ship or transport their Cockapoos to their forever home. Adopters need to come physically and pick up their new pets. They only adopt within 350 miles of Texarkana. If you're within the 350-mile radius, which includes eastern Texas and portions of Louisiana, Arkansas, Missouri, and Oklahoma, feel free to contact them about Cockapoo adoption.
2. Arizona Poodle Rescue
Arizona Poodle Rescue has been rescuing all types of Poodles and Poodle mixes since 2003, including Cockapoos. The rescue is an all-volunteer group and doesn't have a shelter. All their Poodles are in foster homes in the Phoenix area. Their Cockapoos come to them via local shelters, owners, and breeders who can no longer care for the furry friends.
Arizona Poodle Rescue also offers temporary care. They spay/neuter all their rescue Cockapoos, provide medical care as needed, and adopt the Cockapoos out to new homes.
In Maricopa County, they have developed quite a reputation as the go-to rescue organization for Standard Poodles. In 2015, they were the proud recipients of Maddie's Fund. Maddie's Fund helps rescue organizations like Arizona Poodle Rescue expand their capacity to rescue more dogs that need a home, with the ultimate goal of achieving a no-kill nation. If you're looking for rescue Cockapoos for adoption, reach out to Arizona Poodle.
3. Mid-Atlantic Poodle Rescue
Mid-Atlantic Poodle Rescue (MAPR) is a volunteer-network rescue that finds homes for unwanted or abandoned Poodles of all varieties and mixes. The volunteer network stretches to Maryland, Pennsylvania, and Virginia. MAPR does not own any facility or shelter. They place all their rescue Cockapoos in foster homes across their volunteer network, mostly in Baltimore. They have three major Cockapoo sizes (toy Cockapoo, miniature Cockapoo, and standard Cockapoo) that you can try and adopt.
To start the Cockapoo adoption process, you must first request an application through their website. Once you complete the application, MAPR will use your information to match you to the perfect Cockapoo rescue for you. Not all their rescue dogs are listed on their website, and they will keep your application on file until they find the Cockapoo rescue that will be the best fit.
There are a few things you should know before adopting from MAPR. You must live within a two-hour drive from Maryland. MAPR requires a fenced yard if you rescue a Cockapoo for adoption. They don't usually adopt dogs to homes with electric fences but will consider them on a case-by-case basis. All their dogs have up-to-date vaccinations and are tested for heartworms and Lyme disease. If you live on the East Coast and are interested in Cockapoos for adoption, contact MAPR!

4. Georgia Poodle Rescue
Georgia Poodle Rescue is a Poodle rescue committed to providing sanctuary for poodles of all sizes and mixes. They rehabilitate and train all their rescue Cockapoos before adopting them out to their forever home. Many surrendered dogs come from individuals or families who purchased them from breeders with CKC and AKC certifications. Although dogs don't need any certification to be fur friends, the certifications help trace the dog's health records.
All their rescued Cockapoos are spayed/neutered and receive the best medical care. In addition, the Cockapoo puppies are trained in basic obedience and pack leadership protocols. They receive leash training and potty training, and are socialized with humans and other animals. New owners get training instructions for their new Cockapoos and lifetime support.
Adopting a dog at Georgia Poodle Rescue requires personal, groomer, and veterinarian references. Additionally, they only adopt out dogs within the state of Georgia. If adopters can no longer take care of their dog, they can return it to Georgia Poodle Rescue no matter how much time has passed. If you live in Georgia and are interested in Cockapoos for adoption, contact Georgia Poodle Rescue to get more information about Cockapoo rescue.
5. Small Dog Rescue of New England
Small Dog Rescue of New England is a volunteer-run organization that helps small dogs like Cockapoos find loving lifetime homes. They don't own a shelter and are run as a foster-based rescue. All of their rescue Cockapoos are spayed/neutered and receive medical care. They only adopt out to New England states.
To adopt a Cockapoo or any other small dog, Small Dog Rescue requires a refundable deposit of $50. In your application, you must list personal, professional, and veterinarian references to be considered. Generally, applications are processed within 7 business days. You might wait longer to get a Cockapoo depending on various factors such as the type of dog. Each adoption decision is based on the best home for the Cockapoo. If you live in the Northeast, consider attending one of their adoption events to find your furever friend.
6. Rocky Mountain Cocker Rescue
Rocky Mountain Cocker Rescue (RMCR) is a Pet Animal Care Facilities Act-licensed rescue organization. They rescue Cocker Spaniels and cocker-mixes, such as Cockapoos. RMCR accepts dogs that look like Cocker Spaniels or Cockapoos within Colorado and from states bordering Colorado. Also, due to the Covid-19 pandemic, they now rescue all dog breeds under 30 pounds. So far, RCMR has helped over 1,800 dogs!
RMCR does not have a dedicated facility or kennel; all their rescue dogs are housed in foster homes. They have foster homes throughout Colorado, New Mexico, Wyoming, Kansas, and Missouri. All dogs taken in by RMCR, including rescued Cockerpoos, are provided veterinary care, groomed (if needed), and micro-chipped. RMCR's website has a great breakdown of the cost of rescuing and caring for their dogs, so you know what is included in their adoptions. You can expect to pay between $150-$350 for your Cockapoo rescue.
Before getting approved for Cockapoo adoption, you can expect a phone interview, reference checks, and a home visit. RCMR does not have a specific adoption radius. However, before final adoption approval, you must travel to the foster's city/town for a meet-and-greet with the Cockapoo rescue that RCMR has matched for you.
Do you love Cockapoos but are open to checking out other rescue dogs? Check out these great rescue organizations in Michigan and Connecticut. 
What To Know Before Adopting a Cockapoo Rescue
If you have your heart set on adopting a rescued Cockapoo or you're still doing your research, here are a few things you need to know:
1. Adopting a Cockapoo is different from buying a Cockapoo. 
Many Cockapoos in rescues have been through a lot. They may have been bred and raised in a puppy mill, lost their way home, or seen their whole world turned on its head when their owners couldn't take care of them anymore.
At first glance, many Cockapoos in rescues may seem aloof, nervous, or frightened. Given what they have gone through, it's an understandable reaction. At the end of the day, though, they all want someone to love and cherish them for who they are.
As an adopter, you need to understand this. You need to be prepared to give your rescued Cockapoo all the time, love, and space they need to warm up to you or your family. Cockapoos have tons of unconditional love for their owners, which will shine through.
2. Don't adopt a Cockapoo rescue if you have kids under 5 years old.
Your Cockapoo rescue may have experienced some hard living situations and not be used to kids. Rescued dogs may deem a child's or children's playfulness a threat, and to protect themselves, may injure your child/children. It's advised not to adopt a Cockapoo with children under 5 years old.
3. Cockapoos need exercise and mental stimulation
.
Cockapoos have moderate to high energy levels, so they love to be up and about as much as possible. Whether it's a game of fetch, a walk around the neighborhood, a run in the park, or a jog – Cockapoos are down for it. They also need mental stimulation, so get them an interactive dog toy or some other dog puzzle.
4. You will need to get your Cockapoo rescue trained.
You must train your dog to have the best relationship with your new furry friend. Cockapoos are inherently brilliant, so they pick up commands quickly. The training will help your new Cockapoo become well-adjusted in learning things like walking well on a leash, basic commands, and being responsive to your cues, among others. Online training classes are available if you can't take your dog to a training class. We highly recommend the Baxter and Bella training class (they gave us an exclusive 25% discount with code "WeLoveDoodles"). You'll get access to a full training course and unlimited 1-on-1 meetings with professional dog trainers.
Conclusion for Rescue Cockapoos For Adoption
Cockapoos are one of the best designer dogs to open the doors of your home and heart to. We hope this information helps your search for a Cockapoo for adoption or a rescue Cockapoo for adoption. Please remember that Cockapoos are difficult to adopt and rescue because they are a popular dog breed, and not many people will surrender them. However, our list will give you a good chance of finding a Cockapoo rescue.
Other articles you might like:
FAQs about Cockapoo Rescue
What is a Cockapoo?
A Cockapoo, also known as a Cockperpoo, is a mix between a Cocker Spaniel and a Miniature Poodle.
Why is it hard to find a designer dog for adoption?
A designer dog is created when registered pure-bred dogs are "mixed." This careful and purposeful mixing is done to get the best traits from each parent breed, optimizing the health and temperament of the dog. Therefore, designer dogs, such as Cockapoos, are hard to find up for adoption, as they are often good pets to own. Some Cockapoo rescues on our list above will provide you with the Cockapoo's certifications (if they have them) to help you trace the dog's health records.
Where can I adopt a Cockapoo puppy?
It is nearly impossible to find Cockapoo puppies for adoption. Finding doodle puppy rescues of any type is hard because these dogs are so popular. Cockapoos are usually only surrendered to rescues once someone has spent time with the dog and realizes they are not equipped to own it or if the Cockapoo's owner has died. By this point, the Cockapoo is usually an adult dog.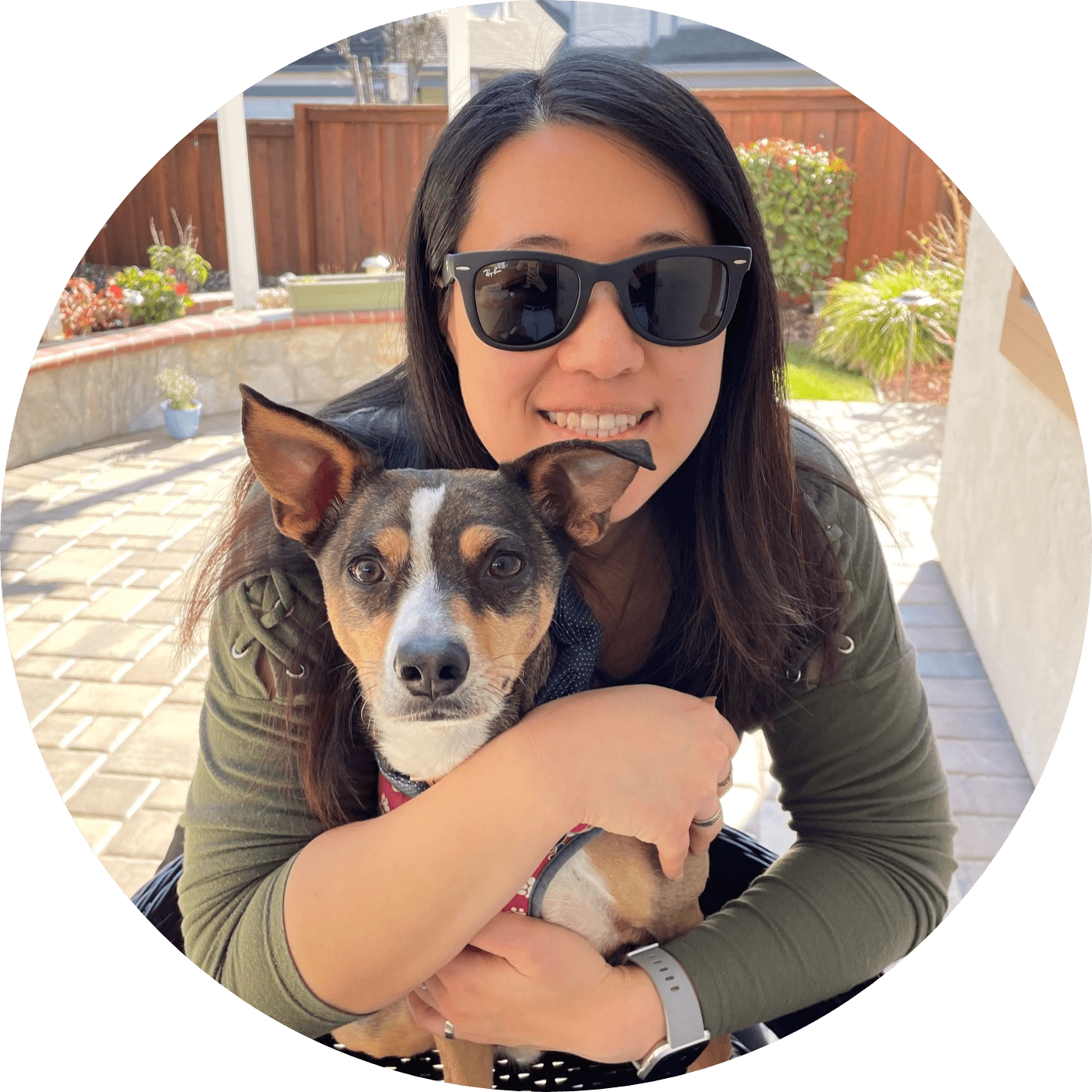 Dr. Sabrina Kong graduated from the Royal Veterinary College in England in 2016 and has been working at a small animal clinic in Northern California since then. She grew up in the Bay Area and got her bachelor's degree from Cal Poly San Luis Obispo. She also became a Certified Canine Rehabilitation Practitioner through a program at the University of Tennessee.
When she isn't in the clinic taking care of her four-legged patients, she enjoys traveling and trying new foods with her friends and her three-legged dog, Apollo. She adopted Apollo from her clinic when he was a puppy with numerous health issues. Dr. Kong truly cares about taking care of animals.