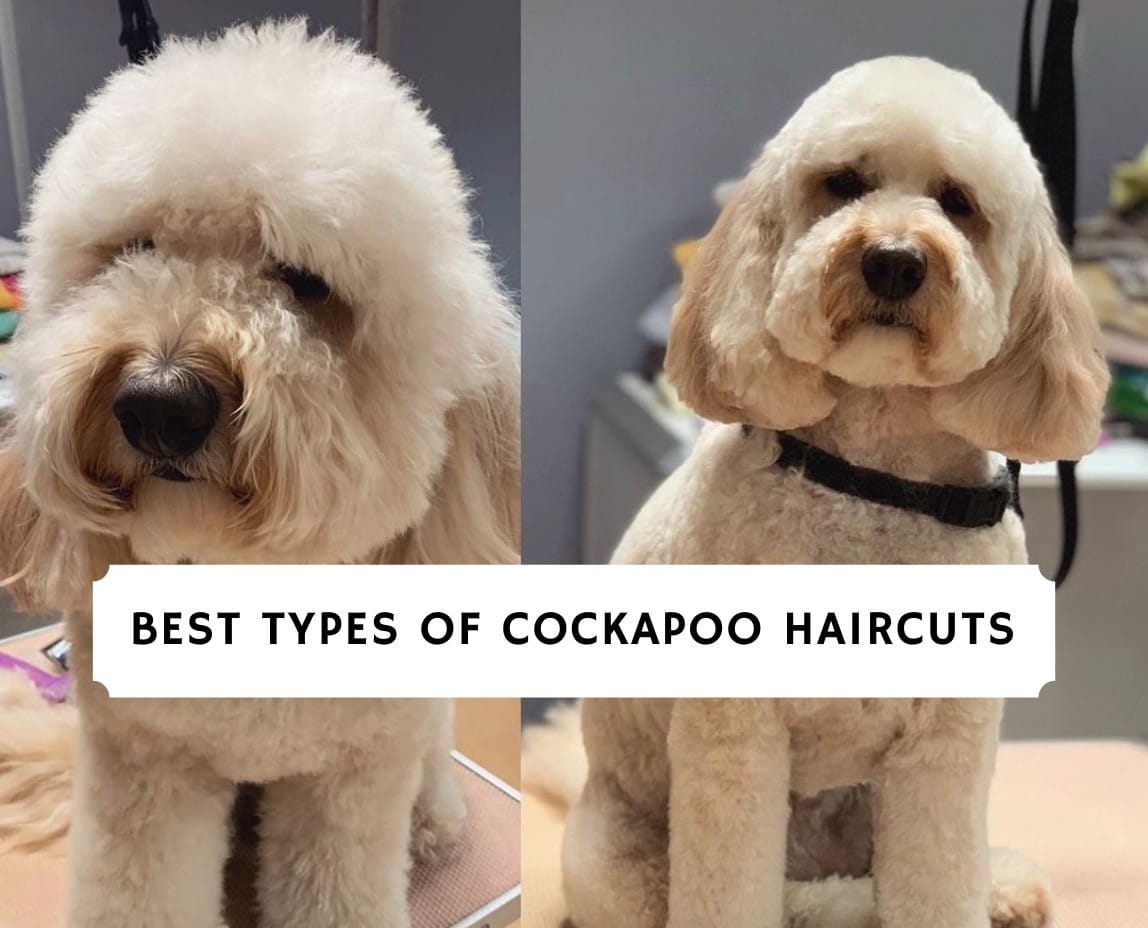 Cockapoos have unique coats, as they inherit the hair of the poodle and the fur of the cockapoo parent. If you own this designer breed and are trying to decide on the best cockapoo haircuts, this is the guide for you!
Cockapoos usually have fuzzy coats, but their fur can be long, plush, thick, or curly. As you may know, the breed is hypoallergenic and the pups don't shed a lot, but maintaining your dog's coat is still an essential part of care! Giving your dog a haircut is one of the easiest ways to keep her fur manageable and mat-free. You can take a DIY approach or bring your pup to the groomer for a day of pampering. 
In this guide, we'll take a look at some of the most popular cockapoo haircuts and you can choose which is the cutest for your particular pup. 
Prefer to watch a video on the best types of Cockapoo haircuts? Check out the video below:
Most Popular Types of Cockapoo Haircuts
1. Cockapoo Puppy Cut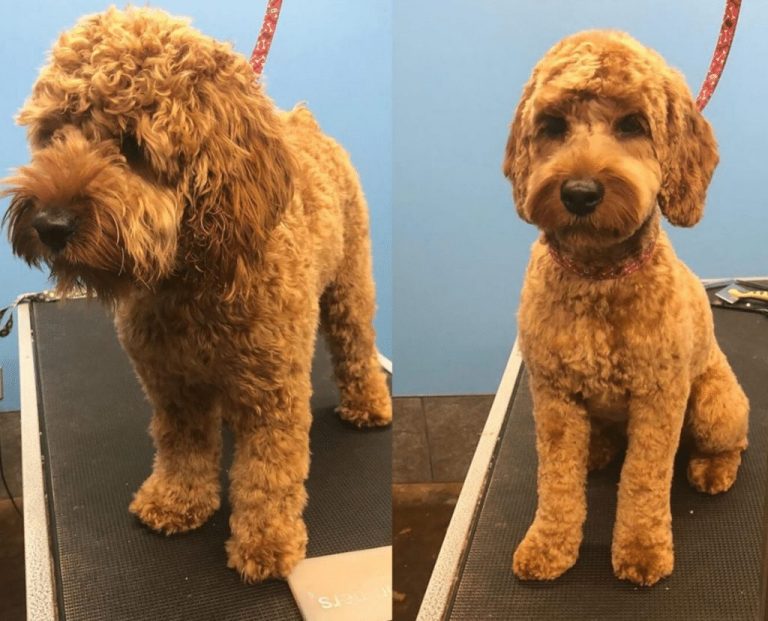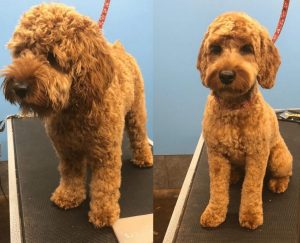 You're probably already familiar with the puppy cut, as it's one of the most popular for puppies and adult dogs alike! The puppy cut is the most recommended of the cockapoo haircuts and it's super easy to maintain! Whether you have a cockapoo, labradoodle, Aussiedoodle, or another doodle breed, the puppy cut is absolutely one of the most adorable you can choose for your dog. 
Despite the name "puppy cut," this 'do works for any age of cockapoo and doesn't leave the hair too short. Some professional groomers specifically recommend this as the only cut you use for at least the first year of your doodle's life. The puppy cut helps to maintain the hair's quality and softness, but still leaves your dog with enough hair to look cute.
Your cockapoo will be oh-so stylish when you give him a puppy cut – he'll turn heads wherever you go! If you want compliments from fellow dog lovers, choose this low-maintenance hairstyle. You or your groomer will simply cut your pet's hair uniformly to about 1.5 to 2 inches over his entire body. 
Once you've given your pooch his hairdo, keeping it looking great is easy. Trim his face to keep it looking cute (like a puppy, of course), and wash and brush your dog as you normally would. 
Your cockapoo will look young and fresh with this cut, regardless of their age. It's so nice and it's one of the most basic choices you will find!
Cockapoo Puppy Cut Features:
1.5 to 2 inches of evenly cut hair across their body
Sometimes the paws, legs, and underbelly can be cut slightly shorter
Small trim around their tail, but keep it looking fluffy
2. Cockapoo Teddy Bear Cut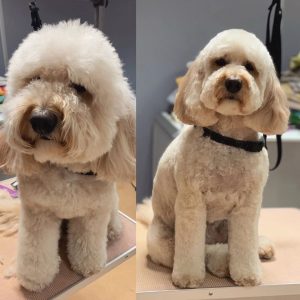 Next, we take a look at the cockapoo teddy bear cut. If your cockapoo has quite a bit of fur on their head, this might the ideal solution. As the name "cockapoo teddy bear haircut" implies, this style makes your dog look just like a little teddy bear! This is one of the cutest cockapoo haircuts; the style brings out your dog's eyes and gives her little head a more rounded shape than the puppy cut. 
To achieve this style, you'll need to use clippers to trim your dog's hair to about 2 inches across his body. This is a great length to keep mats at bay, and it's easy to comb or brush out, too. The biggest difference between the puppy cut and the teddy bear cut is the length of hair on your dog's face. With a puppy cut, the hair on your dog's face is rounded and soft, and is left a little longer than you would with a puppy cut. 
Cockapoo Teddy Bear Cut Features:
2 inches of consistently cut hair across the body. Typically the hair is slightly longer than the puppy cut.
The paws, legs, and underbelly can be cut slightly shorter if you don't want dirt, debris, or other things sticking to your dog's legs
The face is cut more rounded as compared to the puppy cut
3. Cockapoo Cocker Spaniel Cut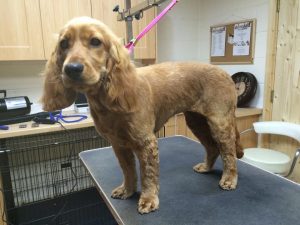 Every cockapoo has a cocker spaniel parent, so it stands to reason that they'll inherit some of that parent's traits. Fur is no exception, and there are cockapoo haircuts that play these genes up! The cocker spaniel cut is ideal if your dog inherited strong cocker genes – hair that is long and wavy will look beautiful when trimmed into a cocker spaniel cut. 
If you do choose this haircut, you'll need to prepare for a little extra upkeep. Because your dog's hair will be left long and thick, you'll need to plan for regular trimming, brushing, and washing. In other words, this hairdo is a bit more high-maintenance than some others on this list. 
Still interested in a cocker spaniel cut? You'll want to trim the hair right around the eyes and face slightly shorter but leave the hair on their head, body, and legs slightly longer. There is some attention to detail needed here and you may want to contact your groomer to get it right.
Cockapoo Cocker Spaniel Cut Features:
Typically, only the facial hair is cut really short
The ears, body, and leg hair is left longer around 2+ inches
This cut only really works if your cockapoo inherited cocker spaniel genes as this haircut is high maintenance for non-shedding and curly hair.
4. Cockapoo Lamb Cut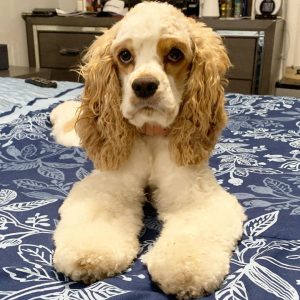 Another popular cutting option is the cockapoo lamb cut. The lamb cut allows you to maintain your pup's hair easily, but it's also cute and very stylish! If your dog has strong poodle characteristics, this may be the perfect cut for her. The cut maintains some of the elegance that you expect of a poodle breed.
The lamb cut is a good medium length haircut and it's cut slightly shorter without being super short. The legs are left fluffy, as well as the ear area. The cockapoo lamb cut keeps your dog fluffy and soft but reduces the hair length so that it is easy to maintain without taking away the appeal of their natural coats.
The challenge to this cut is blending the hair so those fluffier parts of the cut don't look awkward or stand out in ways they shouldn't. A professional groomer could probably help with this if you're unsure how to best tackle it!
Cockapoo Lamb Cut Features:
Leg hair is left longer
Facial hair is left a little longer with fluffy ears
The body hair is cut shorter around 1 inch or so
You'll want to blend leg hair with the body hair
5. Cockapoo Summer Cut / Shaved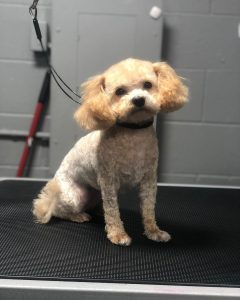 Finally, you could elect to shave your cockapoo for an easy solution. This is typically called the cockapoo summer cut, and it won't necessarily be a close shave but will trim the hair down pretty short to keep it free of mats and tangles. This is the easiest of the cockapoo haircuts if your goal is to keep your dog's 'do practical. It's easy to care for, keeps your dog cool in the warm summer months, and stays free of dirt if your pup plays outdoors. 
The nice aspect about the cockapoo summer cut is it will save you some money because you will be able to go much longer between haircuts and trims. In addition, bathing and brushing becomes easier because your cockapoo won't be getting dirt stuck in their coat.
This cut is a favorite of do-it-yourselfers. If you love the idea of grooming your dog yourself, you can relax knowing that you won't need special tips or tricks to get it just right. A good pair of clippers with the appropriate guard will do just fine!
Cockapoo Summer Cut / Shaved Features:
Hair is generally cut 1/2 inch or less
The tail hair is generally left a litter longer
The ear hair is left a little longer
Grooming A Cockapoo at Home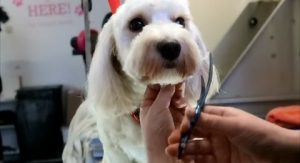 Using a professional groomer is a great option, particularly if you're nervous about making a mistake. Professional groomers are skilled and do this for a living, using all the right equipment. However, you can tackle the task of cutting your dog's hair on your own, saving you lots of money in the long run.
Here are some important aspects of the grooming process for your Cockapoo.
Start by bathing your cockapoo with dog shampoo and conditioner. Once they're bathed, brush and dry them well. You'll need to remove the mats and tangles before you can cut their hair with a pair of dog clippers.
Next, trim or cut the cockapoo's coat with clippers to your preferred style.
Use the appropriate treatment to clean your dog's ears.
Finish by trimming the dog's nails. Please follow all safety recommendations so you don't hurt your dog.
These steps are all an important part of routine maintenance for your Cockapoo. You can take them on yourself if you have the appropriate tools, or you can choose to trust your groomer to help take care of grooming for you. You might even want to throw in teeth brushing for good measure!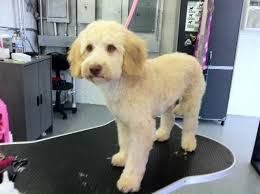 If you decide you want to groom your dog at home, you need to equip your cabinets with the proper tools for the job. Below, you'll find some recommendations for items that you may need to keep on hand for grooming purposes.
Metal comb
Scissors / Dog Shears
Detangling or conditioning spray
Gentle dog shampoo
Dog clippers
Dog tub (not required but helpful)
You can choose to purchase as few or as many of these items as you want but keep in mind some of them may be needed for routine grooming of your cockapoo.
What to Expect of a Cockapoo's Coat
Not all cockapoo coats are exactly the same. This is to be expected when you have a mixed breed. However, with the cockapoo, there is a lot less variance than there is with some of the other doodle breeds.
It's impossible to fully predict what your cockapoo's coat will be like but you can familiarize yourself with the differences and know what to expect.
Since the cockapoo is a poodle and cocker spaniel mix, you can expect a little bit of both breeds' characteristics in their coat type. You might get the tight curls of the poodle or your dog may display the long waves of a cocker spaniel.
Your cockapoo is hypoallergenic for the most part, but they will shed some. Particularly for allergy sufferers, a shorter haircut can help mitigate this shedding and make a difference in your health! Have questions? You can talk to an experienced groomer about the best cockapoo haircuts for your dog's genetics.
Conclusion for Best Types of Cockapoo Haircuts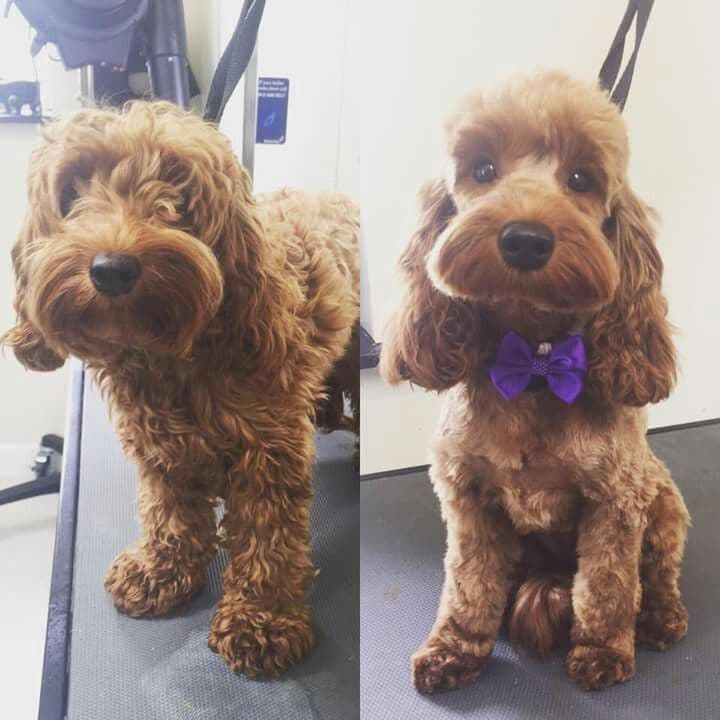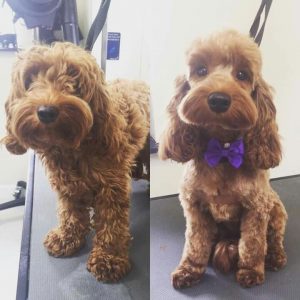 Cockapoos are fluffy, minimally shedding little dogs, but you'll still need to keep up with grooming! We hope that you found some inspiration for the best types of cockapoo haircuts. Remember, no matter what style you choose, your cockapoo will look amazing!
For more information you can check out our YouTube video on the Best Types of Cockapoo Haircuts: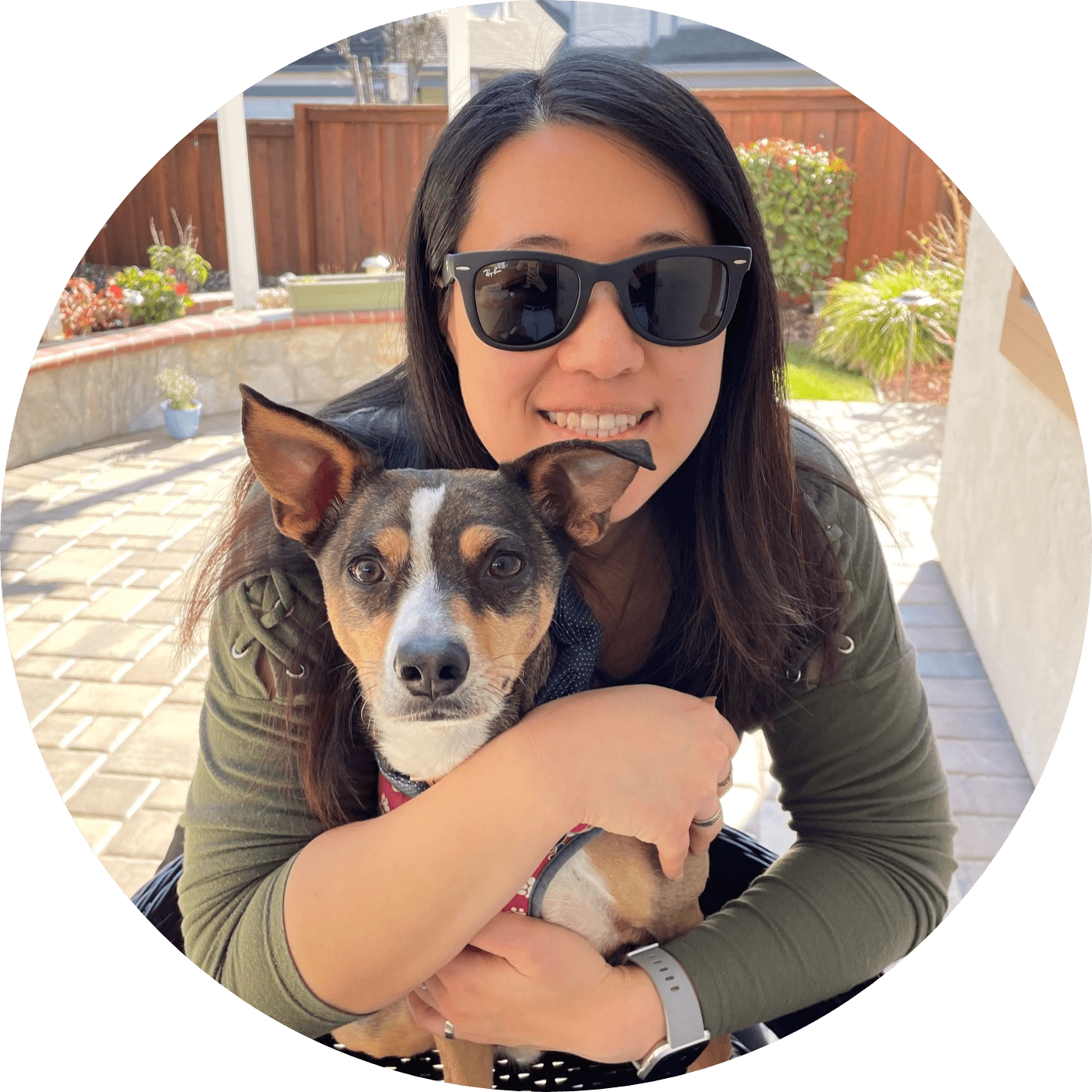 Dr. Sabrina Kong graduated from the Royal Veterinary College in England in 2016 and has been working at a small animal clinic in Northern California since then. She grew up in the Bay Area and got her bachelor's degree from Cal Poly San Luis Obispo. She also became a Certified Canine Rehabilitation Practitioner through a program at the University of Tennessee.
When she isn't in the clinic taking care of her four-legged patients, she enjoys traveling and trying new foods with her friends and her three-legged dog, Apollo. She adopted Apollo from her clinic when he was a puppy with numerous health issues. Dr. Kong truly cares about taking care of animals.