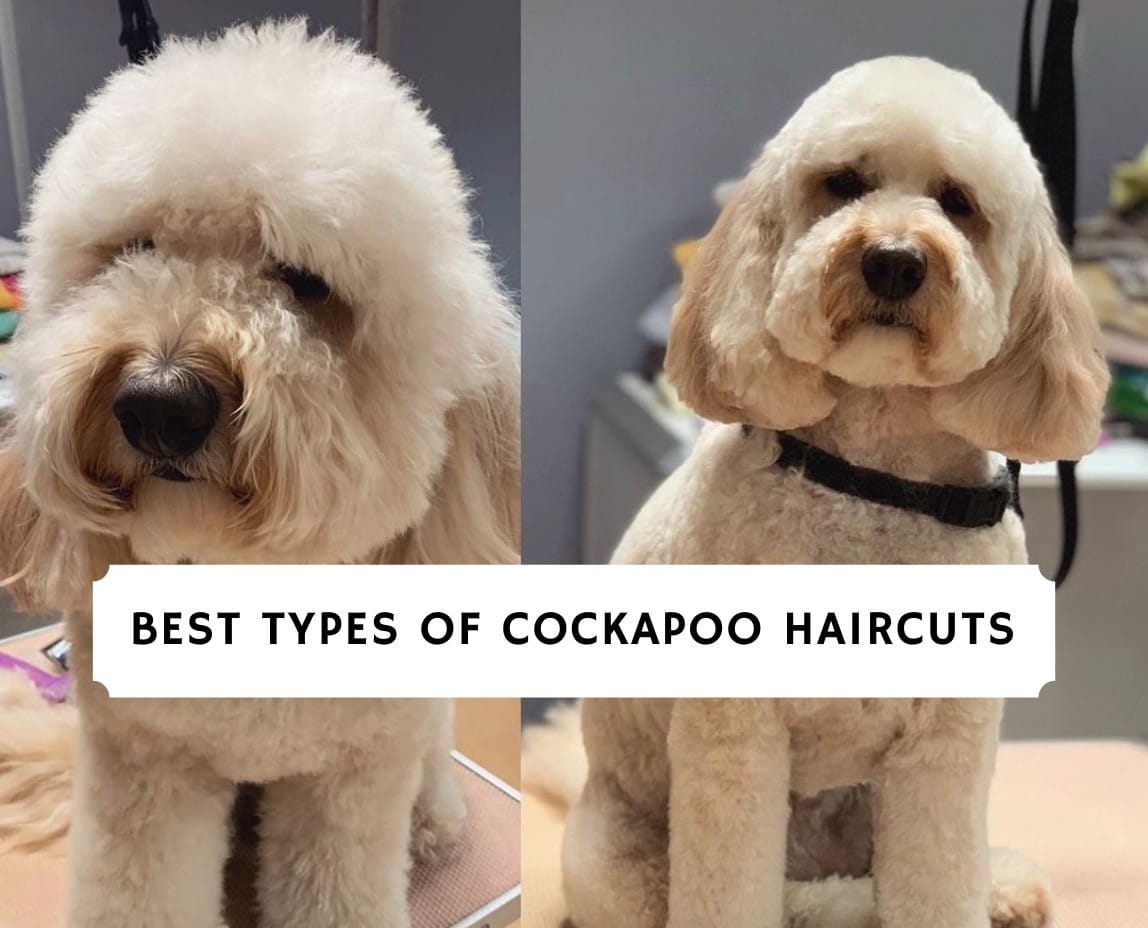 Cockapoos have such fuzzy coats which is why they are one of the most sought-after designer crossbreeds. In addition to their gorgeous coats, they also have a lovable temperament and easygoing personality.
Cockapoos tend to have a lot of hair that is long, plush, thick, and curly since they have Poodle genetics. This means that you need regular grooming practices to keep their coats looking beautiful, fresh, soft, and maintained. Since Cockapoos have a hypoallergenic and nonshedding coat they are more susceptible to tangles and matting fur. That's why you have to regularly give them a haircut.
Whether you like to give your Cockapoo a haircut at home or you take your dog to visit a professional groomer it's important to know the best types of Cockapoo haircuts. What kind of cut you give you Cockapoo determines whether or not they will look cute. We'll give you several options for whether or not you want to keep their hair long or short.
In general, there are a lot of really great haircut options out there for a Cockapoo and we're here to share with you some of the most popular types. You can use this guide as an inspiration or simply as a guide to know your best options.
Prefer to watch a video on the best types of Cockapoo haircuts? Check out the video below:
Most Popular Types of Cockapoo Haircuts
1. Cockapoo Puppy Cut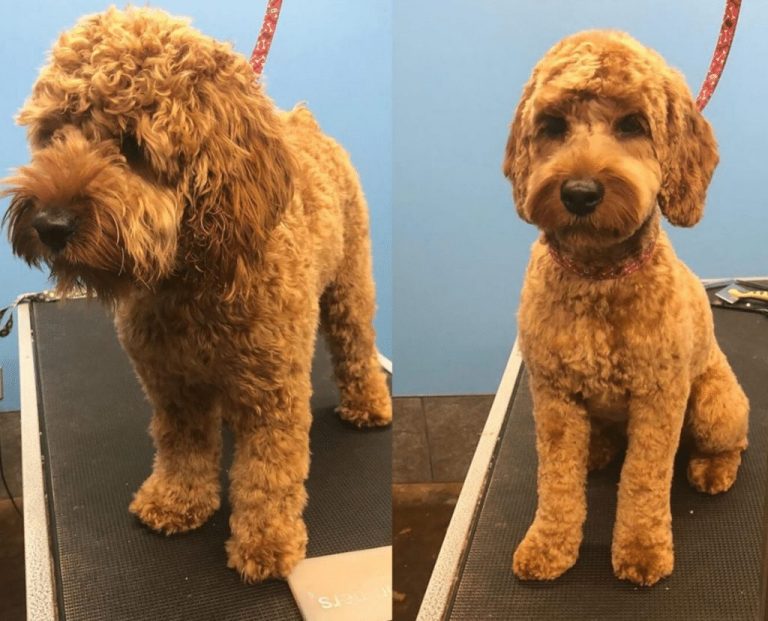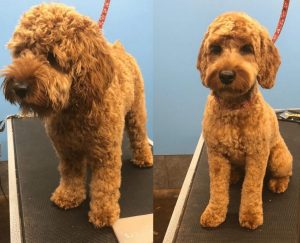 You might be familiar with the Cockapoo puppy haircut as it is one of the most popular and most recommended cutting styles for any of the Poodle crossbreeds. Whether you have a Cockapoo, Labradoodle, Aussiedoodle, or another breed, this is one of the most common choices because it's simple and easy to cut style that makes your dog looks cute.
Despite the name "puppy cut," it works for any age of Cockapoo ane doesn't leave the hair too short. Some professional groomers specifically recommend that this is the only cut you use for at least the first year of your doodle's life. It helps to maintain the hair quality, softness, and still leaves your dog with enough hair to look cute.
With the Puppy cut, you Cockapoo will be so stylish and no one will even know that you are using this simple hairstyle. The puppy cut is relatively low maintenance and involves cutting your Cockapoo's hair roughly 1.5 to 2 inches evenly across their body.
Once the Cockapoo puppy haircut is in place, you will simply need to occasionally trim your Cockapoo's face to keep it looking perfect. This cut is fairly short and the key is to have a consistent length from top to bottom. There is no fancy design or special cut around any areas of the dog's body.
Your Cockapoo will look young and fresh with this cut, regardless of their age. It's so nice and it's one of the most basic choices you will find!
Cockapoo Puppy Cut Features:
1.5 to 2 inches of evenly cut hair across their body
Sometimes the paws, legs, and underbelly can be cut slightly shorter
Small trim around their tail, but keep it looking fluffy
2. Cockapoo Teddy Bear Cut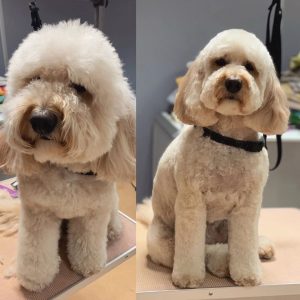 Next, we take a look at the Cockapoo teddy bear cut. If your cockapoo has quite a bit of fur on their head, this might the ideal solution. As the Cockapoo teddy bear haircut implies, it makes your dog look like a teddy bear. It really brings out their eyes and the head area will be more rounded when compared to a Cockapoo puppy cut.
This haircut will trim the body length to approximately 2 inches, usually keeping it to a medium length that is manageable while also leaving their beautiful fur intact. You don't want to take away the softness or the attractiveness of the coat which is why it is generally left longer.
To accentuate your Cockapoo's face, the teddy bear cut is kept slightly longer and cut in a rounded style to really make their face pop. This is a popular style for many doodle breeds and works well for the Cockapoo.
Cockapoo Teddy Bear Cut Features:
2 inches of consistently cut hair across the body. Typically the hair is slightly longer than the puppy cut.
The paws, legs, and underbelly can be cut slightly shorter if you don't want dirt, debris, or things sticking to your dog's legs
The face is cut more rounded as compared to the puppy cut
3. Cockapoo Cocker Spaniel Cut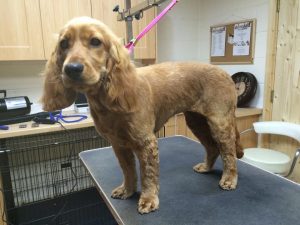 Cockapoos are part Cocker Spaniel family so it stands to reason that you might use the cut of one of their parents for the perfect inspiration. In this case, we really like the Cocker Spaniel haircut if your dog inherited mostly Spaniel genetics.
We will warn you that this cut can be a high-maintenance option. It leaves the hair long and thick, so it will need trimmed, brushed, and otherwise maintained more often than some of the other haircut options out there.
For the Cockapoo Cocker Spaniel haircut, you will trim the hair right around the eyes and face slightly shorter but leave the hair on their head, body, and legs slightly longer. There is some attention to detail needed here and you may want to contact your groomer to get it right.
Remember that this cut will need more frequent attention and will require trims and maintenance every few weeks to keep it really looking nice. You might also need to brush and wash in between trims.
Cockapoo Cocker Spaniel Cut Features:
Typically, only the facial hair is cut really short
The ears, body, and leg hair is left longer around 2+ inches
This only really works if your Cockapoo inherited Cocker Spaniel genetics as this haircut is high maintenance for nonshedding and curly hair.
4. Cockapoo Lamb Cut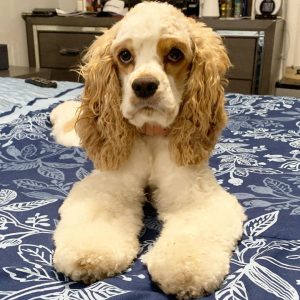 Another popular cutting option is the Cockapoo lamb cut. When it comes to a Cockapoo, this is another of the most popular options out there because it keeps their hair well-maintained, but is also cute and stylish. This haircut maintains some of the elegance that you expect of a Poodle breed.
The lamb cut is a good medium length haircut and it's cut slightly shorter without being super short. The legs are left fluffy, as well as the ear area. The Cockapoo lamb cut keeps your dog fluffy and soft but reduces the hair length so that it is easy to maintain without taking away the appeal of their natural coats.
The challenge to this cut is blending the hair so those fluffier parts of the cut don't look awkward or stand out in ways they shouldn't. A professional groomer could probably help with this if you're unsure how to best tackle it!
Cockapoo Lamb Cut Features:
Leg hair is left longer
Facial hair is left a little longer with fluffy ears
The body hair is cut shorter around 1 inch or so
You'll want to blend leg hair with the body hair
5. Cockapoo Summer Cut / Shaved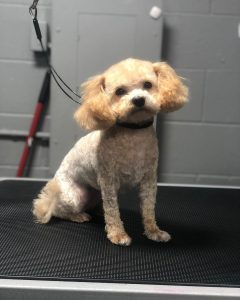 Finally, you could elect to shave your Cockapoo for an easy solution. This is typically called the Cockapoo summer cut, this won't necessarily be a close shave but will trim the hair down pretty short to keep it free of mats and tangles. This will help you maintain the hair much easier and also keep your dog cooler during the summer months.
The nice aspect about the Cockapoo summer cut is it will save you some money because you will be able to go much longer between haircuts and trims. In addition, bathing and brushing becomes easier because your Cockapoo won't be getting dirt stuck in their coat.
Additionally, using a shaving method means you won't need any special tricks to get the look just right. A good pair of clippers with the right length will do the trick! Your dog might appreciate a full shave in the heat of the summer.
Cockapoo Summer Cut / Shaved Features:
Hair is generally cut 1/2 inch or less
The tail hair is generally left a litter longer
The ear hair is left a little longer
Grooming A Cockapoo at Home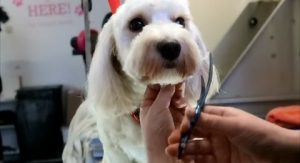 Using a professional groomer is always a great option, particularly if you're nervous about messing up your dog's look. Professional groomers are skilled and do this for a living with all the necessary equipment. However, you can tackle the task of cutting your dog's hair on your own which can save you lots of money over the long run.
Here are some important aspects of the grooming process for your Cockapoo.
Start by bathing your cockapoo with dog shampoo and conditioner. Once they are bathed, brush them and dry them. Youll need to remove the mats and tangles before you can cut their hair with a pair of Dog clippers.
Next, trim or cut the Cockapoos coat with dog clippers to the preferred style.
Use the appropriate treatment to clean your dog's ears.
Finish up by trimming the dog's nails. Be sure to follow all safety recommendations so you don't risk hurting your dog.
These steps are all an important part of routine maintenance for your Cockapoo. You can take them on yourself if you have the appropriate tools or you can trust your groomer to help take care of these things for you. You might even want to throw in teeth brushing for good measure!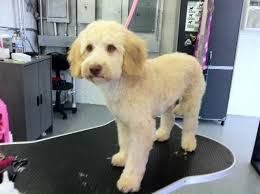 If you decide you want to perform some of these maintenance items at home, you need to be prepared to properly equip your cabinets with the proper tools for dog grooming. Below, you will find some recommendations for items that you may need to keep on hand for grooming purposes.
Slicker Brush
Metal comb
Scissors / Dog Shears
Detangling or conditioning spray
Gentle dog shampoo
Dog clippers
Dog tub (not required but can be helpful)
You can choose to purchase as few or as many of these items as you want but keep in mind some of them may be needed for routine grooming of your cockapoo.
What to Expect of a Cockapoo's Coat
Not all Cockapoo coats are exactly the same. This is to be expected when you have a mixed breed. However, with the Cockapoo, there is a lot less variance than there is with some of the other doodle breeds.
It's impossible to fully predict what your Cockapoo's coat will be like but you can be familiar with the differences and know what to expect.
Since the Cockapoo is a Poodle and Cocker Spaniel mix, you can expect a little bit of both breeds in their coat type. You can get the tight curls of the Poodle or long waves of a Cocker Spaniel.
Your Cockapoo is hypoallergenic for the most part and they will shed some, although the cut you use can make a difference in the amount of shedding. They tend to have thick and gorgeous locks with a touch of wave and curl. The shorter that you cut your Cockapoos hair, the less it will shed.
Conclusion for Best Types of Cockapoo Haircuts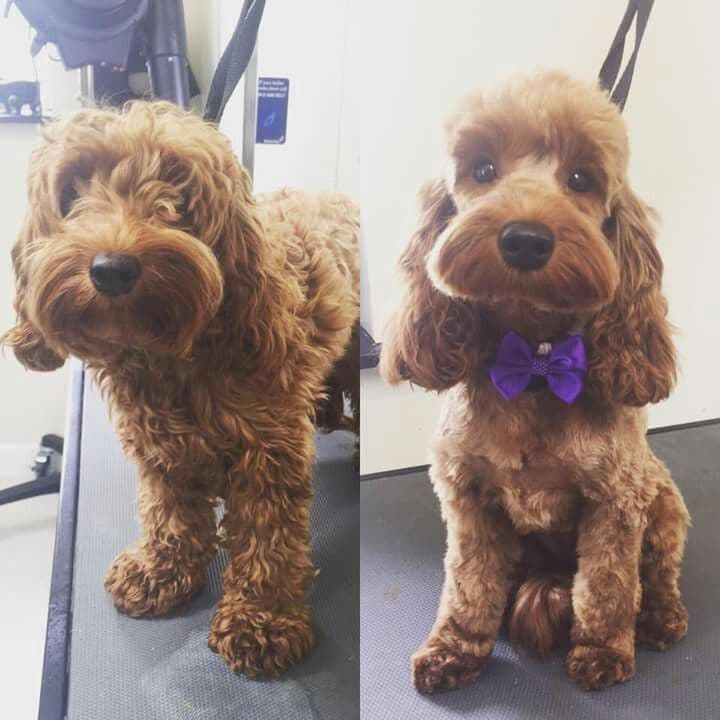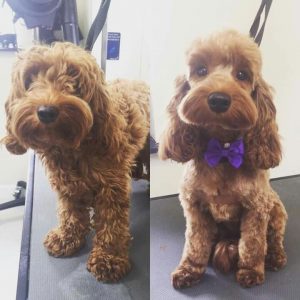 Cockapoos are fluffy and nonshedding which means you will have to groom your dog. We hope that you found some inspiration for the best types of Cockapoo haircuts. Remember, no matter what style you choose, your Cockapoo will look amazing!
For more information you can check out our YouTube video on the Best Types of Cockapoo Haircuts: