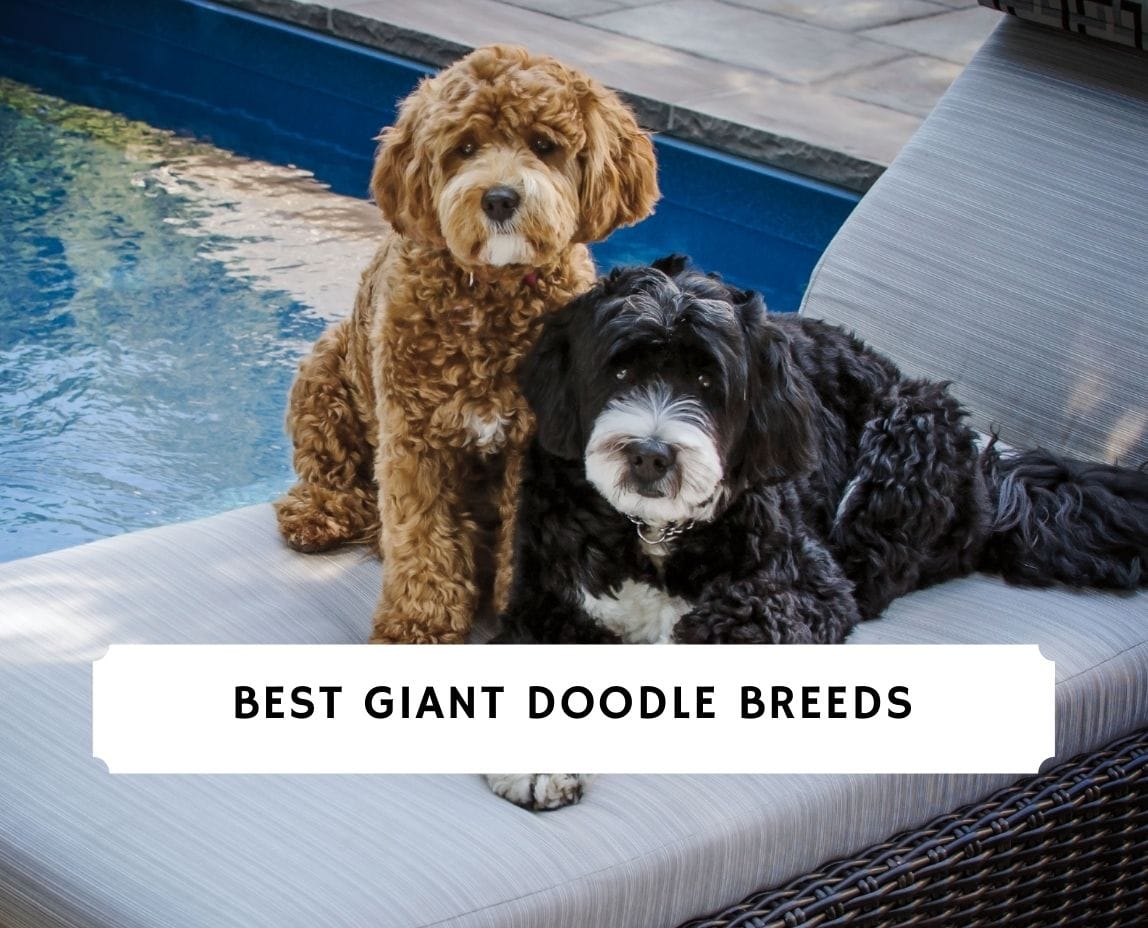 If you're searching for a giant Doodle breed companion, then you've come to the right place. Doodle dogs come in a variety of shapes and sizes, from small breeds like the Chihuahua and Toy Poodle to giant dogs like St. Bernard and the Newfoundland. People love giant Doodle dog breeds because they are generally considered nonshedding and hypoallergenic.
If you have ever had a big dog that sheds, you know that you have to vacuum nonstop and your clothes will be full of dog hair! The only downside is that giant Doodle breeds tend to have shorter lifespans than smaller dogs. In this guide, we will go over 5 of the most popular giant Doodle breeds.
Before scrolling down, we compiled a list of other Doodle categories for you: Top Hypoallergenic Dogs That Don't Shed and Small Non-Shedding Dog Breeds.
Best Giant Doodle Breeds
In this list of giant Doodle breeds, we'll focus on designer dogs that reach above 100 pounds by the time they reach adulthood. The five Doodle breeds we'll cover are Newfypoo, Great Danoodle, Standard Bernedoodle, St. Berdoodle, and the Irish Wolfadoodle. Before scrolling down, keep in mind that Poodle mixes are brilliant dogs. In fact, Poodles are ranked as the second smartest dog. By mixing with other dogs, you can rest assured that they'll grow up to become intelligent.
Related: What is the Best Doodle Breed?
1. Newfypoo
First on the list of giant Doodle breeds is the Newfypoo. The Newfypoo is a cross between the Canadian Newfoundland and the Standard Poodle. This Doodle breed stands at a height range of 23 to 30 inches and could weigh up to 110 pounds. Although they are giant, they are considered a gentle dog breed and have a good temperament.
However, if you have a small living space like an apartment or condo, you won't want to get a Newfypoo. This dog breed has quite a lot of energy, so you'll need to keep up with daily walks and activities. The Newfypoo is also called the Newdle, Newfoundlandpoo, Newfydoodle, Newfoundland-Poodle Mix Newfiedoo, Newfoundlandpoo, and Newfoundlandoodle. It's a relatively new Doodle breed that is trending due to its large size.
2. St. Berdoodles
Next up is the St. Berdoodle. This giant Doodle dog breed is a mix of Saint Bernard and Poodle. Standing as high as 30 inches and weighing as far as 120 pounds. This dog breed is found in a variety of coat colors and can range in size depending on the size of the Poodle it was bred with. If you're looking for a giant dog, then you'll want to make sure that they are bred with a Standard Poodle (the largest Poodle size). Other names for this Doodle breed are the St. Berpoo, Saint Berpoo, or Saint Bernard Poodle mix.
3. Standard Bernedoodle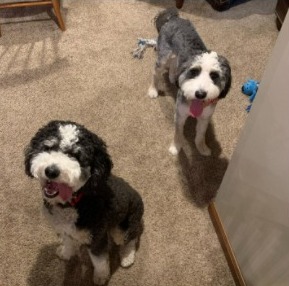 Bernedoodles are a product of the Bernese Mountain Dog and the Poodle. When Bernedoodles are fully grown, they can grow up to a height range of 23 to 29 inches and weigh up to 90 pounds. However, some Bernedoodles weigh far more than that, which justifies their selection into this category. Bernedoodles are the most popular Doodle dog on this list, and most of the time you'll see Standard Bernedoodles weighing between 70 and 90 pounds.
However, it's not uncommon for Standard Bernedoodles to weigh 100 pounds. Since male Bernese Mountain Dogs can easily weigh over 150 pounds, you'll find giant Standard Bernedoodles. Since these are a hybrid dog breed, it's difficult to predict exactly how much they will weigh.
Related: How Long Do Bernedoodles Live and How Much Does a Bernedoodle Cost?
4. Great Danoodles
Great Danoodles are a unique dog breed mix between the Great Dane and Poodle. This is a large breed doodle that weighs between 80 to 100+ pounds and measures up to 30 inches in height. If you're looking for a big Doodle dog that has long legs, then you should consider a Great Danoodle. They are also called the Great Danedoodle or Great Danepoo.
The Danoodle is one of the most unique large doodle breeds because of their varying coat colors. Oftentimes, you'll see Danedoodles with spots and multi-color coats that are unique to the Great Dane. Make sure you have a large yard and plenty of room for this Doodle to run because they are pretty active compared to some of the other breeds on this list!
5. Wolfadoodle
Last on the list of giant Doodle breeds is the Wolfadoodle. The Irish Wolfadoodle stands at a height range of 24 to 30 inches and weighs 120 pounds. If you're looking for a larger doodle dog, you'll want to select a male over a female because they tend to be much bigger. Additionally, you'll want to make sure that the Poodle they are bred with is on the larger size (60+ pounds). This gives you the best chance of getting the largest Wolfadoodle possible.
Breeding
Several giant dogs have a common problem of a short life span, a discouraging factor to a prospective dog owner looking to acquire a large dog breed. Pairing a giant dog with a Poodle does tend to slightly increase their lifespan through a genetic trait known as hybrid vigor. However, giant Doodle dogs will live shorter lifespans than small Doodle dogs.
When breeding giant doodles, it is essential to note both parents' genes since parental genes play an important role in how big they get. To produce a huge doodle size, breeders pair giant dogs with large-sized Standard Poodles. We've noticed that the size of the Standard Poodle has a large impact on how big a Doodle can get.
Traits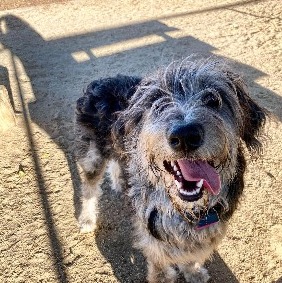 Like physical features, Doodle dogs also inherit their parent breeds' traits. Generally speaking, all the Doodles on this list are highly sociable animals, and they require attention most of the time. They're known to be athletic, love people, and enjoy the water. The St. Berdoodles and Standard Bernedoodle are more gentle and calm. You'll oftentimes see them sitting or lounging around frequently. All of these giant doodle breeds are also considered obedient, smart, and extremely loyal. However, all of these dogs bark and require a good amount of dog training.
Feeding, Training, & Exercising
Feeding, training, and exercise for giant Doodles depend on their parents' breeding purposes. Some huge Doodles seem gentle and lazy and may require little exercise and even food, while those who are athletic would most likely demand long-duration practices. A Doodle breed is known to be a very athletic dog with long legs, and they'll need lots of training and exercise to keep them in a healthy state.
Luckily, Doodles inherit the intelligence of the Poodle, which makes them easy to train. Additionally, most big Doodle dogs are food motivated, so you can train them via positive reinforcement. The downside is that if you don't mentally stimulate or exercise your giant doodle, they will get "bored" and can become destructive around the house. Make sure that you properly exercise them and stimulate their mind.
Giant Doodle Breed Health Issues
Similar to every doodle breed, the giant ones, as big and robust as they are, have their weaknesses too. The health issues for large Doodle breeds stem from their bones or hip structure caused by holding their considerable weight for a long time. Dandoodles have a high probability of having hip dysplasia, a weakening in the bones, and drooling, common in almost all the giant breeds of doodles.
The Newfypoo's health issue is drooling, a habit acquired from its parent. St Berdoodles' main health predicament is becoming overweight as they tend to be lazy despite consuming large chunks of food. They also have a high probability of drooling. Bernedoodles and Irish Wolfadoodle both have a shorter lifespan due to their larger size. It's a known fact that giant Doodle breeds live less than a smaller Doodle.
Conclusion For "Best Giant Doodle Breeds"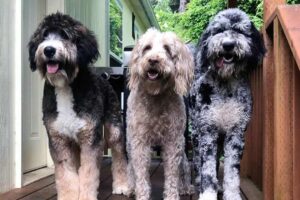 Giant Doodles, if appropriately trained, become the perfect companions to their owners and serve as trustworthy partners. Dogs like the St. Berdoodle are friendly to everyone, including kids, but you have to be careful and watchful when they are with your kids. St Berdoodles aren't aware of their incredible weight and might injure your child while playing with them.
Shedding in giant Doodles is minimal because of the curly coat inherited from Poodles. Overall, if you want to own a giant Doodle, be ready to spend time with them as they require affection. For mischievous ones like the Newfypoo and St Bernard, make sure you plan to handle the issue while they are puppies to avoid problems when they get older.
To find other dog breeds that might be compatible with you, check out:
You can learn more about Doodle breeds from watching "Poodle Mixes That Will Melt Your Heart" from Dog World down below: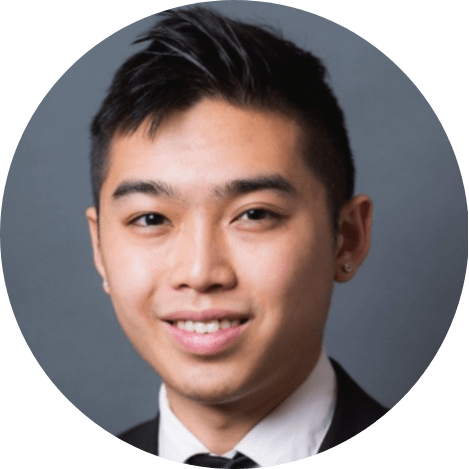 Andy is a full-time animal rescuer and owner of a toy doodle. When he's not saving dogs, Andy is one of our core writers and editors. He has been writing about dogs for over a decade. Andy joined our team because he believes that words are powerful tools that can change a dog's life for the better.
Why Trust We Love Doodles?
At We Love Doodles, we're a team of writers, veterinarians, and puppy trainers that love dogs. Our team of qualified experts researches and provides reliable information on a wide range of dog topics. Our reviews are based on customer feedback, hands-on testing, and in-depth analysis. We are fully transparent and honest to our community of dog owners and future owners.