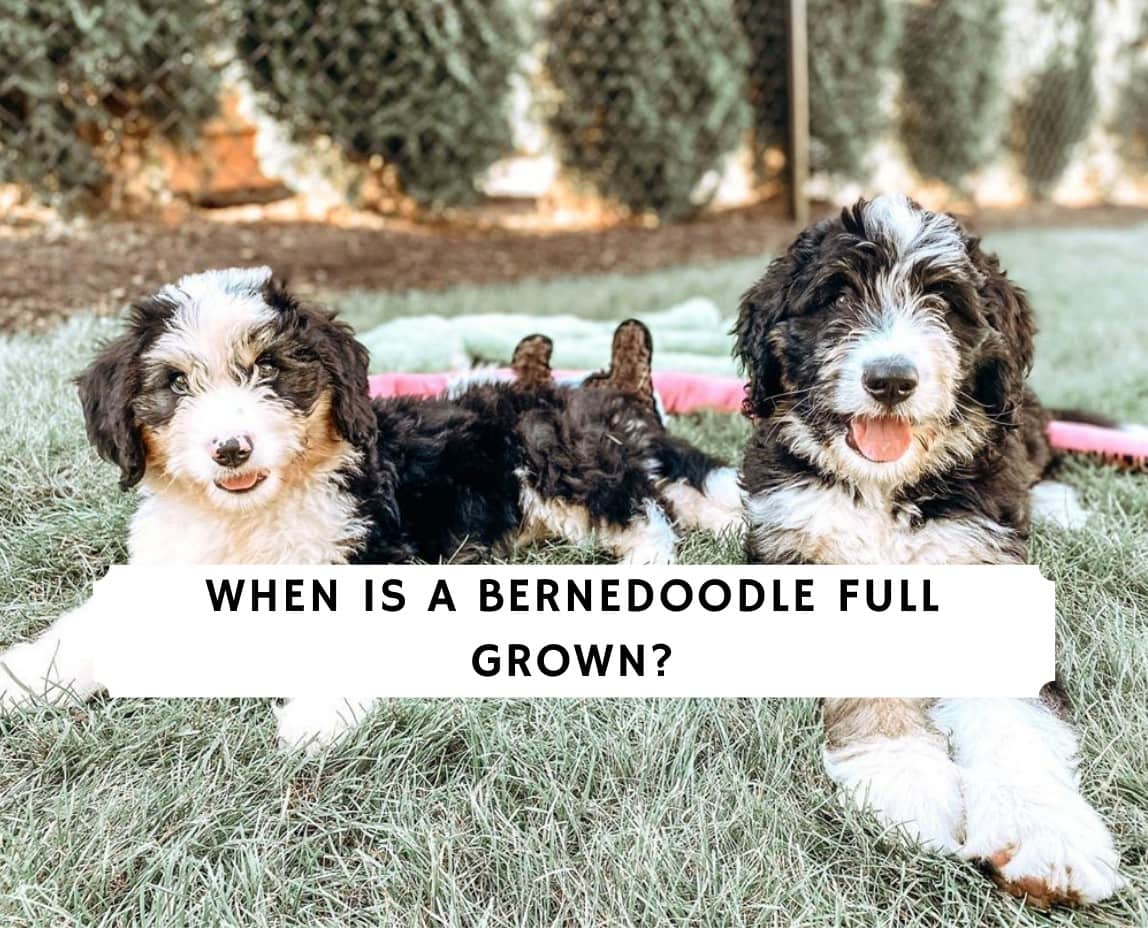 If you're considering getting a Bernedoodle, or if you've recently acquired one, you're probably wondering when they are full-grown. Bernedoodle puppies tend to grow extremely fast and you're probably getting worried they will outgrow their crate.
However, this can be a challenging question to answer because every Bernedoodle puppy tends to grow at a different pace. We do, however, have some data and tips for understanding when a Bernedoodle is full-grown.
We've created a standard growth curve based on various Bernedoodle owners that you can use to calculate the approximate size or weight of your dog. While it won't be exact, it will definitely give you an idea of how big your Bernedoodle puppy will get! 
Here is the general rule of thumb. Most Bernedoodles will reach a full-grown size at about a year old.  At this point, Bernedoodles are considered to be at 90% to 95% of their full-grown body weight and have mostly finished growing in height. They may still grow slightly in weight, but their growth will slow down significantly from when they were a puppy. 
If you want to genetically test for your Bernedoodles future weight, we highly suggest you check out Embark DNA Tests because we found this to be very accurate for our Doodles.
Other articles you might like: Best Dog Food For a Bernedoodle.
Calculating A Bernedoodles Growth
There is a formula that you can use to approximate the growth rate of your Bernedoodle. This formula is based specifically on the age of your puppy.
Here is the formula: Bernedoodle Current Weight x [1 + (100 / % of size in weeks)]
Are you confused yet? Let's break it down a bit further. According to estimates, Bernedoodles reach about 30% of their total growth at around 12 weeks or 3 months. So if your Bernedoodle weighs 10 pounds at 3 months old, you would calculate using our formula like this:
10 x [1 + (100 / 30%)] = 10 x 4.33 = 43.33 pounds as full-grown Bernedoodle in weight. We know that standard Bernedoodles are generally larger than this. Remember we are just providing an example of the formula here.
Another way you can look at this calculation, with the assumption that your Bernedoodle will be 30% grown at 3 months, is to simply tack on the other 70% left to grow. Of course, that's exactly what the calculation accomplishes. At about 15 weeks old, your Bernedoodle will be 50% of their total body weight, so you can just double their weight at 15 weeks old.
Remember that this is not a guarantee of your Bernedoodle's size but rather a rough estimate. There are a lot of things that can play a part in the end number and we will talk about those things shortly.
Bernedoodle Size Expectations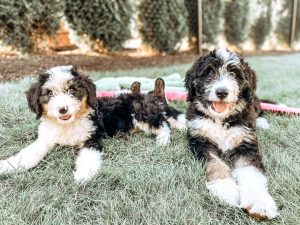 Keep in mind that there are 4 main size categories for Bernedoodles: toy, mini, medium, and standard. These categories have broad height and weight ranges. If you know which category your Bernedoodle falls into, it could be another factor that will help you know how big they might get.
Here is a reminder of those Bernedoodle sizes and associated measurements.
| | | |
| --- | --- | --- |
| Bernedoodle Size | Weight Range | Height at Shoulder |
| Standard Bernedoodle | 70 to 90 pounds | 23 to 29 inches |
| Medium Bernedoodle | 40 to 70 pounds | 22 to 23 inches |
| | 24 to 40 pounds | 18 to 22 inches |
| Tiny/Toy Bernedoodle | 10 to 24 pounds | 12 to 17 inches |
In addition to their general sizes, we also plotted the relative weights of each of the Bernenoodle classes.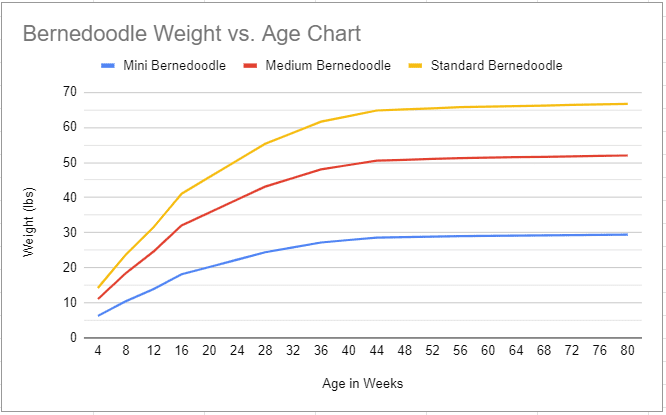 The size ranges here are put together based on average reported sizes across the board. It is possible your Bernedoodle will be larger or even smaller than these ranges. Remember that these things are affected by diet, health, genetics, and more.
One other thing to remember is that females tend to be up to 10% smaller than their male counterparts. Some females are just as large as the male, but the probability is that they will be slightly smaller.
Using a DNA Test to Estimate Weight for Your Full Grown Bernedoodle
Another option for estimating the weight of your Bernedoodle would be to use a DNA test. This saves you the Bernedoodle weight calculation headache and gives you a pretty good idea of what to expect.
DNA tests tell you a very close estimate of the expected size of your Bernedoodle when they are full-grown but they have some additional benefits as well. This is a great way to determine whether or not your dog may fall victim to any of the health risks associated with the breed, or other health risks for that matter.
Additionally, a DNA test will also tell you their complete dog breed ratios. You can also learn who their relatives might be. You might already have this information if your Bernedoodle came from a breeder but it could still be interesting to know!
We have found that DNA tests appear to be incredibly accurate. Some tests operate on a saliva test and you get results in as little as 2 weeks! If you're interested in doing a DNA test, we highly suggest that you check out Embark DNA Tests!
How to Know When Your Bernedoodle is Done Growing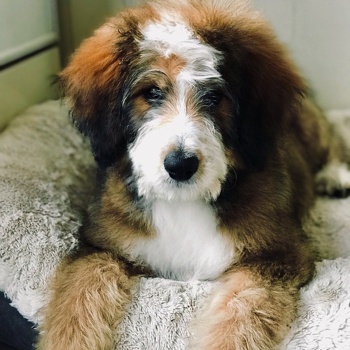 You're officially 12 months in and your mini Bernedoodle weighs a solid 30 pounds. Are they done growing yet or will they get bigger? They're nearing the top of the estimated weight range so it would be good to know if there is more growth yet to come, right?
Unfortunately, there is nothing that says they absolutely will stop growing at a certain age. Remember that the parent dogs (genetics) can make a significant difference in growth and the growth rate overall. Bernedoodle parents are not always a standard selection especially since there is such a wide range of Bernedoodle sizes.
You've probably heard rumors that most dogs are finished growing by 12 months old – this is really a bit of a myth. The good news is that they are typically mostly done growing by this age. At 12 months, your mini Bernedoodle is most likely going to be at least 90% of his full weight and nearly finished growing in height, but he can continue to grow in slight amounts until he is up to 3 years old!
In fact, experts say that the earliest you should expect your Bernedoodle to be completely grown is at 2 years of age. The largest amount of growth does take place in the first year of life, but because this is considered a giant breed (for standard Bernedoodles), they grow slowly over time.
Here is another table you can reference. We've broken out the estimates based on the genetics and the size to give you a timeframe to expect for your Bernedoodle to be full grown.
| | | | |
| --- | --- | --- | --- |
| Bernedoodle Generation | Bernedoodle Makeup | Height Growth | Weight Growth |
| F1 Bernedoodles | 50% each Bernese Mountain Dog and 50% Poodle | 12-14 mo | Up to 2.5 years |
| | 75% Poodle and 25% Bernese Mountain Dog | 12 mo | 18-20 months |
| Australian Bernedoodle | Bernese Mountain Dog, Poodle, Aussiedoodle mix | 12 mo | 2 years |
These are rough estimates but they give you an idea of how the breed and genetics can affect the overall growth rate. Did you know that Poodles typically do not reach full growth until they are 18 months old?
One more thing to point out here. Notice that for the most part, the height growth is complete by 12 months. This means while your Bernedoodle may add some weight, they will most likely not grow any taller in height so some of the growth will not be as noticeable.
For most Bernedoodles, you will notice the most growth in the 3 to 8-month timeframe of life. This is when your Bernedoodle will shed that puppy size and really hit a growth spurt. This will be the most noticeable growth stage and then growth will drop to a slower rate, which is why it may seem like your Bernedoodle is no longer growing.
Factors that Can Affect a Bernedoodle's Growth
Now, let's really dig into things that could potentially affect the growth and growth rate of your Bernedoodle. Remember that things like diet and genetics can play a pretty significant role so you may want to consider those factors.
If you have a toy Bernedoodle, they will probably be finished growing much sooner. In fact, some of these smaller breeds finish growing before they reach 12 months of age. In general, the smaller the dog breed, the quicker they will finish growing.
On the other hand, the mini Bernedoodle typically reaches full growth somewhere near the 12 to 14 month age range. For a Bernedoodle, this may be slightly extended but it gives you a good approximation.
Here are some things to keep in mind that could affect the growth of your Bernedoodle.
Nutrition
Exercise
Size expectancy
Gender
Parent size and breeds
Breed standard growth
Size of the litter
How to Tell if Your Bernedoodle is Done Growing
The best way to truly know if your Bernedoodle is finished growing is to monitor their height and weight on a regular basis from the time the Bernedoodle comes to your home.
You could have a monthly measurement day and track the sizes or just check them at random even. When your Bernedoodle is about a year old, you will notice that their height growth starts to taper and may even stop. This is about when height growth is complete but they might not be finished growing at that time.
Conclusion When is a Bernedoodle Full Grown?
It can be challenging to gauge for sure when a Bernedoodle is finished growing, but hopefully these tips and insights will give you a good reference as to what you can expect for growth and when.
Remember that understanding your Bernedoodle's genetics could make a difference in understanding the growth rates of your dog. The more you know, the better! Here's to a growing, healthy Bernedoodle in your home!
Garrett loves animals and is a huge advocate for all Doodle dog breeds. He owns his own Goldendoodle named Kona. In addition, he volunteers at the Humane Society of Silicon Valley, where he fosters dogs and helps animals. Garrett enjoys writing about Doodles and believes that dogs can teach humans more about how to live than humans can teach a dog.
Why Trust We Love Doodles?
At We Love Doodles, we're a team of writers, veterinarians, and puppy trainers that love dogs. Our team of qualified experts researches and provides reliable information on a wide range of dog topics. Our reviews are based on customer feedback, hands-on testing, and in-depth analysis. We are fully transparent and honest to our community of dog owners and future owners.