Did you know that your dog can suffer from anxiety? To most observers, it will appear the dog is simply misbehaving. However, there could be a good reason for such behavioral problems.
Dogs' experiences with anxiety mimic those of humans. Your poor pup may be 'acting out' because its anxiety is causing severe discomfort and frustration, much like it would for you.
You can't send your dog to cognitive-behavioral therapy, but you ease its anxiety with other, very safe methods. Your dog can't tell you what's wrong, but you can watch for the signs of anxiety.
Educate yourself on this treatment for your dog's anxiety, then talk to your vet about the possibility of Trazodone.
Before you scroll down this guide, "Trazodone For Dogs – Dosage by Weight," you can check out these other dog-related questions: How Much Robitussin For Dogs and Welactin For Dogs Review.
How Much Trazodone for Dogs?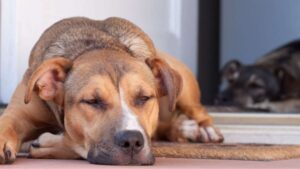 The exact Trazodone dosage will depend on the unique needs of your dog. However, the following Trazodone for dogs usage chart is a helpful tool when you are first collecting information. We highly encourage you to read the rest of our article explaining Trazodone for dogs. Then, of course, speak with your vet about the proper dosage for your unique pup. 
Why Trazodone?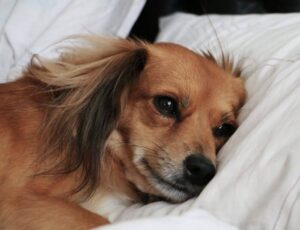 Trazodone is a safe medication approved by the FDA and by many vets. (We will discuss these points more fully later.)
In humans, Trazodone was developed to treat depression. This medication falls into the category of Selective Serotonin Reuptake Inhibitor, or SSRI, which is designed to keep neurons from reabsorbing serotonin.
Because serotonin is a neurotransmitter that regulates mood, it is important to have the right amount in the brain. Sometimes, neurons reabsorb more serotonin than they should, which can change a person's temperament. By blocking reabsorption, more serotonin can remain in the brain and allow the person to feel more like themselves.
In dogs, an unbalance of serotonin can lead to anxiety. Trazodone reestablishes the balance the same way it does in humans.
Recognizing the Signs of Anxiety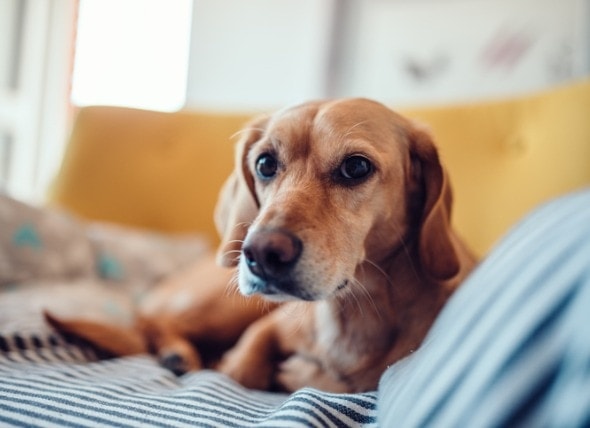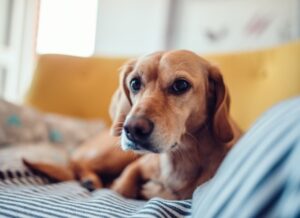 There are likely one or more triggers for your pet's anxiety. Think back to its behavioral patterns. Can you cite a common precursor? If you're unsure, try to pay close attention going forward.
Below, you will find some common triggers:
Separation from you
Loud noises
Thunder
Fireworks
Car rides
Visits to the vet
Confinement
New people
When your dog finds itself in any of these stressful situations, you may notice it act up in the following ways:
Showing aggression
Being skittish around people
Being skittish in the car or when away from home
Acting anti-social
Destroying property
Having accidents in the house
Note: the final two bullets typically justify a Trazodone prescription, as they are signs of severe anxiety.
How To Administer Trazodone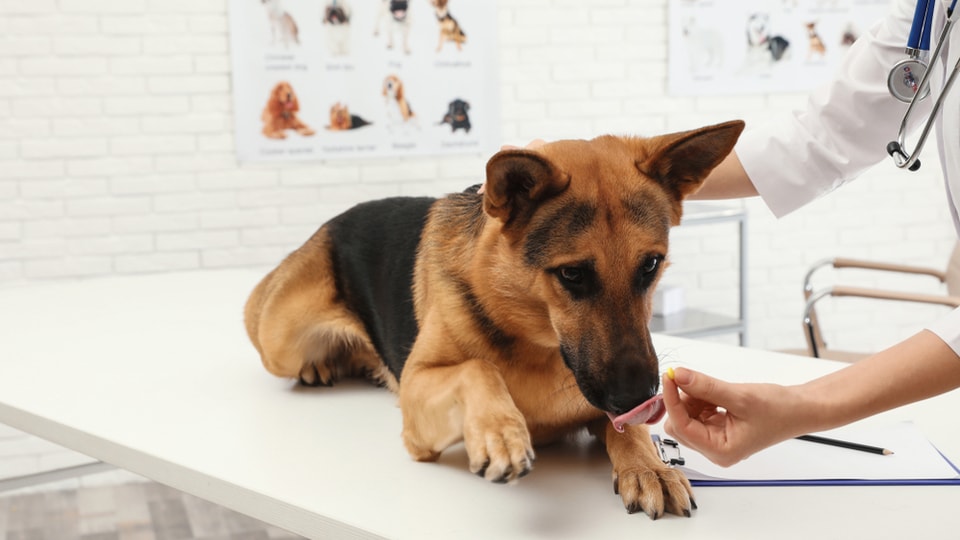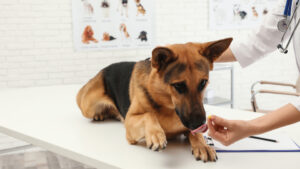 Although the dosage differs depending on your specific dog, a vet will likely start your pet at a low dose and increase it gradually, as needed.
There are two options for treating dogs with Trazodone. The first option is to administer the pill regularly every day to maintain a state of calm over a long period. Another option is to administer Trazodone as a preventative measure before a stressful situation.
Luckily, the effects of Trazodone are evident shortly after administration, so your dog will be ready to face its fears after only a short period. Keep in mind that you should never give your dog more than one dose within 8 hours.
Trazodone comes in pill form, which can be difficult to convince some dogs to take. If you run into this problem, you can mix the pill into your dog's food so that it doesn't notice. You'll also find a wide variety of "pill pockets" available online and in stores. 
Is Trazodone for Dogs Safe?
Trazodone has been available for humans since 1981 when the FDA gave its stamp of approval. However, it didn't make its way into the veterinary field until 2000.
Initially, vets were skeptical of Trazodone because it had only been used on humans. Over the past decade, it has been increasing in popularity among vets due to additional research.
Recently, researchers have found that Trazodone is more effective than other medications in the following ways:
Eases fear of loud noises
Eases compulsive behaviors (excessive licking, tail chasing, etc.)
Unfortunately, finding the correct dosage can be tricky. Your dog's size will be a contributing factor, but not the only one. Any other medications your dog takes can affect the dosage of Trazodone and even whether or not it is safe.
Mixing certain medications with Trazadone can lead to fatal drug-to-drug interactions. Therefore, it is crucial to follow instructions from your vet.
Your vet should also monitor your dog while on Trazodone. He or she can track the effectiveness so that you know if the medication is worth taking. The vet can also observe your dog for any potential side effects.
In this article, you will find a Trazodone for dogs dosage chart, but these are simply guidelines. If your vet suggests a different dosage, follow that treatment plan instead. When taken exactly as prescribed by the vet, Trazodone is perfectly safe for your dog.
History of Trazodone
Although the FDA did not approve Trazodone until the 1980s, people had begun developing it in the 1960s. It was intended to be an antidepressant. Today, however, it is widely used to treat sleep disorders and anxiety, as well as depression.
Currently, Trazodone treats depression and anxiety in over 22 million Americans. When administered at the correct dosage, its sedative effects relax people.
Because Trazodone was previously developed as a sedative, many doctors were hesitant to prescribe it in the beginning. Since then, it has been adjusted and doctors are now more accepting of its use.
Trazodone for Dogs Usage Chart
| | | |
| --- | --- | --- |
| Trazodone Dosage | Weight in Pounds | Weight in Kilograms |
| Ask your Vet | Under 5 lbs | Under 2 kg |
| 20-25 mg | 10-20 lbs | 5-10 kg |
| 50-55 mg | 20-30 lbs | 10-15 kg |
| 75-80 mg | 30-40 lbs | 16-20 kg |
| 100-120 mg | 40-60 lbs | 20-30 kg |
| 150-175 mg | 70-90 lbs | 35-40 kg |
| 200-250 mg | 100 lbs or More | 45 kg or More |
50 mg Trazodone for Dogs Usage Chart
| | | |
| --- | --- | --- |
| Trazodone Dosage (in 50 mg Tablets) | Weight in Pounds | Weight in Kilograms |
| Ask your Vet | Under 5 lbs | Under 2 kg |
| 1/2 Tablet | 10-20 lbs | 5-10 kg |
| 1 Tablet | 20-30 lbs | 10-15 kg |
| 1 1/2 Tablet | 30-40 lbs | 16-20 kg |
| 2 Tablets | 40-60 lbs | 20-30 kg |
| 2 1/2 Tablets | 70-90 lbs | 35-40 kg |
| 3 Tablets | 100 lbs or More | 45 kg or More |
100 mg Trazodone for Dogs Usage Chart
| | | |
| --- | --- | --- |
| Trazodone Dosage (in 100 mg Tablets) | Weight in Pounds | Weight in Kilograms |
| Ask your Vet | Under 5 lbs | Under 2 kg |
| 1/4 Tablet | 10-20 lbs | 5-10 kg |
| 1/2 Tablet | 20-30 lbs | 10-15 kg |
| 1/2 Tablet + 1/4 Tablet | 30-40 lbs | 16-20 kg |
| 1 Tablet | 40-60 lbs | 20-30 kg |
| 1 Tablet + 1/4 Tablet | 70-90 lbs | 35-40 kg |
| 1 Tablet + 1/2 Tablet | 100 lbs or More | 45 kg or More |
Max Trazodone Dose for Dogs
It is highly unusual for a vet to prescribe your dog more than 12 mg per pound. In most cases, the dosage is 2.5 to 3.5 mg per pound.
Always follow your vet's instructions because too much Trazodone could cause your dog to become dangerously sedated.
If your dog has taken too much Trazodone, immediately reach out to an emergency vet.
Potential Side Effects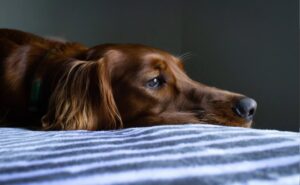 When giving your dog Trazodone, be sure to watch for the following potential side effects:
Vomiting or gagging
Diarrhea
GI issues
Colitis, or an inflamed colon
Hyperactivity
Tremors, shaking, or trembling
Rapid breathing
Heightened anxiety or aggression
Increased appetite
Increased salivation
Lethargy or sedation
Coma
Weakness or fainting
Loss of muscle control
Typically, any minor side effects your dog experiences will die down once it has been consistently taking the medication for several days.
Serotonin Syndrome
Another severe side effect is known as serotonin syndrome. Remember that Trazodone increases the levels of serotonin in the brain. In most cases, this is necessary to alleviate anxiety, but levels that are too high lead to serotonin syndrome. Here are some common signs of this syndrome:
Increased heart rate or blood pressure
Sensitive skin
Elevated body temperature
Dilated pupils
Increased vocalization
Depression
Blindness
Confusion
Trouble breathing
Paralysis
If you think your dog is suffering from serotonin syndrome, call a vet immediately. When it is caught quickly and treated effectively, dogs can make a full recovery. However, if they are suffering for a long period, seizures and hyperthermia can have long-term effects.
This is a very rare side effect of Trazodone, and it is much more likely to happen if your dog finds the medication somewhere and swallows too much of it.
Frequently Asked Questions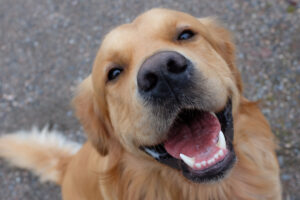 Do you still have some unanswered questions? It's best to know everything you can while treating your anxious dog. Continue reading for additional answers.
What Are Some Alternatives to Trazodone?
Your vet may suggest any of the following:
CBD oil: a natural remedy for anxiety for your dog
Trazodone
Behavioral modification training: you or a professional can teach your dog to work through anxiety-provoking situations. This treatment is frequently combined with Trazodone if it is not effective alone.
Other medications: these can be used alone or combined with Trazodone, as prescribed by the vet.
Which Medications Are Likely To Interact With Trazodone?
The following medications could increase the risk of serotonin syndrome while taking Trazodone:
Amitraz
Amitriptyline
Clomipramine
Metoclopramide
Selegiline
Tramadol
Fluoxetine
These medications can make Trazodone less effective:
Phenothiazines
Phenobarbital
Rifampin
What Are Some Common Names for Trazodone?
Trazodone is also known as Desyrel or Leptro.
Conclusion For "Trazodone For Dogs Dosage by Weight"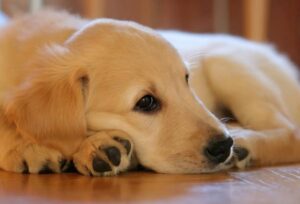 Anxiety can present in many ways, but it is just as painful for dogs as it is for humans. If left untreated, it will lead to worsened behaviors over time. However, there are many treatment plans for anxious dogs.
Trazodone is a safe and effective method for treating your pup's anxiety. It has been studied extensively on humans, and vets have been accepting of it since additional research on dogs has been done.
Be sure to discuss this option with your vet. There are several dangerous side effects if Trazodone is administered incorrectly, and there are many aspects to consider that only your vet can understand fully.
Additionally, if you do have Trazodone at home, keep it out of reach of your dog to avoid an overdose.
Once you have taken the proper precautions, Trazodone can reduce separation and travel anxiety, noise phobias, and compulsive behaviors for your pup. You wouldn't want to be trapped by crippling anxiety, and neither does your dog. Keep your pet safe and happy with the proper administration of Trazodone.
If you find this guide, "Trazodone For Dogs Dosage by Weight," helpful, you can check out these other dog-related questions answered by our team:
You can learn more about giving your dog Trazodone by watching "Trazodone for Dogs: Vet-Approved for Anxiety & Aggression" down below: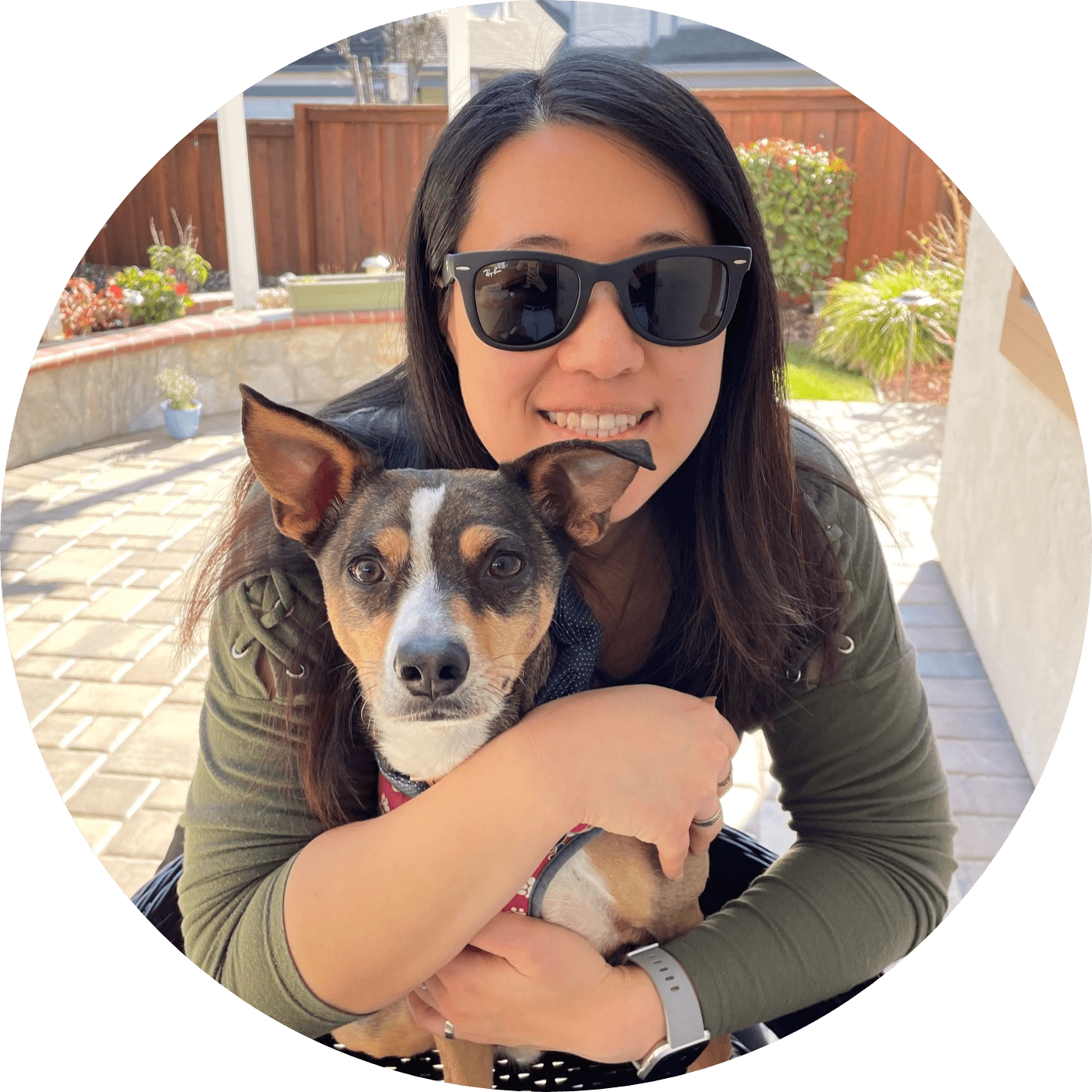 Dr. Sabrina Kong graduated from the Royal Veterinary College in England in 2016 and has been working at a small animal clinic in Northern California since then. She grew up in the Bay Area and got her bachelor's degree from Cal Poly San Luis Obispo. She also became a Certified Canine Rehabilitation Practitioner through a program at the University of Tennessee.
When she isn't in the clinic taking care of her four-legged patients, she enjoys traveling and trying new foods with her friends and her three-legged dog, Apollo. She adopted Apollo from her clinic when he was a puppy with numerous health issues. Dr. Kong truly cares about taking care of animals.