Dogs are known for their loyal and loving nature but can become sad when faced with uncomfortable situations. One of the most common examples of this is a pet parent finding their dog depressed wearing a cone.
If your dog has an injury or illness that requires them to wear a cone, they may feel overwhelmed and confused. These feelings can grow into depression if your dog doesn't receive enough attention and guidance.
In this post, we'll explain the reasons why you may notice your dog depressed wearing a cone. We'll also discuss how dog owners can comfort their pets. Read on to learn more!
Before you scroll down this guide, "Dog Depressed Wearing Cone: How to Comfort Your Dog," check out: Can My Dog Sleep With a Cone On? and How Long to Keep a Cone on a Dog After Neutering?.
Dog Depressed Wearing Cone: At a Glance
A dog cone, also known as an Elizabethan collar, is a protective device that prevents dogs from licking or scratching their injuries. Most dog owners are familiar with dog cones, as veterinarians commonly use them when a dog needs to heal from an injury or illness.
Many dogs find it unpleasant, shameful, and even uncomfortable to wear a cone since it limits their ability to do the things they enjoy. For example, dogs love drinking water, eating food with ease, chasing their own tail, and more!
With a dog cone on, your dog can't do any of these things. As a result, your dog may feel depressed wearing a cone.
However, the reality is that wearing a cone is in your dog's best interest. And it will likely have to wear one at some point. Your dog might even get aggressive when you try to help it with the cone. This is usually because a dog doesn't understand why it has to wear the cone and will naturally get frustrated.
How Dog Cones Help
Dogs, especially active ones, are always up to different things like running and playing. With so much activity, your dog is likely to injure itself at some point. Depending on your dog's injury, the vet may recommend it wear a cone for some time until it heals.
Veterinarians prescribe dog cones to prevent dogs from scratching or licking their wounds. These can include everything from sores that won't heal to stitches after surgery.
If your dog does not wear the cone, it may end up opening, licking, or scratching the wound. Allowing this to happen will hinder the healing process and create a breeding ground for bacteria.
Therefore, you shouldn't feel guilty if your dog needs to use a cone, as it is important for its well-being!
Why Is My Dog So Sad With a Cone On?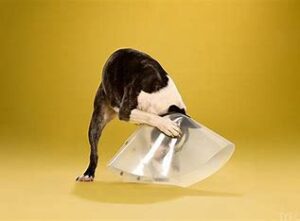 As a pet owner, you should not expect your dog to be happy about wearing a cone. After all, they'll have to go weeks without being able to do most of their favorite activities easily. This would cause anyone to be upset!
In fact, this is the very reason why dogs become so depressed when they have to wear a dog cone. It's not because of the cone itself but because it stops them from doing everything they love. This can lead to behavior changes such as loss of appetite, lack of energy, or even aggression.
It may be disheartening to see your dog depressed wearing a cone, but remember that it is only temporary. Thankfully, you can comfort your dog during this tough period.
How Do You Make Your Dog Happy When Wearing A Cone?
Making a dog that's depressed from wearing a cone happy requires you to go the extra mile. You'll need to dedicate more time and attention to your dog.
Here are some helpful tips dog owners can use to make their dogs feel happy and comfortable, even while wearing a cone:
Talk to your dog in a soothing voice and cuddle them often
Give your dog more attention by playing with their favorite toys or engaging in their favorite activities
Make their resting area comfortable and provide them with plenty of food, water, and blankets
Take your dog for walks, as long as they are allowed to do so
Offer your dog plenty of treats, dog snacks, and dog chews
Do Dogs Feel Shame Wearing a Cone?
You may think it's called "the cone of shame" for a reason, but it's actually hard to tell whether dogs feel shame wearing a cone. However, it is clear that dogs feel miserable wearing a cone. These bad feelings can lead to shame.
Your dog may believe that the cone is a form of punishment for something they've done. As a result, they may feel shame because they think they've done something wrong. These feelings can also extend to a dog acting timider and less social when wearing a cone.
Can My Dog Sleep With a Cone On?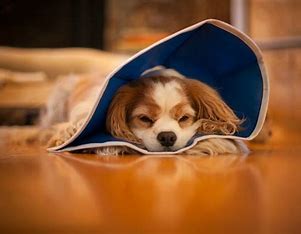 Whether your dog can sleep with a cone depends on the quality of the cone and how comfortable the dog is wearing it.
Not all dogs will get used to a cone quickly. They may struggle to do their everyday activities and quickly get frustrated. However, it's important that your dog wears their cone as often as possible.
Some dogs will sneak in a lick or two while the cone is off, which can be detrimental to their healing. Other dogs may also get used to sleeping with a cone. In the end, comfort is key.
A plastic cone will make it challenging to find a good sleeping position. So, try to find a soft fabric dog cone that is more comfortable for sleeping.
Is It Uncomfortable for a Dog to Wear A Cone?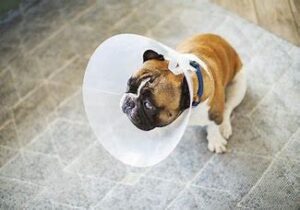 Wearing a cone is highly uncomfortable for dogs, both physically and emotionally. Many dogs are depressed wearing cones because they can't do basic activities without difficulty. Furthermore, they may think they're being punished if you don't give them enough love and reassurance.
In addition, wearing a cone irritates some dogs so much that they may struggle to get it off themselves by any means possible. This is why these cones are extremely tight and secured, making them impossible to cut loose.
The important thing to remember is that a dog cone will actually provide more comfort in the long run. The quicker your dog can heal, the quicker it'll be able to remove the cone and enjoy a healthy body!
How Long Does It Take for a Dog to Adjust to a Cone?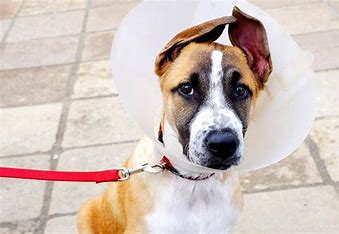 Several factors impact the amount of time it takes for dogs to adjust to wearing a dog cone. Here are some of the factors to consider:
Size and Breed
The size and breed of your dog can affect how quickly they adjust to wearing a cone. Smaller breeds are usually more comfortable in dog cones than larger breeds because the cones are smaller and lighter.
You can expect smaller breeds to adjust to a dog cone in around two to three days, while larger breeds may take up to two weeks.
Type of Cone
The type of cone you choose can also affect how quickly your dog adjusts. Plastic dog cones tend to be more irritating and uncomfortable for dogs. Because of this, it may take longer for your dog to adjust to a plastic cone (usually four to five days and sometimes even longer).
On the other hand, dog cones made out of fabric may take only two to three days for a dog to feel comfortable. This is likely because the softer fabric dog cones are more comfortable.
Age
Thanks to their curious and playful natures, puppies usually take less time to adjust to dog cones. Dog owners can expect their puppies to adjust easily to a dog cone (a few days), while older dogs may take up to a week or more.
Frequently Asked Questions
Can a cone cause dog anxiety?
Wearing a cone may give a dog anxiety because it isn't able to do many everyday activities. In addition, a dog may feel claustrophobic wearing a cone, which can lead to anxiety.
How do you cheer up a dog with a cone?
Your dog may feel sad and depressed wearing a cone. That's why you need to make sure to show them extra love and attention. Cheer your pup up by showering them with love and ensuring their comfort.
Can I take my dogs cone off at night?
You may take your dog's cone off at night when it first wears it. However, you should avoid doing this, as it slows the healing process.
Help Your Dog Depressed Wearing Cone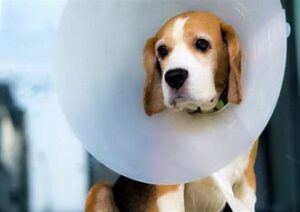 It's common to see a dog depressed wearing a cone. Since dog cones are unfamiliar and uncomfortable, a dog will likely retaliate or act sad when wearing one.
As dog owners, it is important to be patient and understanding during this time. Dog cones provide safety and protection for your dog. With enough patience, care, and love, dog owners can help their dogs feel less depressed wearing a cone.
If you find this guide, "Dog Depressed Wearing Cone: How to Comfort Your Dog," helpful, check out these other dog guides:
You can learn more tips on dogs with cones by watching "Dog Cone Care Tips" down below:
Garrett loves animals and is a huge advocate for all Doodle dog breeds. He owns his own Goldendoodle named Kona. In addition, he volunteers at the Humane Society of Silicon Valley, where he fosters dogs and helps animals. Garrett enjoys writing about Doodles and believes that dogs can teach humans more about how to live than humans can teach a dog.
Why Trust We Love Doodles?
At We Love Doodles, we're a team of writers, veterinarians, and puppy trainers that love dogs. Our team of qualified experts researches and provides reliable information on a wide range of dog topics. Our reviews are based on customer feedback, hands-on testing, and in-depth analysis. We are fully transparent and honest to our community of dog owners and future owners.