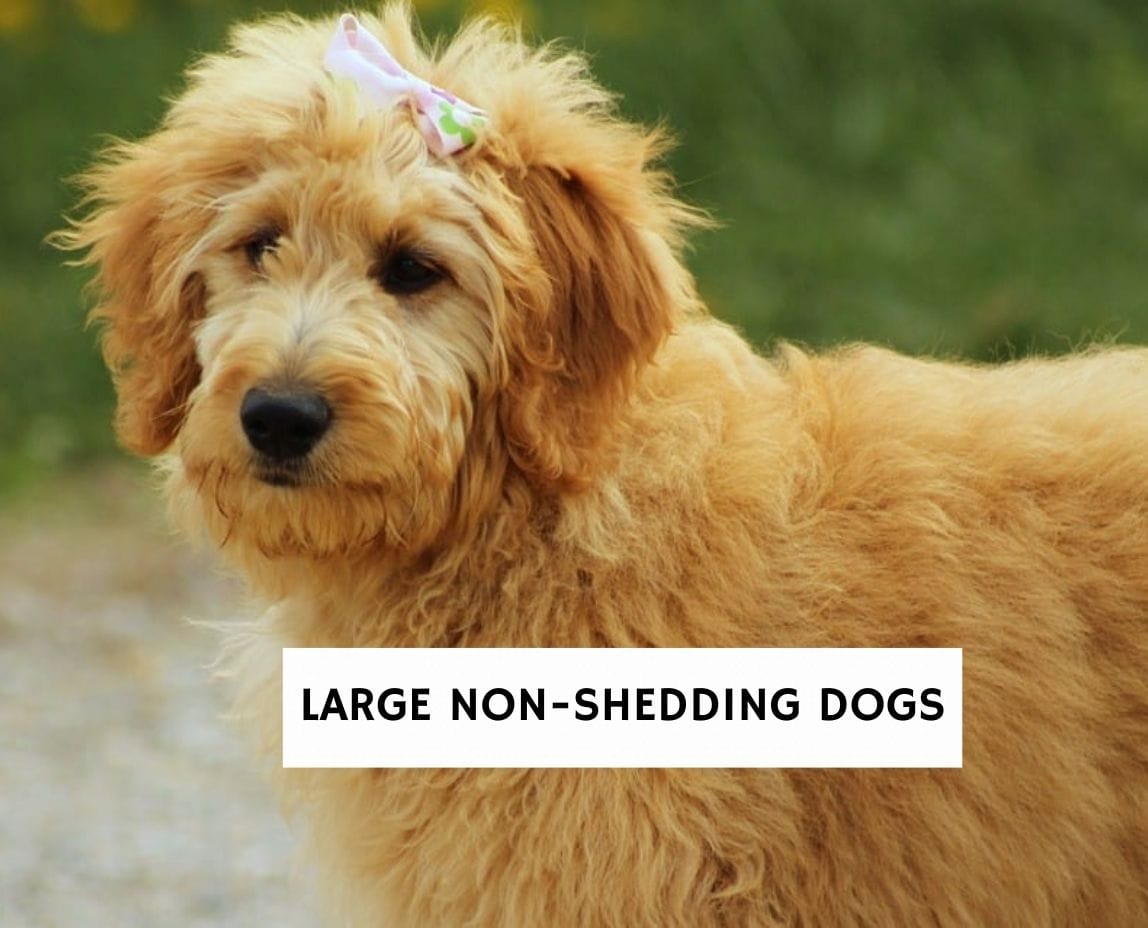 When someone thinks of buying a large dog, the biggest hassle that crosses their mind is the shedding dogs do and the mess that it leaves in the house to pick up after. You know those times when you sweep the floor or vacuum it, and your dog runs throughout the house and leaves tons of fur?
If you are one of those that worries about this situation, there are large dogs out there that are considered non-shedding breeds! Remember though, all dogs shed at least a little bit, even if they are touted as non-shedding. Below is our list of the 6 best large non shedding dogs.
Before scrolling down this list, you might like: 5 Best Medium Non-Shedding Dog Breeds!
1. Standard Goldendoodle
Our top pick for large non shedding dogs is the standard sized Goldendoodle. Goldendoodles have become so popular nowadays because they not only look like a teddy bear, but their coats are mostly hypoallergenic and non shedding. Since they inherit genetic traits of the Poodle, they have a coat of hair that doesn't shed as opposed to fur that sheds.
The downside of getting a large non shedding dog is that you will need to regularly groom them since their fur doesn't naturally fall out. This means that you will have to give them regular haircuts every 8-12 weeks, brush them to prevent mats, and give them baths.
Standard sized Goldendoodles can easily get over 65+ pounds and stand 24+ inches tall. The standard sized Goldendoodle is the largest variety that is bred between a Golden Retriever and a Standard Poodle.
2. Komondor
White dreads galore! These dreadlocks are the Komondor's unique physical quality, otherwise known as cords, that allows it to stand out from other breeds. The cords need no brushing or help to form as they do so naturally and will get to their final length when the dog reaches about 2 years of age. Most shedding occurs in puppyhood but lessens as the cords form and the dog matures.
The cords do pose a bit of a challenge at bath time since they take extra time to dry. The Komondor is a very powerful, protective dog that tends to think on its own as they were bred to be livestock guardians. These cords were meant to disguise them into their flocks of sheep as an element of surprise for any uninvited predator that may come hunting.
This protective instinct makes them potentially aggressive towards other animals. Throughout their 10-12 years of life, they will be loyal, devoted and extremely protective of their families against strangers with deep barks and about 80-100lbs of weight backing that bark which can make the Komondor a bit intimidating. Once shown that strangers pose no threat to those they are protecting, they will revert back to their calm, friendly demeanors.
3. Irish Water Spaniel
Boasting a position on the hypoallergenic dog breed list is the tallest of the water dog breed; the Irish Water Spaniel. Their non-aggressive, playful, comical methods used to gain the attention of and please their companions will bring a smile to all faces. They take the title of "Champion Swimmer" in the dog world with webbing between their toes and are prone to naturally fetch and return. Exercise is a must for these highly active dogs to keep them mentally stimulated since they are also extremely intelligent.
Their identifiable bodies are covered in loose liver-colored curls that do need weekly attention with brushing to stimulate and create a healthy coat. A once a month trim will also be necessary but the Irish Water Spaniel's coat is very agreeable to those with allergies as there is minimal shedding of these curly locks. Exposing their coat to water early on will also properly train the curly "ringlets" into their correct shape. They rank in at 159 of 197 in AKC's popularity list and will live to be a brave companion for about 12-13 years.
4. Giant Schnauzer
If you are seeking a dog that not only sheds considerably less than other breeds but who also has a history of creating strong connections and bonds with their humans, then look to the Giant Schnauzer. Due to their highly imprintable natures and energetic personalities, it is important to go out together for exercise activities, engage in some sort of training pursuits and receive grooming sessions daily.
The Giant Schnauzer has a double coat consisting of a soft undercoat and a wiry topcoat. This lightly shedding double coat needs daily grooming but is very impervious to the collection of dirt and allergens which could potentially be carried into living spaces. Known for their rugged beards and bushy eyebrows that frame a confident gaze, the Giant Schnauzer can be strong-willed and is better suited to experienced dog owners.
They were initially bred to work the farm as guardian and livestock drivers which makes them naturally territorial when the occasion arises but otherwise they are calm, quiet, and reserved in disposition. Expect males to rise to about 27.5 inches in height and a weight of 85lbs behind them while the females of this breed rise to 25.5inches and about 75lbs backing them.
iaSchnauzer was developed in the Bavarian Alps sometime in the mid-1800s. These rugged working dogs, bred up from the Standard Schnauzer, were used to drive cattle from farm to market.
5. Belgian Malinois
Dating back to the 1800s, a 40-50lb dog breed that is part of the herding dog group and having many qualities mirroring the German Shepherd is the Belgian Malinois. Agile, quick, graceful, instinctively protective, and highly intelligent sets the Belgian Malinois up to be a prime candidate for focused training in streamlining their temperaments and molding an outstandingly versatile canine family member. Allergy sufferers will enjoy the company of a Belgian Malinois since they do not drool and their short-haired, waterproof coats are easily maintainable.
They only shed 2 times a year and during those times a simple brushing with a slicker brush will aid in removing the dead hairs. For all other times of the year, the Malinois requires occasional grooming with a medium bristle brush or hand glove. The Belgian Malinois has an intense need to be around its people and constantly in motion so they are not a breed that should be kenneled. With proper socialization at a young age and continued work on training throughout their adult lives, the Malinois will establish itself as a proud member of the family for around 14-16 years.
6. Wheaten Terriers
Originating in Ireland and known there as the "poor man's wolfhound", the Wheaten Terriers were bred to be very versatile in the multitude of tasks they were expected to undertake. They were in charge of safeguarding the farm's livestock, keeping the vermin population under control, going out hunting excursions with their masters, defending the homestead, and being a happy, affectionate family companion.
Gaining the 53 spots out of 197 breeds on the AKC popularity list with a willingness to achieve approval from its owners, the Wheaten Terrier has become one of the more playful but gentler of the Terrier breeds weighing up to about 40lbs, at most.
They possess silky soft, wavy, fluffy hair that lacks an undercoat, thus creating a coat that rarely sheds and is allergy-friendly. When long hairs do shed, they can become entangled and matted in surrounding hair if not brushed out every other day or so.
A monthly trim should be scheduled to avoid matting as well. Though headstrong, at times, the Wheaten Terrier fits perfectly into families with children and other pets. They have a life expectancy of 10-13 years and during that time will show deep devotion to every member of their family.
Tips to Control the Shedding of Your Large Dog
Now that we reviewed some of the top non shedding large dog breeds, here are a couple of tips and tricks to help decrease shedding issues in any dog. Grooming is at the top of the tips list. Begin the grooming process in a bath with a shampoo that moisturizes the dog's hair. Dry hair breaks and sheds easier than soft, supple, conditioned hair. Next, take time to figure out which type of coat your dog has, then purchase the appropriate grooming tools to allow you to brush them daily or weekly.
Yes, that is right, there are different brushing instruments for all the various types of dog coats. Choosing the right one is very important in determining whether the grooming experience will be an enjoyable one for both you and your pup, or not. Another big tip is preventing excessive shedding in your dog is to choose healthy food and supplement options so their coats are nourished from the inside out.
Experimenting to find the right kibble for your canine friend will result in a beautiful coat and a happy dog. You may even find that homemade meals work best. The most important with homemade meals is to ensure they are well-balanced with all the vitamins and nutrients needed for the health of your dog. Healthy fats such as Olive oil and fish oil added in will help as well.
Conclusion for Large Non Shedding Dogs
As stated at the beginning of this article, this list only scratches the surface of all the varieties of large, non-shedding dog breeds which also go on to include Airedale Terriers, Mastiffs, the Barbet, Bernedoodles, Portuguese Water Dogs, Standard Poodles, and so on. Do the leg work in searching out the breed that is conducive to your living arrangements and family lifestyle.
For instance, there are giant dog breeds that require lots of activity and if your family tends to be on the lower end activity level then finding a breed that can fit in with that level will make owner and dog happier with one another. All dogs are adorable, but each dog has its own personality and essentials that need to properly be met to ensure a permanent place when being added to the family circle. Make sure that you pick the right dog breed!
You will also like:
Garrett loves animals and is a huge advocate for all Doodle dog breeds. He owns his own Goldendoodle named Kona. In addition, he volunteers at the Humane Society of Silicon Valley, where he fosters dogs and helps animals. Garrett enjoys writing about Doodles and believes that dogs can teach humans more about how to live than humans can teach a dog.
Why Trust We Love Doodles?
At We Love Doodles, we're a team of writers, veterinarians, and puppy trainers that love dogs. Our team of qualified experts researches and provides reliable information on a wide range of dog topics. Our reviews are based on customer feedback, hands-on testing, and in-depth analysis. We are fully transparent and honest to our community of dog owners and future owners.