Whether you have an Aussiedoodle coming over or you're planning to adopt one, one question everyone asks is, "Do Aussiedoodles Shed?" One of the first things prospective dog owners often think about is shedding when looking for a four-legged companion. Not only can the task of constantly cleaning up fur be a hassle for any dog owner, but some people are quite affected by allergies to their pets. No matter which camp you may find yourself in, a dog like the Aussiedoodle may be a great addition to your family due to its low-shed nature.
Before scrolling down this article "Do Aussiedoodles Shed a Lot," you might find these guides helpful: When is an Aussiedoodle Full Grown and How Long Do Aussiedoodles Live?
Do Aussiedoodles Shed a Lot?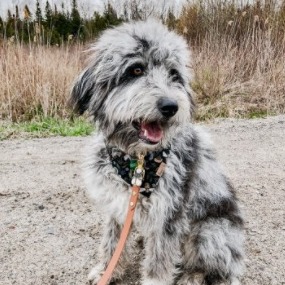 While the answer to this question is yes, there is a lot more to the story. The truth is that there is no such thing as a dog that doesn't shed. Any animals that have fur or hair will shed a little bit, even humans. However, Aussiedoodles are known as hypoallergenic dogs, which means that they shed very little compared to other breeds. This is not only great for keeping your home relatively fur-free, but it is also much less likely to trigger an allergic reaction in people prone to pet allergies.
How Hypoallergenic Dogs Help with Pet Allergies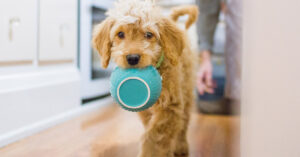 Let's look at how allergic reactions occur to find out. The culprits that trigger pet allergies in humans are proteins found in pet hair and saliva. When your puppy licks themselves, their saliva attaches to their fur dander, which then falls off as they shed. This leaves all kinds of triggers lying around the house, resulting in sneezing, irritated eyes, a runny nose, and even cause asthmatic problems.
Since hypoallergenic dogs like the Aussiedoodle shed much less than the average breed, their dander and saliva would typically cause an allergic reaction to stick to their hair rather than be scattered around your home. That's why hypoallergenic breeds like the Aussiedoodle make for wonderful dogs for people with mild pet allergies.
Aussiedoodle-Related Guide: Best Aussiedoodle Generations
What Makes An Aussiedoodle Shed Less?
An Aussiedoodle is a cross between an Australian Shepherd and a Poodle. Like many other Doodle breeds, Aussiedoodles often inherit the coat of their poodle ancestors, which consists of curly hair that doesn't shed much compared to other breeds. However, the amount your Aussiedoodle puppy sheds may be different from other Aussiedoodles depending on the type of coat they have inherited from their parents.
What Are The Differences Between Aussiedoodle Coats?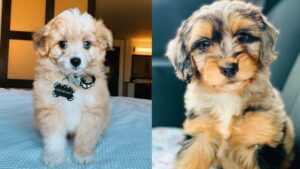 Aussiedoodle can have two types of coats – a curly coat and a wavy coat.
Curly Coat
An Aussiedoodle with a curly coat has inherited the traits of their Poodle ancestors. This is the type of coat that is often considered to be hypoallergenic because it won't shed much at all. However, a curly coat requires more care because it becomes matted easier than a wavy coat. That means that you'll have to brush your Aussiedoodle's coat more regularly to keep your puppy's hair from getting too matted. It's also a good idea to get your curly-coated Aussiedoodle professionally groomed semi-regularly.
Wavy Coat
An Aussiedoodle that takes after the Australian Shepherd side of its family will have more wavy fur and will most likely experience medium to heavy shedding. Thankfully, an Aussiedoodle with a wavy coat only has a single coat compared to the double coat of their Australian Shepherd ancestors, which means they will still shed much less than a purebred Australian Shepherd. If you're a parent of an Aussiedoodle with a wavy coat, you'll do well to brush your puppy's coat about once a week, depending on how active they are and how quickly their coat gets matted.
Aussiedoodle-Related Articles: Best Types of Aussiedoodle Haircuts and Types of Aussiedoodle Colors
How Can I Make Sure My Aussiedoodle Has a Curly Coat?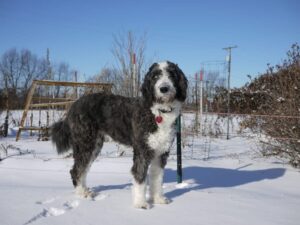 If you're looking to make sure your Aussiedoodle has the curly hair from their Poodle ancestors, lucky for you, there are steps you can take when searching for the perfect puppy to take home. If you're considering getting your Aussiedoodle puppy from a breeder, make sure to ask them about the ancestry of the litter. If you want your puppy to have more Poodle than an Australian Shepherd, your breeder will be able to show you puppies that fit what you're looking for.
What Factors Can Lead to Increased Shedding in an Aussiedoodle?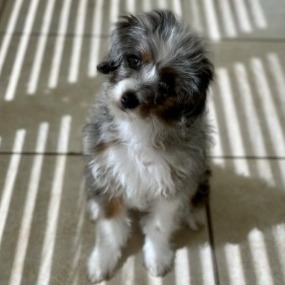 An Aussiedoodle's coat isn't the only factor that can determine how much they will shed. Health issues can also impact how much your Aussiedoodle may shed at different points in their life.
Anxiety
If your puppy is anxious or even bored, they may begin to groom themselves excessively. Not only does more grooming mean that more hair may fall out of their coat, but with enough licking, scratching, and gnawing at their skin, they may begin to suffer from hair loss. If you believe that your dog is suffering from anxiety, you can bring them to the vet to discuss treatment options. If you suspect that your puppy is just grooming more from boredom, try taking them outside and giving them some much-needed exercise. You can invest in a dog bed or dog toy if your companion is dealing with separation anxiety.
Poor Diet
Just like humans, your Aussiedoodle needs the right amounts of vitamins in their food to keep their hair strong. If they don't get all the nutrients they need, their hair may start to become brittle and weaker, causing hair to break and fall off more often. If you find that this is the case with your puppy, talk to your veterinarian about diet options that can help your puppy get a shiny and healthy coat while also improving its overall health.
What Can I Do to Prevent Shedding in My Aussiedoodle?
Even though your puppy will shed a little bit no matter what, there are still ways to make sure that your Aussiedoodle is as healthy as can be and shedding as little as possible.
1. Keep Them Healthy
As mentioned before, your puppy's health will impact the amount of hair that they are shedding. Be sure to check with your vet with any concerns you may have over your Aussiedoodle's health, and make sure to take care of every part of their wellbeing.
2. Groom Your Aussiedoodle Regularly
Keeping your puppy regularly groomed is one of the best ways to combat any shedding from your puppy that may cause allergies to flare up, or that may fill your home with unwanted dog hair. For Aussiedoodle's with curly hair, make sure to brush their coat every day, and for wavy-haired Aussiedoodles, brushing once a week is enough to keep most of their hair out of your environment. Look for a brush that is specifically designed for thicker single coats, and that can take care of knots and dirt while also being gentle on your puppy.
3. Bathe Your Pup
Regular bathing can also help keep shedding to a minimum in your Aussiedoodle. A bath every two weeks should do the trick for curly-haired varieties, while wavy-haired Aussiedoodles can take a bath about once a month. Finding a gentle and all-natural shampoo can also help keep your puppy clean while soothing any skin irritations.
4. Get Your Aussiedoodle Trimmed Professionally
Getting your puppy professionally trimmed is a great way to combat shedding no matter your Aussiedoodle's coat type, although this is especially helpful for curly-coated Aussiedoodles. Taking your puppy to the groomer's every two to three months will help keep their coat clean and keep shedding to a minimum.
Interested in an Aussiedoodle? Check out how much Aussiedoodles costs and Aussiedoodle Puppies For Sale in Florida.
Conclusion For "Do Aussiedoodles Shed"
Aussiedoodles do shed, but they tend to shed much less than other breeds because of their hypoallergenic status. How much your specific Aussiedoodle puppy sheds will be determined by whether they have inherited their Poodle parent's coat or the coat of their Australian Shepherd parent. Either way, Aussiedoodles are beautiful puppies that will make a great addition to your family.
For more Aussiedoodle informational guides and recommendations, check out:
To learn more about this dog breed mix, watch "Aussiedoodle Dogs 101" from Animal Insider down below: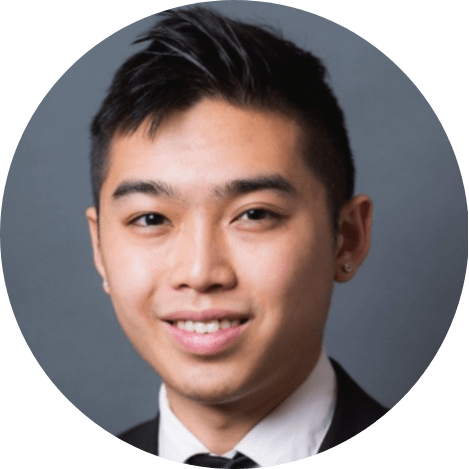 Andy is a full-time animal rescuer and owner of a toy doodle. When he's not saving dogs, Andy is one of our core writers and editors. He has been writing about dogs for over a decade. Andy joined our team because he believes that words are powerful tools that can change a dog's life for the better.
Why Trust We Love Doodles?
At We Love Doodles, we're a team of writers, veterinarians, and puppy trainers that love dogs. Our team of qualified experts researches and provides reliable information on a wide range of dog topics. Our reviews are based on customer feedback, hands-on testing, and in-depth analysis. We are fully transparent and honest to our community of dog owners and future owners.