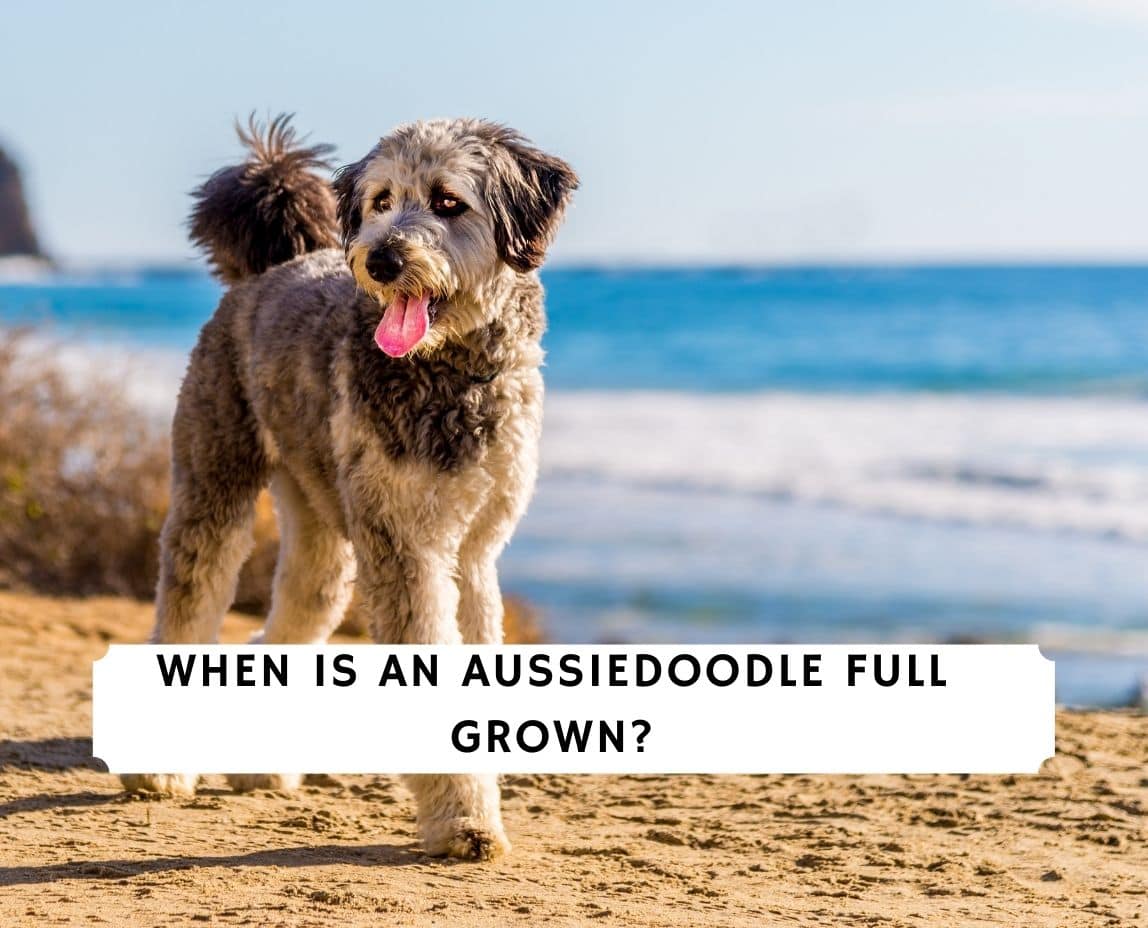 Mixed breeds often bring in diverse characteristics that make them both particularly adorable and healthy. One is these characteristics is that they grow extremely fast for the first 10 months of their life. As a new puppy owner, you might be thinking that your Aussiedoodle won't stop growing and it will become a very large dog. Luckily, these dogs typically follow a growth curve so it's easy to predict when an Aussiedoodle is full-grown.
If you're considering adding an Aussiedoodle to your family, there are some details you'll want to know, like how large will this dog get? In general, Aussiedoodles are going to be 95% of their body weight at 12 months old. An Aussiedoodle is considered full-grown at the 2-year mark when they reach the end of their adolescence phase. However, Aussiedoodles grow the fastest during the first 10 months of their life.
If you want to leave more about this dog breed, we highly suggest you read our Aussiedoodle Guide!
Sizing Up the Aussiedoodle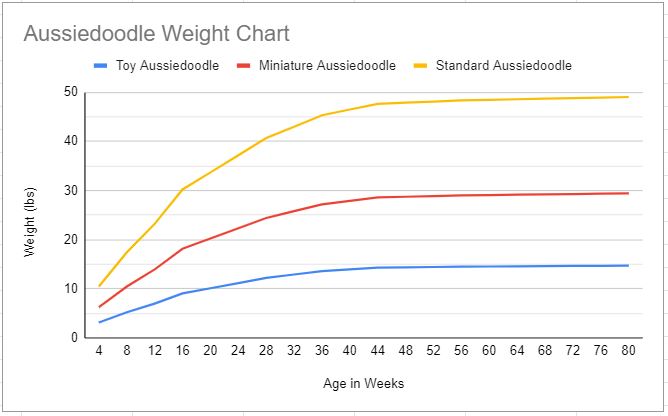 The size of the Aussiedoodle is dependent on the size of the parent dogs. While the Australian Shepherd's size is fairly standard, the Aussiedoodle can have a parent of a Miniature, Standard, or Toy Poodle. To further complicate the size expectations, mixed breeds such as the Aussiedoodle also factor in two breeds, making determining their size even less predictable.
Despite the variability, there is a typical range in which you can expect your Aussiedoodle to grow. Again, that range is based on the Poodle parent involved in the breeding. These size ranges are estimates and may not be exactly what your Aussiedoodle puppy turns out to be. If you're looking for a particular size Aussiedoodle, the best way to tell how big your dog will get is in knowing what kind of Poodle was in the breeding process. Alternatively, we found that the Embark DNA test is very accurate in terms of measuring your Aussiedoodles future weight.
Toy Aussiedoodles
A Toy Aussiedoodle is a mix between an Australian Shepherd and a Toy Poodle. These are the smallest variety of Aussiedoodle and have a fully grown size that makes them easy to carry around. Toy Aussiedoodles have a full-grown weight range between 10-15 pounds. Their height remains fairly short, reaching just 10 inches or less when measured at their shoulder. As their size remains fairly small, these Toy puppies need only between 7-11 months to reach their fully grown adult size. Among the other varieties of Aussiedoodles, this smallest size also makes it a bit easier to take care of them if space is limited. Whether you're in an apartment or small home, these Aussiedoodles don't require as much space to roam and run to get in their regular exercise.
Miniature Aussiedoodles
Miniature Aussiedoodles have a wide range when it comes to their full-grown weight. Typically, they can be anywhere between 15 and 45 pounds, depending on the size of the parents. Their height has a smaller range, measuring between 10 and 15 inches at the shoulder. With their larger size compared to the Toy Aussiedoodle, they'll take a bit longer to reach their adult size. Miniature Aussiedoodles can take between 11-13 months to grow into this grown size.
Standard Aussiedoodles
Standard Aussiedoodles have a fully grown weight range between 45-70 pounds. They are quite a bit taller than the other varieties, measuring over 15 inches tall at the shoulder. With their larger size, they take a bit longer to mature. Your Standard Aussiedoodle can expect to reach its full-grown adult size between 12-16 months. Keep in mind that these Standard Aussiedoodles may require a bit more space to run around and exercise than a Toy Aussiedoodle. They can be great fits for families with a yard or access to space to roam and run.
Aussiedoodle Growth Curve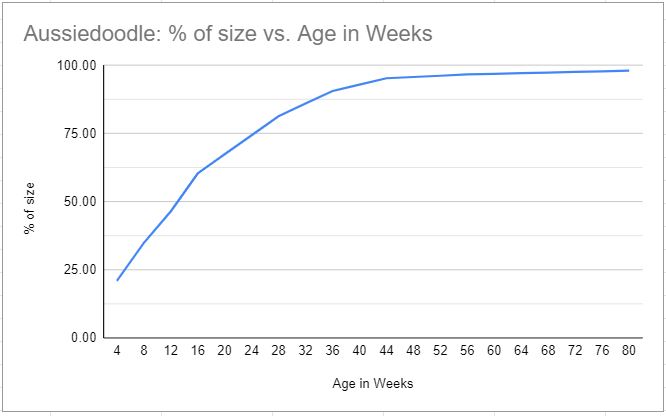 Many new puppy owners have trouble figure out when their Aussiedoodle is full-grown. We created a chart to help you figure out the future weight of your Aussiedoodle. In order to estimate the full-grown size of your Aussiedoodle, you can use these rules as an approximation:
When your Aussiedoodle is 4 weeks old, you can multiply its weight by 4 to get its full-grown body weight.
When your Aussiedoodle is 12 weeks old, you can double its weight to estimate its full-grown weight.
When your Aussiedoodle is 24 weeks old, you can multiply its weight by 1.25 to estimate its full-grown weight.
When your Aussiedoodle is 52 weeks old, they will be roughly 95% of their total body weight. It will be a slow growth until the 2-year mark when they ultimately stop growing.
Choosing the Right Size Aussiedoodle

Depending on your space limitations, it may be very important to get an Aussiedoodle puppy where you know how big your puppy will get. Because Aussiedoodles are mixed breeds and therefore don't have purebred standards they have to meet, determining the final size of the dog can be a bit of a guessing game. As you search for what kind of dog you want to bring home, be sure to ask the breeder about the parents of the puppy and how big they are. The parent's size can be an important indicator of your puppy's future size.
Beyond asking about the size of the Aussiedoodle parents, it's also important to get as much information about the puppy's pedigree as possible. This information can help you determine if there are any diseases or health concerns that have a higher likelihood of affecting your puppy. From researching available breeders to finding the right Aussiedoodle for you, adding a puppy to your family can be an exciting life event.
A key factor in the growth patterns of an Aussiedoodlepuppy also includes how well a dog is cared for. If they are given a healthy diet with food that will help them grow strong, their size might be bigger than if they were malnourished. The opposite is also true. If an Aussiedoodle consumes way too much food than what's recommended and isn't given access to regular exercise, the dog may be a much larger size than what is healthy or anticipated.
Conclusion for When is an Aussiedoodle Full Grown?
Aussiedoodles puppies tend to grow extremely fast from the day that they are brown. If you just got an Aussiedoodle, you're likely wondering when it will stop growing. The good news is that an Aussiedoodle grows really fast up until the 12-month mark. Once they are 2 years old, Aussiedoodles will stop growing.
Other articles you would like:
Garrett loves animals and is a huge advocate for all Doodle dog breeds. He owns his own Goldendoodle named Kona. In addition, he volunteers at the Humane Society of Silicon Valley, where he fosters dogs and helps animals. Garrett enjoys writing about Doodles and believes that dogs can teach humans more about how to live than humans can teach a dog.
Why Trust We Love Doodles?
At We Love Doodles, we're a team of writers, veterinarians, and puppy trainers that love dogs. Our team of qualified experts researches and provides reliable information on a wide range of dog topics. Our reviews are based on customer feedback, hands-on testing, and in-depth analysis. We are fully transparent and honest to our community of dog owners and future owners.