What do you get when you mate the intelligent and eager to please Poodle with the loyal, energetic, and also intelligent Australian Shepherd? Why an Aussiedoodle, of course. The designer dog breed is an active puppy that will require exercise every day.
It's easy to fall in love with Aussiedoodle puppies due to their friendly and loving natures. They make great therapy dogs, service dogs, and emotion support pets. Additionally, they inherit their intelligence from their parents and flourish with training that involves positive reinforcement. 
The resulting temperament is a balanced one marked by the soft and gentle nature of its Australian shepherd parent as well as the lively and fun-loving Poodle. The downside of an Aussiedoodle puppy is that they require grooming two or three times a week for their hypoallergenic luxurious coats to remain a good length and healthy-looking. However, the upside is that Aussiedoodles shed very little hair in comparison to an Australian Shepherd.
If you're looking for Aussiedoodle puppies in North Carolina, we found the best 9 breeders for you! 
Before scrolling down this list, check out these other recommendations: Goldendoodle Puppies in North Carolina (NC) – Top 6 Breeders!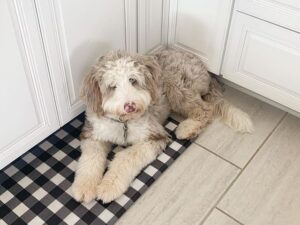 PuppySpot is more than a service for acquiring different breeds, including Aussiedoodles; it's a community of ethical and responsible breeders who want to help to nurture and raise healthy puppies. We bought one of our Goldendoodles from PuppySpot and found that they made getting a healthy puppy really easy. You can select your next Aussiedoodle puppy based on coat color, gender, price, or size. You also won't have to wait on a long waitlist because they only list puppies that have already been born.
The folks over at PuppySpot are on a mission to ensure complete transparency in the adoption process. They recognize buyers' need to trust and rely on them. In response, they are incredibly selective about the Aussiedoodle breeders they partner with. Only 10% of the breeders who apply to be a breeder with PuppySpot are selected since they care about the health and quality of the breeds they offer. Thus, you can ensure that you will be getting a healthy and happy Aussiedoodle puppy in North Carolina.
Additionally, PuppySpot enjoys interacting with customers and make sure that the entire experience of choosing the breed they like and adopting them is handled with due diligence. There is no shortage of great reviews about the quality and experience that PuppySpot offers. To date, they have sold over 220,000+ puppies. All of their Aussiedoodle puppies come with a health guarantee as well as a health inspection. We really enjoyed our experience with them, and they will save you a ton of time from contacting other breeders. Additionally, they are one of the few breeders that operate their own airlines so they can ship any puppy to North Carolina.
Aussiedoodle Breeder Details
#2. Country Poos & Doos North Carolina
Previously known as Riverwood Farms, Country Poos & Doos is owned by Robyn Saruse and his wife, Danielle Saruse Parsons. After breeding German Shepherds as a hobby for about nine years, they acquired a standard Poodle in 2003. 
Today, they've expanded their breeding program to include different kinds of doodles, including the Aussiedoodle puppies. As a result, buyers have a myriad of options to choose from while having peace of mind knowing that all puppies are in the best of health. This Aussiedoodle breeder is located in Randleman, North Carolina, which is just south of Greensboro and west of Raleigh.
The Aussiedoodle puppies for sale at Country Poos and Doos are subjected to early sensory induction and puppy culture protocol as soon as they turn three days old. Additionally, they are encouraged to socialize and explore different surroundings so that when they arrive at your doorstep, they are already well-adjusted and friendly. To get on their waitlist, you need to pay a fee of $200.
Aussiedoodle Breeder Details
#3. Plum Farm Doodles NC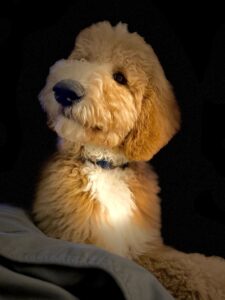 Founder Christan Hunsbedt owns Plum Farm Doodles, a family-owned enterprise where all puppies are hand-raised to ensure pleasant temperaments and healthy Aussiedoodle puppies.
Plum Farm Doodles offers standard-sized Aussiedoodles. You'll need to make a non-refundable $500 deposit to get on their waiting list. The usual wait time to receive a puppy from Plum Farm is three months. Once born, the Aussiedoodles will arrive at your doorstep once they are at least eight weeks old, or you can pick them up in Davidson, North Carolina.
The puppies are trained using the Badass Breeder Program which involves household desensitization, potty training, leash walking, socializing with adult dogs, cats and children as well as crate training. They offer a one-year health guarantee. However, the parent dogs are extensively genetically tested beforehand to avoid passing down any hereditary diseases.
Aussiedoodle Breeder Details
#4. Gore Doodle Ranch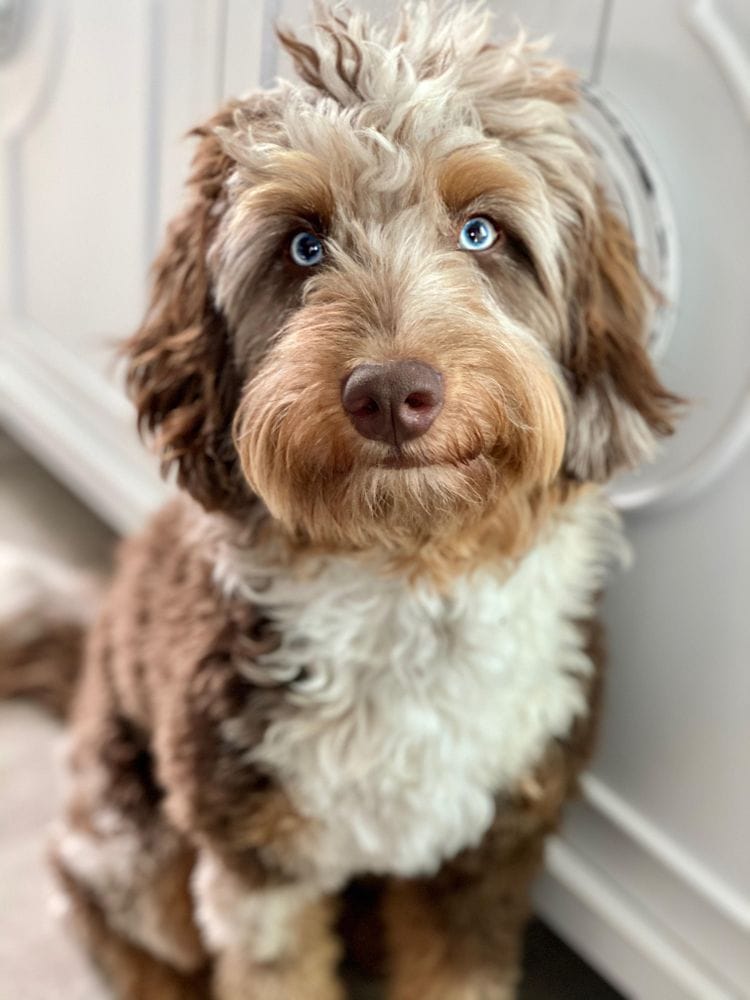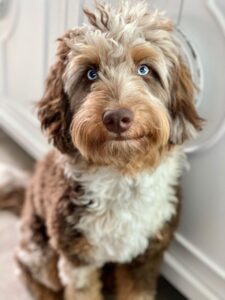 Located in Tabor City, North Carolina, the Gore Doodle Ranch is home to F1 and F1B Ausiedoodles and other domestic animals that their puppies interact with. Lori Gore, the founder and breeder, takes care of her Aussiedoodles in her 150-acre land where her dogs have ample room to run and play. 
Before breeding, parent dogs are subject to DNA and OFA (Orthopedic Foundation for Animals) tests. The latter helps identify any health concerns that may arise in dogs' heart, eyes, thyroid, hips, and joints. 
Upon reaching three days old, their Aussiedoodle puppies for sale in North Carolina are introduced to neurological and scent stimulation. Furthermore, age-appropriate exercises and games are incorporated into the puppies' daily routines as they develop so you end up with a puppy that won't have a hard time adjusting. 
Aussiedoodle Breeder Details
#5. Hope's Doodles NC
Hope's Doodles was founded by Kaleigh Hinson. Located in Winston Salem, North Carolina, Kaleigh is committed to sharing her love for Aussiedoodles with families who are keen to own one. 
She ensures that each litter is the healthiest representation of the breed by only breeding genetically tested parents. She also makes sure they're well-socialized and have great temperaments so they will do well in their forever homes. 
Kaleigh is prepared to provide as much guidance as you need in raising pups from her even after your transaction with Hope's Doodles is done.
Aussiedoodle Breeder Details
#6. Moonrise Kingdom Aussiedoodles
Located in Franklin, North Carolina, Moonrise Kingdom Aussiedoodles is owned by groomer Amanda Birmingham. She is an AKC Canine Good Citizen Evaluator and is recognized by the American Kennel Club Canine College. 
The breeder's ultimate priority is breeding healthy Aussiedoodles with stable temperaments for people looking for companions. Therefore, if you purchase a puppy from them you can expect your puppies to:
Be vaccinated with health certificates and microchipped

Come with a two-year health guarantee that covers genetic disorders and hereditary illnesses of the heart, bones, and eyes

Have undergone training and enrichment methods to make them better socialized

Come with a puppy starter kit that includes a house and dog training guide, AKC registration, and lifetime breeder support
Moonrise Kingdom offers standard-sized Aussiedoodles that, on average, you'll have to wait around three months for. Once a litter arrives, you can enter your bid. 
Aussiedoodle Breeder Details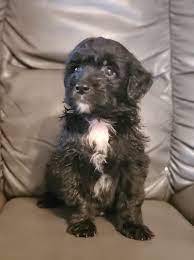 Located at Rutherford County in North Carolina, Stacy Tolley is the founder and breeder at Simply Grace Mini Aussiedoodles. Her mini Aussiedoodle puppies for sale in North Carolina are 13 to 35 pounds heavy and arrive at your home ten weeks after birth. This is to ensure they develop properly under their mother's care along with their siblings. 
Stacy trains the puppies with sound stimulation, crate training, basic manners, household desensitization, etc., as part of the puppy's daily curriculum. In addition, a one-year health guarantee covers any genetic defects after purchase. 
You can request specific colors, but know that the waiting time can go up to six months. The Aussiedoodles at Simply Grace are trained to express their emotions and energy in healthy ways. If you're looking for mini Aussiedoodle puppies in North Carolina, this is one of the top breeders.
Aussiedoodle Breeder Details
#8. Crowders Mountain Doodles NC
What's special about Crowders Mountain Doodles is that Aussiedoodle puppies get to spend time with other dogs, children, and cats while growing up in the breeder's home. This allows them to adjust easily when arriving at a new home. 
The breeder takes pride in placing all their healthy and ethically bred puppies in loving homes. If you purchase from Crowders Mountain Doodles, you can look forward to receiving continuous advice on how to raise, train, and groom your puppy. 
400;">Aussiedoodles with different color coats and coat types are available at Crowders. All the puppies arrive with a two-year health guarantee that covers all genetic disorders. This Aussiedoodle breeder in North Carolina is approved by Good Dog, does Embark DNA testing, and will give you a sample of Trupanion pet insurance.
Aussiedoodle Breeder Details
#9. HappyTail Puppies North Carolina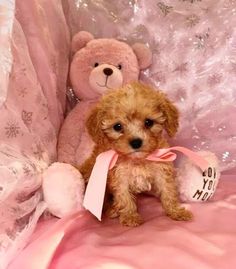 HappyTail Puppies is a group of family and friends who love connecting healthy puppies with their forever homes. All Aussiedoodle breeders have licensed and inspected home kennels that give the puppies adequate attention and care every day. 
There are different colors and coats available and they offer mini-sized Aussiedoodles. You can buy their training packages and potty training kits as well to help ease them into a daily routine. There have been great reviews about HappyTail all over the internet so rest assured you can rely on them for great service when bringing your puppy home. 
Aussiedoodle Breeder Details
Conclusion for Aussiedoodle Puppies in North Carolina
Aussiedoodles are a delight to own. They get along well with families and keep everyone entertained. Additionally, the breed enjoys a round of intense games but will also settle for a quiet night of cuddling.
Since they're quite small in size, they won't take up too much space when compared to some of the larger dog breeds. You can be sure that they will enjoy the company of other dogs if you have any. 
Just remember to keep them occupied as much as you can because Aussiedoodles can act out when they're bored. Surrounding them with toys, games, and other animals is a great way to ensure sufficient mental stimulation. We hope that you found your next Aussiedoodle puppy in North Carolina!
You will also like:
Garrett loves animals and is a huge advocate for all Doodle dog breeds. He owns his own Goldendoodle named Kona. In addition, he volunteers at the Humane Society of Silicon Valley, where he fosters dogs and helps animals. Garrett enjoys writing about Doodles and believes that dogs can teach humans more about how to live than humans can teach a dog.
Why Trust We Love Doodles?
At We Love Doodles, we're a team of writers, veterinarians, and puppy trainers that love dogs. Our team of qualified experts researches and provides reliable information on a wide range of dog topics. Our reviews are based on customer feedback, hands-on testing, and in-depth analysis. We are fully transparent and honest to our community of dog owners and future owners.