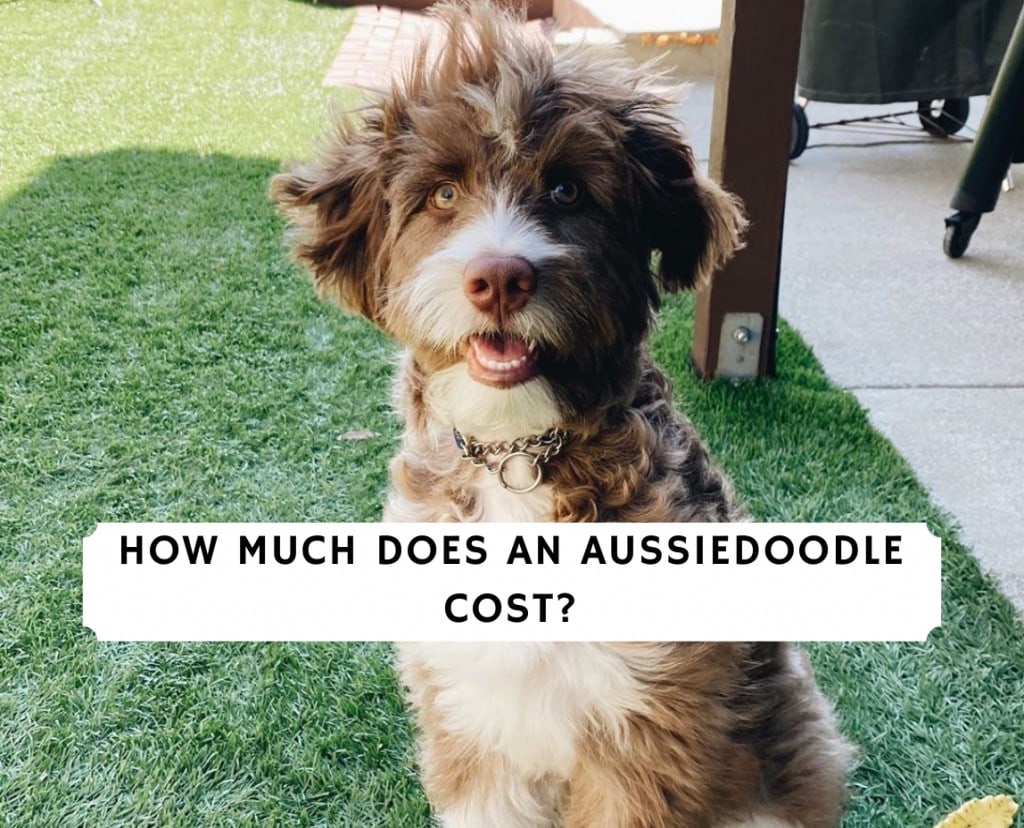 In the past two decades, Aussiedoodles have become one of the most famous doodles in the United States. They are loyal, intelligent, outgoing, hypoallergenic, and have non-shedding traits. Imagine having an Australian Shepherd that doesn't shed much fur – it sounds like a dream come true?
The fluffy-haired Aussiedoodle is an ideal family dog, therapy dog, and companion dog. The Aussiedoodle thrives with active individuals or families who love to go for runs, play fetch, hike, or even go for a swim.
Aussiedoodles come in 3 main sizes: mini, medium, and standard. Their height ranges from 12 to 18 inches, and weight varies between 15 and 35 pounds. In general, the smaller the Aussiedoodle the more money it will cost.
If you're thinking about getting an Aussiedoodle, we suggest you look at our Aussiedoodle generations guide so you can select the best Aussiedoodle for you. We break everything down from what F1, F1B, and F2 Aussiedoodle generations are to what influences coat colors.
What is the price of an Aussiedoodle?
Aussiedoodles are in high demand across the U.S. and cost a pretty penny if you buy one from a breeder. The cost of an Aussiedoodle ranges from $500 to $5,000 depending on whether you adopt, rescue, or buy from a breeder. An Aussiedoodle from a reputable breeder will cost you anywhere between $1500 and $4500 with the average cost is $2,500. 
The more expensive Aussiedoodles will be mini or toy size with a tri-color coat. It is also important to note that is difficult to find an Aussiedoodle in a rescue. However, if you do find an Aussiedoodle from a rescue, that will be your cheapest option to acquire one of these dogs.
If you're buying an Aussiedoodle from a breeder located in another state or country, you will need to include shipping costs to the above range. The price of an Aussiedoodle is extremely high because these dogs are in high demand.
How much does it cost to adopt an Aussiedoodle?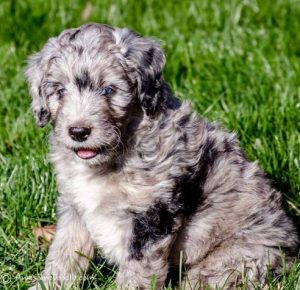 The cost of adopting an Aussiedoodle is lower than buying one from a breeder. Adoption fees range between $150 to $500 depending on factors such as the size and age. Older Aussiedoodles cost less than adopting an Aussiedoodle puppy.
If you're keen on taking this road, you will need to research local rescues, shelters, and human societies to find out if they have any Aussiedoodles. Keep in mind that Aussiedoodles are in high demand and rarely stay in a dog rescue for more than a few days.
To give you a head start, you can check out our article on the Top Aussiedoodle Rescues. We suggest that you fill out an application and get on their waitlist to see if you can adopt one of these designer dogs.
Many owners surrender their Aussiedoodles because of high maintenance costs or personal reasons such as relocation, financial strain, housing restrictions among others. Aussiedoodles are also high energy dogs and can become destructive if you don't properly exercise them.
What is the price of an Aussiedoodle from a Breeder?
If you're buying an Aussiedoodle from a reputable breeder, you can expect to spend $1500 to $4500 depending on several factors. We've written a ton of articles on Aussiedoodle breeders. We suggest that you only buy an Aussiedoodle from a reputable breeder.
Any Aussiedoodle that is less than $1,500 likely comes from a puppy mill or backyard breeder. Remember, your Aussiedoodle will live 10+ years and you want to be both healthy and happy. Backyard breeders won't provide any genetic testing and won't give you a healthy warranty.
What determines the price of an Aussiedoodle?

1. Breeding Stock Cost
For a reputable Aussiedoodle breeder to gain breeding stock, they need to fork out $2000 to $6000 for a non-health tested puppy or $10,000 for health tested puppy or adult tested Aussiedoodle. A breeder producing F1 Aussiedoodles buys quality breeding parents, the Australian Shepherd, or the Poodle, for $750 to $3000. The cost goes up depending on the generation and the health testing the parent breeds have. Typically, breeders only used AKC or CKC certified dogs to breed reputable Aussiedoodle puppies.
2. Health Genetic Testing
Besides investing in quality breeding stock, breeders often invest in the genetic health testing of all their Aussiedoodles to make sure they are healthy. These tests include an OFA Hips and Elbows X-ray which costs upwards of $200 each. A CERF exam goes for $140 and above, a DNA test for $50 and above, and Heart clearance. Any reputable Aussiedoodle breeder will gladly show you these documents to prove the health of their dogs.
3. Aussiedoodle Size
There are 3 main Aussiedoodle sizes: mini, medium, and standard. Within the mini Aussiedoodle category, there is a toy, micro, and teacup sizes. These smaller Aussiedoodle sizes are more expensive than a medium or standard Aussiedoodle. A toy or teacup Aussiedoodle can cost $4500+. However, we do not recommend toy or teacup Aussiedoodle breeds due to the unethical breeding practices and health issues.
4. Aussiedoodle Coat Color
Aussiedoodles come in a variety of coat colors such as black, red merle, blue merle, silver, chocolate, or red sable. There are also interesting patterns such as blue merle parti, brindle, phantom, abstract, or red merle tri. Coat colors such as blue merles increase the price. As you can imagine, the rarer the Aussiedoodle coat color, the more it is going to cost. 
5. Aussiedoodle Puppy Age
Many people prefer bringing home an Aussiedoodle that's 8 weeks old than one that's 16 weeks. The older an Aussiedoodle, the cheaper. You can sometimes find older Aussiedoodle puppies from breeders who are looking for guardian homes to breed future stock. Otherwise, it's difficult to find an older Aussiedoodle puppy since they are in high demand.
6. Location of the Breeder
Your future Aussiedoodle's location can affect its price by $500 or more. If you're having your Aussiedoodle shipped in via commercial flights, you will need to pay for flight tickets, an in-flight cabin nanny (two-way), and any added procedural costs such as quarantine. Ground shipping, though, is cheaper. In addition, the cost of living for a breeder affects the prices of their Aussiedoodles. A breeder living in New York City will charge more than a breeder living in the midwest.
How much does a mini Aussiedoodle cost?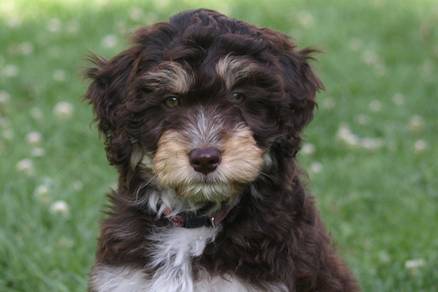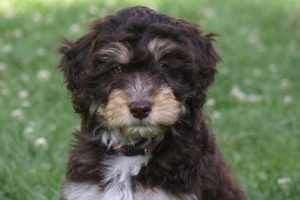 A mini Aussiedoodle will cost an average of $2500, assuming it's not a toy, micro, or teacup sized Aussiedoodle. These tiny size Aussiedoodles are harder to breed and priced higher.
The way that you make a toy or micro Aussiedoodle is that you constantly breed the "runt" of the litter with a toy Poodle. We don't recommend teacup or mini-sized Aussiedoodles to their potential health issues compared to the larger sizes.
What's included in the price of an Aussiedoodle?
Aussiedoodle costs vary depending on the puppy package. An Aussiedoodle puppy will come with current vaccination shots, deworming schedule, health guarantee, litter-scented blanket, toy, and dog food. Some breeders include puppy insurance for the first 4 to 6 weeks, pre-activated microchip, and a spayed or neutered puppy. If the puppy is too young for spaying or neutering, the breeder sometimes adds a refundable cost.
Other costs of an Aussiedoodle
Aside from the initial costs of selecting and bring your Aussiedoodle home, there are several other costs that you can expect to pay. The average lifetime cost of raising an Aussiedoodle is $20,000+. For the first year, we recommend you set aside at least $2000.
Let's break down these yearly costs.
Variable Aussiedoodle Costs
Food ($450+): Dog food expenses will increase or decrease according to the size and energy level of your Aussiedoodle. A standard size Aussiedoodle will consume more than a teacup Aussiedoodle.
Veterinary Care ($650 to $2000+): To keep your costs low and your Aussiedoodle healthy, you need to make sure your Aussiedoodle has regular vet checks. Veterinarian checks can range in expenses depending on if you have pet insurance or a vet plan.
Training and Daycare ($700+): To get the best out of your Aussiedoodle, you will need to sign them up for training classes in obedience and agility. If you plan on taking vacations, you will need to find a boarding room for your Aussiedoodle. The cost of boarding typically ranges between $100 to $150 daily.
Fixed Aussiedoodle Costs
Doggy Crate ($100): If you plan on crate training your Aussiedoodle, you will need to get a dog crate to do so
Doggy Bed ($100): To give your Aussiedoodle a comfortable place to rest, you'll want to get a dog bed built with high-quality materials.
Accessories ($500): Your Aussiedoodle will need accessories such as collars, leashes, plated ID's, chew toys, Aussiedoodle shampoo, dog dryer, nail clippers, brush, and even a doghouse.
Conclusion for How much does an Aussiedoodle Cost?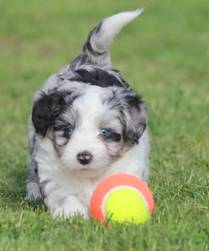 The initial cost of an Aussiedoodle is no comparison for the lifetime cost of this dog. As you consider buying an Aussiedoodle take the time to plan out your future finances. The average Aussiedoodle lifespan is 12+ years old. Over these 12 years, you can expect to spend at least $20,000.
The cost can go lower if you adopt an Aussiedoodle from a rescue or humane society, but this comes with its own set of pros and cons. The chances of finding an Aussiedoodle rescue, however, are very slim.
Frequently Asked Questions
Do breeders require a deposit for an Aussiedoodle puppy?
Yes. To book an Aussiedoodle from a specific litter, you will need to set aside $200 to $500 as a deposit. The deposit is non-refundable and deductible from the total cost. Sometimes, the breeder will allow a deposit transfer to another upcoming litter if the current litter does not satisfy you.
Where should I buy an Aussiedoodle?
We recommend you buy an Aussiedoodle from a reputable, ethical breeder. You can find such a breeder through comprehensive research or through the many articles we have on the best Aussiedoodles in various states.
We suggest you check the breeder's credentials, their dogs' health records, their facility, the puppy package offered, their health guarantee, ability to answer your questions, transparency, and reviews.
Remember, the health and quality of your Aussiedoodle will depend on the methods the breeder takes. If the breeder is shady, your Aussiedoodle may develop health or temperament issues later on.
Buying smart is researching widely and deeply about your breeder of choice.
Garrett loves animals and is a huge advocate for all Doodle dog breeds. He owns his own Goldendoodle named Kona. In addition, he volunteers at the Humane Society of Silicon Valley, where he fosters dogs and helps animals. Garrett enjoys writing about Doodles and believes that dogs can teach humans more about how to live than humans can teach a dog.
Why Trust We Love Doodles?
At We Love Doodles, we're a team of writers, veterinarians, and puppy trainers that love dogs. Our team of qualified experts researches and provides reliable information on a wide range of dog topics. Our reviews are based on customer feedback, hands-on testing, and in-depth analysis. We are fully transparent and honest to our community of dog owners and future owners.