Aussiedoodles are considered the new designer breed on the block. This is a mix between an Australian Shepard and a Poodle. There are a few different sizes and because they are so new most of the generations are either F1 or F1B.  Very few breeders offer multi-generational litters as you see with the Goldendoodle or Labradoodle. 
If you are intrigued and want to find Aussiedoodle puppies in California that come from reputable and ethical breeders than we can help you. We realize that buying an Aussiedoodle puppy is hard, so we've sorted through several of the breeders to rule out the backyard breeders and mills looking to make a quick buck. We came up with a list of four good Aussiedoodle breeders in California. They seem to be reputable but we still recommend you do more research and go for a visit before committing to a puppy from any of them.
If it was clear that a breeder was a puppy mill we did not include them on our list. We believe that these breeders are committed to the care and health of their Aussiedoodle dogs. However, since this is still a relatively new breed of doodle, always ask questions to a potential breeder. Check out the following breeders for more information.
Other articles you might like: Doodle Rescues in California
1. Creekside Puppy Adoptions
Creekside Puppy Adoptions is a family of breeders that are located in Illinois, but they ship their Aussiedoodles regularly to California and we highly recommend them. We personally spoke with the owner, Clint, and have discussed his breeding practices. Clint has grown up raising puppies and it's been a lifelong passion of his. The health and well-being of every single puppy that Creekside Puppy Adoption raises is the primary concern.
At 7 weeks of age, each Aussiedoodle puppy is taken to the veterinarian to get a clean bill of health. Each puppy will come with all of the age-appropriate vaccines and is also micro-chipped. Creekside Puppy Adoptions treats all of our Aussiedoodle puppies as if they are family, meaning they are socialized with adults and children. This makes the transition into your home easier and eases the stress and anxiety of the puppy.
Creekside Puppy Adoptions sells mini Aussiedoodles ranging in size from 10 to 25 pounds. A $200 deposit will hold a puppy until it is 8 weeks old and is ready to go to its new home. Each puppy will also go home with a two-year health guarantee. Creekside Puppy Adoptions ships and transports their puppies all around the United States including California. Price do vary based on the destinations, but they will get you a healthy and happy puppy. They also have other designer dog breeds like the Goldendoodle and Labradoodle!
Aussiedoodle Breeder Contact Information:
Location: Arcola, Illinois. They will safely transport your Aussiedoodle to California.
Website: Creekside Puppy Adoptions
Phone: 217-549-6555
Aussiedoodles are one of the newest doodle breeds so it's extremely difficult to find a reputable breeder. PuppySpot is the #1 on our list because they thoroughly screen every Aussiedoodle breeder to verify they are licensed, registered, and care for their puppies. This process is backed by the American Kennel Club, so you know that you won't be supporting a puppy mill and will get a healthy Aussiedoodle puppy.
Additionally, if you contact various Aussiedoodle breeders in California, you will know that they often have an extremely long waitlist where you are waiting months for a puppy to be born. PuppySpot is a network of good breeders so they will have Aussiedoodles puppies for sale. You even get to pick your ideal puppy and can sort by gender, coat color, age, and size.
If your ideal Aussiedoodle puppy isn't located in California, then they will deliver your puppy to you with their private airline carrier. We've had a positive experience with PuppySpot because they let you get a doodle fast and don't have to screen a ton of breeders. We highly recommend you check them out.
Aussiedoodle Breeder Contact Information:
3. Saddleback Aussiedoodles
Saddleback Aussiedoodles is a self-proclaimed small hobby breeder. They are located in Northern California on a sprawling ranch filled with Aussiedoodles and Arabian horses. For many years these breeders were exclusively committed to breeding mini Australian Shepherds. However, once they found out how great doodles were they switched directions slightly.
The appeal of breeding a dog that had all of the attributes of the Australian Shepards with a Poodle temperament and hypoallergenic fur was why they started breeding the Aussiedoodle puppies in California. These great family dogs are now all that Saddleback breeds. They use the funds from their breeding operation to fund their passion for Arabian Horses and Endurance riding.
Even though they are a small hobby breeder they still want to be responsible for their breeding stock and make sure they are free of genetic and other health issues. Because of this commitment to ethical breeding, they have all of their dogs' health and genetic tested before they are allowed to come into the breeding program.
If you want to add one of these Saddleback Aussiedoodles to your breeding operation then prices start at $1500. However, each puppy is priced individually so make sure you ask about that before committing to a particular puppy or litter. Based on the photos and information on their website, it seems like the pricing is based on color. The merle Aussiedoodle puppies seem to start in the $1800 range and go up to $2300. While the regular sable and tri-color puppies are less expensive.
There is a $300 deposit due to reserve your Aussiedoodle puppy. If you don't live in the area they will ship the puppies at the buyer's expense. This Aussiedoodle breeder in California is located in Lassen County in Northern California.
Aussiedoodle Puppy Information
Generation: F1, F1B Aussiedoodle puppies
Size: Mini, Medium Aussiedoodle puppies
Aussiedoodle Breeder Details
4. Shady Oak Doodles California
Shady Oak Doodles is a multi-family operation in San Diego, California. Both families have decided to work together to produce what they consider the best doodles in the area and maybe even in California. They love doodles and breed three different types. Aussiedoodles are on the top of the list, but they do also breed Bernedoodles and Australian Mountain Doodles (which is a mix of both the Aussiedoodle and Bernedoodle).
They have all of their dogs genetic and health tested as they are committed to producing healthy and happy Aussiedoodle puppies in California. They want all of the puppies to have a good temperament so the owners make sure the puppies are socialized and have exposure to noise, children, and other pets. This is important for their development and the best dog breeders know that. Because two families run this breeding program, there is a high level of customer service and care for the dogs. Some of the breeding adult dogs are also personal pets of the families.
However, they do have a guardian program to ensure that all of the breeding adult Aussiedoodles are treated as members of the family. A dog that is loved and has the attention that it needs will be happier and overall healthier for the duration of breeding and their life. We can't speak highly enough of Aussiedoodle breeders in California that use the guardian program.
If you want to add one of their Aussiedoodles to your family there are a few steps to take. They do ask that you fill out an application as this will help them determine if you will be a good fit for an Aussiedoodle puppy from their program. Sometimes people want a dog because they are cute but the dog doesn't fit their lifestyle and they can't financially care for them. This usually ends in re-homing or euthanasia which is a rampant problem. That is what Shady Oak Doodles would like to avoid by having an application.
The prices do vary depending on the color and generation of the puppy. The bottom price is $2,500 and goes all the way up to $4,000. Shady Oak also offers training classes if you want your Aussiedoodle puppy to stay longer and get some training. This is an additional cost. There is a restriction of two puppies per litter for training so you need to decide quickly if you want this option.
Aussiedoodle Puppy Information
Generation: F1, F1B Aussiedoodle puppies
Size: Mini, Standard Aussiedoodle puppies
Aussiedoodle Breeder Details
Location: San Diego, CA. Southern California.
Email: [email protected]
Telephone: 619-471-5183
5. Doodles and More Northern California
Doodles and More is another small family run breeding operation that has specialized in Aussiedoodles, or as some people call them Aussiepoos. The family started breeding when they realized how great Aussies were for helping children and adults gain confidence. This is something that they saw first hand with their oldest daughter. She was so shy and lacked confidence in public, but this all changed with the addition of their first mini Australian Shepherd.
Doodles and More quickly followed and they started breeding Aussiedoodles for temperament, size, and hypoallergenic properties. All of the breeding adults either live with the breeders as family pets surrounded by children and taken on outings. Alternatively, they live in guardian homes even after retirement.
They believe in having well socialized, healthy, and balanced dogs. They do actually have an Aussiedoodle puppy that needs a guardian family now and will be posting a retired adult that needs to be adopted soon. This is a great way to add a family member to your home.
If you want to go the traditional route and get one of these Aussiedoodle puppies in California then you need to start by filling out an application. Once you are approved you will go on the master waitlist as soon as your $500 deposit is received.
The website does not say what their puppies cost but it is likely the price is different for every puppy depending on color. This is something that you will need to discuss with them directly. We consider them to be one of the best Aussiedoodle breeders in California.
Aussiedoodle Puppy Information
Generation: F1, F1B Aussiedoodle puppies
Size: Mini, Medium Aussiedoodle puppies
Aussiedoodle Breeder Details
6. Sunny Ridge Doodles Southern California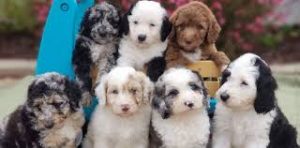 Sunny Ridge Doodles is what we would call a mid-sized operation. It is family-run, but they have three different doodle breeds and use a guardian program. This is larger than a hobby breeder or small operation. However, it is not a huge operation either because they can care for their dogs.
As a matter of fact, they don't have any litters available right now. They do plan to add more waitlists and information throughout the rest of the year. They have been getting so many phone calls and emails that they have removed the contact information temporarily to give themselves time to catch up.
Keep checking the website for more updated information and news on future litters. Sunny Ride Doodles is located in Southern California in between Los Angeles and San Diego.
Aussiedoodle Puppy Information
Generation: F1, F1B, F2, Multigenerational Aussiedoodle puppies
Size: Mini, Medium Aussiedoodle puppies
Aussiedoodle Breeder Details
Conclusion for Aussiedoodle Breeders in California
Aussiedoodle puppies in California have become so popular. Mixing the Australian Shepherd and Poodle together creates a dog that is mostly hypoallergenic and nonshedding. However, this huge demand has led to many puppy mills popping up trying to sell these dogs to make money. We created a list of the best Aussiedoodle breeders in California to help you find a healthy puppy free of genetic diseases.
Other articles you would like: