You may have seen a few videos of dogs going ga-ga over the snow in the backyard during the winter. This might lead you to wonder whether Aussiedoodles are just as fond of the cold as those other dogs.
Although each dog is different, generally, it is not hard to find an Aussiedoodle who loves the cold because most of them do! These dogs are a bunch of goofballs who absolutely adore playing outside.
But playing outside in the cold for too long can be dangerous. Read below to find out how to take care of your Aussiedoodle during the cold.
Before reading this guide "Do Aussiedoodles Like the Cold," check out: Are Aussiedoodles Hypoallergenic? (2023) and Do Aussiedoodles Have Tails? (2023).
Aussiedoodle Overview
The Aussiedoodle, a hybrid offspring of a Poodle and an Australian Shepherd, is a highly intelligent dog with the energy, fun, glamor, and enticing good looks of both breeds.
Because of their trustworthy nature, high level of intelligence, and eagerness to please, Aussiedoodles are excellent companions for families with both children and elderly family members.
Confident and rambunctious, these bright, intelligent pals require continuous positive reinforcement training and boundaries to ensure a productive, pleasant, and safe environment in which they can reach their full potential.
It's hard to say what an ancient Aussiedoodle would look like or how big he might grow to be. It is, in fact, one of the Poodle mixes that has the widest range of possible variations and characteristics.
Because of the merle genes in one parent and the Poodles' wide range of solid coloration in the other, this hybrid can come in a wide range of coat colors and textures.
These extraordinary looks have been the subject of scientific study. The UC Davis Veterinary Genetics Laboratory, for example, reports that numerous genes might cause a curlier coat. However, other genes tend to favor bushy muzzles and brows, as well as the regal merle dappling that indicates dominance.
Do Aussiedoodles Like the Cold?
Aussiedoodles enjoy the cold. They are able to adapt to cooler conditions; nevertheless, if the temperatures are extreme, you should still take measures to ensure that they do not become too chilly.
However, this can also be determined on an individual basis, as the types of coats and lengths that Aussiedoodles have can vary widely, which in turn can have an effect on how well they cope with different kinds of weather.
Aussiedoodle Coat Types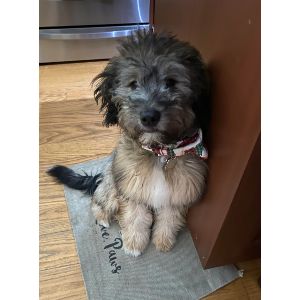 The coats of Aussiedoodles can be either wavy or curly. The Poodle ancestors are responsible for the curls. Maintaining curly hair is often more complex than wavy hair. This is because tangles are more likely to form in curly hair.
Curly-haired Aussiedoodle owners ought to brush their dogs every day. This helps the curls maintain their cleanliness and natural shape.
Wavy locks are longer than the curls, but require much less maintenance in the form of brushing and styling products. Wavy-haired Aussiedoodles typically only require weekly or biweekly brushing, based on the dog's activity level.
Aussiedoodles have just one coat of hair. Because of this, there is less of a risk that their coat will be blown out, as they do not have any undercoat that needs to push forward.
Do Aussiedoodles Like Snow?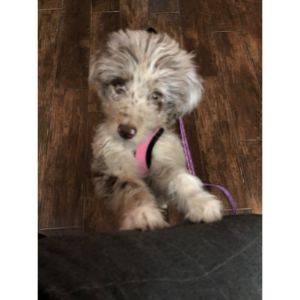 The relationship between Aussiedoodles and snow is fraught with complications, as is likely the case with other Doodle breeds. The first is that they think it's great. You'll never find your dogs more delighted than they will be whenever you get a considerable amount of snow.
After running around the yard in complete joy, frolicking, and playing, they will proceed to devour it as they wander around the yard.
The only negative thing about playing in the snow is having to come back inside. Aussiedoodles are notorious for accumulating snow due to their thick, long coats — unless you keep them clipped incredibly short, which most owners don't. It is quite challenging to get off.
It's terrible enough when it gets on their legs, but when there's enough snow on the ground, these bunches of snow will appear everywhere on their bodies. To remove stubborn snow clumps, a towel and, in extreme cases, a dog brush must be massaged vigorously.
However, there are occasions when you have to patiently wait for it to start melting or for them to lick it off because we will never be able to remove it all.
Do Aussiedoodles Like Water?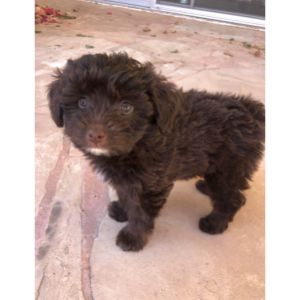 Even dogs need to take a break from the heat every once in a while. Or perhaps they take pride in demonstrating their ability to compete at the Olympic level. In any case, spending time together at the beach and swimming in the water is an excellent way to strengthen your bond.
If you don't have access to running water, a hose or sprinkler will have to suffice. The Aussiedoodles enjoy lending a hand with the gardening by snatching the hose and wreaking havoc with it.
Occasionally, they will even submerge their faces and feet in their drinking bowls. Although it's not the most effective way to swim, they're skilled at coming up with creative solutions when things go wrong.
How to Protect Your Dog in the Cold
There are some things you can do to make sure your dog doesn't fall sick while playing in the cold.
Brush Your Dog
Your dog's fur will keep him warm in the winter, so be sure to keep it in good condition. Matted, tangled fur does a poor job of trapping body heat and keeping out the cold, so maintaining a tidy coat is essential.
Your dog will need the entire weight of his coat to keep warm this season, so avoid having him shaved or given a close hair trim. Instead, brush him every once in a while.
Remove Excess Hair from Around the Paw Pads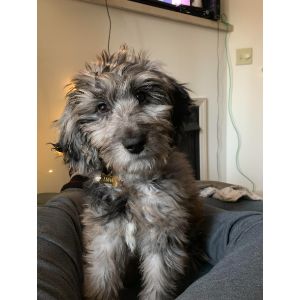 Ice and snow won't be able to accumulate in the cracks between your dog's toes if there is no hair to latch on to. It's a good idea to inspect your dog's feet for any wounds, cracks, or foreign objects after returning from walks outside.
You should also clean your dog's paws. The chemicals and salt used to melt the ice can have a negative impact on your pet's health. Doggie shoes can shield your puppy's paws from the outdoors if he'll let you put them on him.
Reduce Outdoor Activity When Temperatures Are High
Your dog's ears and tails could get frostbite if exposed to the cold outside for too long. Dogs with thick fur or from the north may still enjoy playing in the snow, and that's wonderful!
Just make sure to bring your dog inside often so he doesn't get too chilly, and steer clear of any potentially dangerous spots, like frozen lakes.
Get Some Air When the Weather is Fine
You and your dog can both benefit from the vitamin D that natural sunlight provides, and if your dog has trouble handling the cold, he or she will appreciate the extra warmth.
Fur Coat
Your Aussiedoodle may have a thick coat that can withstand the cold, but that doesn't mean he has to. It's possible that those dogs would benefit from a winter coat to keep them warm and cozy on walks throughout the colder months.
Your dog needs a coat that goes from his neck to the end of his tail. Keep in mind that even with a coat, your dog runs the risk of frostbite on its ears, toes, and tail if left outside for too long in extremely cold temperatures.
Avoid Exposing Your Dog to Any Poisons
Winter means antifreeze, and antifreeze with dogs equals disaster. If you've just refueled your car, wipe up any spills to prevent your dog from drinking the fuel. A trip to the emergency room might be highly costly, or worse.
Never Leave Your Dog Alone in a Vehicle
We all know this is true when the temperature outside is high, but few consider its significance when it is really low. A dog will be uncomfortable, at the very least, if left in a cool car while its owner goes shopping.
Invest in Some Comfy Bedding
Don't make your pet sleep on the hard floor! Pick out some soft, cozy bedding to make him feel more at ease and protected from the chill of the season. Place the bed in a toasty room without drafts, preferably one she already enjoys sleeping in, so the new sheets won't feel too strange.
Dogs in their Senior Years Require Extra Care
Canine arthritis sufferers, like humans, may feel the effects of cold weather more intensely. Keeping your senior dog on an activity schedule can prevent it from becoming too stiff.
However, in order to avoid hurting their joints, you should avoid making them walk on slick floors. In the winter months, your aging pal will appreciate a cozy spot to curl up on during the day. Joint supplements may help elderly dogs with arthritis feel better during the colder months.
Frequently Asked Questions
How cold is too cold for Aussiedoodles?
You should not let your Aussiedoodle stay outside in temperatures below 20 degrees Fahrenheit.
Can Aussiedoodles live outside?
Like most other dog breeds, Aussiedoodles should not live outside away from their owners.
Do Aussiedoodles have high anxiety?
Aussiedoodles can struggle with separation anxiety, so extra care and training are needed.
Conclusion for "Do Aussiedoodles Like the Cold"
It's okay to let Aussiedoodles run free in the cold snow outside! They will be absolutely safe — and probably have the time of their lives. But there are a few things you should keep in mind so to make sure they don't get a cold.
If you find this guide, "Do Aussiedoodles Like the Cold," helpful, check out:
Learn more by watching "AUSSIEDOODLE – 5 Reasons You Should NOT Get an Aussiedoodle | Torey Noora" down below:
Garrett loves animals and is a huge advocate for all Doodle dog breeds. He owns his own Goldendoodle named Kona. In addition, he volunteers at the Humane Society of Silicon Valley, where he fosters dogs and helps animals. Garrett enjoys writing about Doodles and believes that dogs can teach humans more about how to live than humans can teach a dog.
Why Trust We Love Doodles?
At We Love Doodles, we're a team of writers, veterinarians, and puppy trainers that love dogs. Our team of qualified experts researches and provides reliable information on a wide range of dog topics. Our reviews are based on customer feedback, hands-on testing, and in-depth analysis. We are fully transparent and honest to our community of dog owners and future owners.