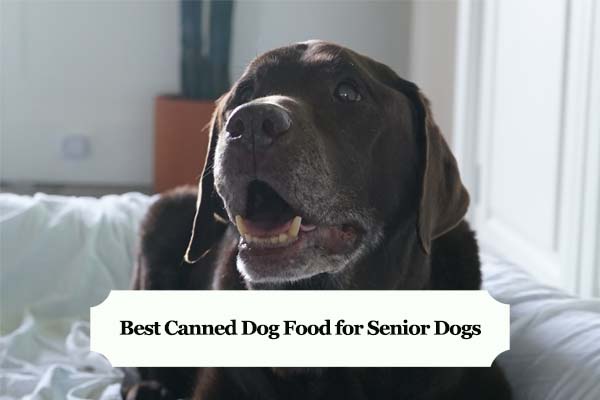 As dogs get older, they can sometimes run into problems that younger puppies wouldn't have to face. There are physical changes, mental challenges, and mood swings. As your companion gets older, you need to be prepared to roll with the punches and adjust to their movements.
Senior dogs tend to have mouth troubles, such as losing teeth or not wanting to eat as much, which is why they need specially formulated dog food. Canned food for senior dogs aims to make your dog feel fuller for longer with a lower amount of calories in each serving. In addition, canned dog food provides your senior canine with an adequate amount of water to prevent dehydration.
In addition, your older dog may suffer from bowel trouble so senior dog food often has a higher percentage of fiber when compared to puppy food. The added amount of fiber should help solve bowel issues or make it easier to manage for your senior dog.
When feeding your senior dog regular adult dog food, you may face trouble down the line concerning obesity. As older dogs tend to have weaker teeth and gums, wet canned food is often best. In addition, since they can't exercise as much due to lower energy levels or joint issues, they need food with a lower amount of calories.
For this reason, we've found the best canned dog food for senior dogs on the market today.
In a hurry? Here are our top picks!
Product
Best Overall
Hills Science
Image
Canned Dog For For Senior Dogs Reviewed
If you're in a hurry and desperately need canned dog food for your senior dog, look no further than right here. After scouring the market, we've determined that Hill's Science Senior Dog Food is the best option for your senior dog.
Not only is the 12 pack of cans good value for money, but there is plenty of protein in each serving of this dog food. Protein is incredibly essential when it comes to senior dog food. Our buys guide below will explain why protein is essential for an older dog.
Moreover, there are lots of vitamins, minerals, and nutrients within each can of this dog food. These promote good health, mobility, and brainpower, so your beloved pup will remain seemingly younger for longer.
Choose between chicken or turkey and barley flavors for the Purina ONE senior dog food. You get 12 cans per purchase, which is excellent value for money. The poultry is the main ingredient in this food, and there are no poultry by-products as filler ingredients so you can ensure that your senior dog is getting quality nutrition.

The natural ingredients give your dog plenty of vitamins and minerals to help aid their health during the later stages of their life. The texture of this dog food is ground meat with very fine chunks of meat in gravy, which is not only easy to eat and digest, but also delicious for your older dog. You can use this dog food either as a topper with kibble or you can feed it to them as a meal.
Purina ONE has plenty of protein in each portion of this canned dog food which is ideal for senior dogs' muscles and restoration. In addition, it is one of the most popular brands of dog food in the world so you should feel confident trying this canned dog food for your beloved animal. This was our budget pick for the best canned food for an older dog because it was the cheapest high-quality wet food we could find.
This senior canned dog food is the only option on our list that allows you to opt for a variety pack of flavors, which can be very beneficial while your older dog's taste buds are changing or they are a picky eater. Being able to purchase different flavors allows you to experiment with the various options without wasting money. While most older dogs love all types of canned wet food, we know there are picky eaters who refuse to eat the same thing over and over.
Each ingredient has been carefully selected to ensure that they're easily digestible for your older dog. Plus, there are plenty of antioxidants within the formula to keep your dog healthy and happy throughout their golden years. The nutrition in this canned dog food will help your senior dog stay lean and build muscle. All their wet canned dog food is made in the USA with the highest quality ingredients that support healthy skin, coats, and stools.
If you don't want to opt for the variety pack, you can choose between beef and barley, chicken and barley, or turkey and barley. Each option is ground down into small pieces so that your senior dog won't have any issue with eating it. Hill's Science dog food was even named the number one veterinarian-recommended option!
Next up is a 12 pack of canned senior dog food from Blue Buffalo. Every can is flavored the same as a chicken dinner with garden vegetables, which is one of the most popular flavors among dogs worldwide. Chicken is an excellent source of protein, and there is very little fat, carbohydrates, and calories within each portion. In addition, chicken is a great lean protein source because not many dogs are allergic to this ingredient. 
The consistency of the canned food is a mousse, which is much easier for senior dogs to eat without having to chew chunks before swallowing. A thinner consistency will make eating more enjoyable and less stressful if your dog has difficulty chewing.
All of the ingredients are natural and there are added vitamins and minerals to help aid your dog's health as they grow older. There are no thickening agents included or by-products within the mousse – just real, organic ingredients for your dog to enjoy. For every 10 pounds your dogs weigh, you simply feed them 1/2 a can of food.
IAMS is another well-known brand for dog food, so you should be confident trying their senior canned dog food. The chicken and rice food has been made into a pâté consistency, which is the most accessible type of food for senior dogs to eat. 
In addition, there are plenty of omega fatty acids within this food, which is useful for preventing heart problems and also helps to condition and nourish the skin. The ingredients are slow-cooked in a broth for the maximum amount of taste and flavor in each serving. Old dogs can't resist this flavoring and there are almost no complaints of taste.
All of the vitamins and minerals that come from high-quality animal products help to boost your dog's immune system to keep them fit day after day. The chicken also adds plenty of protein into the mix for efficient muscle repair and restoration. While chicken is the top ingredient in this canned dog food, they do use by-product meats which is the only downside of this wet food. However, it is cheaper than some of the other canned dog foods on our list because of the filler ingredients.
This is the second Blue Buffalo entry on our list, and this canned dog food has a mincemeat texture with small chunks of natural ingredients mixed in. Blue Buffalo has focused on the maximum amount of protein within each serving, as it is vital that your senior dog gets enough protein to help their muscles repair. In addition, lean proteins like turkey and chicken will help to prevent your older dog from getting overweight.
There is no grain used within the formula of this wet dog food, just natural healthy ingredients. Using both chicken and turkey is both delicious and helpful with getting your dog the most amount of protein, vitamins, and minerals without increasing the number of calories. 
You can feed your dog this food as a meal, mix it into their kibble if they're not ready to give up dry food entirely yet, or serve it to them in between meals for a tasty treat. The versatility of this food is just another bonus for you and your dog to enjoy. Senior dogs love the taste of this dog food!
Best Canned Dog Food for Senior Dogs Buying Guide
Now let's look at a few factors for you to consider before you choose a canned dog food for your senior dog. This isn't something to be taken lightly – the dog food you choose could drastically change your dog's behavior, health, and quality of life. Take the below considerations and bear them in mind while you compare different brands of dog food. 
Nutritional Content in Canned Dog Food
Nutrition needs to be watched more closely when it comes to senior dog food, so get used to reading the back of the canned meat! There are a few different things to consider when comparing dog foods, which we'll look at below. 
Fiber 
We touched upon the necessity of increased fiber intake in senior dogs. Fiber will help to regulate the digestive tract and bowel movements in your senior dog, making their bathroom trips more regular and less stressful for them. 
Changes in this respect can be worrying for dogs who don't understand what's going on, so amping up their fiber intake is a must when it comes to senior dog food. With that being said, you should still monitor your dog while adjusting their fiber intake. 
If you increase the amount of fiber in their diet, and you see that they begin to develop digestive issues and loose stools, so you should consider reducing the amount of fiber slightly until you find the right balance. This requires a bit of trial and error to get right. 
Protein
Dogs are mostly carnivores and therefore require a lot of protein to keep up with their requirements. However, senior dogs need even more protein than adult dogs, which you should incorporate into their diets. 
In the body, protein is used to repair and restore damaged tissue. Amino acids are a type of protein that helps to repair the muscles while the dog is resting and not using them. 
Senior dogs use a higher amount of proteins than puppies or adult dogs, which means they need to consume more protein to keep up. The more protein that your senior dog eats, the better their bodies will be able to recover.
This will fight the signs of aging and keep your dog feeling lively and playful. In addition, this may also help fend off health issues such as joint issues and muscle pain. 
Fatty Acids
Fatty acids will help to ward off heart problems in your senior dog, which is one of the main things owners want to avoid. Fatty acids will also work with the number of antioxidants in the senior dog food to keep their brains sharp and working. 
Keeping your dog's brain whirring will also prevent the signs of aging and make their golden years more enjoyable. No one likes to watch their furry companion slowly deteriorate in mental state, so fatty acids and antioxidants are one to look out for in the ingredient lists. 
Calories 
Senior dogs often struggle with obesity because they get fatigued quicker and don't exercise as much. It's common for older dogs to sleep more and prefer a rest over chasing after a ball over and over again. Thus, counting calories is another task for senior dog owners. 
Senior dog food often comes with fewer calories than adult food, but some manufacturers are more conscious about this than others. Also, the amount of calories that your senior dog needs to maintain its weight depends on their current weight and they amount they exercise.
You can easily find out how many calories your dog needs online and make sure that you stick to this. When in doubt, consult your veterinarian for advice. A general rule of thumb is to feed your dog a half a can of per every 10 pounds they weigh.
Make sure that you choose a dog food that reflects how many calories your dog needs per day. You cannot keep a can of open dog food in the refrigerator for more than seven days; however, some keep for a lot less time for this. Thus, make sure that you constantly using the wet dog as a topper for their kibble or a full meal.
You don't want to be wasting food, so if you have a smaller dog who doesn't need as many calories as a larger dog, perhaps you should opt for smaller cans of food to ensure that you don't have to throw any food away. 
Ingredients
Natural ingredients are always best for dogs, no matter what stage of life they're in. This often offers you fewer calories and no filler ingredients that aren't necessary for your dog's diet. As with humans, dogs should have a natural diet to reap the maximum amount of benefits from them. 
Feeding your dog natural ingredients should give them more nutrients and vitamins, which will help them feel more energized, aid their intelligence and brain activity, and help to prevent health issues that will affect the quality of their life. 
Grains, such as wheat, are often used within dog food to thicken up the consistency of the food and almost always hike up the number of carbohydrates in each serving. For this reason, it's best to avoid grains in senior dog food as they need a lower amount of carbohydrates than adult dogs.
This will help to prevent obesity and ease your mind from worrying about whether your senior dog is intolerant to grains or not. Many owners don't know the complications of a grain intolerance, so it's always worth looking into before making your final decision. 
Flavors
Senior dogs tend to experience changes in their taste buds, so don't be surprised if your pooch is deterred from their usual favorite food. Some senior dogs that used to love chicken now hate it and only eat lamb, which is why we'd advise taking the time to experiment with their taste buds before opting for lots of cans of only one flavored food. 
Look for a multipack of different flavors or give your pet samples of different flavors before jumping the gun. Some senior dogs aren't fussy and will eat any flavor, but some will become picky and only eat what they want. To avoid the stress and worry of your companion, not eating, take the time to find the best flavor for them. 
Texture
If your senior dog has issues with their gums and teeth, they may need a softer canned dog food than they used to eat. This can come in the form of mousse or pâté or small chunks of meat. All of the canned food that we've mentioned above comes in easily eaten and digestible textures. 
Which option you opt for will depend on your dog and their ability to eat. Senior dogs often prefer a wet food diet. However, you need to determine whether or not they can handle chunks of meat. 

If they can, you should look for a food that incorporates small pieces of meat into the jelly or gravy, as these will be easier to chew and digest than bigger pieces. If you're unsure of what your dog can eat, check with your veterinary surgeon beforehand. 
Frequently Asked Questions
Is canned dog food better for older dogs?
Senior dogs prefer a softer diet because of the higher likelihood of tooth decay and sensitive gums. Canned food is easier to chew and digest, so its often the best option for senior dogs. If you don't have any canned dog food and your pet isn't enjoying their dry kibble, try mixing it with a little water to soften the pieces.
Are eggs good for older dogs?
Eggs are a good source of protein, and they're very digestible for dogs, so yes, eggs are good for older dogs. Eggs also contain selenium and riboflavin, which are two other benefits. However, eggs should only be fed as treats as they can be very rich for dogs. Make sure the egg white is completely cooked through, as uncooked egg white can sometimes lead to health complications.
Garrett loves animals and is a huge advocate for all Doodle dog breeds. He owns his own Goldendoodle named Kona. In addition, he volunteers at the Humane Society of Silicon Valley, where he fosters dogs and helps animals. Garrett enjoys writing about Doodles and believes that dogs can teach humans more about how to live than humans can teach a dog.
Why Trust We Love Doodles?
At We Love Doodles, we're a team of writers, veterinarians, and puppy trainers that love dogs. Our team of qualified experts researches and provides reliable information on a wide range of dog topics. Our reviews are based on customer feedback, hands-on testing, and in-depth analysis. We are fully transparent and honest to our community of dog owners and future owners.