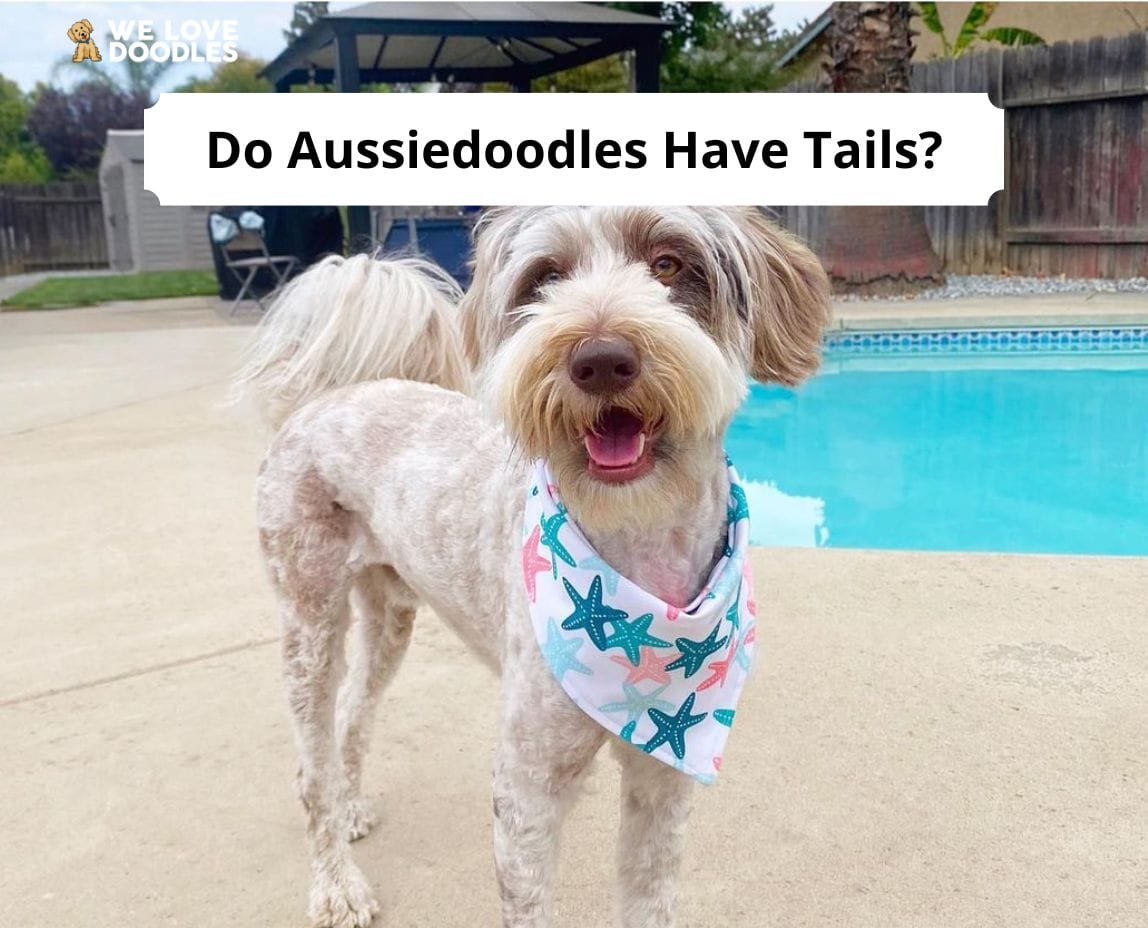 If you've never heard of the Aussiedoodle, here's your introduction! The Aussiedoodle is a designer breed created by crossing the Australian Shepherd and Poodle breeds. Like any other designer breed, the Aussiedoodle combines the characteristics of its parent breeds.
So, you want to know whether Aussiedoodles have tails? Well, the answer is a little bit complicated. Some Aussiedoodles have tails while others don't. There are two potential reasons your Aussiedoodle may lack a tail. It may not have been born with one, or the breeder may have docked its tail.
Keep reading to learn more about Aussiedoodles and whether or not they have tails.
Are Aussiedoodles Born Without Tails?
Whether or not an Aussiedoodle is born with a tail depends on its genetics. The Aussiedoodle is a mixed breed combining the Poodle and Australian Shepherd.
Many Australian Shepherds are born without tails, as that characteristic is prized during their breed development. As a result, some Aussiedoodles inherit the trait of not having a tail.
When Aussiedoodles are born with tails, the breeders will often dock them.
Why Do Aussiedoodle Breeders Dock Tails?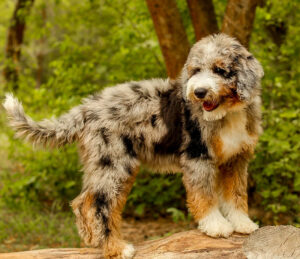 Not every Aussiedoodle breeder docks their puppies' tails. In many cases, they won't need to anyway, as some puppies in this designer breed are born without tails.
But many breeders do dock the tails of puppies born with them. There are different reasons for this. Let's take a look at them below.
It's Become Expected
Sometimes breeders decide to dock tails simply because that seems to be what other breeders do and what puppy purchasers expect.
If you don't want an Aussiedoodle with a docked tail, talk to prospective breeders and ask what the policies are. Ask the breeder if they'd refrain from docking the tail of a puppy that you commit to purchasing.
Part of the reason Aussiedoodle tail docking has become customary is because of the tradition of docking tails in the Poodle and Australian Shepherd breeds.
Poodle tails are still often docked, and Australian Shepherds, as active working dogs, also always had their tails docked. However, sometimes that hasn't been necessary because these dogs are bred to have the shortest tails possible.
Grooming May be Easier
Some Aussiedoodle owners like docked tails because there's less mess. They don't have to worry about dirt and other debris ending up stuck in the tail hairs.
To Cut Down on the Risk of Injury
Some Aussiedoodle breeders believe that tail docking will make their dogs less likely to get injured in the future. This is based on the idea that if a dog has a long tail, it can get stuck in something or otherwise damaged.
However, some critics believe this doesn't make sense. After all, most Aussiedoodle owners keep their dogs as pets, not working dogs. One of the Aussiedoodle's parents, the Australian Shepherd, is traditionally a working dog. That is why they have usually been tail docked.
When Do Breeders Dock Aussiedoodle Tails?
If a breeder is going to dock an Aussiedoodle puppy's tail, they'll do so when it's very young. They may even do it when the puppy is still a newborn. In many cases, they may do it when the puppy is younger than one week old.
If they haven't done the tail docking by the time the puppy is one week old, it will have to wait until it's at least two months old. That's because it will need general anesthesia, and it's unsafe for puppies younger than two months old to be given that.
Is Tail Docking Painful to Puppies?
Yes, unfortunately, this is a painful procedure if done without general anesthesia. As we mentioned earlier, puppies younger than two months old cannot have general anesthesia. If a breeder is going to dock a puppy's tail when the puppy is less than two months old, it must be before it is one week old.
Breeders believe that a newborn puppy younger than a week old won't experience excessive pain if their tail is docked without an anesthetic. However, some experts disagree. Your personal convictions are something to keep in mind when asking prospective breeders whether they dock tails and when they do it.
Do Aussiedoodles Have Long or Short Tails?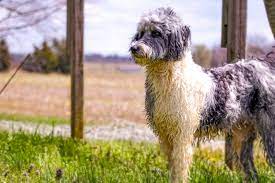 Aussiedoodles vary in terms of whether they have a tail and how long their tail is. Most Aussiedoodles will either have a short tail or even no tail when they're born.
However, many Aussiedoodles do have longer tails. These Aussiedoodle tails may have a pouffy look that many pet owners find very cute.
Overall, Aussiedoodles tend to be born with extremely short (otherwise known as "bobbed") to moderately short tails. Whether they are short or long, they tend to have a puffy appearance.
If you've never seen an Aussiedoodle with a tail, there's a good reason for that. Most Aussiedoodle breeders dock their puppies' tails.
What About Mini Aussiedoodle tails?
Mini Aussiedoodles are the same as Standard Aussiedoodles. They have a variety of tail lengths, but they'll be in proportion to their smaller bodies.
Just like with other Aussiedoodles, breeders often dock Mini Aussiedoodle tails. Some other breeders don't.
Should You Get an Aussiedoodle With a Tail?
Whether you want an Aussiedoodle with a tail depends on your preferences and whether or not you like the idea of tail docking. If you want an Aussiedoodle without a tail, but you don't agree with docking, look for a puppy that was born tailless.
If an Aussiedoodle with a tail is what you're looking for, keep in mind that there will be a little more grooming to deal with.
Should You Get a Tailless Aussiedoodle?
As most Aussiedoodles have either no tails or bob (very short) tails, it'll be easier for you to get a tailless Aussiedoodle than one with a tail.
If you're thinking about purchasing an Aussiedoodle, ensure you ask the breeder whether the dog was born without a tail or if it was docked. If you're going to buy a puppy that will have its tail docked, ask the breeder for details about how their procedure to ensure it is done humanely.
An increasing number of dog owners prefer not to get puppies with docked tails. Also, many veterinarians feel that the docking process is cruel and unnecessary in most cases. Your Aussiedoodle will be a pet rather than a working dog, so there's no real risk of tail injury.
Frequently Asked Questions
Let's find out the answers to some frequently asked questions about the Aussiedoodle.
How Should I Groom My Aussiedoodle?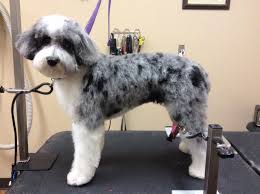 As we mentioned earlier, if your Aussiedoodle has a tail, you'll have to do a little extra grooming. After all, dirt can get stuck in that area of fur.
But no matter whether or not your Aussiedoodle has a tail, you'll have to groom it. The exact kind of grooming you should give this dog depends on the kind of fur it has.
After all, if your Aussiedoodle's coat is more like a Poodle, it will have hair with a longer growth cycle. That hair will be curly. Some other Aussiedoodles, however, have coats more like an Australian Shepherd. In that case, the coat will have straight hair.
Overall, you should brush your Aussiedoodle once a week at the minimum. Try daily brushing if you want to be extra thorough, or if you notice your Aussiedoodle is more of a shedder.
Regular brushing is necessary not only to get rid of loose hairs but also to prevent matting. If you want a dog that doesn't need as much bathing as other breeds, the Aussiedoodle is a good choice. You may only have to bathe this dog once monthly or even bi-monthly.
Why Don't Australian Shepherds Have Tails?
Traditionally, farmers using Australian Shepherds as herding dogs didn't want these dogs to have tails. This was because a dog's tail could get easily injured.
Breeders started docking the tails and selecting dogs during breeding that had shorter tails as a result. For this reason, many Australian Shepherds today are born without tails or, with short tails.
Do Aussiedoodles Have Curly or Straight Hair?
Aussiedoodles vary in terms of how curly or straight their coats are. While some Aussiedoodles take more after their Poodle heritage and have curlier hair, others have straighter hair like Australian Shepherds.
Do Aussiedoodles Shed?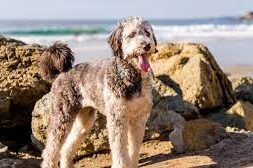 While there is some variation between Aussiedoodles, overall, this dog doesn't shed very much. Many Aussiedooes hardly shed at all. That is a result of the Poodle part of their heritage.
Allergy sufferers often choose to have Poodles as pets because of how little they shed. However, Australian Shepherds shed more.
How Big Will an Aussiedoodle Get?
There is a lot of variation in Aussiedoodle size. The Standard Aussiedoodle is the largest. However, there are also Miniature and Toy varieties available which are much smaller. Height at the shoulder is between 10 and 15 inches.
Aussiedoodles weigh between 25 and 70 pounds, on average.
What Dog Breeds Don't Have Tails?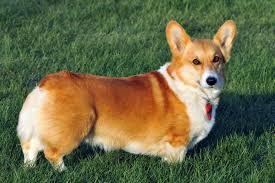 As we've discovered here, Aussiedoodles often don't have tails. But what other dog breeds lack tails? The answer is a bit complicated since, with many dog breeds, some puppies will be born tailless while others will have tails.
Tail docking is also a factor here. While it's controversial, breeders of some dog breeds tend to dock their puppies' tails. Some dog breeds have breed standards that call for tail docking.
Here are some examples of dogs that are often tailless, whether naturally or because of docking:
Pembroke Welsh Corgi
French Bulldog
English Bulldog
Boston Terrier
Australian Stumpy Tail Cattle Dog
Poodle
Australian Shepherd
Should You Get an Aussiedoodle?
Buying a dog shouldn't be an impulse decision. Think about your lifestyle, needs, and preference, and choose a breed that is a good fit.
The Aussiedoodle combines the characteristics of its parent breeds: the Poodle and the Australian Shepherd. That means this breed is intelligent and playful and needs a lot of interactive playtime and exercise.
Final Thoughts: Do Aussiedoodles Have Tails?
So, as we've heard here, most Aussiedoodles don't have tails. You can find an Aussiedoodle with a tail, but you should talk to the breeder before the litter is born, especially if you have concerns about tail docking.
Want to learn more about the Aussiedoodle? Check out the video below:
Garrett loves animals and is a huge advocate for all Doodle dog breeds. He owns his own Goldendoodle named Kona. In addition, he volunteers at the Humane Society of Silicon Valley, where he fosters dogs and helps animals. Garrett enjoys writing about Doodles and believes that dogs can teach humans more about how to live than humans can teach a dog.
Why Trust We Love Doodles?
At We Love Doodles, we're a team of writers, veterinarians, and puppy trainers that love dogs. Our team of qualified experts researches and provides reliable information on a wide range of dog topics. Our reviews are based on customer feedback, hands-on testing, and in-depth analysis. We are fully transparent and honest to our community of dog owners and future owners.