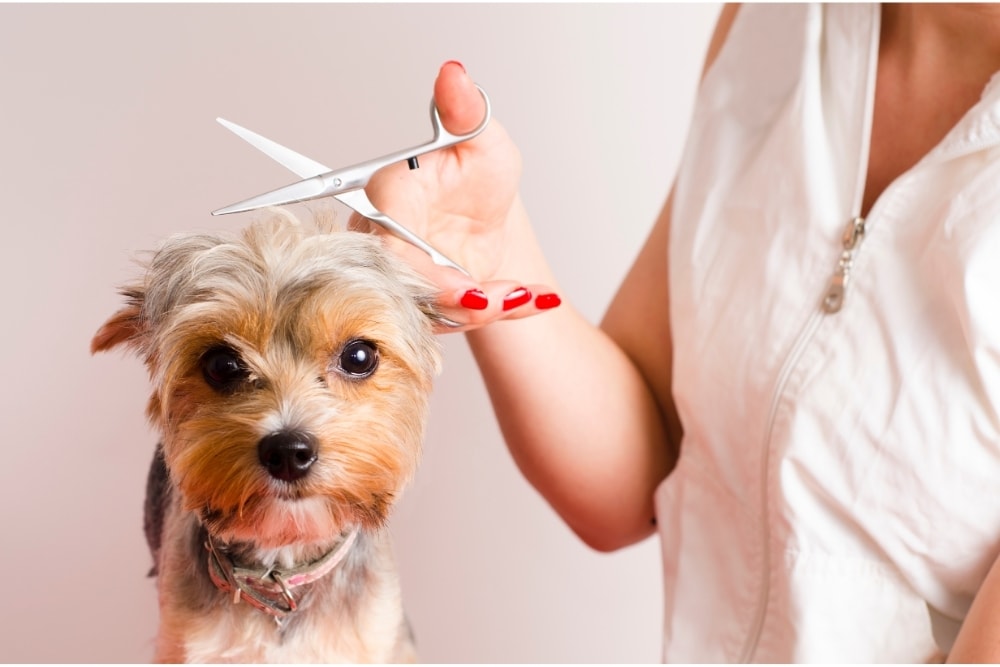 Whether you're a professional dog groomer or are just looking to give your dog a new hairdo, dog grooming scissors can quickly become your best friend.
Long-haired dogs are beautiful to look at and have lovely personalities, and we wouldn't change them for the world. However, one minor setback of long-haired dogs is that they require a lot of grooming.
Without keeping up to date with your dog's grooming demands, a whole plethora of issues can occur.
For starters, their coats will pick up lots of dirt from the floor and be brought into your home. This is the same for mud, dust, and even other dog's mess.
The fur might also grow too unruly to manage, making it matte and very uncomfortable for your pooch.
If these mats become too large and painful, they will need to be cut out by a professional leaving your dog with an unsightly coat. They might even suffer from inflamed skin and bald spots.
Luckily, there is something you can do to prevent their coats from getting unmanageable. Dog grooming scissors can be used to keep their hair tamed and shiny between grooming appointments.
We've found the five best dog grooming scissors to make your job as simple as possible, keeping it an enjoyable experience for both you and your furry friend.
Product
Gimars 4CR Stainless Steel Dog Grooming Scissors
GLADOG Professional Grooming Scissors for Dogs
Pets First Pet Grooming Scissors
Kingstar 7.0in Titanium Professional Dog Grooming Scissors Set
Image
Beginning our list is a six-piece grooming set, including two pairs of straight-edged scissors (5.1 and 6.1 inches) for cutting around the face and legs respectively. You also get a pair of 7.1-inch curved scissors to use all over the body, thinning scissors, a comb, and a travel pouch.
This scissor set allows you to use them on dogs with all coat types, from curly to straight, short to long. All of the scissors feature a rounded tip to ensure that your dog is protected from accidental injury should they move mid-haircut.
The 4CR stainless steel is rustproof and durable, allowing you to keep and use these scissors for many years to come. You'll be able to use the scissors without causing injury to your pet or scaring them with unknown noises.
The grooming scissor set from GLADOG comes with three pairs of scissors, a comb, and a travel pouch. You'll receive one pair of straight-edged scissors, one pair of curved scissors, and one pair of thinning shears. These are all 6.5 inches long which is ideal for both small and large dogs.
These scissors are all made from stainless steel with a titanium coating to ensure maximum durability. The titanium plating will prevent your dog from having an adverse reaction to the stainless steel material.
Not only are these scissors comfortable for your dog thanks to not pulling their coats, but they're also comfortable for humans.
The rubber bumpers within the handles keep your fingers comfortable and prevent them from being trapped. The finger rest does the same job, keeping the grooming experience enjoyable for everyone involved.
Next up is a more simple set of scissors, only coming with two pairs. While this isn't as versatile as the other sets we've looked at, the Pets First grooming scissors might be ideal for people who only want a small set to make some minor adjustments to their pet's coats.
You will receive one set of long scissors and one set of shorter scissors for around the delicate areas of your dog's body. These are 7 inches and 6 inches respectively, which is a great average length for all dog breeds.
The rounded edges prevent your dog from being poked mid-haircut, keeping them comfortable and happy throughout. This will speed up the process and prevent you from having to spend longer than necessary on their grooming session.
Perhaps the most professional set of dog grooming scissors on our list, these scissors from Kingstar will make you feel like an expert dog groomer in no time.
With this set, you get one pair of straight-edged scissors, one set of thinning scissors, and two pairs of curved scissors – one up-curved and the other down-curved.
The ability to have two sets of curved scissors at your disposal will allow you to get cleaner cuts without having to have your arms at awkward angles trying to achieve the perfect result.
This makes face and paw shaping much easier than if you were only to have one set of curved scissors.
These scissors are made from 6CR stainless steel to ensure that their sharpness lasts for as long as possible. Each set of scissors has gone through a careful polishing and grinding treatment to keep them sharp and premium-quality.
Another simple set of grooming scissors, the PetQoo kit comes with one set of straight-edged scissors, one set of thinning shears, one comb, and a travel pouch. Both the scissors are 6.7 inches in length and the comb is slightly longer at 7.5 inches.
These scissors are durable and sharp, made from high-quality stainless steel. They can be used for all dog breeds and even cats if you can get them to sit for long enough! The scissor points are dulled down thanks to the rounded edges to prevent injury.
The silencer pad between the finger holes prevents these scissors from making any worrisome noises that might freak your dog out. Instead, they will have a more pleasant experience that can be conducted faster thanks to them sitting still and comfortably.
How to Choose a Dog Grooming Scissor
If you're still unsure of which dog grooming scissors are the best choice for you and your pup, look no further. Here we're going to be listing the most important considerations for you to take before opting for a pair of grooming scissors.
Types of grooming scissors available
There are three types of dog grooming scissors that you'll see on the market, which we've listed below:
Straight-edged scissors: Easiest to use thanks to being the most similar to normal scissors we use, these scissors can be used over your dog's entire body.
Curved scissors: These scissors offer more targeted cuts to create the desired shape around the face and paws.
Thinning scissors: Ideal for dogs with thick coats, thinning scissors will thin the coat rather than cutting all of it off.
All of these scissors achieve similar results – they can all be used to groom your dog and remove parts of their coats to make them more comfortable.
Each of these scissors is valuable in its own way, but if you only want to opt for one pair of scissors we would recommend straight scissors thanks to their versatility.
Scissor sets
You'll notice that all of the dog grooming scissors that we've looked at above come in sets rather than just one pair of scissors. A set of grooming scissors is helpful as you'll have more tools to play around with rather than just one.
For example, a set with all three of the scissor types that we've looked at above will allow you to trim your dog's entire coat with straight-edged scissors.
You'll then be able to use the curved scissors to shape their coat around their face, paws, and tail, finishing off by thinning their entire coat.
Beginners to dog grooming are advised to opt for a set of scissors rather than just one pair so that they can have as many tools at their disposal to achieve the best results.
The more tools that come in a set, the better. You'll also likely be getting better value for money.
Rounded tips
We always recommend that beginners opt for a pair of dog grooming scissors that have rounded tips. This is where grooming scissors differ from normal hairdressing scissors. Other than this factor, both these scissor types look quite similar.
The similarities between grooming and hairdressing scissors can make it tempting for you to just use your hairdressing scissors for your dog.
While you can do this if you have a docile dog that will sit still and patiently throughout its haircut, we'd opt for rounded tips to be safe.
The reason for this is that rounded tips are safer to use with wriggling and impatient dogs. Hairdressing scissors typically have sharp pointed ends, which can cause injury if the person or animal getting the haircut likes to move around. This is why children's hairdressers will often use scissors with rounded tips.
The rounded tips just keep your dog safe and comfortable throughout the haircut. If they are poked with a sharp set of scissors, they might become agitated and cause even more injury to themselves as you try to finish the haircut off.
Length of scissor
Many grooming scissors will come in different lengths for you to choose from. If you're unaware of why the scissors are different lengths, it might be tempting to opt for the longest that you can find. After all, the longer the scissors are, the shorter the haircut will take – right?
While that might be true, long scissors are often reserved for larger dogs and shorter scissors for small dogs. The smaller the scissors are, the more precision you'll get with your cuts.
So, the length you opt for will depend on what you're wanting to use them for.
4-inch scissors: Ideal for precision cutting around the face and other hard to reach areas.
6 to 7-inch scissors: Perfect for small breeds such as Poodles, Shih Tzus, and teddy bear dogs.
8-inch scissors: Great middle-ground for beginners to use on most breeds of dogs.
9 to 10-inch scissors: Best for large breeds or cutting a considerable amount of hair off of your dog.
If you know that you're only going to be using the scissors for one dog, you can choose a pair of grooming scissors to align with the reason you're using them.
However, if you're hoping to use the scissors for more than one rough cut, we'd recommend opting for many pairs of scissors at different lengths. Again, this is where scissor sets can come in handy.
Blade material
When it comes to dog grooming scissors, you'll want a high-quality blade to ensure that each cut is removing as much hair as possible. Blunt blades will force you to spend longer on the haircut as you'll have to keep going back over the areas that you've already trimmed.
Low-quality scissors will also be more likely to pull the hair rather than cutting it, leaving your dog more uncomfortable than they need to be.
The best materials to look for when choosing your dog grooming scissors are either stainless steel or titanium-coated blades. Stainless steel scissors are more durable and resistant to rusting, allowing you to use them for many years.
Titanium-coated scissors might be a better option for you; however, because titanium is hypoallergenic and therefore better for dog skin. Some dogs have a nickel allergy, which can be found in many stainless steel products.
If your dog has a nickel allergy and you're using it close to their skin, they might begin to suffer from a dermatitis rash which can become very uncomfortable.
There are other materials that you can choose from when it comes to dog grooming scissors, although we would stick to either stainless steel or titanium-coated blades to keep your dog safe.
Frequently Asked Questions
Why do dog groomers use curved scissors?
Imagine trying to cut out a circle from a piece of paper while using straight-edged scissors and clean cuts. Now imagine doing the same thing with a pair of curved scissors. The latter is going to be the better option, right?
Dogs' bodies are not perfectly straight and angular, and many owners don't want their dogs to have a boxy shape after their trim. So, instead of struggling to create curves in the coat with straight-edged scissors, they use curved scissors to get the job done faster.
Plus, curved scissors can be used around the face and paws to create that lovely round shape that dogs look so good with. They just make the task at hand easier.
How often should dog grooming scissors be sharpened?
Just like hairdressing scissors, dog grooming scissors should be sharpened within every 500 to 700 cuts. To avoid you having to manually count how many times you open and close the scissors, let's round that up to every three months or so.
If you're grooming a larger dog, you're going to be using more cuts on one grooming session than if you had a smaller dog. So, use this to determine how often you should sharpen your scissors.
For big dogs, it will be less than three months, while for smaller dogs you might be able to get away with leaving it for longer.
Teacup and miniature breeds might allow you to sharpen your dog grooming scissors only once a year!
Garrett loves animals and is a huge advocate for all Doodle dog breeds. He owns his own Goldendoodle named Kona. In addition, he volunteers at the Humane Society of Silicon Valley, where he fosters dogs and helps animals. Garrett enjoys writing about Doodles and believes that dogs can teach humans more about how to live than humans can teach a dog.
Why Trust We Love Doodles?
At We Love Doodles, we're a team of writers, veterinarians, and puppy trainers that love dogs. Our team of qualified experts researches and provides reliable information on a wide range of dog topics. Our reviews are based on customer feedback, hands-on testing, and in-depth analysis. We are fully transparent and honest to our community of dog owners and future owners.