With a hard-working and active personality, Australian Shepherds can be a great addition to your family. Commonly associated with cowboy herding, this dog breed is agile and very intelligent. In fact, they became popular in Western Culture due to riding horses and rodeos shown in the media. Also called Aussies, these dogs require daily exercise and need an active lifestyle to stay well and healthy.
According to the American Kennel Club, Australian Shepherds rank 17th for the most popular dog breeds. With a medium size of a high between 18-23 inches tall and weighing around 40-65 pounds, Aussies can be a great family dog to keep you on your toes. Their tri color and merle color pattern is unique and makes them a beautifu looking dog.
If you're looking for a lively and energetic dog, an Australian Shepherd puppy in California can be a great addition to your family. Australian Shepherd breeders in California share the love of this beautiful dog with you as they raise their puppies and train them to fit into your home. From small, family-owned operations to larger facilities offering a variety of services, these Aussie breeders in California are reputable and not a puppy mill.
Other articles you might like: Aussiedoodle Breeders in California.
Top Breeders for Australian Shepherds in California
When you're on the search for bringing in the right Australian Shepherd into your home, you've got some great options for breeders all over California. To help you get started on your search, we share Australian Shepherd puppies for sale in California. Here you'll find a brief overview of their breeding operation and contact information if you're interested in exploring more about their practices.
1. Stone Pine Australian Shepherds (Northern California)
Since 1972, the team at Stone Pine Australian Shepherds has been working to breed this unique herding dog. Their experience includes participating in breeding clubs and taking leadership in the Aussie breeding standards. When it comes to what makes an Australian Shepherd an Australian Shepherd, Stone Pine knows what's important.
When you're considering getting an Australian Shepherd puppy from Stone Pine, they'll walk you through the entire process from first requesting this high-quality dog breed to picking up and caring for a puppy once they are in your home.
They'll learn a little more about you and your family so that they can match you with the right Australian Shepherd puppy and temperament. Following a quick interview, you can set your preferences, plan a puppy visit, and be ready to open your home to your new dog. They are a fantasy Australian Shepherd breeder in California.
Stone Pine Australian Shepherds Information:
2. Tried and True Aussies (Northern California)
For owners Matt and Rebecca Luedeck, raising Australian Shepherd puppies in California is part of their everyday life. On their small ranch, they breed these beautiful dogs to be socialized and cared for in a loving home.
They even have bred Aussiedoodles, offering a fun new option to your family, particularly if you have pet allergies or don't like the fact that Australian Shepherds shed hair. While it's a newer dog breed they're exploring, these fun-loving mixes can be a delight for a variety of lifestyles and families.
With a dedication to their Australian Shepherd puppies in Northern California, they also offer a wide range of resources and information about how to care for your dog, particularly when it comes to nutrition. Committed to providing the best experience possible with their family, they eagerly learn and explore more about the best practices in breeding and caring for Australian Shepherds.
Tried and True Australian Shepherds Information:
3. Heartfire Australian Shepherds (Southern California)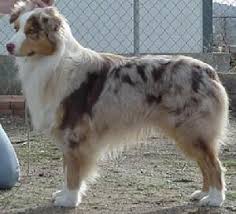 Since 1981, the team at Heartfire Australian Shepherds have been breeding and caring for these puppies and sharing them with loving families. They are one of the oldest Australian Shepherd breeders in California that we could find.
While they also have a location nearby in Arizona, they're also available just east of Los Angeles, California. They're proud supporters of organizations like the American Kennel Club  and the Australian Shepherd Club of America that set high standards for their precious pups.
Their focus for breeding is on conformation, herding, obedience, and agility. All of the puppies that they sell will have been health tested and free of genetic diseases. If you're located in Southern California, this could be a great Aussie breeder for you!
Heartfire Australian Shepherds Information:
4. Fluffy Butt Aussies (Southern California)
At Fluffy Butt Aussies, the puppies are celebrated for their natural style and intelligence. A small, family-run breeding operation, they emphasize the Australian Shepherd's natural tail. Whether a natural dock tail or half-length or full length, the fun in these Australian Shepherd puppies comes in their variety as a litter. They also choose not to alter their claws as they serve important purposes in getting traction and improving joint health. The team at Fluffy Butt promotes that the tail is something unique to the dog and is something to celebrate through their litters.
Their website shares cute photos of their Australian Shepherd puppies in California to make you fall in love with these naturally-tailed Aussies even more.
Fluffy Butt Aussies Information:
5. A&K's Aussies (Southern California)
As a third-generation breeder, A&K's Aussies know this breed inside and out. Raised in their own family in Escondido, California, these Australian Shepherd puppies learn and are trained to get along with kids and other dogs. They are well socialized and will fit in to your new household. 
With an expansive ranch, the Australian Shepherd litters from A&K have plenty of room for exercising and socializing with other puppies and animals. Each Australian Shepherd puppy is cared for one-on-one to ensure they are happy and healthy until they go to their forever home.
As each puppy is welcomed into a new home, they come with a health guarantee for genetic diseases. In addition, they've gone through basic health exams and preventative care through a veterinarian. With a holistic mindset, they are also passionate about maintaining the Australian Shepherd puppy's natural tail, however fluffy or long it may be.
If you're interested in learning more about puppies from A&K Aussies, you can fill out a brief client questionnaire. On this form, you'll share a little more about your family and lifestyle, so that they can find an Australian Shepherd puppy that fits well for you and your family.
A&K Aussies Information:
6. Catori Australian Shepherds (Northern California)
With beginnings as a handling and training practice facility, owner Regi Bryant has grown into breeding Australian Shepherds that are successful in competitions. Catori, which means "spirit" began as a kennel to well tempered and intelligent dogs to families seeking a lifelong companion.
She's earned numerous accomplishments and also serves as an American Kennel Club judge and ASCA Senior Breeder judge and Hall of Fame Breeder. Regi also has an extensive list of handling and training experiences that's fueled her passion for all the Australian Shepherd puppies she breeds in Northern California.
With such accomplishments, you can be confident that the Australian Shepherd puppy you bring home from Catori is of high-quality and can fit into your family well. They breed with award-winning dogs that also come with an impressive list of accomplishments.
Catori Australian Shepherds Information:
Finding an Australian Shepherd Breeder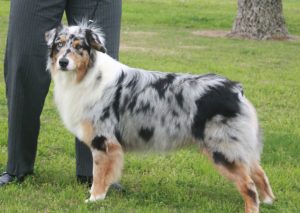 For active and lively families, an Australian Shepherd puppy can be the perfect addition to your home. Aussies have high intelligence and an inclination for herding and gathering people and animals together. If you're looking for Australian Shepherd breeders in California, you'll want to do a significant amount of research. First and foremost, you want to find a quality breeder that is passionate about the breed and cares for Australian Shepherds of good health, character and behavior.
You'll want to browse their websites and connect with them if you're interested in learning more about reserving your Australian Shepherd puppy. In addition, you'll want to verify that they do some sort of genetic health testing on their dogs and ask if they give a health warranty on their dogs.
Conclusion for Best Australian Shepherd Breeders in California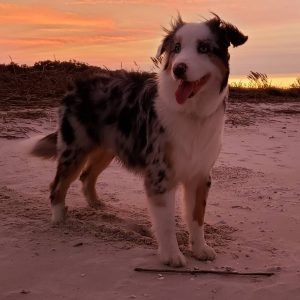 Australian Shepherd puppies in California are extremely popular due to their unique coat coloring and active lifestyle. If you like to live life outdoors and want a furry companion than an Aussie would be a good choice. We hope that our list helped you find some of the best Australian Shepherd breeders in California. Remember to always avoid puppy mills and backyard breeders by doing a lot of research!
Other articles you might like:
Garrett loves animals and is a huge advocate for all Doodle dog breeds. He owns his own Goldendoodle named Kona. In addition, he volunteers at the Humane Society of Silicon Valley, where he fosters dogs and helps animals. Garrett enjoys writing about Doodles and believes that dogs can teach humans more about how to live than humans can teach a dog.
Why Trust We Love Doodles?
At We Love Doodles, we're a team of writers, veterinarians, and puppy trainers that love dogs. Our team of qualified experts researches and provides reliable information on a wide range of dog topics. Our reviews are based on customer feedback, hands-on testing, and in-depth analysis. We are fully transparent and honest to our community of dog owners and future owners.