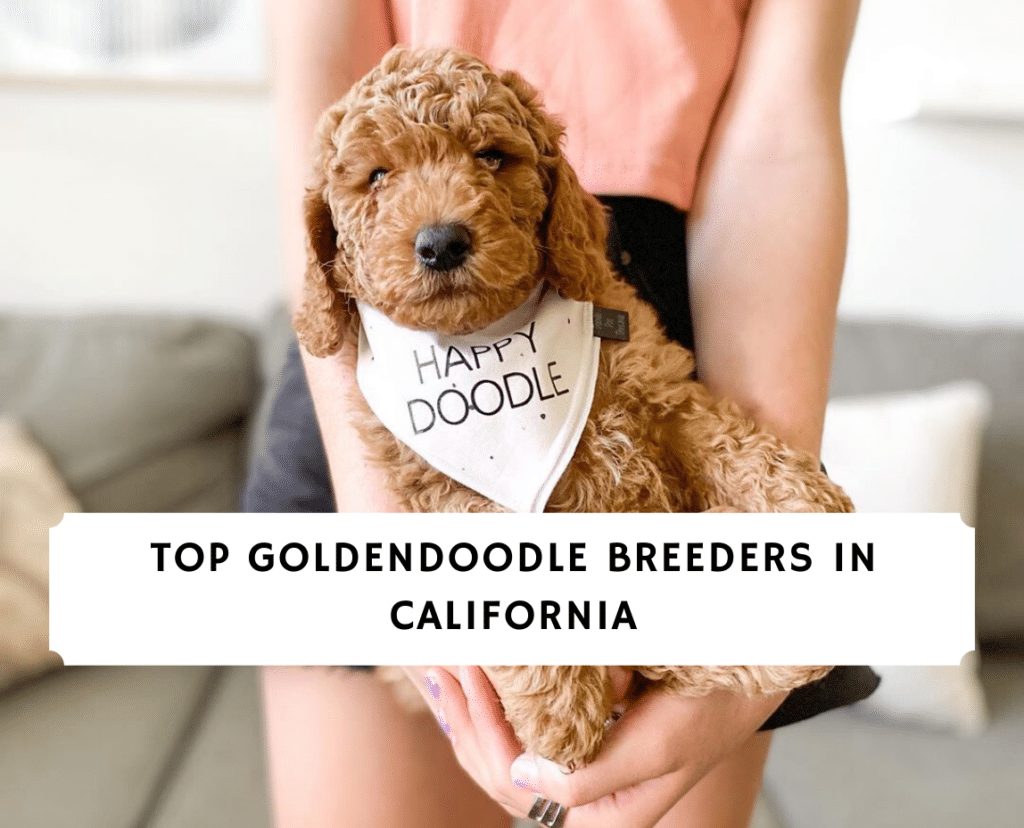 If you're looking for a Goldendoodle breeder in California then we've got you covered. We've created a Top 5 Goldendoodle Breeders in California list to help you find your future Goldendoodle puppy. We've decided to sort each breeder by Goldendoodle size, Goldendoodle generation, and breeder reputation. If the Goldendoodle breeder looked like a puppy mill then we excluded them from our list.
1) PuppySpot Goldendoodles
Our top recommended Goldendoodle breeder in California is PuppySpot. The main reason is that Goldendoodles puppies are extremely popular right now and reputable breeders have long wait times of 1+ years. PuppySpot has shorter wait times and qualifies the highest quality Goldendoodles breeders in the country to shorten the waitlist process for purchasing a Goldendoodle. They are one of the largest marketplaces for buying puppies and sold over 200,000 healthy puppies to homes.
Each of the breeders that they choose is screened in partnership with USDA and American Humane. Additionally, for each Goldendoodle puppy, they have a Nose-to-Tail health check as well as a health guarantee. They will also coordinate all travel to California for your Goldendoodle puppy to ensure that you receive a healthy and happy dog. Also, their prices for Goldendoodles are affordable. You can search by features like generation, size, and coat color. We highly recommend PuppySpot if you don't want to wait 1+ years for a new Goldendoodle puppy in California.
Goldendoodle Puppy Information:
Generation: All generations. F1, F1B, F2, and F2B Goldendoodle puppies
Size: All sizes
Goldendoodle Breeder Details:
2) Power Goldendoodles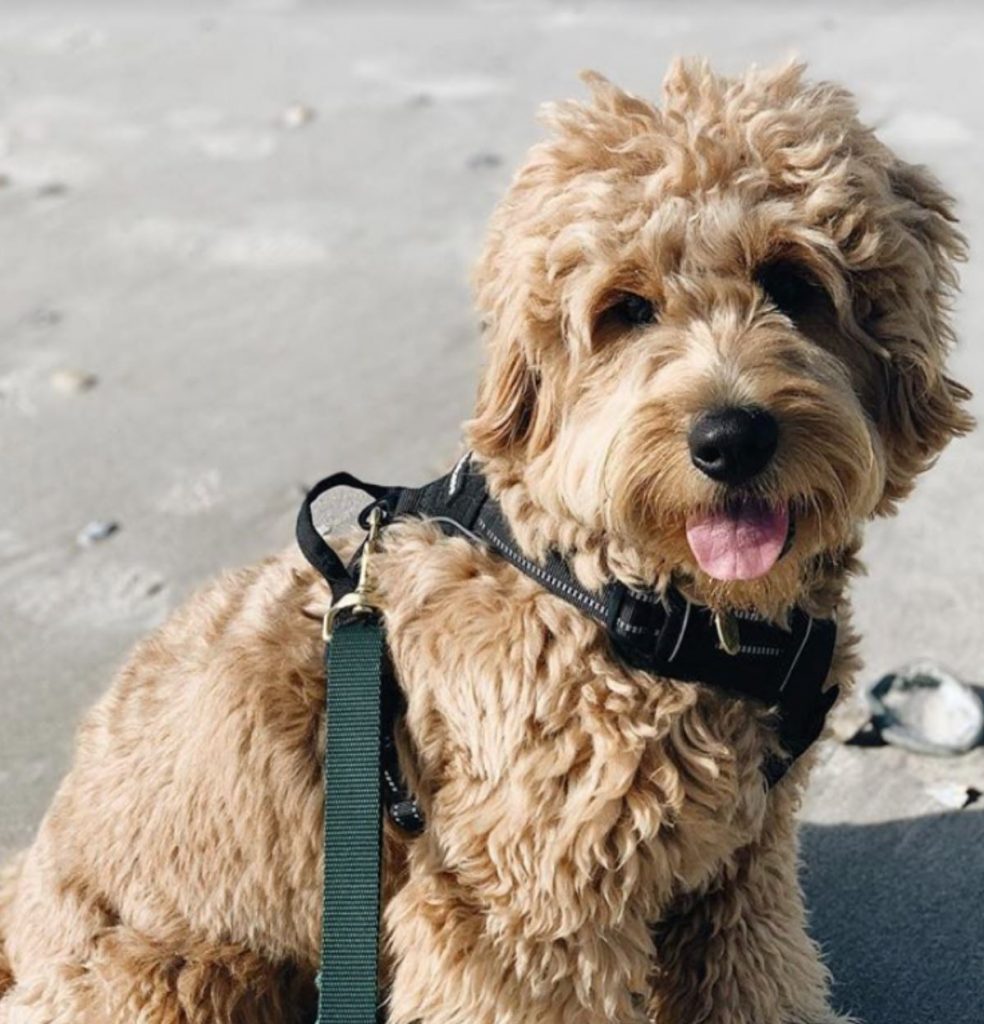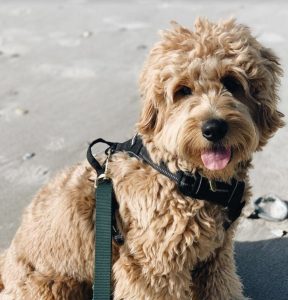 Power Goldendoodles specializes in English Teddybear Goldendoodle puppies. They are one of the only F1 English Mini Goldendoodle breeders in the nation. They say these puppies have a classic teddy bear look that is unique to the Mini F1 English Goldendoodles. Their puppies are raised in Idaho, but most of their puppies are sold to California buyers. They offer in-cabin puppy nanny delivery to major airports. The puppies enjoy the beach, water, sand, and are a great size and breed for the active urban lifestyle. The puppies are raised in their home with their large family helping them.
April Power has been published as an authority on Goldendoodles and has been breeding since 2012. Their puppies are health tested, come with ENS and Puppy Culture socialization, and selectively bred to maintain health and beauty. Many of their puppies have become service dogs like diabetic alert dogs and therapy dogs in hospitals and clinics.  Power Goldendoodles breeds only F1 and F1b English Teddybear Mini and Medium Goldendoodles because they think they are the best family breed. They do not take deposits on puppies. They sell them when they know the puppy's personality which is around 6 weeks old.
Their seniority list takes approximately 6 months to get a puppy. They say their process allows the Breeder and the Puppy Buyer to get to know each other before working together. They also offer puppies for their special "Giving Puppy Program." This allows buyers to get a puppy sooner if they are willing to donate to a children's charity, after an interview with them. Their reviews are great and they have many happy buyers.
Goldendoodle Puppy Information:
Generation: F1 & F1B Goldendoodle puppies
Size: Mini Goldendoodle puppies
Goldendoodle Breeder Details:
3) Sharper Doodles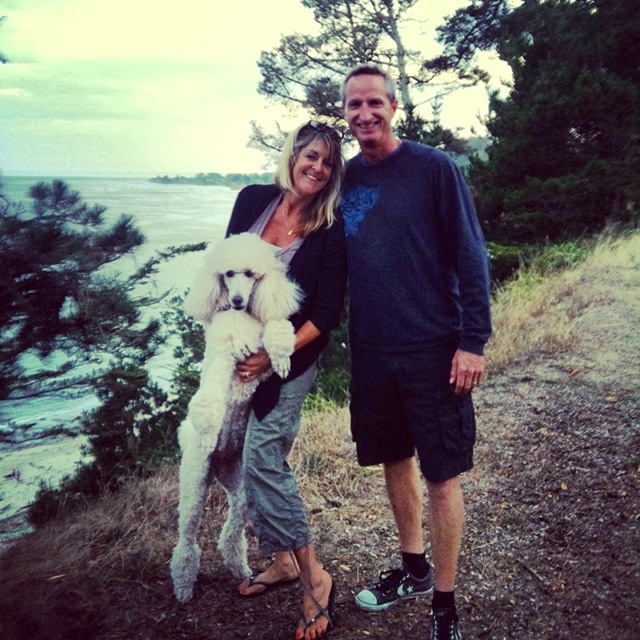 Shaper Doodles breeds both Goldendoodle puppies and Labradoodle puppies. They breed Goldendoodles that live in their home without the use of kennels, crates, or cages for their living conditions. Their goal is to breed wonderful Goldendoodle puppies as well as service dogs that can be helpful to pet owners. They primarily specialize in breeding the F1B Goldendoodle which is going to be more hypoallergenic and nonshedding than an F1 Goldendoodle.
Sharper Doodles is registered with the Goldendoodle Association of North America (GANA) so we know they are a reputable breeder. GANA mandates that breeders go through comprehensive health checks to ensure that breeders are creating healthy dogs. These are honestly one of the best Goldendoodle breeders in California.
Goldendoodle Puppy Information:
Goldendoodle Breeder Details:
Location: Two locations Sacramento and Central Coast in San Luis Obispo.
Address: El Dorado Hills, CA 95762
Telephone: (916) 337-9730
Website: Sharper Doodles
Email: info@sharperdoodles.com
4) OC Goldendoodles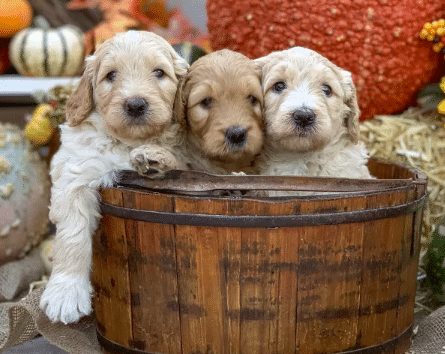 OC Goldendoodles has been breeding Goldendoodle puppies since the 1990s. They are a Blue Ribbon breeder on the Goldendoodle Association of North America which makes them a legitimate breeder and not a puppy mill. From week 3, they start potty training their Goldendoodle puppies and socialize their Goldendoodle puppies with children.
They price their Goldendoodles is $3,000 with a $700 deposit. Their Goldendoodles have gone through significant health checks and their puppies come with a 2-year health guarantee. These are one of the best Goldendoodle breeders in Southern California.
Goldendoodle Puppy Information:
Generation: Multi-Generation Goldendoodles
Size: Standard Goldendoodle
Goldendoodle Breeder Details:
Location: They are located in Orange County in Southern California.
Address: Orange, CA
Website: OC Goldendoodles
Email: puppies@ocgoldendoodles.com
5) Cutie Doodles
Cutie Doodles Goldendoodle breeders are located in Brentwood, California which is extremely close to San Francisco. So if you live in northern California and want a Goldendoodle, this is a great breeder that is close by. This is also where we got our first Goldendoodle from.
They select the parent Goldendoodle dogs through health checks and a breeding program based on temperamental, personality, and health concerns. They test hips, knees, elbows (OFA), eye issues (CERF & PRA), vWD (blood disorders), heart, and thyroids on their Goldendoodles. They also have a 1-year health guarantee on any Goldendoodle puppy they breed. They also breed miniature Goldendoodle puppies in California which are highly sought after.
Goldendoodle Puppy Information:
Generation: F1, F1B, F2, Multi-gen Goldendoodles
Size: Mini, Medium, Standard Goldendoodles
Goldendoodle Breeder Details:
Location: Northern California
Address: 1019 Pear Tree Ct, Brentwood, CA 94513
Telephone: 925-642-6996
Website: Cutie Doodles
6) Almond Blossom Goldendoodles
Almond Blossom Goldendoodle breeders are located in central California. They breed Teddy Bear English Goldendoodle puppies alongside their family. They focus primarily on English Cream Golden Retrievers and nonshedding Poodles.
Almond Blossom has been breeding Goldendoodle puppies for over 15 years. If you're looking for a medium or miniature Goldendoodle in California, they are a great option. They go through OGA health testing for each of their parent dogs.
Goldendoodle Puppy Information:
Generation: F1B, F1 Goldendoodles
Size: Mini, Medium Goldendoodles
Goldendoodle Breeder Details:
Location: Central California
Address: Modesto, California
Website: Almond Blossom Doodles
Email: twosisters@almondblossomdoodles.com
Reviews: Facebook
7) Coastland Goldendoodles
Coastland Goldendoodles are breeders located in Ventura, California. They breed only high-quality Goldendoodle puppies that are thoroughly health tested and come from pedigreed dog lines. They focus on breeding Goldendoodles based on their temperament and personality. In addition, they also start to socialize their puppies the minute they are born. They focus on breeding English Cream Goldendoodles that are imported from English Retriever bloodlines.
Goldendoodle Puppy Information:
Generation: F1B, F2B, Multi-Generation Goldendoodle
Size: Medium, Standard Goldendoodles
Location: Ventura, California (near Santa Barbara / Los Angeles)
Address: Victoria Ave, Ventura, CA 93003
Telephone: (805) 509-3303
Website: Coastland Goldendoodles
Email: coastlandgoldendoodles@gmail.com
Goldendoodle Puppies in California
Goldendoodle puppies are a desirable dog not only because they look like a teddy bear, but because they are great for pet owners with allergies and don't shed hair. Within the past few years, Goldendoodle puppies have become one of the most famous crossbred dogs in the world.
California is a great environment for these types of dogs because it typically doesn't get too hot. Since Goldendoodles don't shed hair, their coat tends to grow very long. This can make your Goldendoodle puppy very hot and prone to panting or overheating.
How to Choose a Goldendoodle Breeder in California?
If you're local in California, there are a lot of different Goldendoodle breeder options. You'll also have to be aware of the puppy mills and backyard breeders since the Goldendoodle has become a popular dog within the last few years. Here are the 3 top tips to choose a Goldendoodle breeder in California.
Do lots of research. There are dozens of different breeders throughout California. One recommendation is to go with a breeder that has passed all the Goldendoodle Association of North America (GANA) health checks.
Contact the Goldendoodle breeder. Ask lots of questions and see if you can visit their facility where they breed their Goldendoodle puppies. You'll want to try and see pictures of the parent Goldendoodles to get an understanding of what your puppy will look like.
Where do you find a Goldendoodle Breeder?
There are several options for Goldendoodle breeders in California. You can't go wrong selecting one of the breeders from our list, but if you insist on doing your own research, there are several different breeders.
We highly recommend that you pick a Goldendoodle puppy from the Goldendoodle Association of North America (GANA). Otherwise, you'll definitely need to verify the puppy health checks to rule out backyard breeders and puppy mills.
Conclusion for Goldendoodle Breeders in California
California has been one of the most popular places in the world to get a Goldendoodle puppy. Practically every dog park that you attend will have several types of doodles and likely multiple Goldendoodles. This is because the Goldendoodle is hypoallergenic and nonshedding. If you're considering getting a Goldendoodle puppy you should highly consider our list of the best Goldendoodle Breeders in California. We've done tons of research and ruled out the puppy mills.