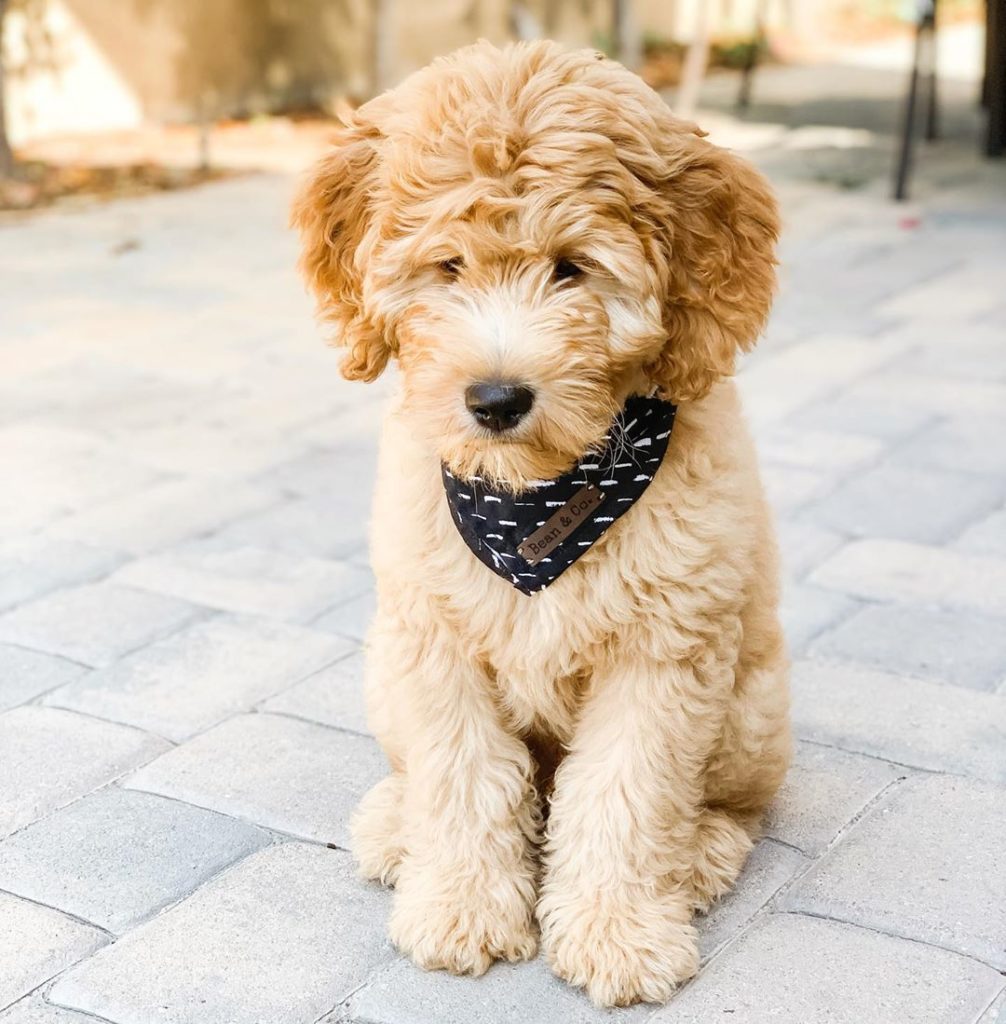 Is a Goldendoodle hypoallergenic? We're asked that question quite a bit here at We Love Doodles, so we've decided to put together a guide for our readers to give you the answers! 
Pet owners with allergen hypersensitivity to dander and fur may be especially curious as to whether the Goldendoodle is allergy-friendly. The short answer is "no" – no dog will be 100 percent hypoallergenic. The Goldendoodle, however, is pretty much as close as it gets, due to their Poodle genes!
We also made a video on "Are Goldendoodle Hypoalergenic?" Check it out below!
What Does "Hypoallergenic" Mean?
For a dog to be hypoallergenic, it must be very unlikely to trigger an allergic response in the human body. The Greek word "hypo" translates to "under or less" and is the opposite of the word "hyper." To even be considered hypoallergenic, dogs must have hair that doesn't shed. Hair that doesn't shed permits the dead skin flakes (dander) to remain inside your pet's coat instead of being discharged into the air. Fun fact, it's extremely rare that individuals are actually allergic to dog hair or fur! It is usually dander that causes pet allergies.
Are Goldendoodles Hypoallergenic?
We're going to take a very strict approach to the term "hypoallergenic dog" and define it as a dog that doesn't create dander, which humans are allergic to. So, according to this definition, Goldendoodles are not hypoallergenic. In fact, no dog is truly 100 percent hypoallergenic. Still, some dogs are typically labeled as such because their coats limit the dander  released into the air. A Poodle is one good example of this, as the Poodle has hair instead of fur!
"Are Goldendoodles hypoallergenic?" is very similar to the question "Do Goldendoodles Shed?" Since Goldendoodles are a crossbreed, it largely comes down to the generation they come from and how much Poodle genetics they will receive. The more Poodle genetics a Goldendoodle has, the more hypoallergenic the dog will be. Some signs to look for when picking a hypoallergenic Goldendoodle would be wavy or curly hair that doesn't shed.
Most Hypoallergenic Goldendoodle Generations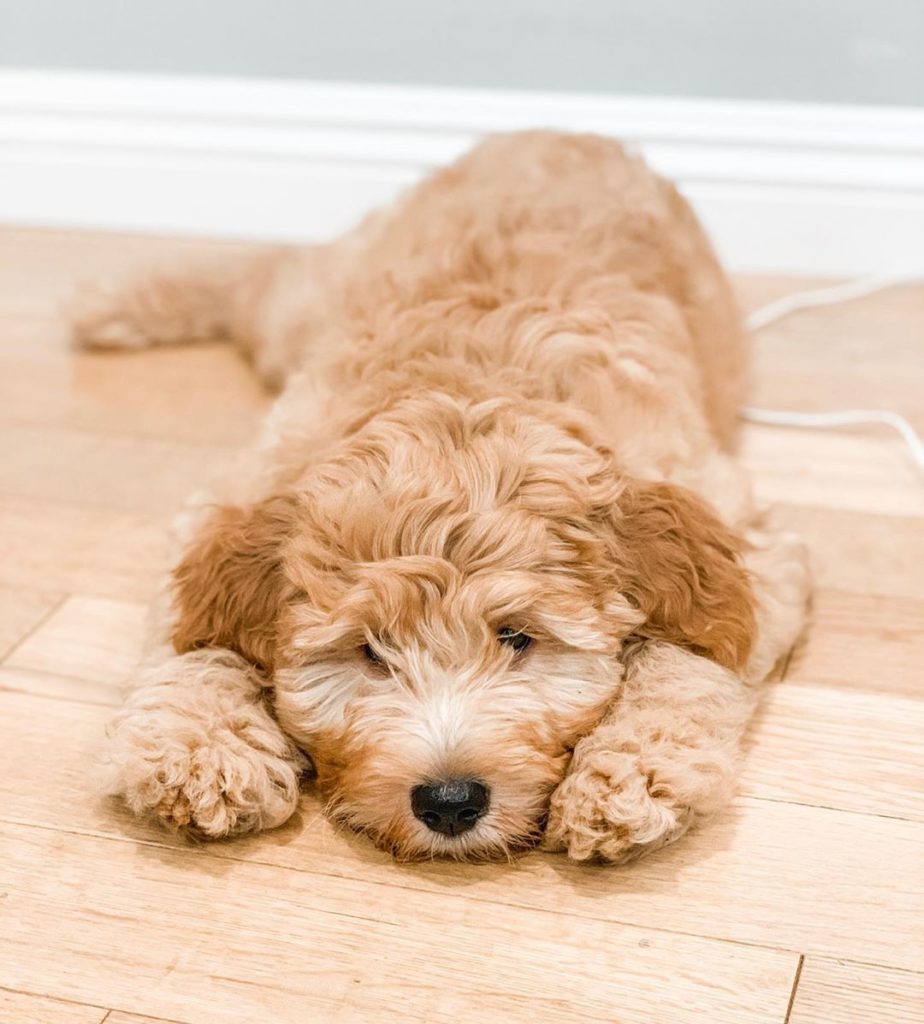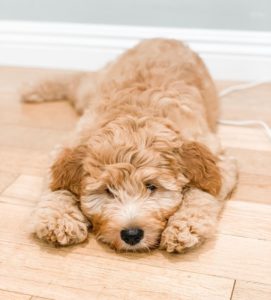 As we know, the most hypoallergenic Goldendoodle will have a significant amount of Poodle genetics. We've written a more in-depth article on all the Goldendoodle Generations. In summary, we've outlined the more hypoallergenic Goldendoodle generations below:
F1B Goldendoodle:

75% Poodle and 25% Golden Retriever

F1BB Goldendoodle

: 87.5% Poodle and 12.5% Golden Retriever

F2B Goldendoodle:

 62.5% Poodle and 37.5% Golden Retriever

F2BB Goldendoodle:

81.25% Poodle and 18.75% Golden Retriever

F3 Goldendoodle or Multi-generation Goldendoodle:

Typically hypoallergenic Goldendoodles since they are backcrossed to the Poodle.
In general, you want to look for a Goldendoodle that has been backcrossed to the Poodle, hence the letter "B" at the end of the generation. Typical characteristics of a hypoallergenic Goldendoodle include wavy to curly hair and nonshedding.
If you're allergic, it's probably best to try to avoid an "F1 Goldendoodle" or "F2 Goldendoodle" since these dogs will be 50% Golden Retriever and 50% Poodle. Most of these generations of Goldendoodles will shed more hair which will cause them to be less hypoallergenic. Remember, if you have pet allergies, you want a Goldendoodle that will be nonshedding and have a curly coat.
How To Minimize Allergies Caused By Goldendoodles?
If you brought home a Goldendoodle and have been experiencing issues with allergen sensitives, there are preventative measures to make your Goldendoodle more hypoallergenic and to create a more hypoallergenic home. Below is our list of tips to mitigate Goldendoodle allergies:
Dog Controls
Brush your dog regularly. Since dander will sit in your dog's coat, you should brush your dog as much as possible (most owners will brush their dog daily). Brushing is the most important step to limit the number of allergens your dog carries and to spread the skin oils across the hair. Thus, brushing helps to separate any future dander.

If possible, have someone in your household who is not allergic to dogs do the brushing. Also, if possible, brush your Goldendoodle outside, so the dander stirred up by petting isn't released indoors.

Wash your dog at least twice per month. Bathing your Goldendoodle will significantly decrease the dander in their coat and hair. Make sure you use a good shed control cleanser and a shampoo that won't dry out their skin.
Human/Household Controls
Wash your hands regularly. Washing your hands, especially after petting your Goldendoodle and before touching your face, will help mitigate allergic reactions.
Regularly clean your home. Not only will physical contact with your Goldendoodle cause your allergies to flare up, but also dander that has already been released from your dog's hair. Controlling dander released from your dog's coat means you must regularly clean your house. Cleaning should include dusting, frequent vacuuming, and changing your sheets once a week. Regular cleaning should dramatically help with Goldendoodle allergies.

Avoid "dry cleaning" (e.g., brooms and dusters), so you don't stir up the dander that has settled on the surfaces in your household. Use damp cloths or statically charged cleaning supplies, like Swiffers, to capture and remove allergens.
Use a high-quality vacuum with a HEPA filter so the allergens don't come back out of the vacuum.

Make your bedroom a "dog-free" zone. If you are really suffering from allergies, consider going to the extreme: not letting your dog(s) into your bedroom. The Humane Society also recommends getting a high-efficiency HEPA (high-efficiency particulate air) air cleaner for the allergy-free bedroom zone. After the COVID-19 pandemic, many of us may already have these. Remember to replace the filters on time!
Replace your carpet with hard flooring. Carpets are one of the main things in your household that can trap and retain allergens. Hard flooring such as tile, bamboo, or linoleum will be easier to clean and won't trap allergens. Choosing hard flooring can make a big difference if you have the means to do this or plan to remodel soon.
Remember: soft surfaces trap allergens! This includes your dog's bed, your couch, the carpet, pillows, and sheets. Wash or clean these items regularly using high temperatures and detergent.
Goldendoodle Skin Health Can Affect Allergies
It may seem weird, but if your dog has unhealthy skin, it is more likely to trigger your allergies. Regular grooming will help with this. Goldendoodles should be brushed daily and professionally groomed every 6-8 weeks. Additionally, you should ask your veterinarian about your Goldendoodle's skin health at your next check-in. Treatment of any skin diseases will greatly help with human allergies.
Consider Consulting an Allergist
If you've tried all the tips on the list above to no avail, perhaps it's time to see an allergist. After all, your relationship with your Goldendoodle is worth it! An allergist can do two important things for you: 1) confirm the sources of your allergies and 2) recommend treatments appropriate to you and your living situation.
You may be allergic to your Goldendoodle, but you may also be allergic to other things in your house! Knowing what triggers your allergies can help you target everything, not just pet dander. Reducing the overall level of allergens in your home can help a lot. An allergist can also prescribe medical treatments for you.
Are Goldendoodles more Hypoallergenic than other dogs?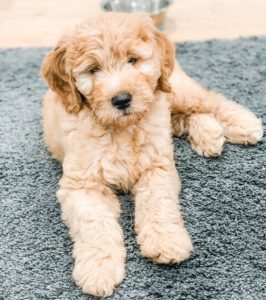 The Goldendoodle is regularly recognized as a hypoallergenic dog and is great for people with pet allergies. In fact, Goldendoodles were created as support dogs for owners with pet allergies. Thus, a nonshedding Goldendoodle is certainly more hypoallergenic than most other dogs that shed.
That said, before you run out and buy your Goldendoodle, you should certainly test your allergies with Goldendoodles and other dogs. Sensitivities can range from dog to dog, and you certainly don't want to be miserable with sniffles, red eyes, and sneezing for the rest of your life. A Goldendoodle may be more hypoallergenic than most dogs, but you should understand that some Goldendoodles will be more hypoallergenic than others. Try going to a dog park and petting some different kinds of dogs.
Frequently Asked Questions
How will I know if I'm allergic to Goldendoodles?
You can visit a friend who has a Goldendoodle puppy or dog, or ask a local breeder to visit. If you're seriously considering purchasing one of these designer dogs, contact the breeder you've selected! In most cases, the breeder will work with you on an "allergy test." You'll send an item like a shirt to them, they'll expose the item to a puppy or dog, then ship it back to you. 
Are any specific colored Goldendoodles more hypoallergenic?
No. The allergy-friendly genes come from the parent Poodle. Therefore, you'll want to pay more attention to the Goldendoodle generation than the color. For a complete guide to Goldendoodle generations, see our guide, "Best Goldendoodle Generations: F1, F1B, F1BB, F2, F2B, F3!"
Can I get a Goldendoodle if I have pet allergies?
Maybe. There's no truly hypoallergenic dog, but the Goldendoodle comes close. The Poodle genes are to be credited for this trait. Therefore, if you're severely allergic to pet dander, consider adopting or purchasing a Poodle instead. 
Conclusion for Is a Goldendoodle Hypoallergenic?
Goldendoodles are more hypoallergenic than most dog breeds. However, some Goldendoodles will be more hypoallergenic than other Goldendoodles. Particularly, if you suffer from pet allergies, you want a nonshedding Goldendoodle with a curly coat because these will be the most hypoallergenic Goldendoodles. Lastly, if you have a Goldendoodle and notice that you are getting dog allergies, you can take preventative steps by brushing, bathing, and cleaning your house. No dog will be 100% hypoallergenic, but the Goldendoodle is certainly close, which is why it is often labeled a hypoallergenic dog.
Feel free to also check out our YouTube video on "Are Goldendoodles Hypoallergenic?":
Other Goldendoodle articles to read:
FAQs for "Are goldendoodles hypoallergenic?":
Are mini Goldendoodles Hypoallergenic?
Mini Goldendoodles are not 100% hypoallergenic.  However, Goldendoodles are certainly more hypoallergenic than most dogs because they usually contain a significant amount of Poodle genetics. To find a hypoallergenic mini Goldendoodle, you will want to look for a curly and nonshedding coat. Mini Goldendoodles will also be more hypoallergenic than larger Goldendoodles because they will have less hair-carrying dander.
Are F1 Goldendoodles Hypoallergenic?
F1 Goldendoodles are the least hypoallergenic of all Goldendoodles.  If you're looking for a hypoallergenic Goldendoodle, I would not get an F1 Goldendoodle because it is 50% Golden Retriever and has a high likelihood of shedding. Getting an F1B Goldendoodle or F2B Goldendoodle would be a much better option because they contain a significant amount more of Poodle genetics.
Are Goldendoodles Truly Hypoallergenic?
No- and different Goldendoodles are different "levels" of hypoallergenic. Goldendoodles range in how hypoallergenic they are based on the coat type. In general, the more curly and nonshedding a Goldendoodle is, the more hypoallergenic it will be. Coat types come down to which generation a Goldendoodle is. An F1 Goldendoodle will be much less hypoallergenic than an F1B Goldendoodle because it contains more Golden Retriever genetics. In general, if you're looking for a hypoallergenic Goldendoodle, you should look for an F1B, F1BB, F2B, F2BB, or multi-gen Goldendoodle, as these dogs have the highest chance of being hypoallergenic.
What is the most hypoallergenic dog?
While no dog is 100% hypoallergenic, the AKC has identified the top 19 best breeds for people with allergies. These breeds are (listed in alphabetic order): Afghan Hound, American Hairless Terrier, Bedlington Terrier, Bichon Frise, Chinese Crested, Coton de Tulear, Giant Schnauzer, Irish Water Spaniel, Kerry Blue Terrier, Lagotto Romagnolo, Maltese, Miniature Schnauzer, Peruvian Inca Orchid (hairless), Poodle, Portuguese Water Dog, Soft Coated Wheaten Terrier, Spanish Water Dog, Standard Schnauzer, and Xoloitzcuintli.
Remember that the Goldendoodle is not on this list because it is not a true breed; it is a cross between a Poodle and a Golden Retriever. In general, the higher the percentage of Poodle in your Goldendoodle, the more hypoallergenic it will be.
If I shave my Goldendoodle, with that help with allergens?
No. As discussed in the article above, allergens come from your dog's dander (dead skin particles). Allergens can also be present in your dog's saliva and urine. The allergens produced by your Goldendoodle are not related to their hair type or length.
Which is the most hypoallergenic Doodle?
You know you want a Doodle, but you're unsure which one to get. You may ask questions such as "which is more hypoallergenic Labradoodle or Goldendoodle?" The answer to this lies less in the type of Doodle, but more in the fur type. Because Doodles are bred with a mix of breeds, e.g., Poodle and Golden Retriever for Goldendoodles, and Poodles and Labradors for Labradoodles, their coats will vary based on their parents' breeds. In addition, each Doodle may have varying percentages of breed genetics. For example, an F1 Goldendoodle is 50% Poodle and 50% Golden Retriever, whereas an F1BB Goldendoodle is 87.5% Poodle and 12.5% Golden Retriever.
All this is to say that Doodle coats vary greatly, even within a specific type of Doodle. You will need to look at the coat of the individual Doodle you are considering purchasing or adopting. In general, a shorter, thicker, curlier coat will be more hypoallergenic than a longer, thinner, and straighter coat.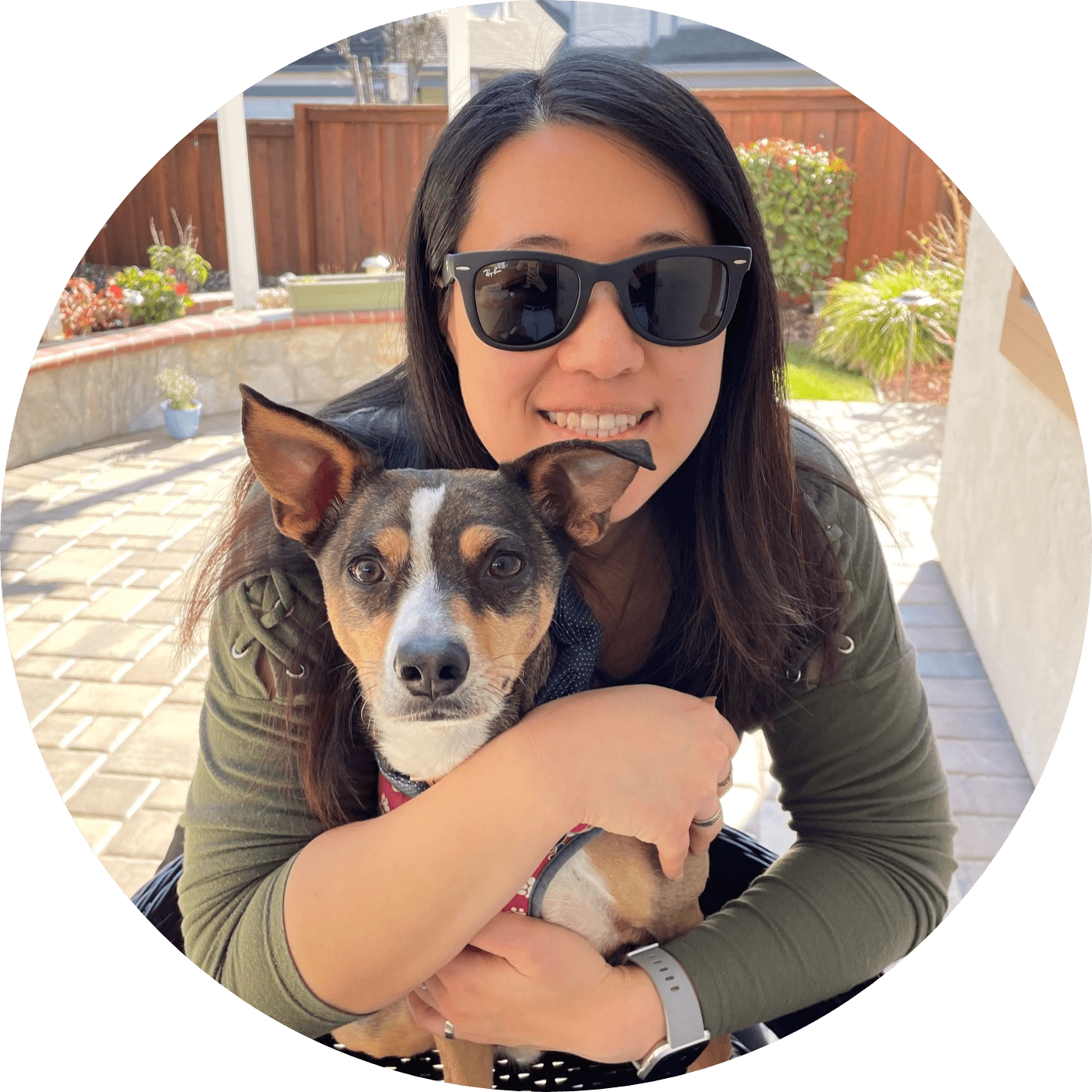 Dr. Sabrina Kong graduated from the Royal Veterinary College in England in 2016 and has been working at a small animal clinic in Northern California since then. She grew up in the Bay Area and got her bachelor's degree from Cal Poly San Luis Obispo. She also became a Certified Canine Rehabilitation Practitioner through a program at the University of Tennessee.
When she isn't in the clinic taking care of her four-legged patients, she enjoys traveling and trying new foods with her friends and her three-legged dog, Apollo. She adopted Apollo from her clinic when he was a puppy with numerous health issues. Dr. Kong truly cares about taking care of animals.