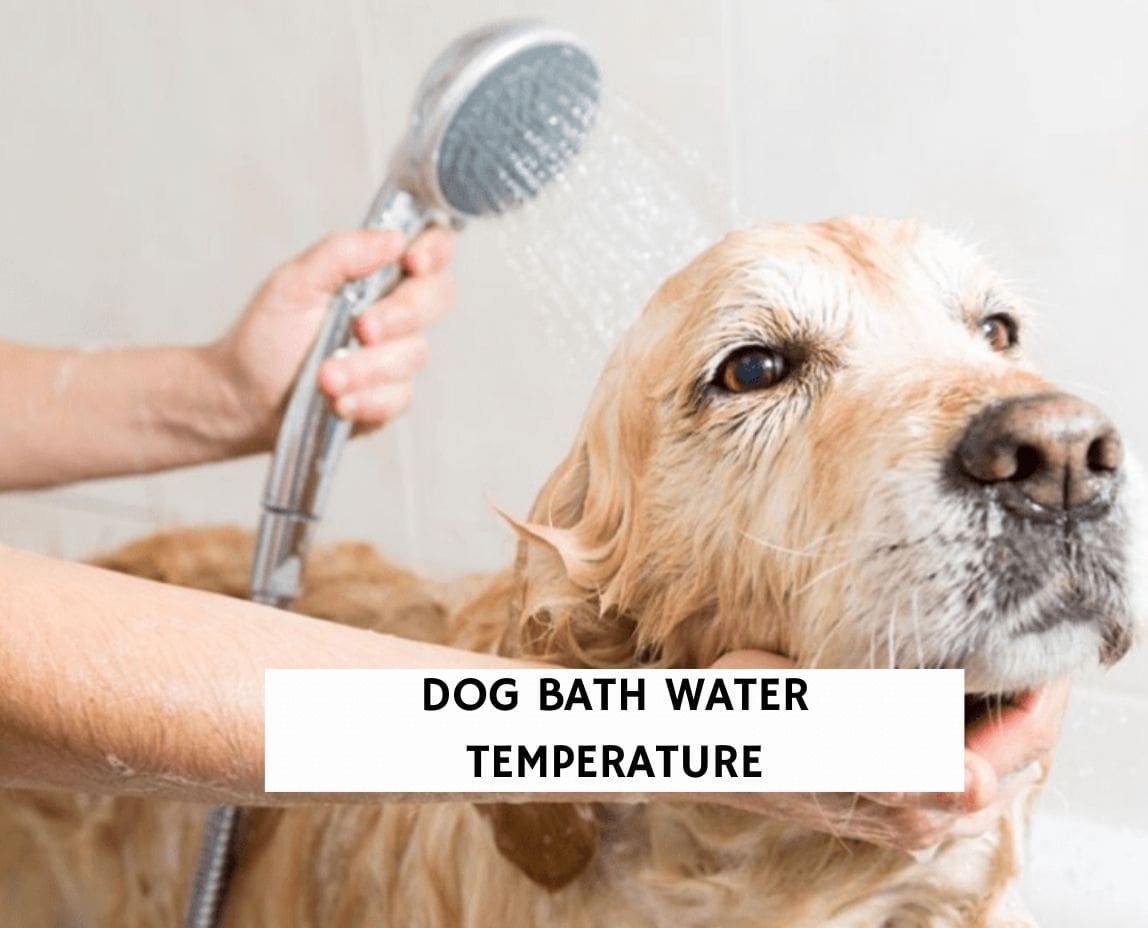 What is the perfect dog bath water temperature? Dogs don't exactly love baths. They usually make a run for it as soon as they hear you turn on the water. But what if your dog is dirty from visiting a beach or a muddy park?
You will have no other option but to bathe your pet. Good thing there are ways you can make bathing a pleasurable experience for your furry friend. One of these is checking if the dog bath water temperature is right.
Before you scroll down to a more in-depth answer to this guide, "What is the Perfect Dog Bath Water Temperature," you can check out these other dog-related questions answered by our team at We Love Doodles: What Temperature is Too Hot For Dogs in a House and What Temperature is Too Cold For Dogs in a House?
What is the Ideal Water Temperature for Your Dog's Bath?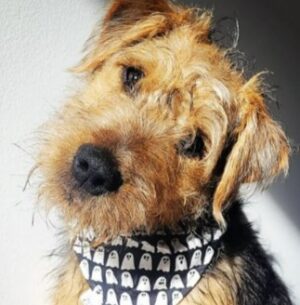 Most of us assume that the water that feels warm to us is also ideal for our dogs. However, this is not the case. Your pet may have a different preference when it comes to bathing.
Finding the Perfect Bath Water Temperature For Your Dog
It should be lukewarm: not too hot nor too cold. A reading of 98.6 °F (37 °C) is the ideal dog bath water temperature for your furry companion. Your pet will find this soothing.
Is the water too cold? If you think the water is too cold for your dog, here's what you should know. Dogs can catch hypothermia quickly, especially in winter. Cold water is also extremely uncomfortable for your pet. To avoid these complications, add hot water until the bath water is no longer frigid.
Is the water too hot? If you think the water is too hot for your dog, here's what you should keep in mind. There's little chance that your dog will get sick from a bath that's too hot. However, they may get burned if the water is close to boiling. Plus, dogs do not enjoy immersing themselves in scalding water.
Ways to Make Bath Time Fun For Your Dog
Here is a list of things you must remember while bathing your dog.
1. Set a Schedule For Bathing Time For Your Dog
Unlike us, our dogs do not need to be scrubbed and soaped daily. A good monthly wash is enough to keep your canine spic and span. When is the best time to schedule a bath? If it's possible, bathe your dog in the mornings. This gives ample time for it to dry off thoroughly before the evening walk.
Related: Will Groomers Take Dogs with Fleas?
2. You Should Brush Your Dog
Brushing your pet is a must before you step into the bathtub with them. Your dog's coat may be matted or could have pockets of dust. Using a brush untangles all the hair and rids your pet of accumulated dust, dirt, and grime.
If you do not brush all this dirt off before bathing them, it can get stuck to your pet's fur coat when it gets wet. Your bath water will become pretty muddy as well. Also, the dirt and lose fur may eventually clog the drainage pipes in your bathroom.
Related: Best Brushes For Doodles.
3. Allow Your Dog to Familiarize Itself With Its Surroundings
Allow your pet to inspect and familiarize itself with the bath area. Once your pet is confident that there is no threat, it should relax and cooperate better. If your pet doesn't like being in the water, hold it firmly and drip some lukewarm water gently onto its back. Avoid splashing water on your dog, as this only increases anxiety.
4. Check to See If The Water Flow is Right For Your Dog
Splashing water is unnecessary and can be a dreadful experience for your dogs. It is best to use a faucet to wash your puppy. Make sure that the water from the faucet is not too harsh. Check that the water flow is not too fast or powerful. Otherwise, it will hurt your dog and scare it off the next time it needs a bath.
5. You Should Always Use the Right Dog Shampoo
Selecting bathing products for your pets is crucial. A dog's coat is much more sensitive than human skin. Naturally, it requires special care and attention.
While choosing bathing products for your dog, you need to keep in mind certain factors:
The texture of the fur coat
Age of your dog
Weather conditions
Any conditions like fleas, allergies, or rashes
It is best to use dry shampoo during winter to avoid wetting your dog.
Related: Best Smelling Dog Shampoos and Best Shampoos For Matted Dog Hair.
6. Rinse Your Dog Well
Ensure that you rinse off your pet thoroughly. One should be careful not to leave behind any soap or shampoo. The leftover soap particles might result in skin irritations and infections. Too much soap can also severely affect the coating integrity, resulting in excessive shedding of the fur. Permanent fur loss may also result.
7. Reward Your Dog With Treats and Toys
Give your dog its favorite treats while you are bathing it. Better yet, let your dog play with its favorite toys. This helps it positively associate bath time with a reward. You will also reduce the anxiety associated with bath time. As a result, you will not have much trouble next time your puppy is bath time.
Related: Best Indestructible Dog Toys and Best Tug Toys For Dogs.
8. Be Gentle
Be gentle with your puppy. Getting drenched all over without any warning can be a scary experience. Give them time to ease in. In the first couple of bathing sessions, your pet might dislike water.
Talking to it in a calm and reassuring voice will reassure your pet. Spray water gently, and make sure to talk to them calmly while you are washing them. This makes them feel assured that they are not going to be harmed.
9. Keep Dry Towels For Your Dog at Your Disposal
Dogs, like most other animals, can dry themselves off when they get wet. All it takes is a good shake, and they are good to go. However, this means you get water all over your bathroom. You may also end up getting soaked by the flying drops.
Be ready with dry towels to dry off your dog. Rub your pet's fur briskly. Make sure to do this after they dry themselves off. This helps in soaking up the water that might still be there under their coats.
10. Spend Quality Time With Your Dog Post-Bath
After bathing, ensure your dog goes to a warm room to dry off. Don't let it walk around dripping wet and shivering. Otherwise, you will end up mopping the floor after your dog. Please give it a few treats while drying it off.
Post-drying, play fetch with your dog or take it to its favorite dog park. Spending time with your puppy after bathing will strengthen your bond. It will also make your dog feel loved and reduce any anxiety related to bath time.
Related: Best Herding Balls For Dogs.
How to Wash Your Dog Properly At Home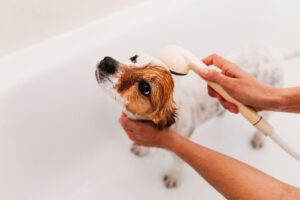 You can follow the list below to learn how to wash your dog properly. You can use this 7-step process to end up with a cleaner dog.
Choose the right location. Make sure it fits your dog and has access to supplies and running water.
Mix the dog soap or shampoo with clean water. You can use either a bowl or a dispenser.
Slowly pour warm water over your dog. Ensure that its fur gets thoroughly wet.
Apply the soap solution, scrub vigorously, then rinse it all off. Do this twice.
Do a final rinse.
Dry off your dog.
Remember to give your dog lots of cuddles and praise post-bath.
Dog Product Recommendations: Best Shampoos For a Coton de Tulear and Best Shampoos For a Cairn Terrier.
Conclusion For "What is the Perfect Dog Bath Water Temperature"
Bath time for your dogs need not be as scary. With these tips, you can make bath time playful, fun, and easy for your dogs. Keep the dog bath water temperature at 37 °C (98.6 °F). This will prevent your puppy from going into hypothermia or hyperthermia. It's worth the time and effort to bathe your pet. After all, a clean dog is a healthy and happy dog.
If you find this guide, "What is the Perfect Dog Bath Water Temperature," helpful, you can check out these other dog-related articles from our team:
You can learn more about bathing your companion by watching "Simple Hacks to Bath, Your Dog – Professional Dog Training Tips" down below: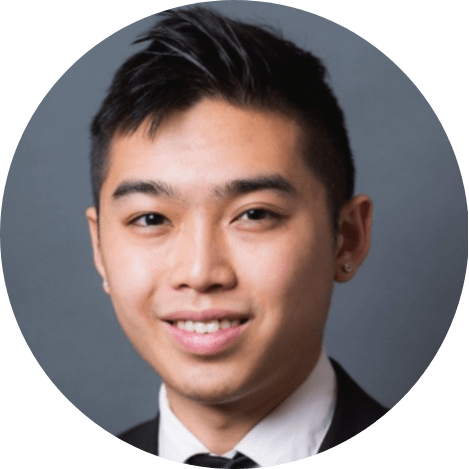 Andy is a full-time animal rescuer and owner of a toy doodle. When he's not saving dogs, Andy is one of our core writers and editors. He has been writing about dogs for over a decade. Andy joined our team because he believes that words are powerful tools that can change a dog's life for the better.
Why Trust We Love Doodles?
At We Love Doodles, we're a team of writers, veterinarians, and puppy trainers that love dogs. Our team of qualified experts researches and provides reliable information on a wide range of dog topics. Our reviews are based on customer feedback, hands-on testing, and in-depth analysis. We are fully transparent and honest to our community of dog owners and future owners.