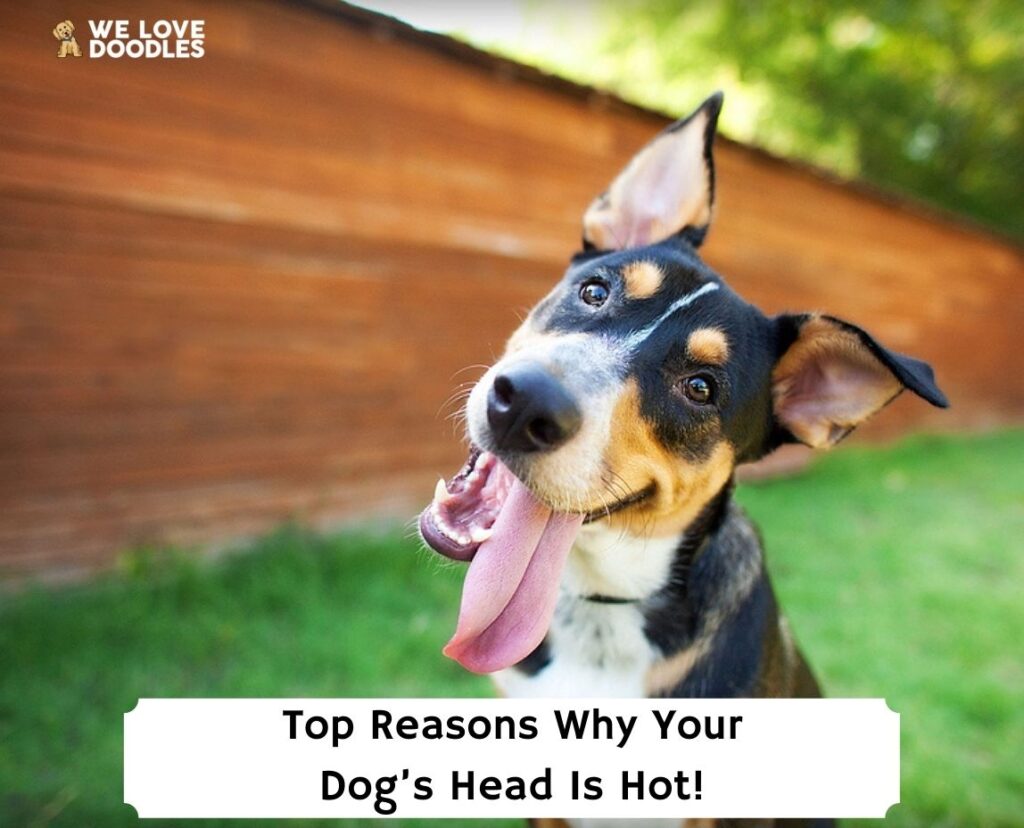 What's the reason why your dog's head is hot? If you're like us, you stroke your dog's head dozens of times daily. So, you know when your dog's head is hot, and it understandably causes concern.
You might be wondering—do dogs feel hot with a fever? How about if they just came back from playing? We'll help you understand why your dog's head may be hot and when it should—and shouldn't—cause you to panic.
Before you scroll down this list of reasons why your dog's head is hot, you can check out these other helpful dog-related guides from our team at We Love Doodles: What Temperature is Too Hot For Dogs in a House and What Temperature is Too Hot For Dogs to Walk?
Why is My Dog's Head Hot?
There are several reasons why your dog's head is hot. Luckily, many of them aren't a medical cause for concern. Nevertheless, as the good dog owner you are, it's something to take seriously. Below are the top reasons why your dog may have an overheated head.
Related: Best Dog Boots For Hot Pavement.
1. Your Dog is Possibly Dealing With a Fever
Some possible problems include:
Infection
Abscess
Consumption of a poisonous food or material
The bottom line is if your dog has a temperature over 102.5 degrees—and especially if it's over 103 degrees—you should take them to the vet.
2. Exciting Things Are Happening Around Your Dog
We all know and love how our dogs get ultra excited over the little things in life. And it just so happens that excitement can cause a dog's head to get hot. Panting, pacing, and jumping are all activities that can cause your dog's body heat to increase.
Therefore, if you're petting your dog amid an excitement spell and you notice they have a hot head, it's best to wait for them to settle before getting alarmed. If your dog's head returns to feeling cool once they're lying down, the coast is clear.
Related: Why is My Dog Hyper?
3. Your Dog Could Be Undergoing Stress
Excitement and stress release similar behaviors in dogs regarding panting and pacing. However, a stressed dog often has the added physical pressure of shaking, barking, or whining. We all know how stress or anger can increase our body temperature.
The same is true for dogs. So, to determine whether your dog's head is hot from a medical condition or stress, follow the same procedure as when they're excited. Give them time to settle down before checking the temperature of their head.
4. It's Possible That Your Dog is Sunning Itself and Overheating
If your dog experiences hyperthermia, it'll be in one of three stages (in order of least to most severe):
Heat stress
Heat exhaustion
Heatstroke
If your dog is undergoing heat stress, it'll show signs of intense thirst and panting. You can usually treat heat stress—and even heat exhaustion—at home simply by bringing your dog to a cool place out of the sun. Make sure they have plenty of water and rub a cool, damp cloth over their paws.
A heat stroke is much more serious than heat stress and exhaustion. So, if your dog's head is hot from being in excessive heat and they're not responding to your home treatment, bring them to the vet immediately.
5. Your Dog's Head is Hot Could Be From External Influence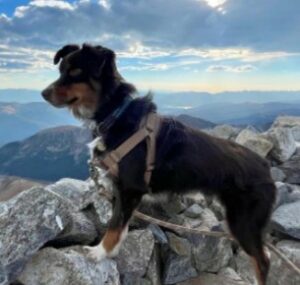 Similar to the sun harmlessly warming up your dog's fur on a spring day, your dog's head may feel hot because of an external reason. For example, did they wake up from a nap by a heating vent in your living room? How about sleeping beneath a blanket?
Even burrowing their head into their plush dog bed could cause their head to temporarily—and superficially— turn warmer. Superficial is the keyword here. If an external factor caused your dog's head to become warm, it's unlikely that your dog hung around it long enough for it to raise its physical body temperature to be feverish.
Instead, waiting 20 to 30 minutes and rechecking their head should reveal that your dog's temperature is back to normal. If you're in a real panic and want to know sooner, take your dog's temperature.
Related: How to Keep Dogs Cool Outside.
6. Your Dog Could Be Recovering From a Vaccine
Related: Why is My Puppy Crying After Shots?
7. Your Dog is Pawing Its Head
Have you noticed your dog pawing at its head an abnormal amount? If so, the friction of their paw against their fur and skin could be causing their head to increase in temperature temporarily.
There are several reasons that your dog may be pawing at their head, including:
An itchy healing wound
Bug bite
Something in their eye
Allergies
Your dog may also open and close its mouth as they paw at its head. This action can cause increased heat around the jaw, causing their head to become warmer. Furthermore, food or environmental allergies are sometimes responsible for making hot spots on the skin where the fur rubs off. These areas tend to be warmer.
Related: Why Does My Dog Scratch The Carpet and Why Do Dogs Scratch The Floor?
8. It's Possible That Your Dog Consumed Something Toxic
If you didn't get the memo that foods like chocolate and grapes are toxic to dogs, you might have lovingly given your puppy a bite of your snack. Unfortunately, the toxins in these foods and other substances can cause a severe—and even deadly—reaction in your dog, including a fever.
Another all-too-common poisonous substance that dogs consume is antifreeze. Sadly, this poisonous material has an attractive taste to animals. One of the symptoms of antifreeze consumption in dogs is a fever, so your dog's head will feel hot.
Even plants like tomato and aloe vera can cause a fever in dogs since they're toxic. Vomiting and diarrhea are common symptoms in dogs that consume poisonous material. So, you should take your dog to the vet immediately if you notice these signs.
Related: Are Spider Plants Toxic to Dogs?
Conclusion For "Reasons Why Your Dog's Head is Hot"
If your dog's head is warm, there's often a rational, non-medical reason, such as external heat influences or them getting overly excited. Nevertheless, taking your dog's temperature when they have a hot head is helpful to rule out a fever, which would be a sign of an illness. Furthermore, if your dog shows lethargy, vomiting, or other symptoms in conjunction with a hot head, you should take them to the vet immediately.
If you find this guide, "Reasons Why My Dog's Head is Hot," helpful and informative, you can check out these other guides from our team at We Love Doodles:
If you're worried, you can learn and find early signs of your dog by watching "The 5 Signs of Heatstroke in Dogs That Owners Must Know" down below: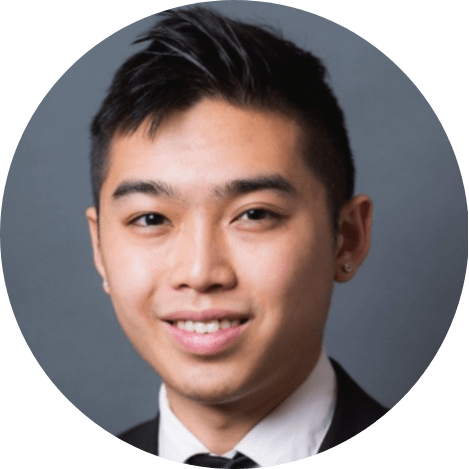 Andy is a full-time animal rescuer and owner of a toy doodle. When he's not saving dogs, Andy is one of our core writers and editors. He has been writing about dogs for over a decade. Andy joined our team because he believes that words are powerful tools that can change a dog's life for the better.
Why Trust We Love Doodles?
At We Love Doodles, we're a team of writers, veterinarians, and puppy trainers that love dogs. Our team of qualified experts researches and provides reliable information on a wide range of dog topics. Our reviews are based on customer feedback, hands-on testing, and in-depth analysis. We are fully transparent and honest to our community of dog owners and future owners.