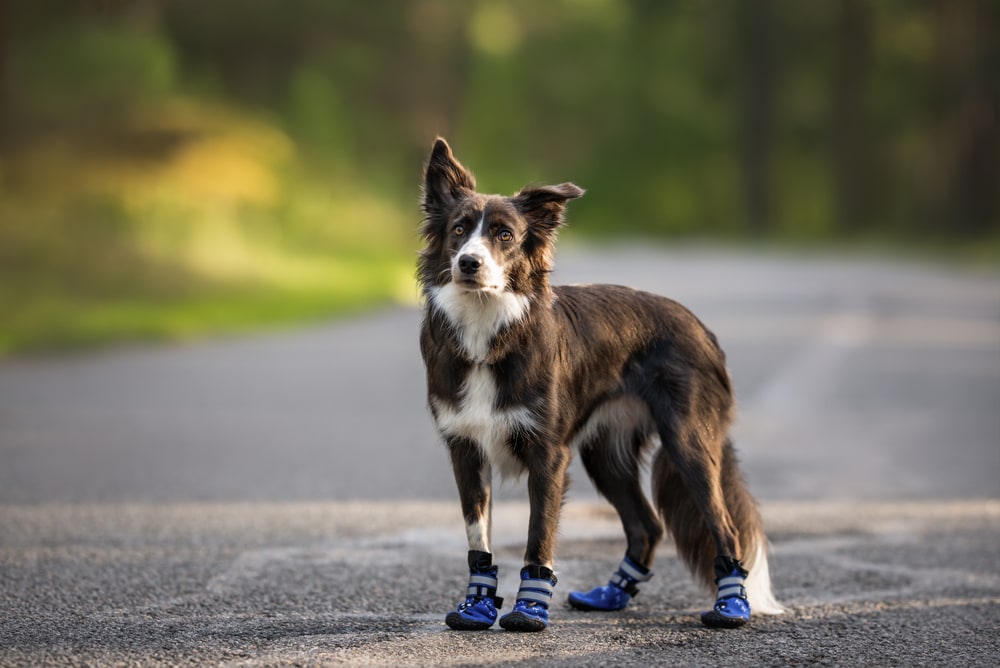 Dog's paws are surprisingly sensitive. Although they might feel tougher than human feet, they can be as fragile as their owner's feet. This means that dog's paws can be burned easily while walking on hot pavements.
Have you ever walked across a burning hot pavement in the height of summer without any shoes on? It's definitely not a fun time and can lead to some serious injuries. This is still true for dogs – they can burn their paws on the pavement in summer as well. Here's a fun fact: if the air temperature is 77F outside then the asphalt temperature is around 125F when directly exposed to the sun. 
The difference is between humans and dogs though is that dogs don't commonly wear shoes and therefore are not protected from this heat. Burned paws can be difficult to treat and make your dog very miserable. 
As your dog has to walk on its paws constantly, its paws can take much longer to heal. Burned paws can take up to a few weeks to properly heal, and leaving your dog in pain which can be hard to watch. Their paws will also harden, crack, and become extremely rough to touch.
Luckily, we've found the five best dog boots for hot pavement so that your dog will be protected on their walks and in the heat. Your dog will need to be walked every day, even in summer, so dog boots can be a great method of protection. We've tested all the dog boots on our list with our Goldendoodle in the heat of summer!
Product
Best Overall
QUMY Dog Boots
Runner-up
EXPAWLORER Waterproof Dog Boots
Budget Pick
LONSUNEER Dog Boots
Image
First up on our list is the QUMY Dog Boots, made from durable materials and stitched seams. These are much more reliable than glued seams and will leave your dog feeling more comfortable while wearing them.
The Velcro strap ensures that the shoe remains on your dog's foot throughout the entire walk. The straps are also reflective, ensuring that your dog can be seen even in the evenings and early mornings.
These boots are waterproof so that your dog can walk through puddles without having to remove their shoes first. The tops of the shoes are made from breathable material so that your dog can remain cool despite walking on the searing hot pavement. The best part is that these doggie boots can easily be washed dried. 
The downside to these dog shoes is that they don't do well if your dog is constantly going through rivers or in the lake. These boots don't let water or sand out easily. Overall though, we rated these as the best dog shoes for hot pavement and we use these shoes regularly.
Next up, the EXPAWLORER Dog Boots wrap around your dog's leg to make them more secure and fit better. This extended design fits your dog's natural paw shape and size, making the shoes more comfortable and enjoyable to wear.
The soles are made from rubber to protect your dog well from hotter pavements. The toe cap can also protect your dog's nails from getting snagged on the pavement. This is important as your dog will need to learn how to walk in their new shoes, which can be painful without a toe cap.
The hook and loop fastener will keep the shoes on for the duration of your walk. These shoes are so comfortable that your dog will be able to walk, run, and play while wearing them. The downside of these dog shoes is that they don't provide a ton of grip on the pavement. If you're going to be doing some rigorous hiking where your dog needs to talk on rocks, they will slip in these shoes.
The LONSUNEER Dog Boots are made from waterproof and flexible materials, making wearing these shoes much more natural for your dog than shoes with rubber soles. The upper is made of breathable mesh with firmly hemmed seams. While these dog booties don't have a thick rubber bottom like the first two options, they still are great for hot pavement.
The Velcro clasps are easy to get on and difficult to slip off, which is exactly what you want from dog boots. The strap is thick to prevent the Velcro from coming undone easily.
These boots have an elasticated cuff that fits perfectly around your dog's foot without them hardly noticing it. The softer material makes these shoes ideal for use both indoors and outdoors. They will also protect your dog's feel from the hot asphalt.
The Dolebean Dog Shoes are well made from soft and durable materials, which protect the paws from heat and abrasions without limiting your dog's movements. The upper is made from breathable netting to keep the paws cool even in the hottest weather.
Not only can these shoes protect your dog from the summer's heat, but they can also be worn in the snow to protect from the cold.
The waterproof material is easy to clean by hand, ensuring that you can use the shoes for longer without them smelling. They also reflect in the dark to keep your dog visible at all times. When your dog is wearing these boots, they won't feel the hot pavement at all due to the thick bottom area.
These shoes offer protection from all weather conditions, as well as glass, thorns, and salt. The versatility of these shoes means that you'll get the most from your money.
The rubber sole is durable and reliable, and the stitching keeps the shoes lasting for longer than you might hope from a set of dog boots.
There are two Velcro straps rather than one, doubling the security of these shoes. The manufacturer offers a 1-year warranty in case you find a fault with the manufacturing process. If you want a bright-colored dog shoe for the heat, you can choose these ones!
How to Choose Dog Boots for Hot Pavement
Now that we've seen the best dog boots that the market has to offer, we've also collated some important information for you to look through before choosing the right dog boots for your dog.
Bear this information in mind to avoid wasting your money on a product that doesn't work for your dog.
Size
Dog boots for large dogs are probably not going to work for small dogs, and dog boots for small dogs are certainly not going to work for large dogs.
Much like humans, dog boots need to be the correct size for your puppy. Otherwise, the boots will slip off or not be able to get over the paw at all.
Choosing dog boots the wrong size will render them useless, so make sure that you check the size guide from the manufacturer before you commit to a purchase. If in doubt, choose a larger size so that they properly cover your dog's paws
Comfort
One of the main things that you should consider before buying dog boots is the comfort of them. Dogs don't wear shoes on a daily basis and therefore won't be used to the feeling of material covering their paws.
While the funny walk that they do in shoes can be amusing to us humans, it can be distressing for the dog.
To avoid your dog rejecting their shoes and trying to chew them up as soon as you turn your back, they'll need to be comfortable.
Look for a high-quality pair of shoes that don't have any hard glue poking up from within the shoe. Stitched shoes are almost always more comfortable for dogs.
Ease of Wearing
The majority of dog boots will come with Velcro straps or hook and loop closures that you can adjust to fit around your dog's paws. Velcro is easier, but low-quality material might come undone easily.
Skittish dogs might also not enjoy the sound of Velcro being undone, negatively reinforcing beliefs about the shoes before they even have them on.
Hook and loop closures will take a little more time to put on and you might have to practice the movement a few times. You'll need a patient dog to use this type of closure so that they don't run off before you can get all of the boots on.
Whichever closure you opt for, it should be reliable enough not to come loose halfway through your walk. Otherwise, your dog might end up burning their paws anyway.
Breathability
We can't think of anything worse than wearing a thick boot in the height of summer, and we bet your dog won't want to do that, either.
Dog boots for wearing in the summer should be breathable and comfortable so that your dog's paws don't overheat during the walk.
Mesh material added to the shoes will help with breathability. Some shoes are made entirely of mesh, although these are not nearly as durable as shoes made from other, sturdier materials. Instead, look for shoes with mesh panels to get the best of both worlds.
Water-Resistance
Dog's love water, especially when it's summertime and they want to cool down. Opting for shoes that are water-resistant allows your dog to swim without having to wait for the shoes to be taken off – plus they won't burn their paws getting in and out of the water.
Water-resistant dog shoes can also be worn in the other seasons when rain is common. This makes the shoes much more versatile.
Sole Material
The soles of the boots you choose will need to be heatproof and thick enough to prevent your dog's paws from burning. However, they still shouldn't be so thick that they are uncomfortable for your pooch.
As you're using the shoes on pavement, they won't need much tread. They'll only need to be heatproof to ensure that your dog's paws are protected throughout the entire walk.
Durability
Depending on how long your dog walks are, your dog boots are going to be used a lot. They'll be used every day for 3 months out of the year, at least, which means they're going to be put to the test immediately.
You don't want to waste your money on dog boots that are going to break within a matter of weeks.
Check the customer reviews to see how previous customers have found the durability of the boots you're looking at so that you're not disappointed in the longevity of the boots.
Conclusion for Best Dog Boots for Hot Pavement
Asphalt that is directly exposed to the sun is extremely hot. Generally speaking, the temperature of the pavement is going to be 40F hotter than the air temperature. You'll want to make sure that you have the best dog boots for hot pavement in order to protect your dog's feet. We hope that you were able to make a selection today!
Other articles you would like:
Frequently Asked Questions
Should dogs wear boots in summer?
If you're going to be going on dog walks in high temperatures, then you should be using dog boots to protect your furry friend.
Pavements are dark in color which means that they absorb more of the heat from the sun, which can then be felt on your dog's paws.
This heat can burn their paws and even lead to infections, making it incredibly painful for them to walk. To avoid this, many dog owners are opting for dog boots in summer.
What temperature is too hot for dogs to walk on the pavement?
Dogs can suffer burns on their paws on days where you might even think that it was cooler. This is because pavement can trap heat from the sun, making it much hotter than the air.
For example, if the temperature was 77 degrees Fahrenheit, with a light breeze and low humidity, you might think that the temperature was lower than it was.
However, the pavement can still be temperatures as high as 125 degrees Fahrenheit – almost double the temperature in the air.
Why do dogs hate boots?
Dogs don't like boots because they can't feel the ground underneath their paws and it feels unnatural.
Thinner boots will feel more natural to dogs and therefore might be more accepted by them. However, this will not offer as much protection to their paws.
Garrett loves animals and is a huge advocate for all Doodle dog breeds. He owns his own Goldendoodle named Kona. In addition, he volunteers at the Humane Society of Silicon Valley, where he fosters dogs and helps animals. Garrett enjoys writing about Doodles and believes that dogs can teach humans more about how to live than humans can teach a dog.
Why Trust We Love Doodles?
At We Love Doodles, we're a team of writers, veterinarians, and puppy trainers that love dogs. Our team of qualified experts researches and provides reliable information on a wide range of dog topics. Our reviews are based on customer feedback, hands-on testing, and in-depth analysis. We are fully transparent and honest to our community of dog owners and future owners.