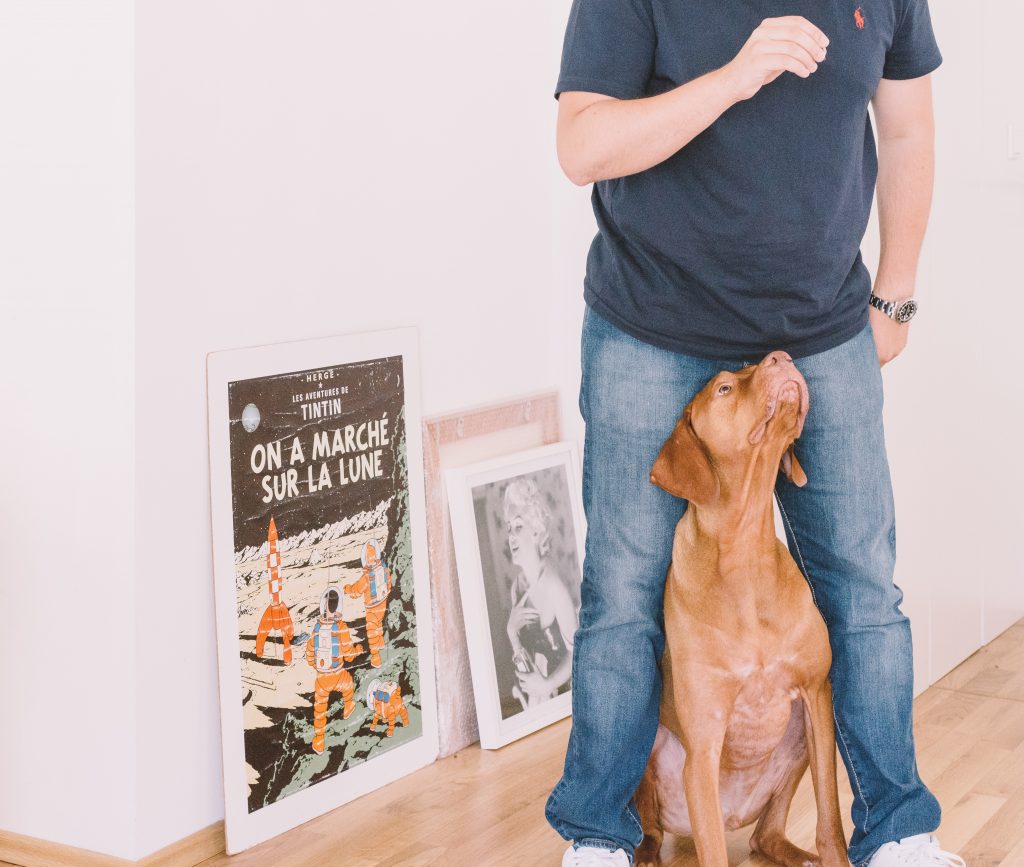 If your dog is panting and shaking and clingy, they are severely stressed and anxious. I'm sorry you and your pup are going through this. I completely understand how you feel as I had also been through the same experience with our dog when he was younger. I've done a lot of research online and with several different dog behaviorists and dog trainers to find the best path forward.
With the first rescue dog I had, she was terrified of everything. Basically of everything in the world. She would fear-bark at even the littlest noise like a car door closing from outside the house and then come panting and shaking and clinging to me. My second dog has also developed a fear of the heater whenever it turns on. She developed the fear while also being alone in the home, so this has also led to separation anxiety and stress since she has now associated being alone with the heater.
Just so you know if your dog is panting and shaking and clingy, this isn't normal and can be trained out of a dog.  My recommendations for if your dog is panting and shaking and clingy are below.
1) ThunderShirt Polo Dog Anxiety Jacket
The ThunderShirt Polo Dog Anxiety Jacket is one of the best products that I have ever used in order to calm my dog down when they are stressed or anxious.  My dog loves it and will wag when we pull it out. I try to only use it when nothing else works.  My panting and shaking and clingy dog is all of the sudden calm as a rock.
The concept is similar to an anxiety blanket for adults, but better.  The ThunderShirt Polo Dog Anxiety Jacket applies gentle and constant pressure around your dog's body to calm them of stress, anxiety, fear, and excitement.
2. Dog Training: Counter Condition Your Dogs Fear, Stress, and Anxiety
If you don't want to use a product, the best thing to stop your dog's panting and shaking and clingy attitude is to help counter-condition the problem with simple dog training.  Counter conditioning is also known as having your dog face their fears directly.
This means that you should record all the noises, stress factors, trigger events, and experiences that your dog is afraid of and makes them shake or pant. For instance, if your dog is afraid of construction sounds, the heater, or anything else you should record the noise on a phone. Then, play the noises through a Bluetooth speaker that you place in different corners of the house.  It's important there are multiple sources of sound as dogs are extremely good at finding the sound source, which is why they don't usually react to TV.
Every time you play the high-stress and anxiety dog noises, you should constantly feed them high-value treats like chicken until you turn off the noise. If your dog is not food motivated, you can reserve their most favorite toy for dog counter condition training only or have new objects that motivate your dog. The idea is to do this several times a day.
This helps your dog to start associating these scary noises with amazing things like chicken. It essentially rewires their brain, and they will no longer be panting and shaking and clingy. This tactic is highly effective in making a dog feel safer and that these noises are not that big of a deal.  Soon your dog will no longer be panting and shaking and clingy.
Your dog will learn to understand on their own thinking and that these noises will bring rewards. Soon, you'll be able to taper them off of the dog counter conditioning. It sounds like this type of dog training is a lot of chicken and food, but at this point, it's more important that your dog can recover from these fears than her diet.
3. Premium Care: Calming Treats for Dogs
These calming treats for dogs have worked wonders for our dogs.  They contain organic chamomile which acts as a relaxer to reduce stress and anxiety which causes dogs to be panting and shaking and clingy.  The only downside to these calming treats for dogs is that they don't work instantly.  You kind of have to time when your dog is going to be triggered to be anxious and stressed.
4. Others Solutions to Consider for a Panting and Shaking and Clingy Dog
If the above solutions don't work, then here are a few more options that I have tried that work:
CBD Oil / Hemp Oil is known to calm dogs and works faster than dog chews because they are liquid-based.
Positive reinforcement. When your dog is brave enough to go near her source of anxiety and fear, they should get a treat, praise, and the good dog sign.
Extra walks to tire your dog out more.  This will help clear your dog's mind so they are less stressed and anxious throughout the day.
Keep certain windows closed so your dog can't see all the activity outside. My dog has access to some windows, but "busy" windows stress him out and make him anxious.
Having a special toy when stressed.  This makes your dog feel more comfortable.  The toy below has worked wonders for us and is specifically designed to aid with stress and anxiety.
Have a special spot or blanket when your dog is stressed or anxious.  Your dog will be panting and shaking and clingy less.
Frequently Asked Questions
Why is my dog shaking and panting and being clingy?
Dr. Nicholas Dodman, BVMS, MRCVS, explains via Animal Wellness that the following situations are among the most stressful for dogs:
Going to the veterinarian
Being left alone at home
Loss of a canine companion
Separation from the family
Introduction of a new animal
Moving house
Children returning to school on Monday or after the holidays
Dr. Dodman adds that there are many more stressful situations, and how your dog reacts to them can depend on your dog's temperament. Dr. Dodman explains that once you've determined the cause of stress, you should do something about it to alleviate anxiety and fear. 
Dr. Dodman adds that exercise minimizes stress and that if a dog has a nervous and fearful temperament either from being abused in the past or neglected or improperly socialized, positive training and behavior modification might need to be added to his de-stressing regimen. 
It's also vital to assess your stress levels since dogs are intuitive and respond to how you feel in any given situation. 
How do you calm a dog from panting and shaking?
You can add the following to help ease the panting and shaking that comes from canine anxiety.
Interactive toys
Dog TV
Give your dog a safe space with his bed and toys.
Windows with a view so he can watch birds feeding or squirrels playing
Increasing daily exercise
Pet CBD
Thundershirts for storm phobia
Appeasing pheromones also help
What do I do if my dog is shaking and panting?
A dog who pants excessively may be overheated or very anxious. If there's a thunderstorm or firework and your dog is panting, it's because he's stressed out. If your dog shows problem behaviors, it's your job to work closely with him to determine the cause.
Dogs can also suffer from noise phobia, which consists of a sudden and profound response to noise and leads to intense anxiety and sometimes panics. 
The most common form is thunderstorm phobia, and just as common is fear of fireworks or other loud noises that may trigger shaking and panting in your dog.
Separation anxiety is also problematic; this is when your dog panics when left alone at home. It causes extreme anxiety and may lead your dog to pace, bark, pant, and pace excessively until you get home. These signs are usually most common in dogs' first 15 to 20 minutes after being left alone.
Why is my dog acting scared and shaking and panting?
If your dog is not anxious, he may be suffering from pain or an illness. So if your dog starts acting strangely, you should always consult with your veterinarian. Conditions may include the following:
 Distemper
Hypoglycemia
Addison's disease 
Inflammatory brain disease
PetMD explains that if your dog is excessively panting from heat, the level of heavy breathing should correlate with the air temperature or amount of activity your dog is doing. 
PetMD adds that it's essential to understand that dog panting can indicate nausea, discomfort, and pain. Therefore, your veterinarian should assess whether your dog is ill via an examination and diagnostic tests. 
Prednisone and other steroids can also result in excessive panting, as can overheating and heatstroke. Never leave your pet in a hot car; when assessing why your dog is panting excessively, you should look for additional symptoms like lethargy and coughing. 
This can lead to clues that will distinguish normal panting from abnormal panting. As usual, always call your vet when in doubt.
Can I give my dog Benadryl to calm him down?
Benadryl is an antihistamine that is used for pets and people. You should always reach out to your veterinarian before giving your dog diphenhydramine. 
Merck Veterinary Manual explains that Benadryl can help with mild to moderate anxiety in traveling pets, but it can also be beneficial in relieving motion sickness.
Conclusion for Dog is Panting and Shaking and Clingy
Don't feel discouraged if your dog is panting and shaking and clingy as this can be trained out of a dog in several ways listed above.  Honestly, the ThunderShirt Polo Dog Anxiety Jacket has worked wonders for my dog.  In addition, you can also try dog training by conditioning your dog.  Hopefully you can fix your dog's stress and anxiety.
Other articles to read: