Exactly what temperature is too hot for dogs in a house? Do you dread the summer because of how uneasy the heat makes you feel? Do you constantly sweat and run to shower every few hours?
You are not alone in your discomfort. If you have a dog, it is probably struggling with the heat as well. Unfortunately, your four-legged buddy can't complain about the heat or turn on the air conditioning.
That's why it's crucial to know what temperature is too hot for dogs in a house. Let's find out what indoor temperatures work best for your fur baby.
Before scrolling down this guide, "What Temperature is Too Hot For Dogs in a House," check out these other guides from our team at We Love Doodles: What Temperature is Too Cold For Dogs Inside and What Temperature is Too Hot For Dogs to Walk?
How Hot Is Too Hot For a Dog Indoors?
Some dogs can tolerate temperatures of up to 90 °F, provided they are not under direct sunlight. To be on the safe side, ensure your thermostat does not exceed 80 °F or 82 °F during summer. The number varies depending on who you ask.
Also, factors like high humidity and poor ventilation can make a room feel hotter. Keep in mind that the room temperature will affect your pet's body temperature. The normal body temperature of your doggo will be around 100.5 °F and 102.5 °F.
Product Recommendations: Best Dog Boots For Hot Pavement.
When Should You Be Worried For Your Dog Inside Your Home?
It's a matter of concern when your pet's body temperature reaches 103 °F to 105 °F. This is a sign of heatstroke, where the temperature spikes within minutes. This is a serious condition and must be treated as soon as possible.
Dog Product Recommendations: Best Dog House For Hot Weather.
What is the Best Temperature for a Dog Indoors During Summer?
You might find it odd, but your dog has similar comfort levels. During hotter months, dog parents should set the thermostat between 75 °F and 78 °F. These ideal settings are slightly higher than what humans prefer. However, your dog will enjoy the AC or heater temperatures suitable for you.
Related: How to Keep Dog Cool Outside.
Does Your Dog's Breed Affect Its Heat Tolerance Indoors?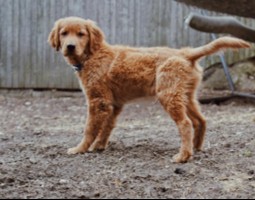 Yes, your dog's breed has a direct impact on its ability to tolerate high temperatures, indoors and outdoors. The breeds that suffer the most during the summer months are those with lush double coats. These include the Siberian Husky, Saint Bernard, Alaskan Malamute, and Japanese Akita.
Long-haired canines will also show you signs of lethargy during summers. This is because these dogs hate playing when the temperatures shoot up. If you are a pet parent to Bulldogs, French Bulldogs, Pugs, and Boston Terriers, ensure that they are kept cool at all times.
These breeds experience breathing problems when exposed to extremely hot conditions. Also, a pet pug or any other dog with a flatter face is more immune to breathing issues due to high temperatures. Those with longer muzzles may find it difficult to breathe when it's too hot.
You need to keep these dogs in rooms with the air conditioning turned on full blast. It's not a good idea to adopt these breeds if you live in a tropical or humid area. Aside from the breed, each dog has a distinct reaction to rising temperatures.
Some thrive in the heat. Others seek respite in the shade or even start behaving aggressively. This does not imply that the dogs who enjoy heat won't be prone to hot weather hazards. It is just that their tolerance levels differ.
Related: Best Indoor Dogs That Don't Shed and Best Indoor Dog Pen with Floor.
What Factors Influence The Indoor Heat Tolerance Of Your Dog?
Coat Type: If your pet has a thick coat, it is going to hate the heat. Some breeds overheat at a faster pace than humans. They retain the heat longer and have to be constantly cooled down. On the other hand, a dog with a thin coat won't be severely affected by warm temperatures.
Age and Size: You will notice that puppies will be more heat resistant than their mother. Why is that? This is because as your dog grows in size, the skin area also increases. This allows more room for heat absorption.
Body Weight: Heavy dogs use their body fat to insulate themselves against the harsh winter conditions. However, this can prove an inconvenience during summer as that extra layer adds to the heat.  Obese dogs won't do well even in the shade.
Dog Product Recommendations: Best Indoor Dog Potty System and Best Puppy Potty Training Sprays.
Signs That Your Dog Can No Longer Beat the Heat
As a pet owner, watch out for these signs that your dog is in the danger zone.
Change in the color of gums
Difficulty urinating
Drool that is thicker and stickier
Hyperventilation
Excessive panting
Fever
Dry and warm nose
Rapid heart rate
Uncontrollable shaking or shivering
Lethargy or inactivity
Soft or bloody stool
Tripping while walking
Dizziness
Dehydration
Dog Guide: What Are The Overtired Puppy Symptoms?
What Is Heat Exhaustion For Dogs?
If you notice any of the above signs, there is a chance that your dog is experiencing hyperthermia.  This condition means that your pet can no longer manage its body temperature. You may have heard it referred to as heat stroke or heat exhaustion.
Your dog may start with mild exhaustion, which quickly devolves to heatstroke. In extreme cases, a dog may faint, have a high fever, or experience organ failure. When this happens, you must bring your dog to a vet immediately.
Practical Ways to Avoid Heat Exhaustion in Dogs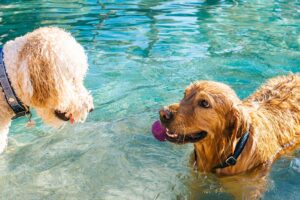 Here are some ways to ensure that your dog does not overheat indoors on a stifling summer day.
1. Keep Your Home Cool
Turn on the AC as long as possible. If you don't have central air conditioning, keep your pet in front of an electric fan or open window. Make sure your dog is in a well-ventilated room. You should not coop it up indoors on a hot day.
The same principle applies to vehicles; you should not leave your pet inside a parked car under the sun. Bring your dog with you on all your summer adventures. If your doggo is prone to heat exhaustion, it can be risky to leave it alone indoors.
2. Provide Plenty of Water
Water is the magic weapon to beat the heat in both humans and dogs. Ensure that your dog always has a bowl full of drinking water. The sweat glands of your pet are located on their feet pads. The body heat of the animal is controlled by its panting, resting, and sipping of water.
While you enjoy a nice cold coffee in the summers, don't you think your dog deserves a cool treat too? Constantly refill its bowl with fresh water. Let your dog sip some water with ice cubes in it. You could also treat your pet to a frozen popsicle.
Let your dog frolic in the bathtub or set up a kiddie pool indoors. Immersion can quickly bring your dog's temperature down. A shower can also be quite refreshing for your pet. You can also pour a bucket of cool water over your dog.
Recommendations: Best No-Spill Dog Water Bowls.
3. Mist It Up
Many pet parents love to bathe their dogs in the garden with a hose. This can be risky.  Some dogs get injured due to the high water pressure. Instead, use a hand-held sprayer to give your dog a gentle, pleasant shower.
Some of these come with small fans to further cool down your pet. Do you have lawn sprinklers? Turn them on and allow your pet to take a stroll. The water droplets and wet grass will cool down your dog instantly.
4. Wet Towels
A common DIY remedy to cool your dog is by covering it with a wet towel. Dampen a hand towel and place it in the freezer. This serves to be an effective cooling remedy. You can also place a bag of frozen peas on your dog's head or neck area to prevent heat exhaustion.
Conclusion For "What Temperature is Too Hot For Dogs in a House"
Summer days bother your dog as much as they bother you. You have to keep a close watch to ensure its health and comfort when temperatures hit the roof. Once you know what temperature is too hot for dogs in a house, you can take preventive measures.
Expect to spend more on electricity as your AC will be turned on for hours on end. Try to keep your canine friend hydrated. Also, observe it closely for any signs of heat exhaustion.
The only reason to panic is when your pet's temperature reaches 103 °F. Otherwise, summer days are perfect for long walks and games outdoors with your pet. With this article, you are better equipped to help your dog cope with the summer heat.
For more dog guides from our team at We Love Doodles, you can check out:
To learn more about temperature and dogs, you can watch "The 5 Signs of Heatstroke in Dogs That Owners Must Know" down below: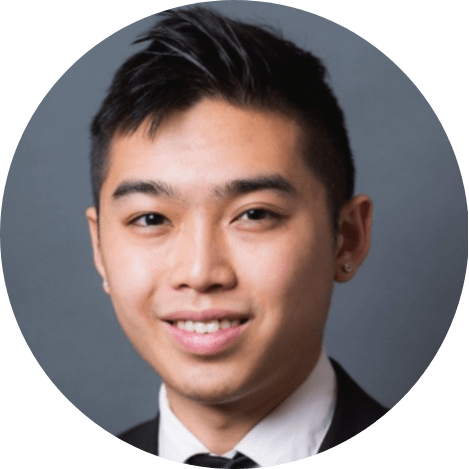 Andy is a full-time animal rescuer and owner of a toy doodle. When he's not saving dogs, Andy is one of our core writers and editors. He has been writing about dogs for over a decade. Andy joined our team because he believes that words are powerful tools that can change a dog's life for the better.
Why Trust We Love Doodles?
At We Love Doodles, we're a team of writers, veterinarians, and puppy trainers that love dogs. Our team of qualified experts researches and provides reliable information on a wide range of dog topics. Our reviews are based on customer feedback, hands-on testing, and in-depth analysis. We are fully transparent and honest to our community of dog owners and future owners.