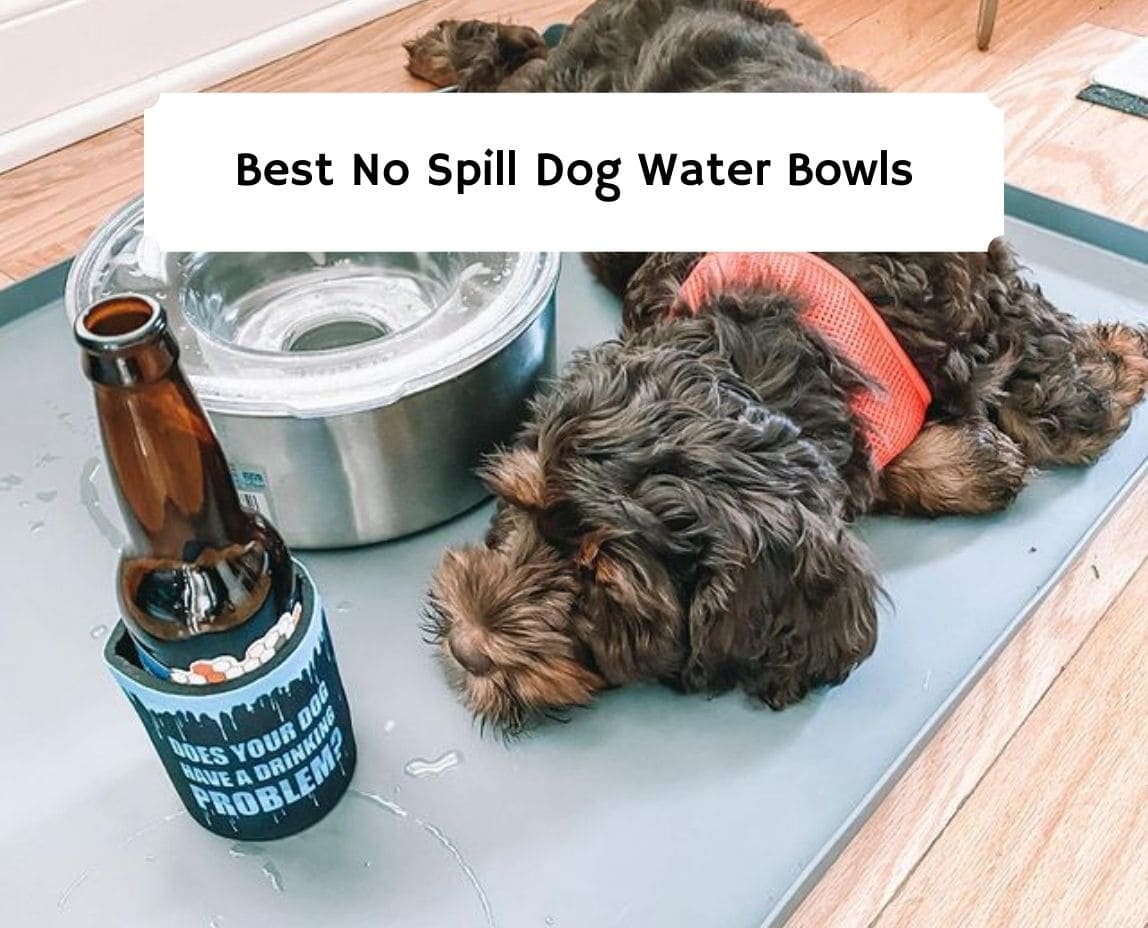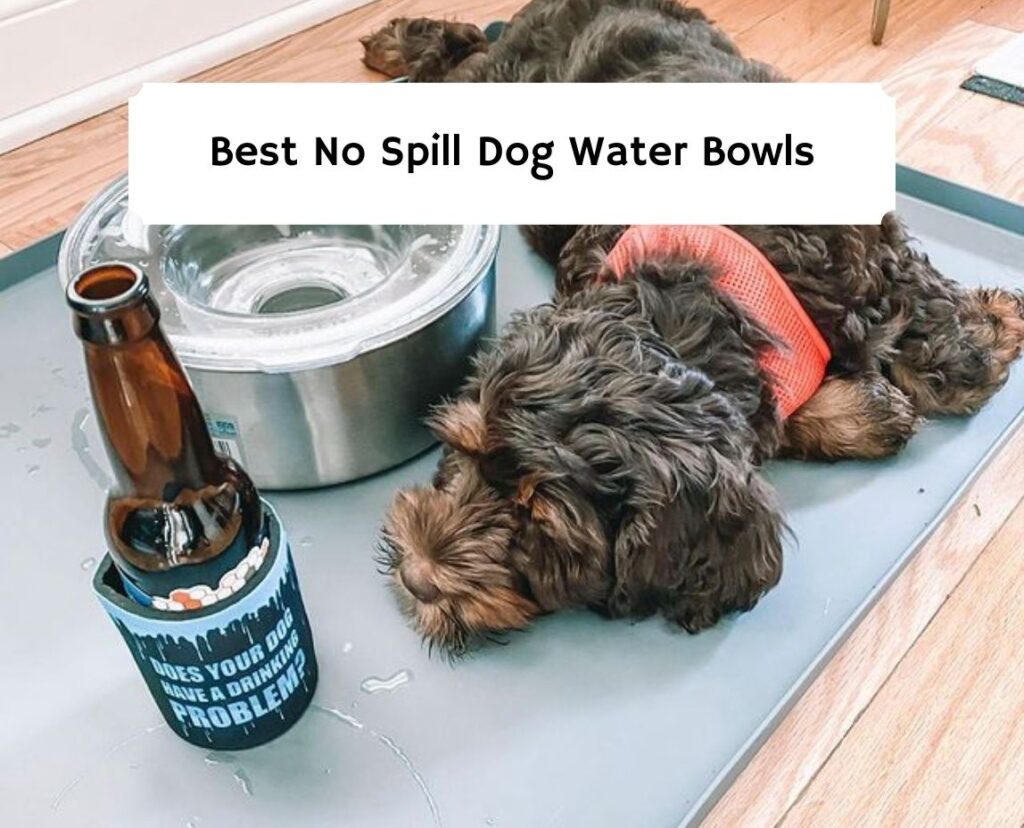 Water is essential to dogs because it forms the basis of your dog's bodily fluids. It makes up around 70% of their weight. Dogs need to maintain an adequate hydration level to remain healthy, alert, and active. A no-spill water bowl will help you know that your pet is always getting enough water to drink, regardless of whether they are inside or outside.
Most no-spill water bowls are made of a material that is non-corrosive. They typically have a broad base to prevent the bowl from tipping over. Choosing no spill or no splash dog water bowls can make a big difference in how your pet drinks his water. 
In our ten best no-spill dog water bowl reviews, we looked at no-spill pet bowls that are no splash, no tip, and no chew. We examined reviews from other pet parents, and the features no-spill bowls have in common. We hope this no-spill dog bowl review can help you choose the best no-spill dog water bowl for your pet.
In a rush? Here are the top picks!
Product

Best Overall

Slopper Stopper Water Bowl

Runner-Up

Super Design Tilted Water Bowl

Best Value

Kurgo Splash Free Water Bowl

Image
This is a slanted dog bowl with an anti-slide design. A slanted dog food bowl prevents food from sticking around the bottom rim of the conventional bowl where the dog/cat can't get it. What's more, it makes it so much easier for your cat/dog to eat because the pet bowl is on a diagonal angle, helping your pet's digestion in the process. 
We like this no-spill pet bowl because it can be used for both water and food, features a 15% tilt, and comes in 12 trendy colorways. There are also four sizes available for every dog breed.
Features
Over 7,800 positive reviews

15% tilt for easy access to food or water

Heavy-duty stand for stability with non-slip feet

Removable & dishwasher safe

Crafted with a silicone seal
The Slopper Stopper no-spill dog water bowl is no ordinary dog dish; its patented no-spill design has no moving parts. It features a bowl, lid, gasket, finger valve, and pressure plug. The Slopper Stopper dripless water bowl is dishwasher safe, high-quality stainless steel with no seams. 
This no-spill dog water dish works on the principle of fluid dynamics to prevent the spilling of water when your dog noisily drinks. We like this no-spill dog water bowl because it keeps your floors and surrounding area dry.
Features
Works well for larger dog breeds 51-85 lbs.

Bowl diameter is 9.84″, Holds 1 gallon of water

Dishwasher safe

Over 1,800 positive reviews
The Kurgo Splash-free Wander water bowl for dogs is a no-spill dog travel bowl for cars and homes. The dog water bowl has a locking clip, so it does not tip over. This dog travel bowl is convenient for the on-the-go pup. 
The dripless water bowl makes sure your dog stays hydrated and fed while in the car, without the mess. It features a tapered lip that helps reduce splashing while travelling and keeps kibble/water off the car floor unique due to its wedge design. This ensures that the pet water bowl lays flat on car seat.
The no-mess no spill bowl for dogs comes in two colors, blue and red. It has a 24-ounce capacity making it perfect for pet travel. This is the perfect go-to pet no-spill travel bowl because it's easily collapsible. Here's the takeaway:
Features
Affordable

Crafted with food-grade silicone

Tapered lip reduces splashing

Angled shape keeps bowl on the car seat

Over 2,200 positive reviews
The no-spill dog water bowl features 54 fl.oz. capacity with a no-spill design that prevents spills while driving. The no-spill, no slobber dog bowl, no mess, no drip is perfect for the car, truck, van, or R.V. The floating disk rests on the surface of the base controlling the amount of water available for your pet to consume. 
This function keeps long ears and snouts dry and the area around the bowl clean and clear of drips, splashes, and slippery wet surfaces. Slow feeder dispenses the ideal amount of water for your pet throughout the day. This product is also easy to clean and dishwasher safe. Breeds with long ears like the Bassett and Spaniel benefit from the Road Bowl's design, keeping ears dry and out of the water.
Features
No-spill design prevents any spills while driving.

Over 7,000 positive ratings

Slobber control

Prevents messy wet floors

Affordable

Crafted with BPA-free, heat resistant polypropylene
Pesky no mess dog water bowls are featured in 4 colorways, and the bowl has a pretty large and practical capacity, about 35oz in total. The no-spill splashing pet bowl is very lightweight and durable. It can be used both indoors and outdoors due to being completely BPA-free. It is perfect for all breeds and sizes to accommodate large dogs. 
The Upsky slow water feeder bowl is dishwasher-friendly and very easy to clean. The non-skid rubber mat helps keep the dog bowl in place while your pet drinks. This product has over 10,000 positive reviews.
Features
Automatically adjustable floating disk design slows down the drinking speed of your pet.

35 oz. extra-large capacity

Spill-proof due to being lightweight, durable

Affordable

Non-skidding design

Over 10,000 positive reviews
The Petmate no-spill dog bowl is made in the USA with BPA-free plastic. The no-spill bowl is also recycled and recyclable, which makes it an environmentally friendly option. What makes this product stand out from other spill-proof dog bowls?
The Petmate no-spill travel bowl has over 3,200 positive ratings. It is crafted with an adjustable design that controls the amount of water available for your pet to consume, preventing spills and messes. This no-spill dog bowl is dishwasher-friendly and can be used for both indoor and outdoor use. We like this nonsplash dog water bowl for pets because it holds six cups (48 oz.) made in the USA.
Features
The adjustable no-spill design prevents spills while traveling in the car or on walks, at home, or camping
Made in the USA with recycled plastic
Dishwasher safe
Holds 6 cups/48 oz.
Constructed of sturdy plastic, made for long-lasting use.
The LumoLeaf, no-spill dog water bowl, features a floating disk and anti-slip base that effectively prevents water from splashing and overflowing. This is also another easy-to-clean anti-spill dog water bowl. This product has over 4,500 positive ratings
You need to take apart the floating disk to clean, and then either rinse with water or put it on the upper rack of the dishwasher. The Lumoleaf is great for at-home or on-the-go pet travel. It's priced affordably for multi-pet homes.
Features
Anti-slip base

Floating disk

Splash free rim

Over 4,500 positive ratings

2 colorways

Double anti-spill design

Anti-slip base

No-spill for chewers
The American-made heavy-weight splash-free water bowl for pets is great for dog breeds chewing their dog bowls. This is also ideal for small dogs and cats that tip their bowls, or animals traveling in an R.V. (not for dogs that pick up their bowls)
A sturdy water bowl is handcrafted on the potter's wheel from solid stoneware clay. The shape of the clay keeps the bowl upright while the wide, inverted curve rim helps reduce splashes (water level should be maintained below the interior trim). 
We like this no-spill dog water bowl because this blends beautifully with any decor; the American-made white glaze is chip-resistant, scratch-resistant, lead-free, cadmium-free, food-safe, and safe for use in the dishwasher.
Features
Two sizes to choose from

Made by Modern Artisans

Stylishly crafted to suit any home decor

Made in the U.S.
Indipets stainless steel no spill dog water bowls feature a simple splash-free design. This brand features a splash-free no-tip anti-skid pet dish that is crafted with an easy pickup grip handle. It carries 16-ounces of water. This comes in three sizes and has over 1,000 positive ratings.
Features
Priced affordably

Over 1,000 positive reviews

Available in 3 sizes

Scratch-free stainless steel
The Urpower large no-spill dog bowl is eco-friendly and a slow-feeder pet water dispenser for all dog breeds. The anti-spill design effectively prevents wet hair and splash. This product is easy to assemble and disassemble and fulfills large capacity hydration at 70 oz. 
Features
Affordable

Features a water filter

Anti-slip base

Available in 4 colorways

ABS material

Unique border design ensures that your pet can drink water in the car. 
Dog Hydration
Proper hydration is essential for all pets and more so for dogs. Dogs should consume around 1 ounce of water (1/8 of a cup) per pound of body weight each day. Dogs drink water by lapping 
it up or using their tongues to catch water droplets. 
Dogs need to drink plenty of fresh water every day to remain hydrated and healthy. The no-spill pet bowl design's no splash and no tip features make it easier to keep your dog drinking water no matter where you place the no-spill pet dish.
No Splash No-Spill Pet Bowls
The no-splash water bowl is a no spill and no tip bowl that eliminates messes no matter where you leave it. These are designed to give your dog a water bowl that will not tip over no matter how your pet nudges it. 
These no-spill dog water bowls are designed in such a way that you no longer have to deal with your dog spilling water all over the floor while drinking. These are no mess bowls that will keep your kitchen floor clean and dry, plus they're also straightforward to clean.
Key Features For No Spill Dog Water Bowls
When purchasing spill-proof dog bowls, there are some key features to opt for. 
A pet no-spill water dish crafted with an angle or tilted design helps the food or water cluster in one part of the bowl, making it easier to eat with less mess. You may also want to consider one that comes with an elevated stand. Elevated no-spill dog bowls make it easier for dogs to access the water and other goodies.

One of the most significant advantages of having a no-spill water bowl that's located within your dog's eating area is that it ensures that no matter what your dogs are eating, they'll be getting some much-needed hydration while doing so. 

If you don't want to buy a complete feeding station, there are elevated no-spill bowls that you can place inside a regular feeder. The no-spill dog water bowl was designed so that no matter which direction the bowl is tipped; no contents will come out. This no-spill dog water bowl is no spill

Another feature to look for when choosing a no-spill bowl is for the product to be dishwasher safe. A good no-spill dog bowl for 2021 should be dishwasher safe and fit nicely in your kitchen cabinets.

Some no-spill designs make them perfect for puppies and dogs that tend to get a little unruly while eating and drinking.  

It should be made out of non-slippery material so that your pet can grip it while drinking. It should have high walls to prevent water from getting onto the floor. The spill-proof feature is beneficial in keeping the dirt away from water.
Non-Spill Water Bowl Design
The design should be that your dog cannot kick it over with his nose, paws, or back legs. High-quality food-grade plastic bowls are usually preferred, but you can also use stainless steel if dishwasher safe, making them easy to clean.
A good dog water bowl should be large enough for your pet to easily place their mouth inside and take sips of water. The quantity of water in the bowl should also be sufficient and not need to be refilled frequently.
Many modern designs have attached lids, which serve as a cover when your dog is not drinking or keeping it covered when you are traveling with your pet. This prevents spilling or contamination from flies and other insects. 
Some bowls also come with attachable hooks, which turn them into portable water bowls that can be hung on any horizontal surface like tables, chairs, etc. They usually provide enough height for your dog to drink comfortably without having to bend down far into the level of the water.
What kind of water should your dog drink?
Filtered tap water is a great safe, cost-effective, and readily accessible option. It is generally perfectly safe to give pets the same water we drink, including tap water. Municipal water companies filter, test, and treat water to meet the internationally established minimum and maximum minerals, salts, and metals. 
There are no benefits or risks associated with giving your dog filtered tap water; if you suspect that your tap water might not be perfectly safe for your dog, you can always purchase water purification and filtration devices.
Hydration
It is highly crucial that your dog drinks plenty of freshwater every day. However, some pups are messier than others when drinking water. They splash it all across the floor or drool it through their mouth. That's why the no-spill dog water bowl works well in most households and when traveling with pets.
Water for Dogs
Dogs do well with bottled water because the main ingredient in most tap water is chlorine which can be harmful to their health. Bottled water also provides an alternative flavor that some dogs find appealing.
Bottled water for dogs is typically more expensive than plain tap water but no less nutritious for your pet. If you are concerned about your dog's drinking water quality, invest in a no-spill water bowl or water filter.
Water plays an integral part in the health of living things because it constitutes 55%-75% of all mammals' body mass. Dogs sweat mainly through glands in their paw pads, leading to the general cooling of their bodies. 
In nature, no matter where an animal is –whether in the mountains or in a forest– drinking water is readily available. Due to climate changes and human activities such as deforestation and pollution, however, the quality of natural drinking water has been compromised.
According to the U.S. Environmental Protection Agency, over 12 million illnesses result from exposure to contaminated drinking water each year. Bottled water for dogs is a more reliable source of portable water for your pet, no matter where you may go together.
Avoid Contamination In You No Spill Dog Water Dish 
No-spill dog water bowls prevent spilling or contamination from flies and other insects. Some bowls also come with attachable hooks, which turn them into portable water bowls that can be hung on any horizontal surface like tables, chairs, etc. 
They usually provide enough height for your dog to drink comfortably without having to bend down far into the level of the water.
Frequently Asked Questions
What are splash-proof water bowls?
These bowls are similar to regular dog bowls but feature an awning circumference on the edge of the bowl. The primary function of the awning is to prevent water from splashing over the bowl when your dog pushes it while drinking. 
What are no-spill water bowls for dogs?
No-spill dog bowls are specially designed for smaller or larger dog breeds that might be messy drinkers. A no-spill pet bowl is a perfect option if you're looking to reduce spills and keep your car floor clean after taking your pup on a long drive. The no-spill dog bowl design has a straightforward no-spill system that controls the flow of water.
How do unspillable dog water bowls work?
Water rises through holes in the disk when your pup presses it while lapping up water. These no-spill bowls usually feature lids and feature three parts, ensuring a no-spill drinking experience.
Can smaller dog breeds use a no-spill water bowl?
There are no spill water bowls for large dogs and no-spill pet feeders if you have a smaller dog. If you're looking to keep your car clean quickly after stopping, no-spill pet supplies can be your best friend.
Why get a no-spill dog water bowl?
A no-spill dog water bowl prevents your dog from spilling their water all over the place.
With no spill dog water bowls, you no longer have to worry about your pet's safety when they are drinking by moving around too much. Your no-spill water bowl will also help prevent any cold air drafts from entering the room.
What no spill dog water bowl should I get?
Pet bowls come in all shapes and sizes, so it is essential to know your pet's size before you purchase one. The no-spill dog water bowl must be able to properly fit the bottom of your pet's torso for it to be effective against spills.
What if my no-spill water bowl is too small for my pet?
 A no-spill dog water bowl that is too small for your pet will mean that no matter how hard they try to drink; they will end up spilling their water. No-spill dog water bowls should also have a stable base to prevent them from overturning or moving around while your pet drinks.
What if my no-spill water bowl is too big for my dog?
Your no-spill dog water bowl must not be so big either – there needs to be a bit of distance between the no-spill dog water bowl and your pet's mouth.
We suggest opting for no-spill dog water bowls that work for your dog breed size.
Can animals share water bowls?
In the case of cats and dogs, this is generally true, and the animals won't be harmed by sharing a water bowl. 
Why are no-spill pet bowls a good choice?
No-spill water bowls are great for pet owners who don't want to worry about water spilling. This may be an excellent choice for dogs that like to eat from a no-spill dog bowl, as the food inside a spill dog water bowl will no longer be a problem.
Is a no-spill water dish a good holiday gift?
If you have a no-mess pet parent on your gift list this holiday season, look no further than gifting with a no-spill dog water bowl. These bowls can be used for all dog breeds, small and large. These are also great gifts for pet parents that travel with their pets.
Is there a nonspill dog drinking bowl that can handle large breeds?
Most no-spill dog water bowls are made for medium to large-sized dogs. Opt for no leak, no mess, no stress, no-spill dog water bowls that feature XL breed appropriate sizes.
Are no-spill dog water bowls dishwasher safe?
Yes, a no-spill dog water bowl is dishwasher safe. You must wash your dog's water bowl every day.

Claudia Bensimoun is a writer who specializes in dog content and veterinary topics! Aside from writing for We Love Doodles, Claudia also writes for other major dog blogs like Fido Friendly, Animal Wellness Magazine, and the United States Dog Agility Association (USDAA). She has a ghostwritten over 50 different dog e-books. Her passions include animal welfare, veterinary research, and wildlife conservation.
Why Trust We Love Doodles?
At We Love Doodles, we're a team of writers, veterinarians, and puppy trainers that love dogs. Our team of qualified experts researches and provides reliable information on a wide range of dog topics. Our reviews are based on customer feedback, hands-on testing, and in-depth analysis. We are fully transparent and honest to our community of dog owners and future owners.